Best Gluten-Free Carrot Cake
Published on Mar 25, 2018
by
Kristina Stosek
Prep Time:

20 minutes
Cook Time:

25 minutes
Serves:

6-8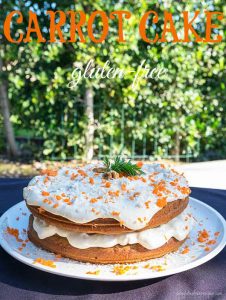 ​This post may contain affiliate links, please see our
privacy policy
for details
This dessert recipe is for a Gluten-Free Carrot Cake with light zesty cream cheese frosting. The moist cake is made with unsweetened coconut flakes, raisins, coconut sugar and fresh orange juice. And this is why there is less sugar added than a traditional carrot cake.
carrot cake with an extra light zesty frosting
This dessert is all about the creamy, zesty frosting made with a mix of cream cheese and sour cream, keeping the frosting extra light and creamy at the same time.
walnuts in the frosting
In addition, the frosting has walnuts, adding texture and flavour making it even more delicious! Doesn't this sound good?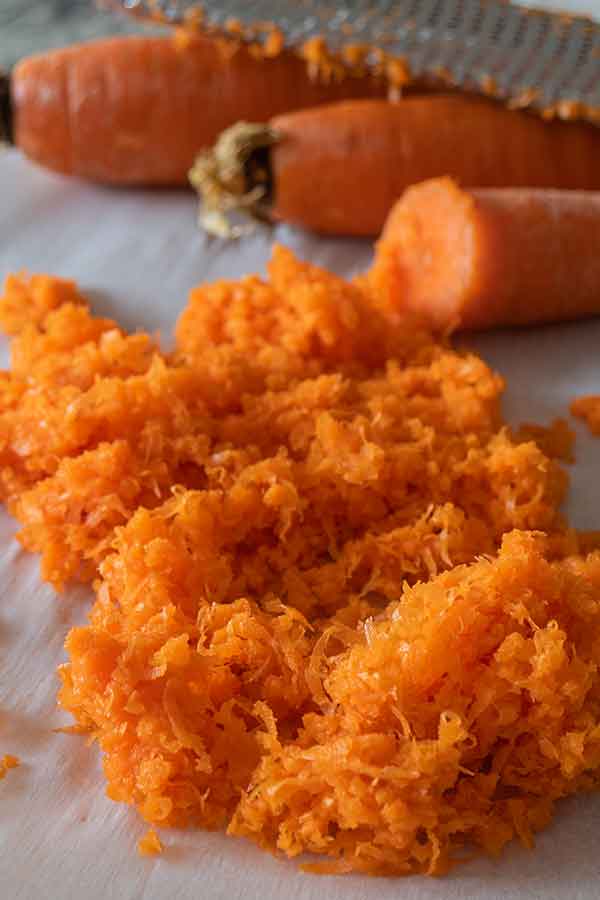 2 layer gluten free carrot cake
This dessert consists of two extra moist, pleasingly sweet soft carrot cake layers, frosted with a zesty frosting made with whipped cream cheese, sour cream, fresh lemon juice and vanilla. YUM!
coconut flakes and raisins make this carrot cake extra special
What makes this carrot cake stand out from most are raisins and coconut flakes in the cake layers. A little different, but so yummy!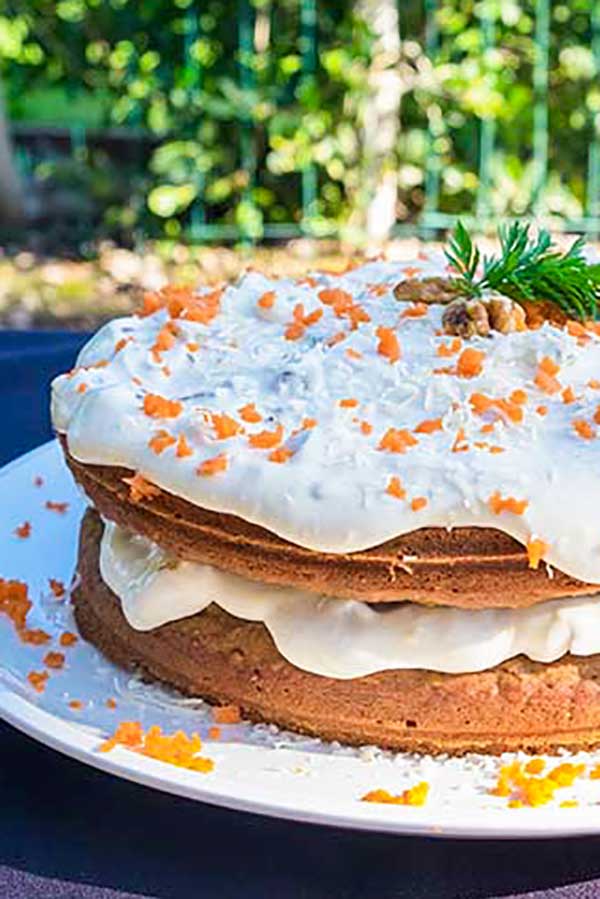 decorating the carrot cake
To decorate the cake, spread the frosting between the two cake layers and over the top. Then top the frosting with extra walnuts, freshly grated carrots, and a sprinkle of coconut flakes for the final touch.
this is not your typical carrot cake recipe
Because this gluten-free dessert is made with basic pantry ingredients, is lightly sweetened, and is made with fresh orange juice, coconut and raisins.
carrot cake serving suggestions
This cake is perfect for special occasions like Mother's Day, Easter or that special birthday. And you can whip it up in no time! Or, replace muffins with this carrot cake for brunch. I promise you it will be a huge hit.
What I love about this cake is it may be considered healthy-ish. Just imagine fresh carrots, heart-healthy olive oil, unsweetened coconut flakes, raisins, walnuts and fresh orange juice, all in one dessert.
I hope you enjoy this carrot cake as much as my family does! If you are looking to include carrots in your diet, I recommend trying Creamy Turnip and Carrot Mash or Creamy Cashew Carrot Ginger Soup, or Carrot Cake Overnight Oats.
.
Best Gluten-Free Carrot Cake
Published on Mar 25, 2018
by
Kristina Stosek
Instructions
1.

Preheat oven to 350 F and lightly spray 2 x (9-inch round) springform cake pans with cooking oil

2.

In a medium bowl whisk together first 6 ingredients (flour to salt)

3.

In a separate large bowl, cream together coconut sugar, olive oil, eggs and vanilla. Add orange juice, carrots and raisins and stir to combine

4.

Add dry ingredients with coconut flakes into wet mixture 1/3 at a time. Mix just until all the ingredients are blended. Do not over mix

5.

Pour batter evenly into prepared pans and bake for 25 minutes, or until they pass the toothpick test. Set aside to cool

6.

For the frosting, cream together cream cheese, sour cream and butter. Add sugar, lemon juice and vanilla and mix until creamy. Stir in walnuts

7.

When cakes are cooled frost one with half the frosting, then place the second cake on top and finish frosting. Refrigerate for a minimum of 2 hours or overnight. I decorated mine with shredded coconut, carrots and walnuts

8.

Note; I used only one cup of sugar for the frosting which makes the frosting zesty and not super sweet. If you prefer more sweetness add more sugar
Leave a Comment
great texture and flavour, will make this again.
Kristina
I think it should work Alene, as long as it has xanthan gum
I wonder if I could use Bob's gf flour that doesn't have rice flour in it? Thank you.