Carrot Cake Overnight Oats – Gluten Free
Prep Time
5 Minutes
Difficulty
Beginner
Cook Time
2 Minutes
Serves
2
Be the first to rate this recipe.
Creamy Carrot Cake Overnight Oats is a naturally gluten-free and plant-based recipe. Most children of all ages love carrot cake, so this healthy oat breakfast may be something they will love. And what a great way to add healthy carrots to their diet.
This carrot cake oat recipe is like a traditional carrot cake. But, most baked carrot cakes are typically made using flour, butter, and white sugar. Not this gluten-free recipe.
This carrot cake breakfast pudding is made with a few healthier replacements such as oats, flaxseed, raisins, walnuts and a splash of pure maple syrup.
Why is this carrot cake overnight oats recipe healthy?
This gluten-free, vegan recipe is made with certified gluten-free oats, flaxseed, walnuts, dairy-free milk of choice, vanilla, and maple syrup, fresh carrots with raisins for some sweetness. This recipe is created with healthy nutrients, fiber and protein.
A healthy protein-packed breakfast for kids and adults before starting a busy day!
carrot cake overnight oats – the recipe…
This healthy oat breakfast is a little different from most overnight oat recipes. The reason is, the oat flakes are first toasted. The toasted oats add extra nutty flavour making the chilled pudding-like carrot cake breakfast super tasty.
How to toast oats?
The easiest thing to make is toasted oats. You will need a pan or a skillet, and over medium heat, toast the oat flakes while stirring. You do not need to add fats or anything else. That's it!
Once the oats are toasted and cooled, mix them with the remaining ingredients and chill the mixture overnight in the refrigerator. In the morning, stir the oats and top with anything you like; fresh fruit, seeds, nuts, coconut yogurt or dairy-free cream. 
Are oats good for you?
Oats are well known for their ability to lower bad ( LDL) cholesterol. In addition, oats are known to lower blood sugar levels, ease constipation, decrease the chance of colon cancer, are rich in antioxidants, and promoting healthy bacteria in your gut. Because oats are filling, you don't tend to snack on calorie-rich foods, thus helping to keep a healthier weight.
Are oats gluten-free?
Yes, oats are naturally gluten-free. However, when following a gluten-free diet, always look for certified gluten-free oats. When oats are being processed or grown next to wheat, they can get tainted with gluten.
What can you add to overnight oats?
You can add just about anything that you desire or what you have in your pantry. Of course, the most popular add ons are fresh fruit, nuts and seeds. However, this deliciously flavoured gingerbread spices oat pudding is delicious just as it is.
The beautiful thing about this leisurely gluten-free oat breakfast is, it's like eating a creamy carrot cake. YUM!
Ingredients
1 cup dairy-free milk (almond, coconut, rice, hemp)
1/3 cup grated carrot (1 small carrot)
1/3 cup sulfite free raisins
1/3 cup walnut pieces (optional)
2 Tbsp. pure maple syrup
1 tsp. GF ground cinnamon
1 tsp. GF ground flaxseed
1 tsp. pure vanilla extract
1 tsp. lemon zest
Pinch of salt
optional toppings; nuts, seeds, fresh berries, maple syrup, coconut cream, cinnamon
*As an Amazon Associate and member of other affiliate programs, I earn from qualifying purchases. Please check out my sponsorship and disclosure policy page for more details
Instructions
Toast the oats in a dry pan over medium heat until they're golden brown, about 1 minute. This adds a nutty flavour to the oats. Then cool.
In a glass bowl combine all the ingredients. Cover and refrigerate overnight
To serve, stir the oats and divide between bowls Top with desired toppings
Similar Recipes
Banana Almond Overnight Oats Recipe
Here is an easy, delicious gluten free breakfast recipe for busy mornings. For those that follow raw food diet, this is an ideal breakfast. This banana almond overnight oats recipe is packed with healthy nutrients, protein and fiber. In the morning all you have to do is add your favourite toppings. This delicious breakfast will […] Read More
Prep Time
5 Minutes
Difficulty
Beginner
Serves
2
Overnight Chocolate Coconut Oat Pudding
What a wonderful start to a leisurely day. Oats are rich in dietary fiber more than any other grain and are easily digested. Added to this there's the pleasure of combining delicious flavours of cocoa and coconut. Serve cold, or you can also serve this delicious gluten-free breakfast warm. Top with fresh berries, coconut flakes, […] Read More
Prep Time
10 Minutes
Difficulty
Easy
Serves
4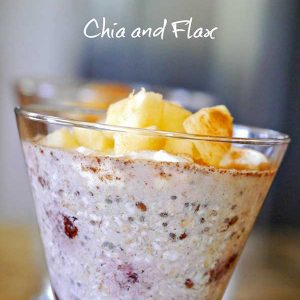 Overnight Oats with Chia and Flax
Starting with Overnight Oats with Chia and Flax is a healthy, delicious way to begin your day. Morning is a busy time for most of us. Having a power-packed healthy gluten-free breakfast ready when you are, is always welcome.  This creamy and delicious overnight oatmeal breakfast is packed with omega-3's, protein, iron, vitamin C, fiber […] Read More
Prep Time
5 Minutes
Difficulty
Easy
Serves
2