Gluten-Free Carrot Apple Loaf
Prep Time
15 Minutes
Difficulty
Easy
Cook Time
60 Minutes
Serves
1 loaf
Average Rating: 4.5 | Rated By: 7 users
I can honestly say this Gluten-Free Carrot Apple Loaf is one of the best gluten-free breakfast loaves. This recipe is a must-have in your repertoire. The simplest of gluten-free, very moist breakfast loaf… Yet a party of memorable flavours and textures.
To add even more deliciousness, an aromatic Brown Butter Frosting sets this loaf apart from most. The frosting is optional, but it makes the Gluten-Free Carrot Apple Loaf insanely good! Another frosting I would recommend is the Royal Cream Cheese Frosting.
This Gluten-Free Carrot Apple Loaf is more than just delicious!
The three types of flour that make up this Carrot Apple Loaf are almond flour, sweet sorghum flour and arrowroot flour. We all know how nutritious almond flour is. But did you know that sorghum flour is high in fiber and an excellent source of antioxidants?
Sorghum flour is also a low gi food, which helps to balance out blood sugars. Because sorghum flour is another high protein flour, it keeps gluten-free bakes soft tender, similar to almond flour.
To keep the carrot apple loaf healthy-ish, I used heart-healthy olive oil, eggs, maple syrup and plenty of apples and carrots throughout. Starting your day with a slice of this delicious carrot apple loaf will keep your hunger at bay and provide you with lasting energy.
How to make perfectly baked breakfast loaf?
Have you baked bread, cake, muffins or a breakfast loaf, and it came out underbaked and deflated even though you followed the recipe exactly? This is because several factors will affect the length of baking time.
the temperature of ingredients
Eggs, butter and milk should always be at room temperature, with the exception of pie crust and pastry dough.
best fruit for breakfast loaf
Moisture in fruit varies. Some apples or pears are juicier than others, which will affect the baking time.
the oven temperature
Not all oven temperatures are the same. To find out if your oven temperature is preheating to the right temperature, put it to the test. You will need an oven thermometer to do this.
air pressure
Baking at high altitudes, the air pressure is lower. When the air pressure is lower, it takes longer to bake. You may have to adjust temperature or bake times.
how to test for doneness
The simplest way to check for doneness is, inserting a tester like a toothpick or a skewer in the center. If it comes out clean, the loaf is fully baked. If the batter clings to the tester, it needs more baking. Fully baked loaves, quick bread and muffins will feel resilient when the center is gently pressed with fingers.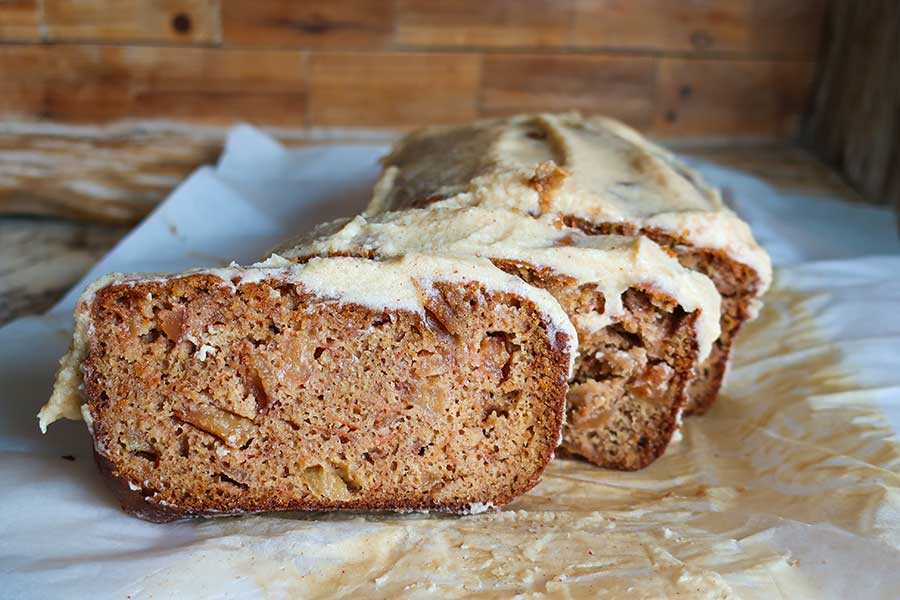 This Gluten-Free Carrot Apple Loaf is packed with apples and carrots and is made with high protein flours. Because there is so much moistness, you can't rush the baking. And believe me, it is worth the wait.
The healthy, Gluten-Free Carrot Apple Loaf is super moist and has a perfect crumb. You will love it!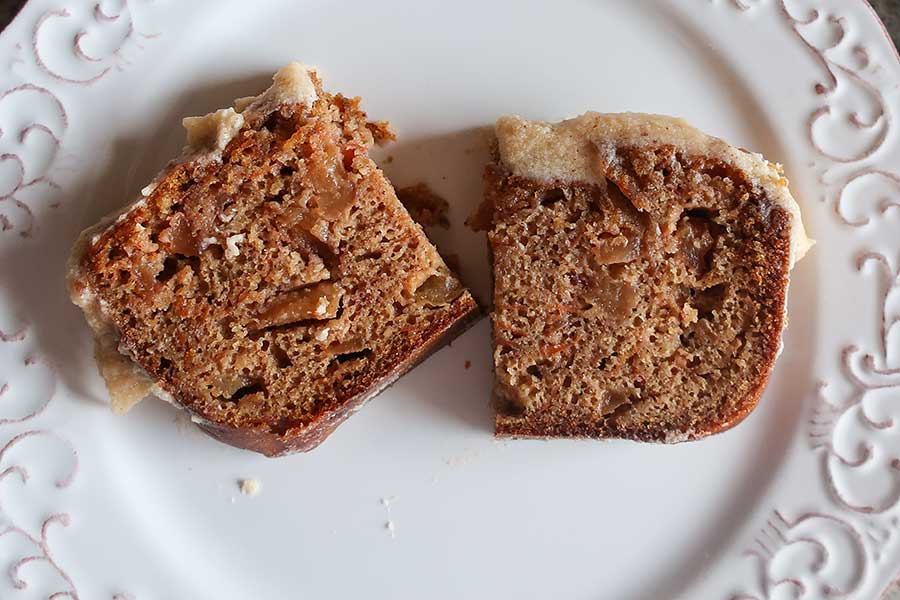 Let's Connect!
Be sure to FOLLOW US on FACEBOOK and PINTEREST.
Many thanks!
Kristina xx
Ingredients
2 cups peeled, cored, chopped apples (2 small apples)
1 cup grated carrots (1 medium-size carrot)
2 tsp. GF ground cinnamon 
1/2 tsp. GF ground nutmeg
1 tsp. Baking soda
1/4 tsp. Sea salt
1/2 cup extra virgin olive oil
3 large eggs
1/3 cup pure maple syrup
1/4 cup coconut or brown sugar
1/4 cup milk 
1 tsp. Pure vanilla extract
BROWN BUTTER FROSTING (optional)
1/4 cup unsalted butter
1 cup powdered sugar (confectioner's sugar)
1 tsp. Pure vanilla extract
2 - 4 Tbsp. Of milk or cream or as needed for consistency. The milk/cream must be at room temperature
*As an Amazon Associate and member of other affiliate programs, I earn from qualifying purchases. Please check out my sponsorship and disclosure policy page for more details
Instructions
Preheat oven to 350 F and line a loaf pan with parchment paper
Combine apples, carrots, cinnamon and nutmeg
Whisk together almond flour, sorghum flour, arrowroot flour, baking soda and salt
In a bowl of an electric mixer, mix olive oil, eggs, maple syrup, and coconut/brown sugar until creamy. Add milk and vanilla and mix to combine
Add wet mixture into dry ingredients and mix until just combined. Stir in apple carrot mixture.
Transfer batter into the loaf pan and bake for 40 minutes. Then loosely drape a sheet of foil paper over it and continue baking for 15 - 20 minutes longer. Until a toothpick inserted in the center comes out clean. My loaf took 60 minutes to bake
Allow to cool in the pan for 15 minutes, then transfer to a cooling rack to cool completely before slicing
BROWN BUTTER FROSTING
Using a small saucepan over medium heat, brown butter until it becomes an amber colour. Careful not to burn the butter. The butter will start to smell nutty when ready.
Transfer butter into a mixing bowl, add the sugar and vanilla, and slowly add the milk/cream while whisking until smooth. Add milk or sugar as needed to reach the desired consistency
Spread the frosting over the loaf 
Similar Recipes
Gluten Free Classic Walnut Date Loaf
Preserving the past in this Classic Walnut Date Loaf without gluten is magical. This loaf is about dates, flaxseed, fresh lemon juice, vanilla, coffee, eggs, walnuts and sweet sorghum flour. The mildly sweet flavor and the tender crumb make this an outstanding walnut date loaf. You may be surprised that I used coffee. Coffee is […] Read More
Prep Time
15 Minutes
Difficulty
Easy
Cook Time
55 Minutes
Serves
10 slices
Gluten Free Vegan Lemon Loaf
When it comes to lemon loaf, it should be moist, and you should taste the fresh lemon flavour. This loaf is deliciously flavoured with plenty of fresh lemon juice and finished with grilled lemon slices. The lemon topping infuses the loaf with stunning grilled lemon taste. This award winning gluten free vegan lemon loaf recipe […] Read More
Prep Time
15 Minutes
Difficulty
Easy
Cook Time
60 Minutes
Dutch Apple Quick Bread – Gluten Free
Hearty and fragrant, this Gluten-Free Dutch Apple Quick bread is made in a jiffy – studded with chunks of fresh apples, cinnamon, butter topping and vanilla glaze. So so good! There is a reason apples and cinnamon are a classic pairing. I can't think of two flavours that go better together. What is a quick […] Read More
Prep Time
15 Minutes
Difficulty
Easy
Cook Time
65 Minutes
Serves
1 loaf