Very Best Gluten-Free Ricotta Lemon Loaf
Published on Dec 20, 2021
by
Kristina Stosek
Prep Time:

15 minutes
Cook Time:

70 minutes
Serves:

1 loaf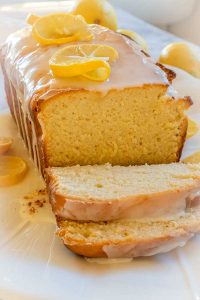 ​This post may contain affiliate links, please see our
privacy policy
for details
This Gluten-Free Ricotta Lemon Loaf with Lemon Icing tastes like fresh lemons. This dessert loaf is moist, extra lemony, and is made with ricotta cheese. As a finishing touch, the loaf is lightly drizzled with fresh lemon icing giving this ricotta lemon coffee cake a punch of fresh lemon flavor.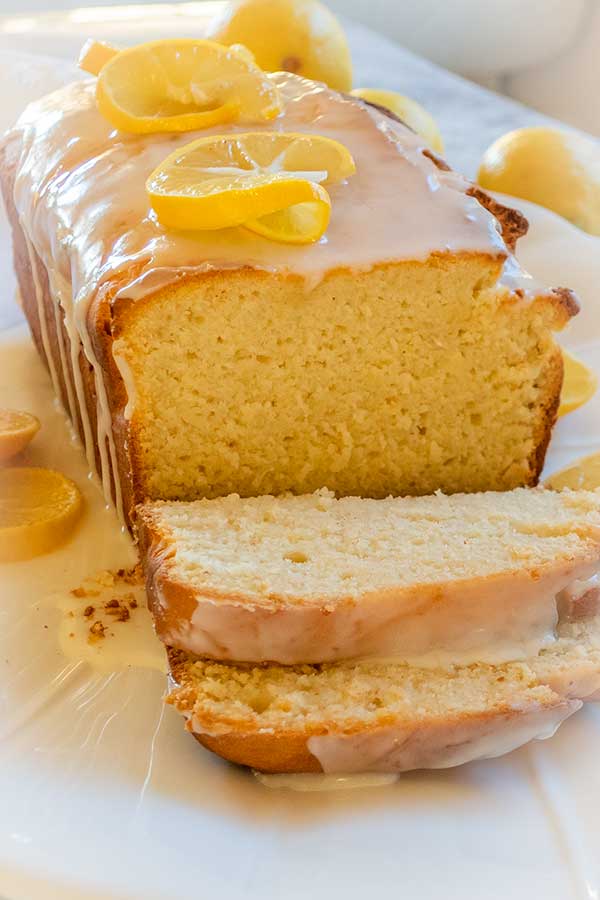 A ricotta lemon loaf that's just a touch more delicious.
This gluten-free loaf is everything we dream of in a dessert loaf. It's buttery, light, and moist and has a perfect crumb and a zing from fresh lemons.
But even more importantly, it tastes soo good! We could not be more excited to share this ricotta lemon loaf recipe today. It has everything a gluten-free lemon loaf needs and more. Another recipe you may enjoy is the Gluten-Free Rice Flour Pound Cake.
Ricotta Lemon Loaf Recipe Notes,
In these notes, you will learn how to get that perfect crumb. It's the small details that make this ricotta lemon loaf perfect.
This gluten-free dessert recipe is made from plenty of fresh lemons and lemon zest.
How to prepare the lemons for zesting?
Before zesting the lemons, remove the impurities, including wax, from the peel. To do this, pour boiling water over the lemons and soak them for one minute. Then drain the water, and wipe the lemons with a dry clean cloth. Now the lemons are ready for zesting,
How to add fresh lemon flavour to lemon loaf?
First, mix the nutrient-packed lemon zest with sugar using an electric mixer. Doing this first, helps release some of the essential oils from the zest, which will make all the difference in the flavour of the lemon loaf.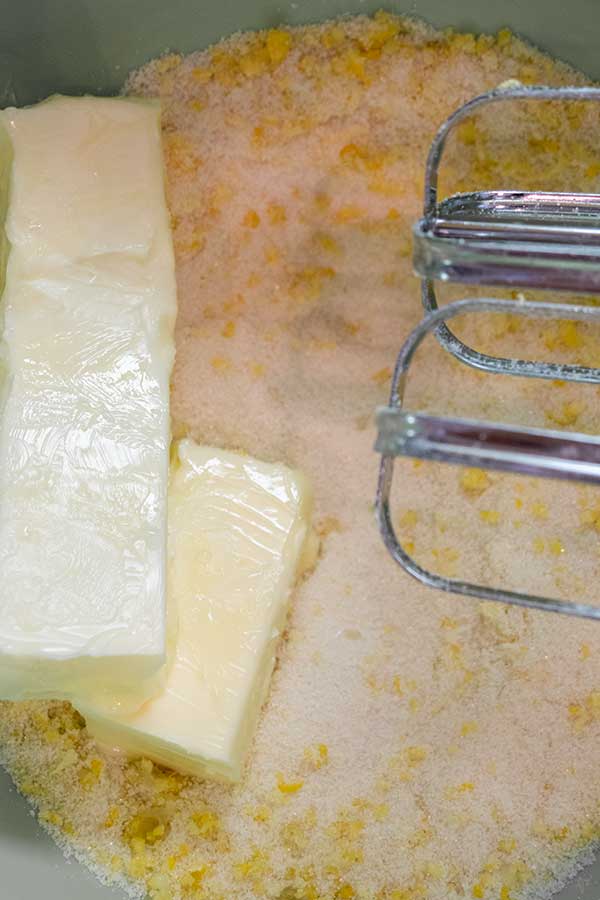 all the ingredients must be at room temperature
Next, cream the butter until fluffy. For this ricotta lemon loaf recipe, the butter, eggs and ricotta must be at room temperature for best results.
If you are short on time or forget to bring your ingredients to room temperature, here is a tip.
Fill a large bowl with warm water about 120 F, place the eggs, butter still in the paper and ricotta in a measuring cup into the water for 10 minutes. Do not submerge the ricotta in the water. Done!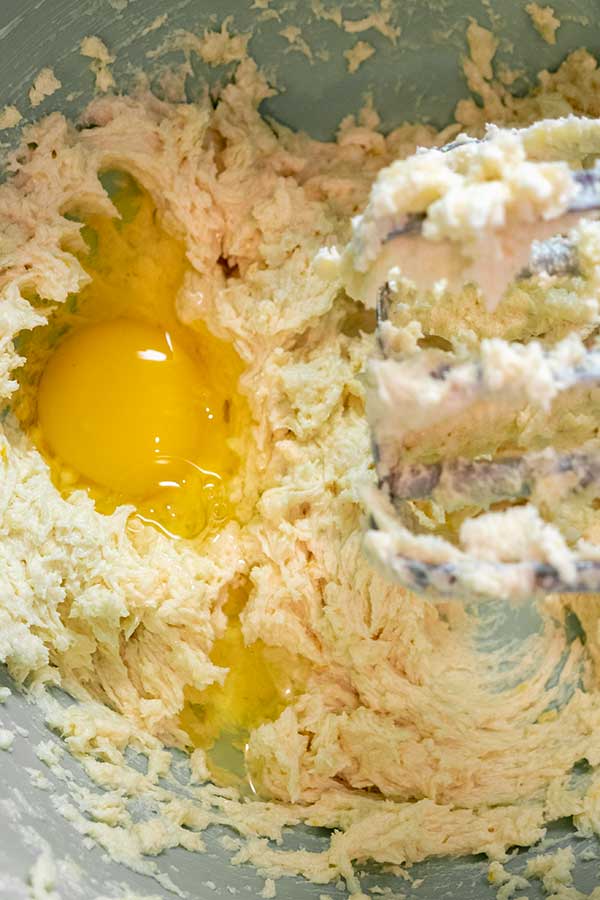 adding eggs to the butter mixture,
Next, mix in one egg at a time. This will maintain a creamy and airy butter mixture. In the end, very briefly mix in vanilla and ricotta cheese until just combined.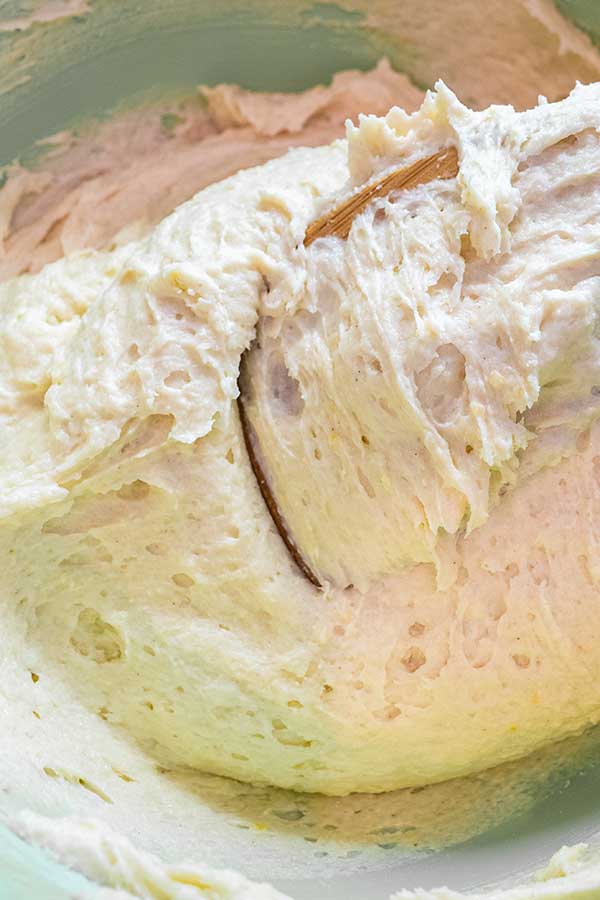 To keep the batter lump-free, I alternate flour mixture with lemon juice and use a wooden spoon or spatula to mix everything until smooth.
Don't worry if the batter looks slightly curdled. This is due to the acidic lemon juice. The final result will be melt in your mouth cake crumb.
prepare the loaf pan
First, brush the loaf pan with oil and then line it with parchment paper. By oiling the pan first, the parchment paper will stick easily to the pan.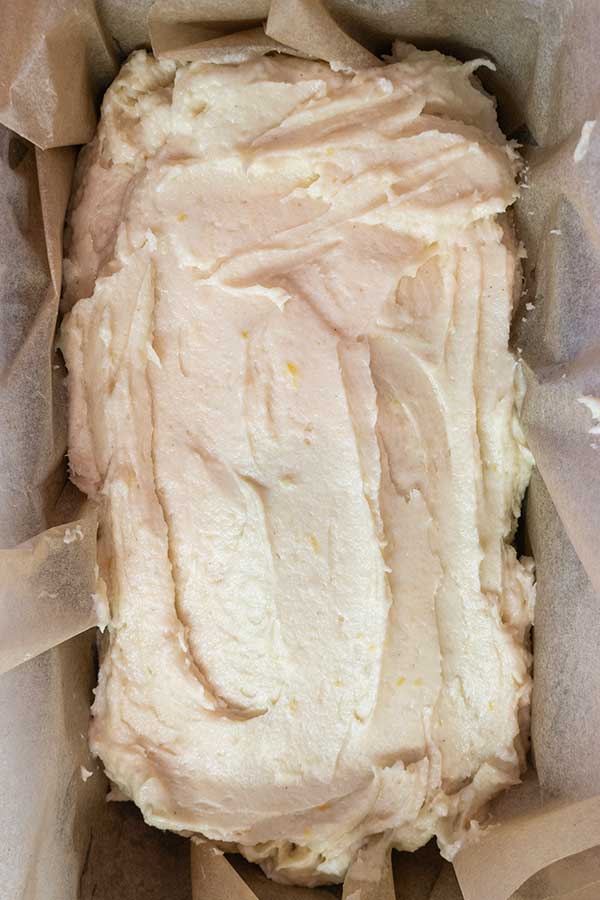 Spread the batter evenly into the prepared pan and smooth out the top.
The lemon loaf takes about 70 minutes to bake. To avoid browning too quickly, after 45 minutes, loosely cover the loaf with foil paper shiny side facing out and continue baking.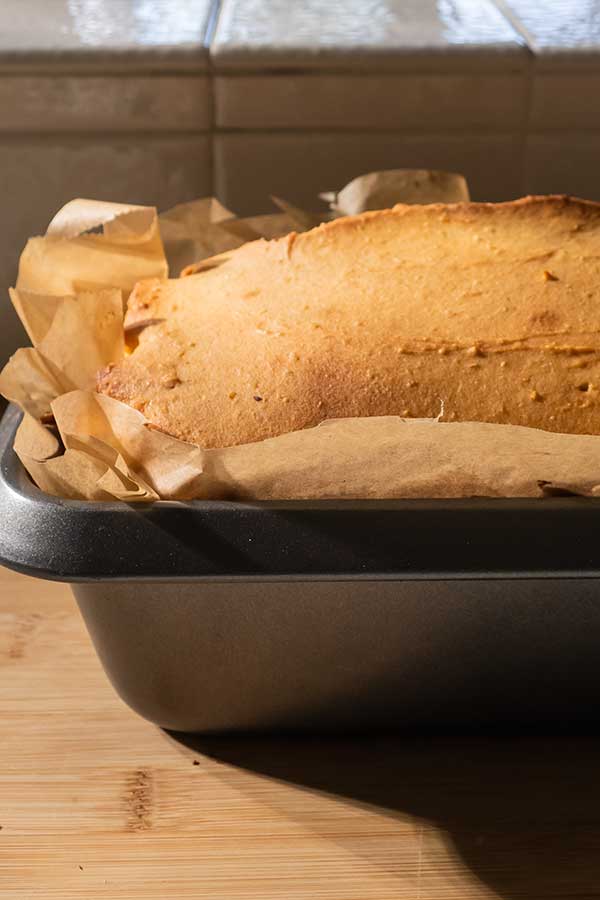 Rest the lemon loaf in the pan for 15 minutes, then transfer onto a cooling rack to fully cool.
lemon loaf isn't complete without lemon icing!
I find that 1 cup of powdered sugar (icing sugar) with 5 – 6 teaspoons of fresh lemon juice will give you the optimal icing consistency. The icing should be thick. However, if you prefer the icing to be thinner, add 1/2 teaspoon at a time of lemon juice until you reach desired consistency.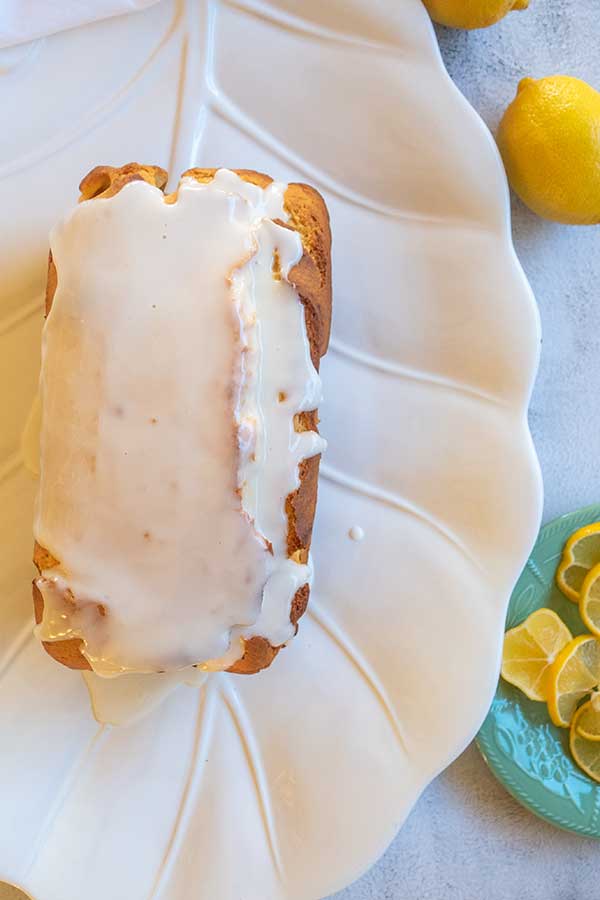 Once the ricotta lemon loaf has cooled, drizzle the loaf with lemon icing allowing the icing to drip down the sides. Or, you can use royal cream cheese frosting instead.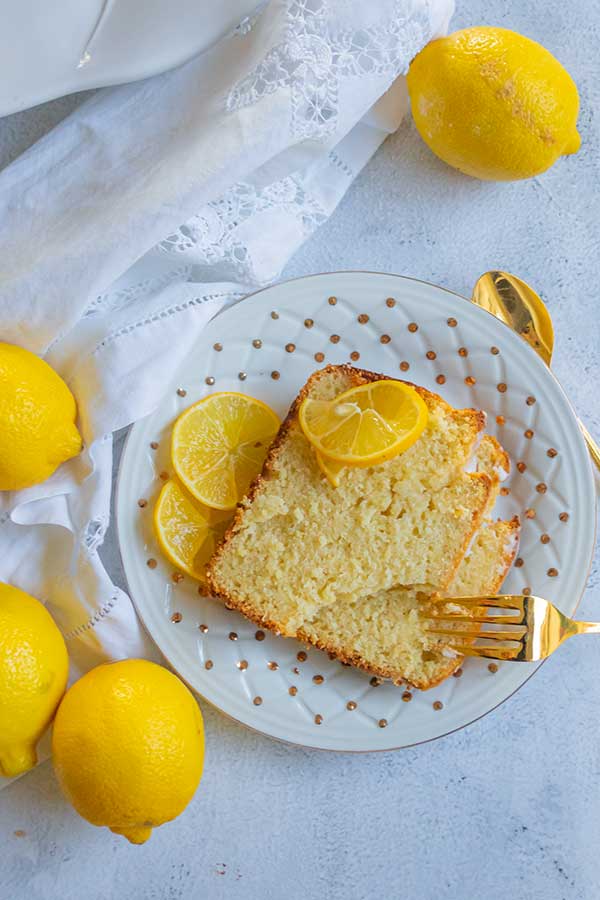 This gluten free ricotta lemon loaf only needs fresh lemon icing. However, adding a few thin lemon slices will make the loaf look fresh and pretty.
storing ricotta lemon loaf
Place the lemon loaf in an airtight container in a cool, dry place for up to three days. Or refrigerate for up to five days.
This gluten-free ricotta lemon loaf recipe is by far the best. Enjoy!
Very Best Gluten-Free Ricotta Lemon Loaf
Published on Dec 20, 2021
by
Kristina Stosek
Instructions
1.

Preheat oven to 350 F and brush a standard ( 8 1/2 x 4 1/2-inches) loaf pan with oil and line with parchment paper

2.

Using a stand mixer or a hand mixer, mix sugar with lemon zest in a large bowl. Add butter and mix until creamy

3.

Add one egg at a time, mixing well after each egg until smooth

4.

Add vanilla and ricotta cheese and mix until just combined

5.

In a separate bowl, mix flours, baking powder and salt

6.

Add 1/3 of the flour mixture to the egg mixture and mix using a spatula to combine. Add 1/4 cup of lemon juice and mix to combine. Add the second third of the flour mixture and mix to combine. Add remaining lemon juice, mix and finish with the remaining flour mixture. The batter should be smooth

7.

Transfer the batter into prepared loaf pan, smooth out the top and bake for 70 - 75 minutes covering the loaf loosely with foil paper shiny side facing up after 45 minutes. This prevents browning too quickly. The loaf should have a large crack running along the center or side and should pass the toothpick test

8.

Cool in the loaf pan for 15 minutes. The loaf will deflate slightly, then transfer onto a wire rack to cool completely.

9.

10.

Stir powdered sugar and six teaspoons of lemon juice together until smooth. The icing should be thick

11.

Drizzle over cooled loaf with icing running down the sides
Leave a Comment
This was delicious! I will be making it again.
Great recipe, definitely needs icing!!!!!!!
I love lemons, and this loaf has an excellent lemon flavor and the texture is perfect.
Kristina
I am so happy to hear that Christine, thank you for sharing your version
Just made this recipe and it's outstanding! Tastes like a rich lemon pound cake with a wonderful tender crumb. (I use Analise Roberts GF blend with Superfine White Rice Flour, no Xanthan gum.) It doesn't need the lemon frosting in my opinion. I made 4 - 6"x3" mini loaves and baked only 55 minutes. This is now in my permanent recipe collection. Thank you!
We loved this loaf! I subbed mandarin orange as I had lots and made double batch to freeze one loaf. I didn't ice it and we didn't miss it! Yummy. I'll make again when our strawberries come along!
Kristina
thank you Teresa for sharing!
Very lemony and quite good. Six teaspoons (aka 2 tablespoons) of lemon juice for the icing seems a bit much. I advise adding this slowly until you get the consistency you like. I give this 4 stars as a GF recipe. If it wasn't GF it would be more like a 3.