Grain-Free Gingerbread Walnut Loaf (Dairy-Free, Paleo)
Published on Aug 27, 2018
by
Kristina Stosek
Prep Time:

15 minutes
Cook Time:

50 minutes
Serves:

12 slices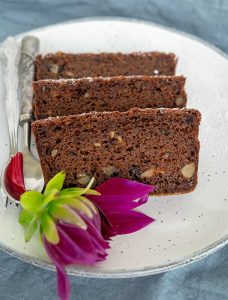 ​This post may contain affiliate links, please see our
privacy policy
for details
Grain-Free Gingerbread Walnut Loaf that everyone is talking about! This heavenly loaf is made with fresh ginger, fresh apples, walnuts and pumpkin pie spices. This is not one of those super sweet loaves. The gingerbread walnut loaf is sweetened with apples, maple syrup and a splash of molasses.
The spices are a mix of cinnamon, cloves and nutmeg similar to the ones used in a pumpkin pie or gingerbread. Also, there are only two flours used almond and arrowroot, both of which are grain-free.
The almond flour combined with arrowroot flour gives this loaf a super light texture, pillowy soft yummy! The key ingredient…walnuts. Adding walnuts to this recipe sets this loaf apart from most. Nutty flavour, not too sweet, soft texture and a bit of crunch –> Yes, perfection!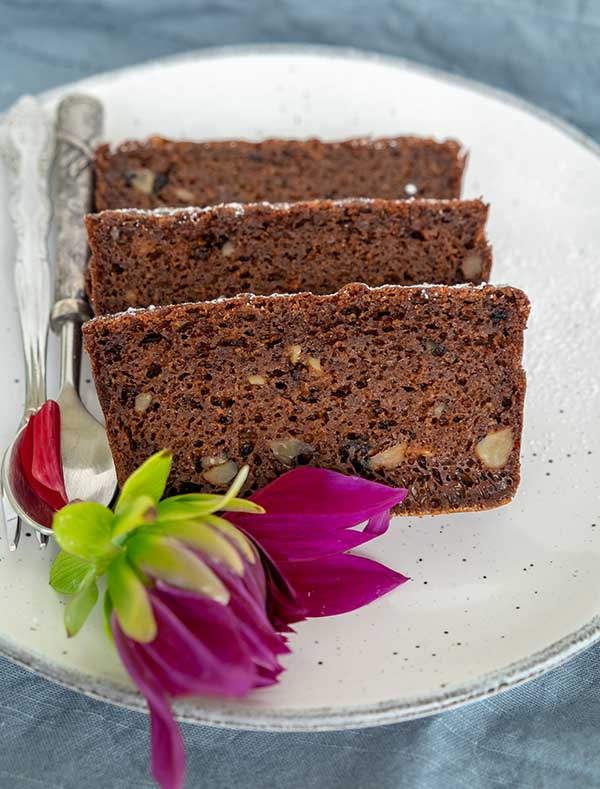 Why this is a healthy gingerbread walnut loaf!
First, there are no grains in this loaf, so it is naturally gluten-free. The sweetness comes from apples, maple syrup and molasses, so there is no refined sugar added. The flavour comes from fresh ginger, apples and pumpkin spices, all of which are healthy and for those that are intolerant to dairy, you are in luck. There is no dairy in this recipe.
The only fat added to this recipe is coconut oil. So all in all, this is a healthy-ish gingerbread walnut loaf. This grain-free gingerbread walnut loaf is also high in protein, which makes it a good snack for after a workout or after school munchies. Enjoy!
Our 3 most popular gluten-free loaves for brunch
♥ Gluten-Free Carrot Apple Loaf
Grain-Free Gingerbread Walnut Loaf (Dairy-Free, Paleo)
Published on Aug 27, 2018
by
Kristina Stosek
Instructions
1.

Preheat oven to 360 F and line a loaf pan with parchment paper

2.

Whisk together almond flour, tapioca flour, baking soda, cinnamon, nutmeg, cloves and salt

3.

Separate egg whites from the yolks. Using an electric mixer beat the egg whites until soft peaks form

4.

Place egg yolks, grated apple, milk, maple syrup, coconut oil, molasses, ginger and vanilla in a large bowl. Using the electric mixer, beat until smooth. Add dry ingredients and using a spatula mix to combine. Add egg whites and fold into the batter until combined, then stir in walnuts

5.

Transfer batter into prepared loaf pan and bake for 45 - 50 minutes, until the loaf is firm to touch and a toothpick inserted in the center of the loaf comes out clean

6.

Cool in the pan for 15 minutes, then transfer onto a cooling rack to cool completely before cutting