Gluten Free Blueberry Pecan Breakfast Cake
Published on Dec 18, 2022
by
Kristina Stosek
Prep Time:

15 minutes
Cook Time:

50 minutes
Serves:

16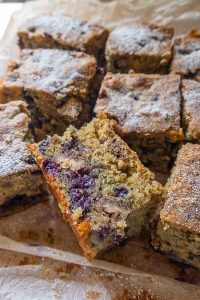 ​This post may contain affiliate links, please see our
privacy policy
for details
Whether you're looking for a healthier way to start your day or trying to find a delicious breakfast option that the whole family will love, this gluten-free blueberry pecan breakfast cake is the perfect recipe!
This gluten-free cake is delicious, nutritious, and made with almond flour, millet flour, and oats. In addition, the bursting blueberries throughout add flavor and keep the cake super moist. And the pecans add that earthy, satisfying crunch to every bite.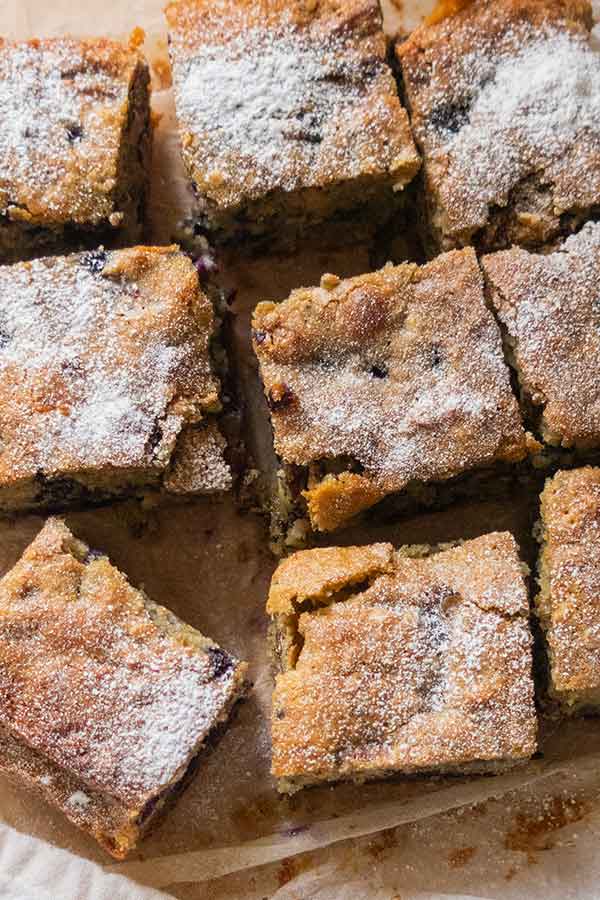 Is breakfast the most important meal of the day?
There are many opinions on whether breakfast is the day's most important meal. Some people argue that it is because it breaks the overnight fast and refuels the body with much needed nutrients.
Others contend that breakfast isn't necessarily the most important meal. Ultimately, it depends on the individual's needs and preferences.
What we do know is that the first meal should be nutritious to keep you energized, no matter what time of the day. One of our five star breakfast recipes to try, is the Gluten-Free Ricotta Blueberry Breakfast Cake.
breakfast cake made with millet flour
This recipe is made with millet flour. The millet flour provides a nutrient-rich gluten free alternative to a flour blend that is often comprised of rice flour and various starches such as corn starch, arrowroot or tapioca.
Is millet healthy?
Yes, millet is a healthy gluten free grain. It is high in fiber and antioxidants and has a low glycemic index, making it a good choice for people with diabetes. Millet is also a good source of protein and minerals, including magnesium, phosphorus, and iron.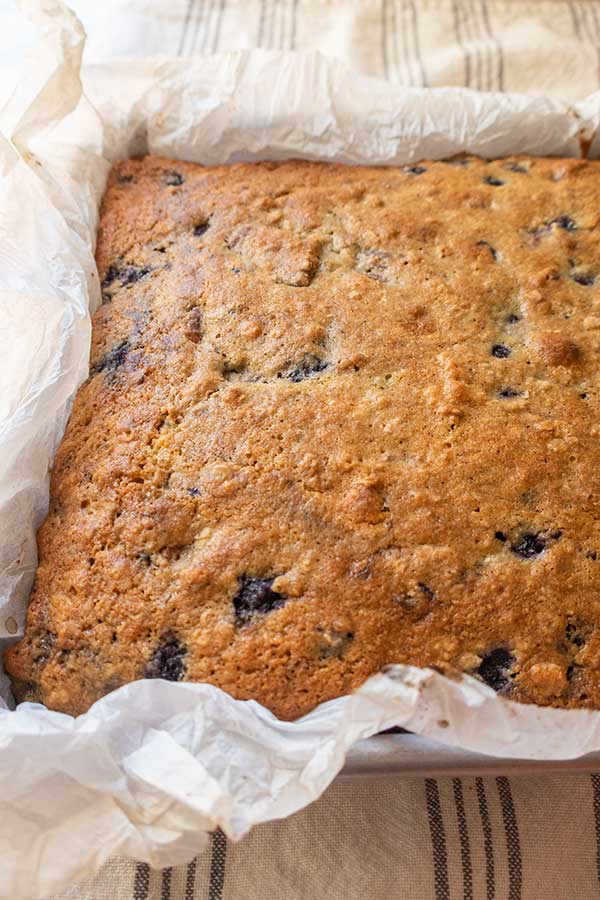 Why do we need xanthan gum in gluten free cake recipes?
Xanthan gum is a common ingredient in gluten free baking. It helps to create a more cohesive dough and can improve the texture and rise of gluten free cakes. While xanthan gum is not strictly necessary, it can often make the difference between a good gluten free cake and a great one.
Why is this called a breakfast cake?
This is a breakfast cake because it's packed with gluten free ingredients that we would often enjoy for breakfast, such as blueberries, nuts, and oats. Why have just oatmeal or cereal when we can enjoy a melt in your mouth most delicious cake for breakfast?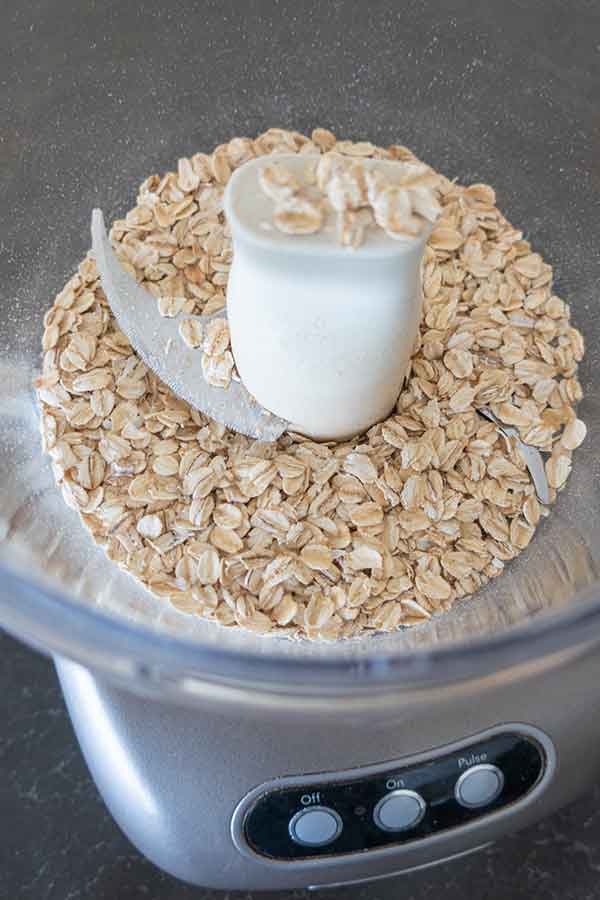 Why are oats good for us?
There are many reasons why oats are good for us. They are a whole, naturally gluten free grain. As a result, oats have many of the nutrients that we need to stay healthy. They are also high in fiber, which helps to keep our digestive system running smoothly.
Additionally, as per Science Direct, oats contain avenanthramides, which are antioxidants that can help to protect our cells from damage. And oats are protein-rich, making them an excellent addition for someone following a plant-based diet.
ingredient substitutions for gluten free breakfast cake
This gluten free breakfast recipe can easily be changed up with simple ingredients or made dairy free.
butter – coconut oil, vegan butter such as earth balance
1 cup light brown sugar – 2/3 cup pure maple syrup, honey or agave, coconut sugar
Yogurt – milk with 1 tablespoon of fresh lemon juice. You can also use dairy-free milk such as coconut or almond milk
lemon zest – orange zest
almond flour – any nut flour
millet flour – all purpose gluten free flour
tapioca starch – arrowroot starch, potato starch or corn starch
1/2 tsp. baking soda – 1 tsp. baking powder
2 cups blueberries – raspberries, blackberries, halved grapes, or 1 1/4 cups chopped drained pineapple
pecans – any nuts of choice
Tools you will need to make breakfast cake:
2 bowls
Electric mixer (you can also do this manually using a whisk)
Food processor or blender (to make oat flakes)
measuring cups and measuring spoons
spatula
8 x 8 inch baking pan
parchment paper
Can I change the recipe to muffins?
Yes, this recipe is easily made into muffins. The only thing that will change is the baking time to 20 to 25 minutes, or until the muffins pass the toothpick test and are golden brown.
FAQs about pecans
-Are pecans gluten free?
Yes, pecans are a naturally gluten free food.
-Can I eat pecans if I have a nut allergy?
Nut allergy is often to a specific nut. This means you may only be allergic to some nuts. However, if you suspect a nut allergy, get tested to ensure you are not allergic to pecans. The most common nut allergies are walnut, almond, hazelnut, cashew, pistachio and pecans. Peanuts are not considered nuts, but are a high allergen food.
-What are the benefits of eating pecans?
Pecans are a good source of fiber, antioxidants, and essential vitamins and minerals. They may also help improve heart health and protect against some chronic diseases.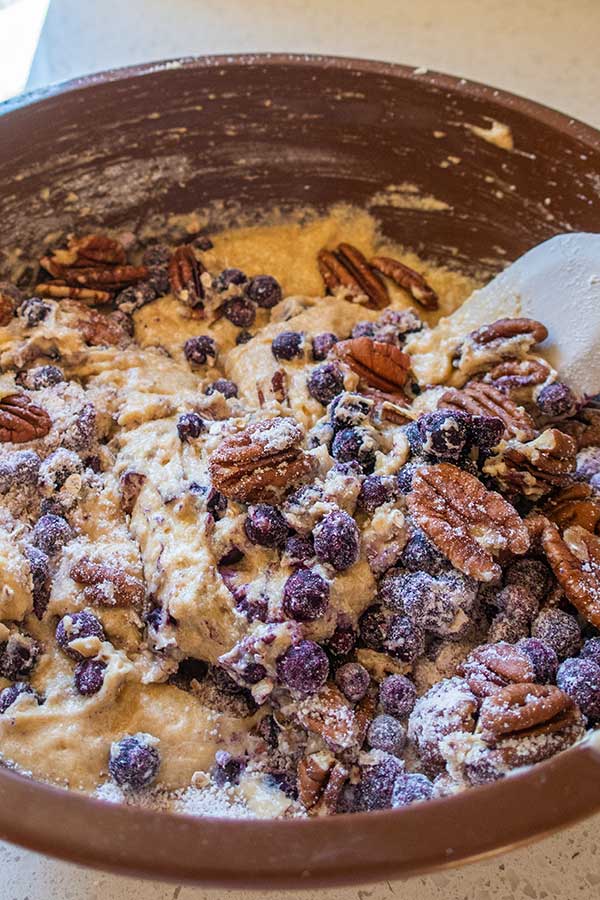 Fresh or frozen blueberries for baking?
There are two schools of thought when using fresh or frozen blueberries for baking. Some say fresh berries are always the way to go because they have more flavor and tend to hold their shape better during baking.
Others say they prefer frozen berries because they work just as well. Plus, they are easier to find year-round, you can always keep them in the freezer, and often they are cheaper.
So, which is the correct answer? It depends. If you prefer the taste of fresh whole berries, then fresh blueberries are the way to go. But frozen berries will do the trick if you're looking for a more budget-friendly option and convenience.
storing
Once you have made your gluten free blueberry pecan breakfast cake, you will need to store it properly to ensure that it stays fresh and delicious. Here are some tips for storing your cake:
If you are not going to serve the cake immediately, it can be stored in a cool, dry place for up to 2 days. Or in the fridge for up to 4 days.
To keep the cake moist, you can wrap it in plastic or aluminum foil. Or use a cake storage container.
If you want to freeze the cake, wrap it tightly in cling wrap or aluminum foil before placing it in a freezer bag. It will stay fresh for up to 2 months.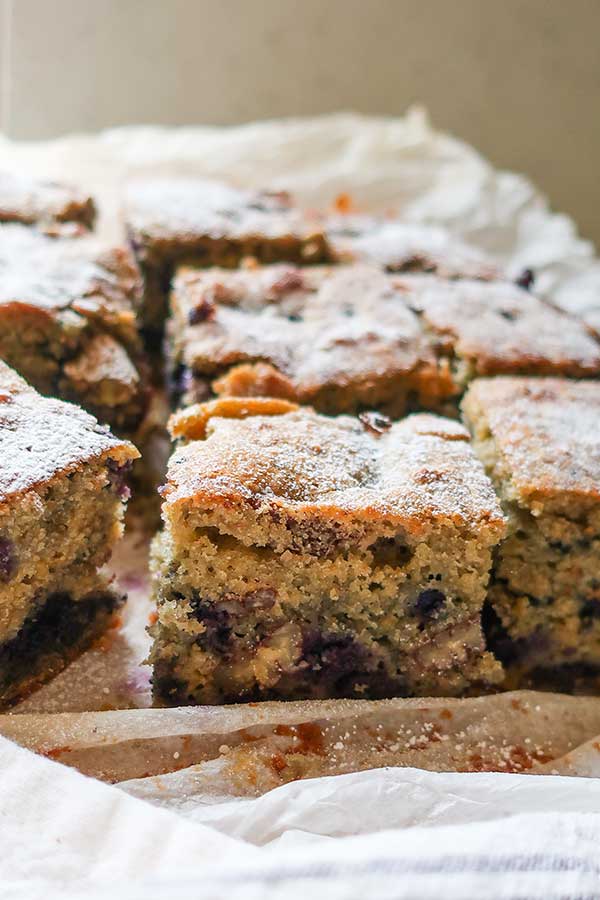 So whether you are looking for a healthier breakfast option or a snacking cake with your coffee in the morning, this gluten free breakfast cake is sure to start your day off right!
Let's Connect!
Be sure to FOLLOW US on FACEBOOK and PINTEREST.
Many thanks!
Kristina xx
Gluten Free Blueberry Pecan Breakfast Cake
Published on Dec 18, 2022
by
Kristina Stosek
Instructions
1.

Preheat oven to 350 F and line an 8 x 8 inch square pan with parchment paper.

2.

Using an electric mixer or a whisk, cream the butter with sugar until smooth. Beat in eggs one at a time, then add yogurt, vanilla and lemon zest and mix to combine. Set aside

3.

Place oats into a food processor or a blender and process until flaky or half the size

4.

Mix oats with almond flour, millet flour, tapioca starch, baking soda, xanthan gum and salt

5.

Toss blueberries with three tablespoons of the flour mixture

6.

Add dry ingredients to the butter mixture, and using a spatula, briefly combine

7.

Add floured blueberries and pecans and mix until you no longer see dry flour. Do not overmix

8.

Transfer batter to the prepared pan and bake for 45 - 50 minutes until golden brown and the cake passes the toothpick test. Cool in the pan before cutting into squares 
Leave a Comment
very good, definitely will make again.