Grain-Free Cinnamon Apple Lemon Muffins
Published on Jan 21, 2022
by
Kristina Stosek
Prep Time:

15 minutes
Cook Time:

30 minutes
Serves:

12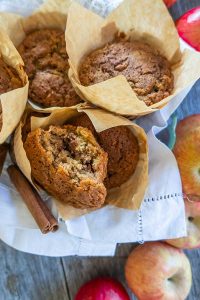 ​This post may contain affiliate links, please see our
privacy policy
for details
Super moist Grain-Free Cinnamon Apple Lemon Muffins. I am super excited to tell you how wonderfully delicious these gluten-free muffins turned out. Think… super moist with a light crumb, lemon muffin with fresh cinnamon apples swirl throughout. Every bite of this healthy grain-free muffin is roll your eyes back, filled with yumminess!
grain-free muffin recipe details,
First, these muffins are gluten-free, dairy-free and xanthan gum free. To keep this muffin a grain-free recipe, I used three grain-free flours: Almond flour, cassava flour and coconut flour. I wanted to keep the muffins light and airy. This is why I introduced cassava flour to the grain-free muffin recipe.
If you are looking for grain-free recipes, please try the grain-free berry cheesecake bars or the nut-free cassava bread, or, my favourite the grain-free ham and cheese donuts, I know you will enjoy them.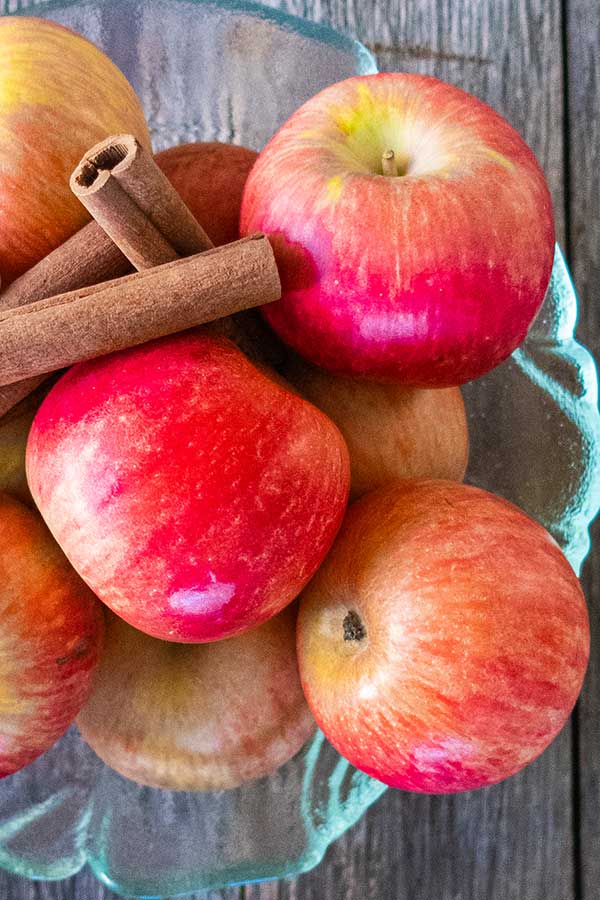 the fresh apple swirl,
I used fresh apples in this cinnamon apple lemon muffin recipe, including the apple's skin. The skin is the richest part of the apple in soluble type fiber. Soluble fiber is essential to our health because the fiber reduces your body's ability to absorb fat.
And I recommend always using organic apples. Because apples are in the top five of the dirty dozen list. Dirty dozen is a list of foods with the most pesticides.
How is the apple swirl made?
The fresh apples are grated on a box grater, then mixed with plenty of cinnamon and a little brown sugar. Then, the fresh apple mixture is swirled in the batter, not mixed.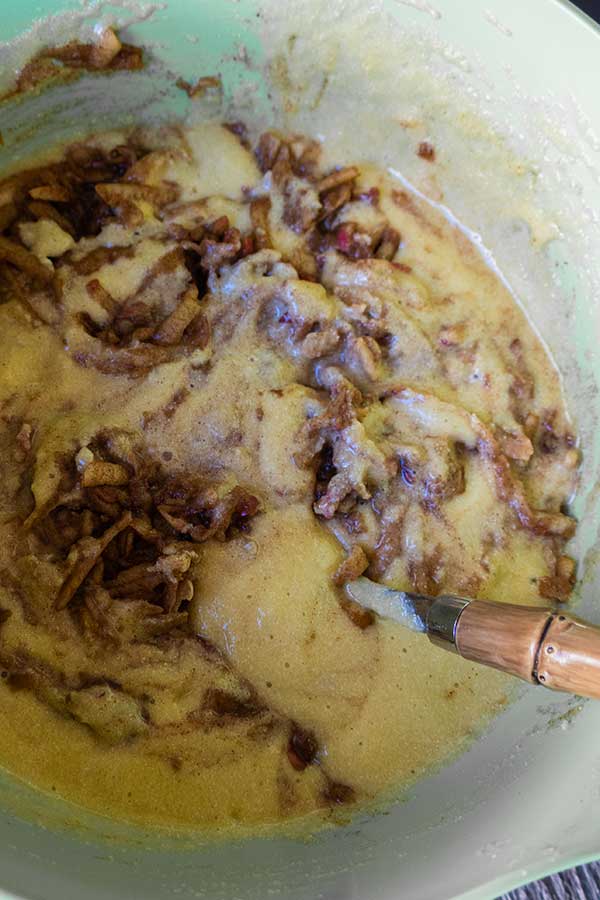 the grain-free muffin batter,
I wanted to keep this gluten-free muffin recipe as healthy as possible. So for fats, I used heart-healthy olive oil. To replace grains, I used almond flour, cassava flour and coconut flour. For extra protein, I added eggs, and for the zesty lemon flavour, I added plenty of fresh lemon juice.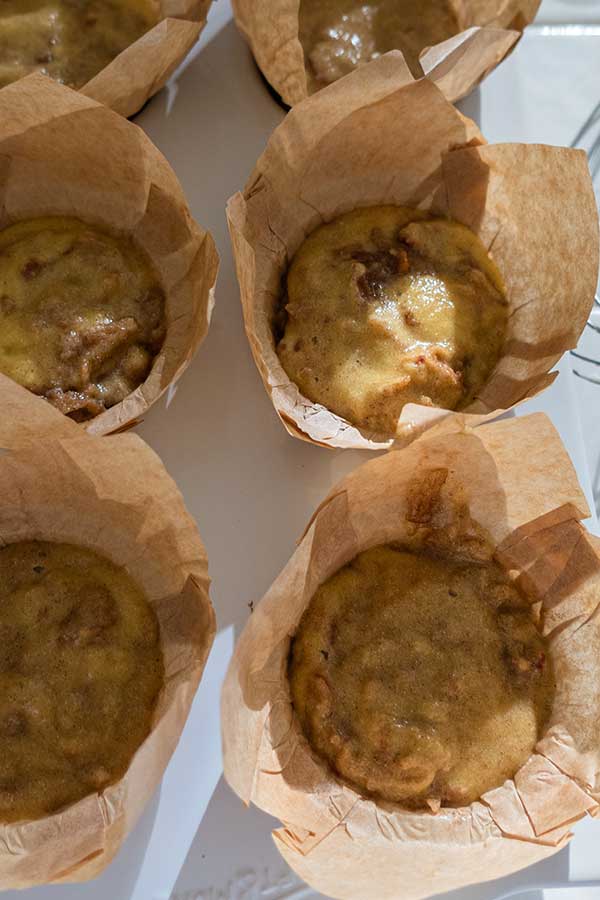 If you like lemon flavour, try our favourite gluten-free mini lemon cakes.
the sweetener,
I used coconut sugar in the grain-free muffin batter for my first few batches. Then, for the cinnamon apple swirl, I added brown sugar. The brown sugar has a slight taste of molasses, thus adding extra flavour to the fresh apples.
For my last batch, I replaced the sugar with maple syrup for extra healthiness. However, if you use maple syrup, date syrup or honey, you will need to add one additional teaspoon of coconut flour to the muffin batter.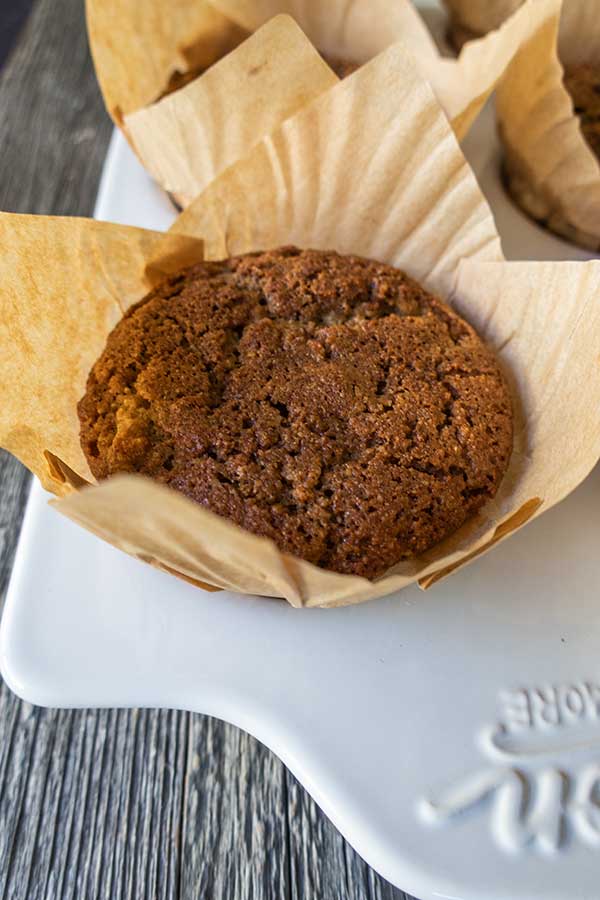 Can this grain-free cinnamon apple lemon muffin be made low-carb?
Yes, you can replace both sugars in this grain-free muffin recipe with zero net carb monk sugar. However, pure monk sugar is sweeter than coconut sugar and brown sugar. So, I would recommend using about 1/4 cup of monk sugar in the muffin batter and only one teaspoon in the apple cinnamon swirl.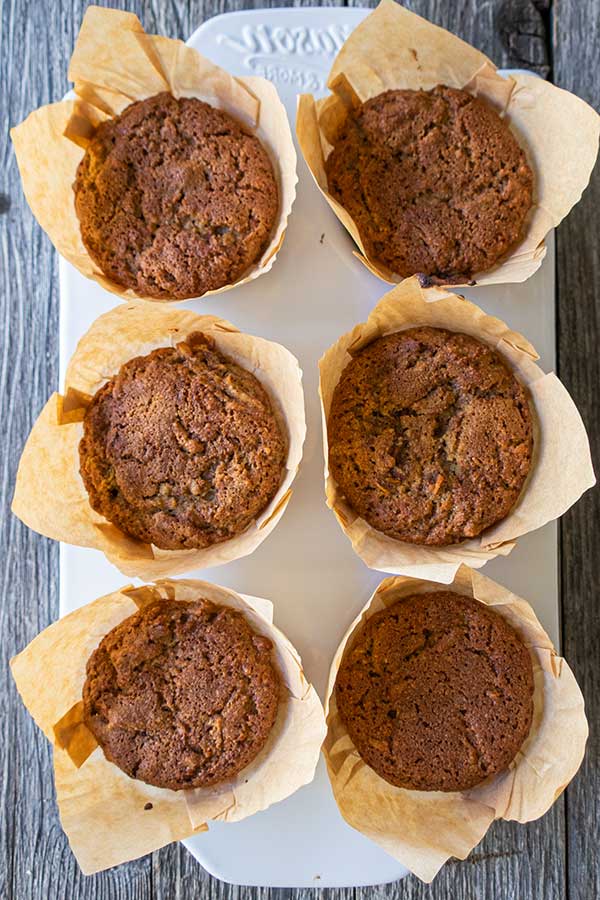 4 simple steps to make this grain-free muffin
Mix grated apples with cinnamon and sweetener
Whisk dry ingredients together (flours, baking soda and salt)
Using an electric mixer, cream together the eggs, olive oil, sugar, lemon juice and vanilla and mix in the dry ingredients
Lastly, using a fork, swirl in the cinnamon apples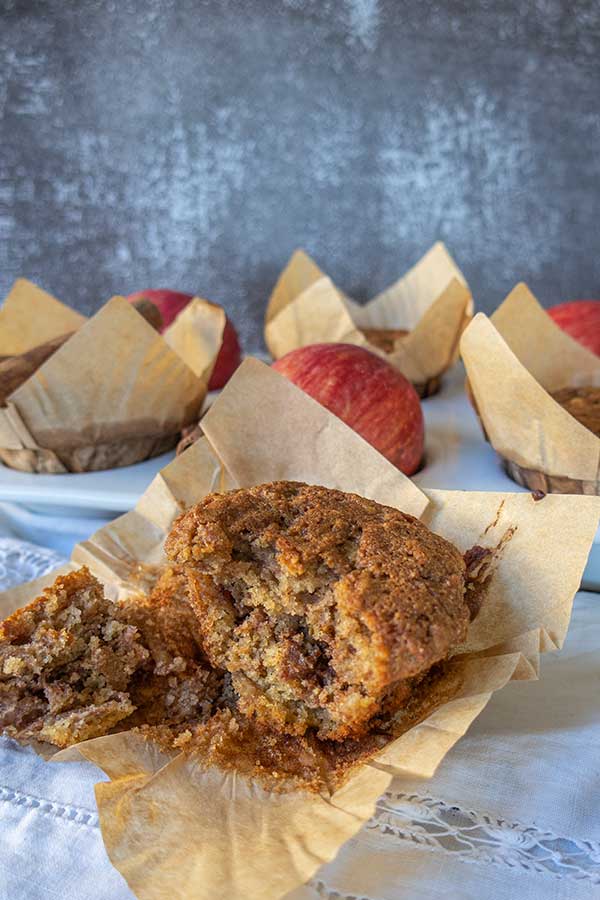 So if you are on the hunt for a grain-free, dairy-free, xanthan gum-free healthy muffin recipe, you must give this healthy cinnamon apple lemon muffin a try. I promise you will not be disappointed!
Grain-Free Cinnamon Apple Lemon Muffins
Published on Jan 21, 2022
by
Kristina Stosek
Instructions
1.

Preheat oven to 350 F. Brush a muffin pan with olive or coconut oil and line with parchment paper muffin liners. The liners must be made from parchment paper, or the muffin will stick.

2.

In a small bowl, combine apples, cinnamon and brown sugar. Set aside

3.

In a large bowl, whisk together almond flour, cassava flour, coconut flour, baking soda and salt

4.

In a separate bowl, using an electric mixer, whisk together eggs, olive oil and sugar until smooth. Whisk in lemon juice and vanilla

5.

While the mixer is running, slowly add the dry ingredients until combined. Do not over mix

6.

Pour the cinnamon apple mixture into the batter, and using a fork, briefly swirl the apples through the batter. Do not mix them

7.

Using a cookie scoop or a large spoon, add the batter to the prepared muffin pan

8.

Bake for 30 - 35 minutes or until the muffins pass the toothpick test. After 5 minutes, transfer muffins onto a cooling rack to fully cool

9.

*note, you can make 12 regular muffins or 9 jumbo muffins. If you make the jumbo muffins allow 2 - 4 minutes of extra baking time