Gluten-Free French Pear Cake
Published on Jun 24, 2019
by
Kristina Stosek
Prep Time:

15 minutes
Cook Time:

40 minutes
Serves:

8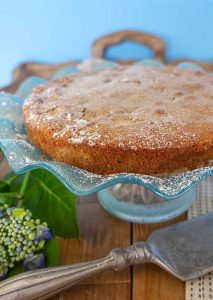 ​This post may contain affiliate links, please see our
privacy policy
for details
The best Gluten-Free French Pear Cake recipe…the natural moistness that pears impart to this lightly spiced cake have sent it soaring to the top of the French dessert list. Sweetened with only maple syrup and fresh pears adds this gluten-free dessert to the healthy-ish of desserts.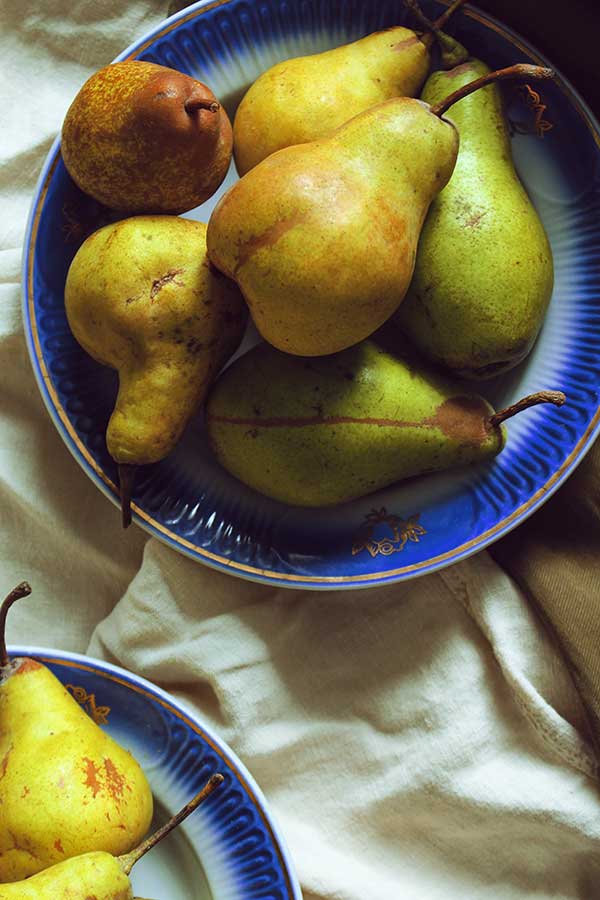 choosing the right pear for cooking,
The three most common pears are Barlett, Bosc and Anjou.
Bartlett pears come in red and yellow and are the only pear with the true pear shape. Bartlett pears are good for making jam or pear butter.
Bosc pear has an oblong shape with an elongated neck. This pear retains its shape and flavour when baked or cooked.
Anjou pear has a round shape with a short neck. These pears are popular in the US because of their long shelf life. They are your basic all-purpose pears. You can use them for snacking, baking and cooking.
For cooking or baking, the pear should be firm but ripe. If the pears are very hard when you buy them, give them a few days to ripen. The pears will have more flavour and better texture in your recipes.
What to serve with French Pear Cake?
Firs the fresh flavour of the pears will surprise you. You can taste the fresh pears in every bite, making this gluten-free dessert incredibly delicious. I find this pear cake is best when served warm with whipped cream or with a large scoop of French vanilla bean ice cream.
However, it is perfect at room temperature with morning coffee or afternoon tea. This pear cake is one of those desserts that kids love too. So pop a slice in their lunch box for a special sweet treat of the day.
Since there is no refined sugar and plenty of pears you can feel confident that they are having something sweet and healthier than cookies.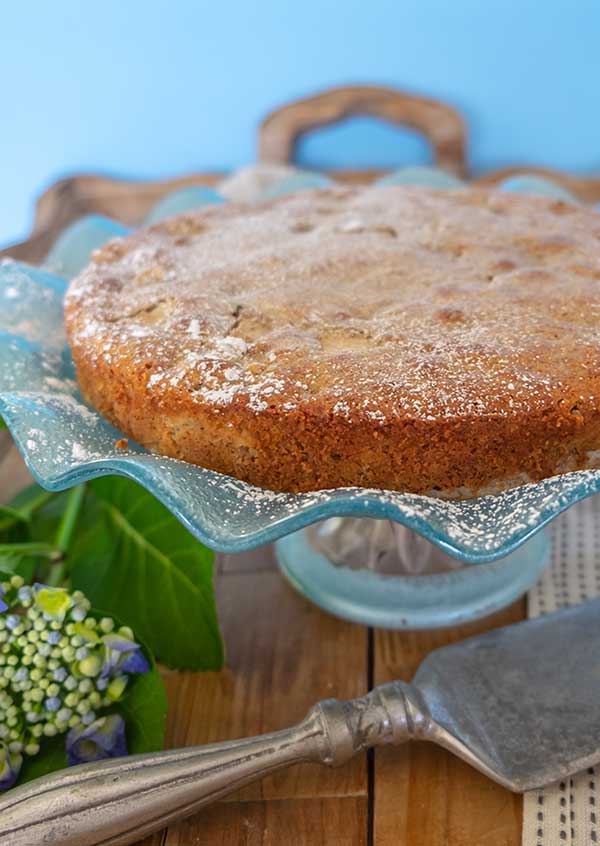 Is this gluten-free dessert recipe simple to make?
Absolutely, this French dessert is so simple! First, you combine the dry ingredients, then whisk the wet ones and then mix together. It's that easy.
Since this dessert is packed with pears, some pears are grated and others chopped. The reason some of the pears are grated they add to the sweetness and keep the cake extra moist. This is the only time consuming step in this recipe.
If you decide to bake this gluten-free cake, please let me know what you think. I am sure you will not be disappointed with this stunning French dessert.
Feel like French food tonight? Check out our famous gluten-free French recipes 😎
Gluten-Free French Pear Cake
Published on Jun 24, 2019
by
Kristina Stosek
Instructions
1.

2.

Whisk together almond flour, sorghum flour, arrowroot flour, baking powder, nutmeg and salt

3.

In a separate bowl, whisk the eggs with maple syrup. Add butter, grated pear and vanilla and whisk until combined

4.

Add wet mixture into dry ingredients and mix to combine. Stir in pear cubes

5.

Pour cake batter into the pan and bake for 35 - 40 minutes or until a toothpick inserted in the middle of the cake comes out clean

6.