Gluten-Free Zesty Blueberry Scones
Published on Mar 26, 2021
by
Kristina Stosek
Prep Time:

10 minutes
Cook Time:

25 minutes
Serves:

8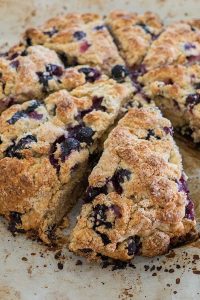 ​This post may contain affiliate links, please see our
privacy policy
for details
Gluten-Free Zesty Blueberry Scones…filled with fresh blueberries and a hint of fresh lemon flavour. Scone recipe is probably the easiest to make, and more importantly, these buttery scones will melt in your mouth with fresh blueberries bursting in every bite.
If you love warm scones filled with healthy blueberries, this gluten-free scone recipe is for you!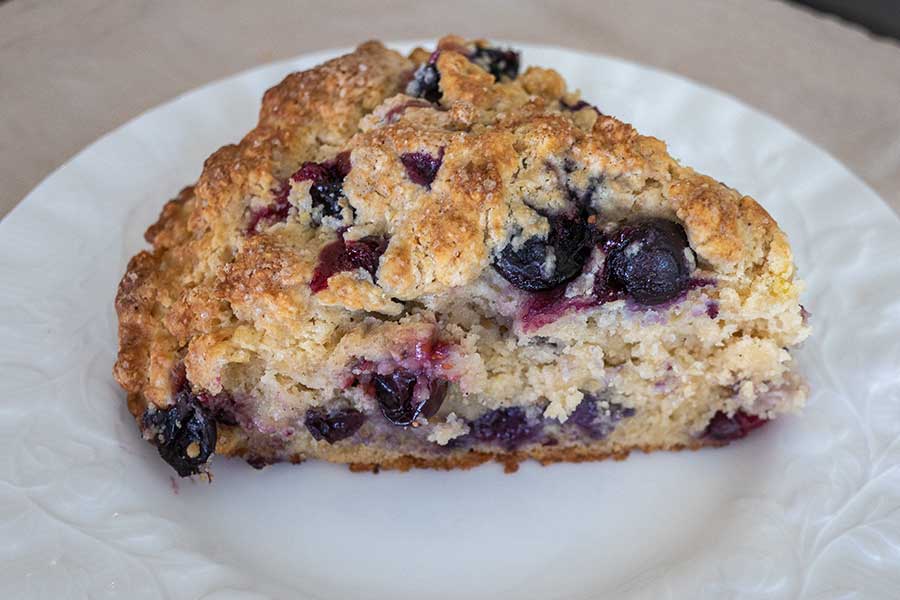 There is nothing more satisfying than a freshly baked warm scone right out of the oven. Anther scone recipe you may enjoy is this Gluten-Free Maple Oat Nut Scone, so…so… good!
recommended toppings for blueberry scones
You can finish the gluten-free blueberry scones with a light sprinkle of turbinado sugar or a fresh lemon glaze. The combination of sweet blueberries and fresh lemon glaze is just the best!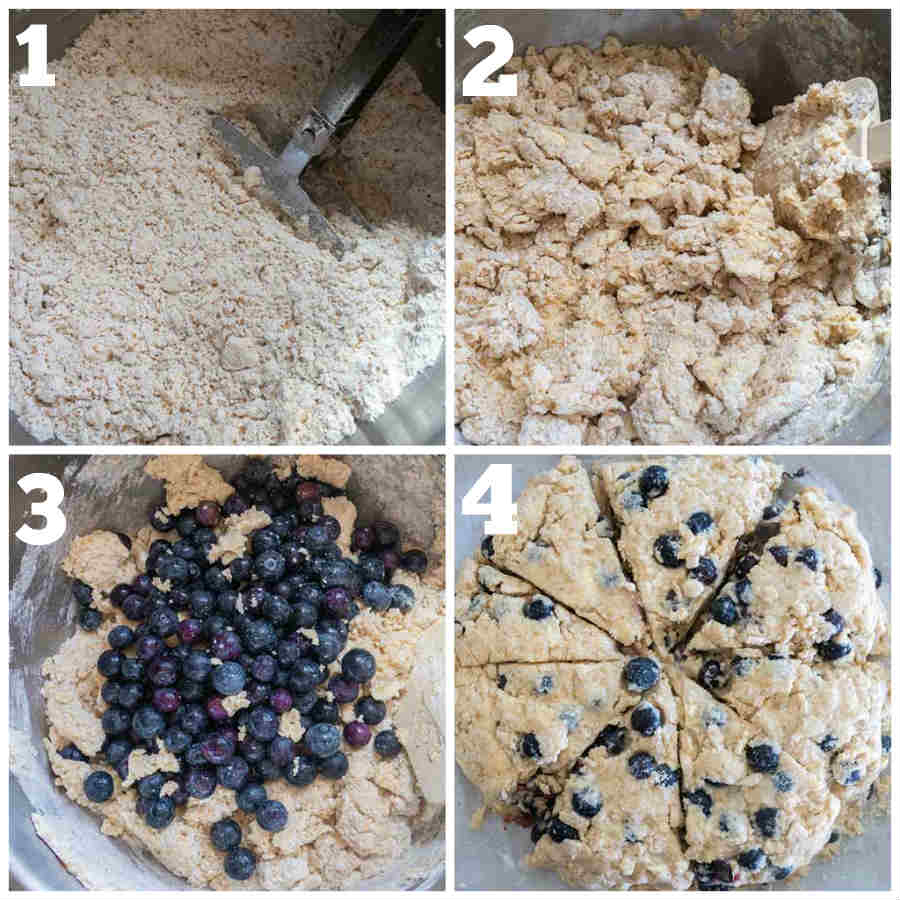 How to get the right scone texture?
Have you ever made gluten-free sones, and they were dry and heavy or too crumbly? To get that perfect texture of scones, there are a couple of things you need to know.
First, freeze the butter for about fifteen minutes before adding it to the flour. The frozen butter will make the scones buttery and not caky. And use cold milk and cold eggs to achieve light and moist scones.
best way to measure flour
Correctly measuring the flour will distinguish between a dry and crumbly scone and a buttery moist scone.
I know it is easier to dip the measuring cup into the flour. However, gluten-free flour is made with various flours and starches and has to be measured correctly. Or you will have more flour than the recipe requires.
Did you make a muffin batter or a cake batter in the past and find it too dry? And more often than not, we blame it on the recipe. This happens when the flour is measured incorrectly.
To measure the flour, use a scoop to fill the measuring cup, then level the flour off with a knife.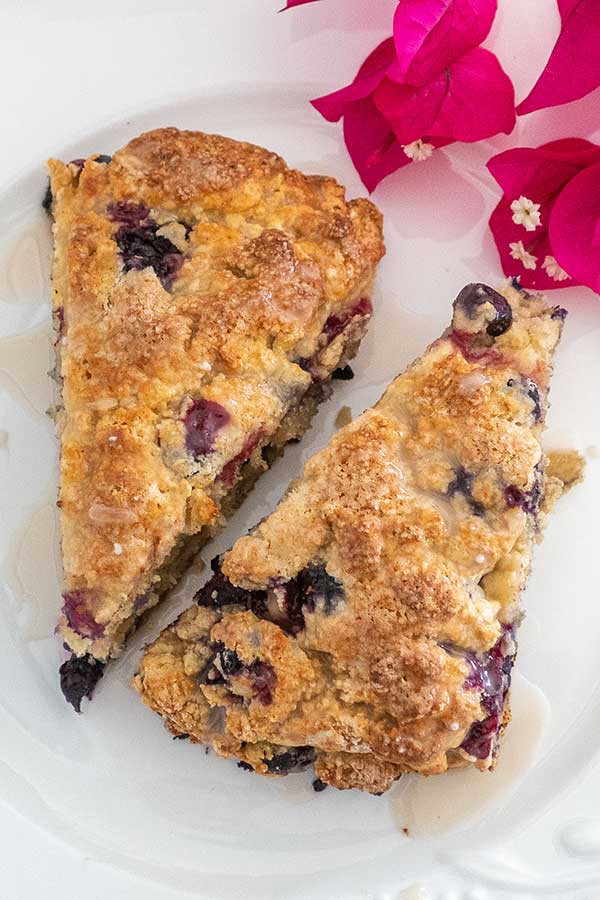 do not overwork the dough for a scone recipe
This is not a cake batter. You don't want to mix the ingredients until smooth. Instead, once you cut in the butter, add the wet ingredients and mix until everything comes together. This step is vital. If you overmix the mixture, you will have dry hard scones.
fresh or frozen blueberries
In this recipe, I used fresh blueberries! Fresh blueberries are abundant in the stores now, so why not use them. The good bakeries with the best scones always use fresh blueberries.
Sure, you can use frozen blueberries, but the scones will not have the same texture and fresh blueberry flavour. I highly recommend using fresh fruit when available in scone recipes.
Lemon glaze or not?
If you like your scones sweeter, then go ahead and drizzle the scones with a lemon glaze. I feel the sweetness from the blueberries is perfect. So I only sprinkle a little turbinado sugar over the dough just before baking and skip the glaze.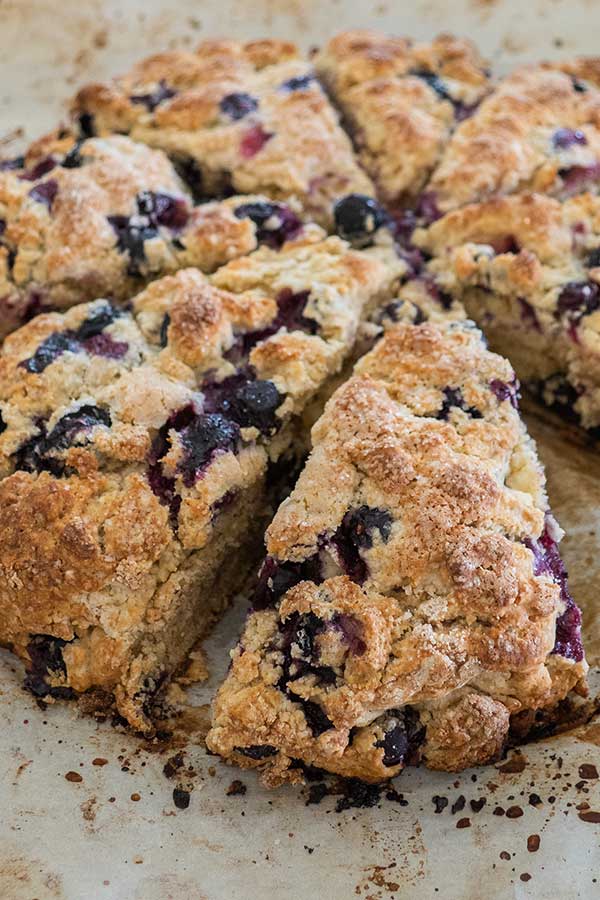 serving suggestion
Gluten-free sones are best the same day when they are baked. And, they should be served slightly warm. For leftover scones, place them in an airtight container and just before serving, pop them in a hot oven for about ten minutes.
Or, you can heat the blueberry scones in a microwave for about ten seconds.
I hope you will enjoy these melt-in-your-mouth gluten free blueberry scones. They are versatile enough to serve for breakfast, brunch or a snack.
Gluten-Free Zesty Blueberry Scones
Published on Mar 26, 2021
by
Kristina Stosek
Instructions
1.

2.

In a large bowl, whisk together flour, sugar, baking powder, salt and lemon zest

3.

Cut in the butter chunks with a pastry cutter until the butter resembles small peas

4.

In a separate bowl, whisk the milk, sour cream, eggs, lemon juice and vanilla, then pour into the dry ingredients. Mix until you form a soft dough. The dough will be sticky. Do not over mix the dough, or the scones will become heavy and dry. Gently stir in the blueberries

5.

Place the dough on lightly floured parchment paper. Lightly dust the dough with more flour and form into a disk about 2 inches high. Using a sharp knife, cut the dough into 8 wedges, slightly separating them. Carefully transfer the parchment paper with the scones onto a baking sheet and brush the scones with milk and sprinkle with turbinado sugar

6.

Bake for 25 - 30 minutes until the scones are golden brown. The scones are best when served slightly warm

7.

For the glaze, whisk the ingredients until smooth and drizzle over warm scones
Leave a Comment
Kristina
Do you have a suggestion for a dairy free substitute for the sour cream?
Kristina