Gluten-Free Zesty Blueberry Scones
Prep Time
10 Minutes
Difficulty
Easy
Cook Time
25 Minutes
Serves
8
Average Rating: 5 | Rated By: 3 users
Gluten-Free Zesty Blueberry Scones…filled with fresh blueberries and a hint of fresh lemon flavour. Scone recipe is probably the easiest to make, and more importantly, these buttery scones will melt in your mouth with fresh blueberries bursting in every bite.
If you love warm scones filled with healthy blueberries, this gluten-free scone recipe is for you! 
There is nothing more satisfying than a freshly baked warm scone right out of the oven. Check out this Gluten-Free Maple Oat Nut Scone, so…so… good!
This gluten-free blueberry scone recipe can be finished with a light sprinkle of turbinado sugar or a fresh lemon glaze. The combination of sweet healthy blueberries and fresh lemon juice is just the best!
before you start the zesty blueberry scone recipe…
Have you ever made gluten-free sones, and they were dry and heavy or too crumbly? To get that perfect texture of scones, there are a couple of things you need to know. First, freeze the butter for about fifteen minutes before adding it to the flour. The frozen butter will make the scones buttery and not caky. I also start with cold milk and cold eggs.
measuring the flour…
I know it is easier to dip the measuring cup into the flour. However, gluten-free flour is made with various flours and starches and has to be measured properly, or you will have more flour than the recipe requires.
I bet you made a muffin batter or a cake batter in the past and found that it was too dry? And more often than not, we blame it on the recipe. No…this happens when the flour is measured incorrectly.
To measure the flour, use a scoop to fill the measuring cup, then level the flour off with a knife.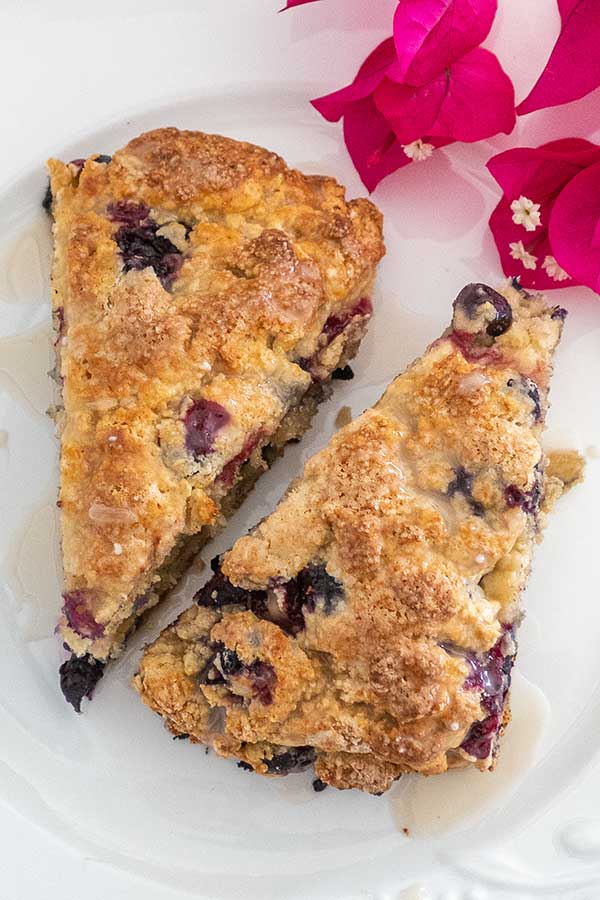 do not overwork the dough…
This is not a cake; you don't want to be mixing the ingredients until smooth. Once you cut in the butter, add the wet ingredients and mix just until you form a dough. This step is vital. If you overmix, you will have dry hard scones.
fresh or frozen blueberries…
In this recipe, I used fresh blueberries! Fresh blueberries are abundant in the stores now, so why not use them. The good bakeries with the best scones always use fresh blueberries. Sure, you can use frozen blueberries, but the scones will not have the same texture and fresh blueberry flavour. I highly recommend using fresh fruit when available to make scones.
lemon glaze or not…
If you like your scones sweeter, then go ahead and drizzle the scones with a lemon glaze. I feel the sweetness from the blueberries is perfect. So I only sprinkle a little turbinado sugar over the dough just before baking and skip the glaze.
serving the scones…
Gluten-free sones are best the same day when they are baked. And, they should be served slightly warm. For leftover scones, place them in an airtight container and just before serving, pop them in a hot oven for about ten minutes.
Or, you can heat the blueberry scones in a microwave for about ten seconds. Enjoy for breakfast, brunch or a snack.
Ingredients
1/2 cup (1 stick) unsalted butter, roughly chopped and placed in the freezer for 15 minutes before using
2 3/4 cups gluten-free all-purpose flour, one that includes xanthan gum. Otherwise, add 3/4 tsp. (I used this blend) Do not use a blend that includes bean flour.
2 Tbsp. GF baking powder
1/2 tsp. Sea salt
Zest of one lemon
1/2 cup milk + 2 Tbsp. For brushing
1/2 cup sour cream
1 Tbsp. Fresh lemon juice
2 large eggs
1/2 tsp. Pure vanilla extract
2 cups fresh blueberries
Optional lemon glaze:
2 Tbsp. Fresh lemon juice
1/4 tsp. Pure vanilla extract
Tip; to measure the flour, using a scoop, fill the measuring cup, then level with a knife. Do not scoop the measuring cup into the flour.
*As an Amazon Associate and member of other affiliate programs, I earn from qualifying purchases. Please check out my sponsorship and disclosure policy page for more details
Instructions
Preheat oven to 425 F
In a large bowl, whisk together flour, sugar, baking powder, salt and lemon zest
Cut in the butter chunks with a pastry cutter until the butter resembles small peas
In a separate bowl, whisk the milk, sour cream, eggs, lemon juice and vanilla, then pour into the dry ingredients. Mix until you form a soft dough. The dough will be sticky. Do not over mix or the scones will become heavy and dry. Gently stir in the blueberries
Place the dough on lightly floured parchment paper. Lightly dust the dough with more flour and form into a disk about 2 inches high. Using a sharp knife, cut the dough into 8 wedges, separating them slightly. Carefully transfer the parchment paper with the scones on a baking sheet and brush the scones with milk and sprinkle with turbinado sugar
Bake for 25 - 30 minutes until the scones are golden brown. The scones are best when served slightly warm
For the glaze, whisk the ingredients together until smooth
Similar Recipes
Gluten-Free Cranberry Oat Scones
If you love scones, you will cherish these Gluten-Free Cranberry Oat Scones. They are buttery, lightly sweetened, spiced with nutmeg and cinnamon and filled with slightly tart cranberries. The mix of ingredients in these scones creates a better scone than the one you would get from a bakery. Everyone must have at least one scone […] Read More
Difficulty
Easy
Scones With Currants – Easy Gluten-Free Recipe
Indulge in these gluten-free currant scones for Sunday brunch or anytime snack. The recipe comes together fast and easy, making it perfect for everyday baking. When it comes to baking, gluten-free recipes can be tricky to master. However, with this recipe for gluten-free currant scones, you'll get all the flavour of traditional scones without the […] Read More
Prep Time
15 Minutes
Difficulty
Easy
Cook Time
15 Minutes
Serves
4
Gluten-Free Maple Oat Nut Scones
A classic Gluten-Free Maple Oat Nut Scone that tastes better than one with gluten. Honestly, this gluten-free maple oat nut scone is so so good! Sometimes you don't need a whole lot of techniques to make something special like these scones.     Do you remember when I made the gluten-free cranberry oat scones? They […] Read More
Prep Time
15 Minutes
Difficulty
Easy
Cook Time
18 + Minutes
Serves
8