Grain-Free Lemon Poppy Coffee Cake
Published on Apr 09, 2020
by
Kristina Stosek
Prep Time:

10 minutes
Cook Time:

40 minutes
Serves:

12 slices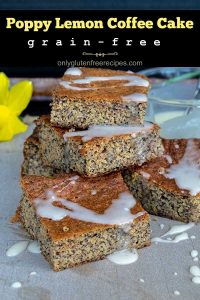 ​This post may contain affiliate links, please see our
privacy policy
for details
Grain-Free Lemon Poppy Coffee Cake – scented with fresh lemon, and filled with delicate poppy seeds, makes this gluten-free coffee cake a winner. Using almond and coconut flour is what makes this cake extra moist with a subtle nut flavour.
I think it's one of the best and most moist and gluten-free lemony coffee cakes I've ever tasted. It's lovely as is, but a slice topped with lemon scented glaze is a big hit for deliciousness!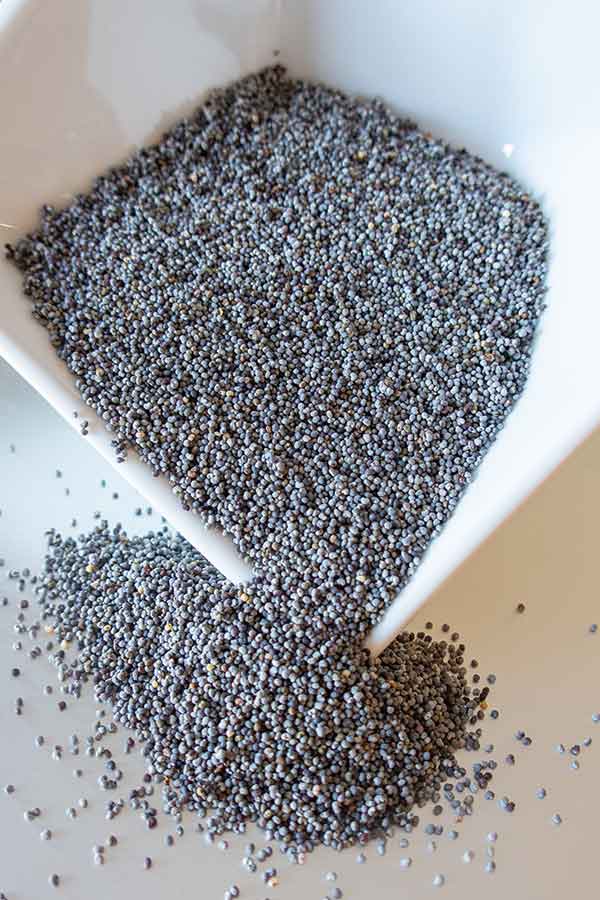 What should we know about poppy seeds?
These tiny seeds add a bit of crunch and nuttiness in cooking. But they hold exceptional health benefits. They are packed with antioxidants, are rich in protein and dietary fiber, and are especially rich in oleic and linoleic acids and B complex vitamins.
When the poppy seeds are used in baking it is important to soak them first, this softens the outer layer making them easier to digest.
This means, just because they are tiny, it doesn't mean they don't hold health promoting properties, because they do and plenty.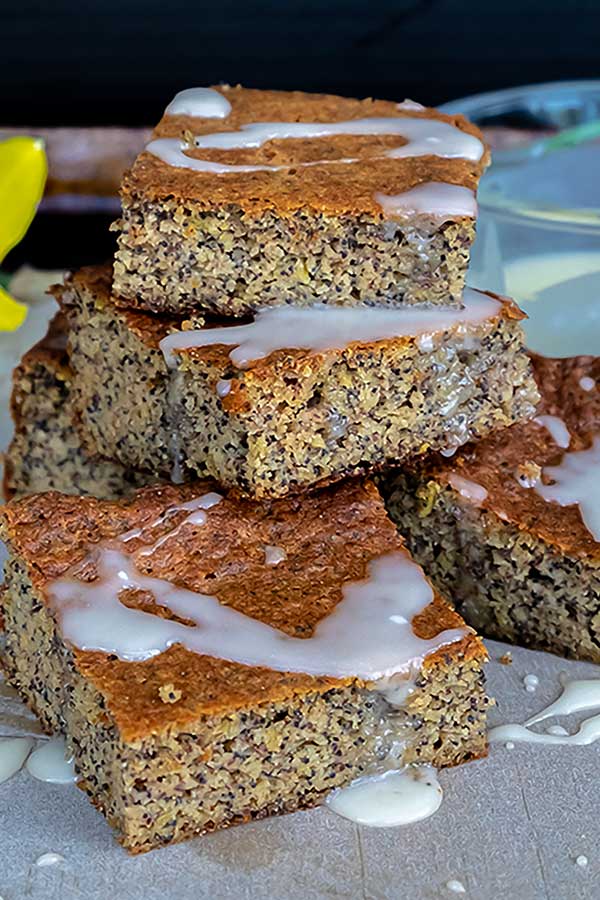 To summarize this grain-free lemon poppy coffee cake.
It is not your traditional dense coffee cake with sugar and butter, this version has just the right balance of healthy oils, nuts, seeds and fresh lemon to dazzle the taste buds.
This gluten-free cake is fiber rich, free of refined sugars and about as healthy-ish as a sweet snack can get. Another outrageously delicious gluten-free recipe with poppy seeds, is the grain-free poppy seed apple muffin
Grain-Free Lemon Poppy Coffee Cake
Published on Apr 09, 2020
by
Kristina Stosek
Instructions
1.

Soak poppy seeds in hot milk for 30 minutes

2.

Preheat oven to 350 F and line an 8 x 8-inch baking pan with parchment paper

3.

In a large bowl whisk together almond flour, coconut flour, baking soda and salt

4.

In a separate bowl whisk together the sugar with oil until creamy. Add eggs, lemon juice, lemon zest, vanilla and poppy seed mixture and mix to combine

5.

Add the wet mixture to dry ingredients and mix to combine

6.

Transfer batter to prepared pan and bake for 38 - 40 minutes until the cake passes the toothpick test. Using the parchment paper, remove the cake from the pan and place on a cooling rack to fully cool

7.

For the glaze, once the cake has cooled, mix butter, lemon juice and sugar until smooth. Drizzle over the cake. The glaze is optional but gives the cake extra fresh lemon flavour