Grain-Free Poppy Seed Apple Muffin
Published on May 17, 2019
by
Kristina Stosek
Prep Time:

15 minutes
Cook Time:

30 minutes
Serves:

12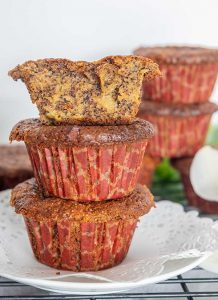 ​This post may contain affiliate links, please see our
privacy policy
for details
These Grain-Free Poppy Seed Apple Muffins are filled with fresh apples, and they have a delightful light crunch from the poppy seeds. The muffins are moist and lightly flavoured with a hint of cardamom and vanilla. The sweetness comes from the fresh apples and pure maple syrup with an added tart refreshing taste of lemon. 
I believe you can never have enough delicious healthy muffin recipes. Whether they are gluten-free, keto or paleo, the most important thing about muffins is the texture. You don't want the muffins to be heavy and dense or dry and crumbly. This poppy seed apple muffin has a perfect muffin texture and is incredibly delicious!
When I was creating this muffin recipe, I wanted the muffin to be grain-free and packed with goodness. The only two flours used in this gluten-free muffin recipe are almond flour and tapioca, and this is why they are grain-free. The poppy seeds that I used in this grain-free muffin recipe carry a lot of punch. These tiny seeds are a rich source of essential minerals such as calcium, iron, and zinc, and they also pack plenty of fiber and protein. 
The apples and fresh lemon juice add antioxidants and vitamin C, making this a healthier muffin recipe. The grain-free poppy seed apple muffin recipe has only eleven ingredients plus salt, most of them you probably have in your gluten-free pantry. This muffin is also gluten-free and paleo friendly.
♥

How to use poppy seeds in cooking? 
When it comes to poppy seeds, you should soak them in hot water or milk for 30 minutes before adding them to recipes. Soaking softens their tough outer coating so that baking temperatures could more easily release their unique flavour. These tiny seeds are also easier to digest, and they have a better texture. 
I am super excited about how this muffin turned out. It is sooo good that you won't even know that the muffin is gluten-free and healthy. I promise you, this grain-free poppy seed apple muffin will not disappoint! Enjoy 🙂
Another one of our popular recipes made with poppy seeds is the grain-free lemon poppy coffee cake.
Grain-Free Poppy Seed Apple Muffin
Published on May 17, 2019
by
Kristina Stosek
Instructions
1.

2.

In a large bowl combine dry ingredients (first 5 ingredients)

3.

In a separate bowl whisk together, butter, maple syrup, eggs and vanilla. Stir in drained poppy seeds, apples and lemon juice

4.

Add wet mixture to dry ingredients and using a spatula mix to combine

5.

Pour batter into prepared muffin pan and bake for 30 minutes. Remove from the oven and cool in the muffin pan