Grain-Free Crescent Cookies
Published on Dec 19, 2019
by
Kristina Stosek
Prep Time:

15 minutes
Cook Time:

18 minutes
Serves:

28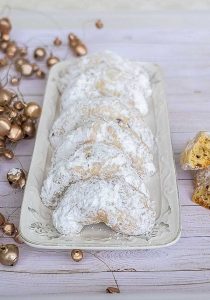 ​This post may contain affiliate links, please see our
privacy policy
for details
Another delicious addition to your holiday dessert platter is this Grain-Free Crescent Cookie. I wanted to save the best for last. Honestly, these grain-free crescent cookies are the best!
It's never too late to add another delicious gluten-free cookie to your cookie box. Trust me on this – these cookies go very fast you can never have too many.
I am super excited about this gluten-free crescent cookie because it reminds me of my childhood. Growing up in Eastern Europe, we always included a crescent cookie on the holiday cookie platter.
My dilemma was how to make them gluten-free and without grains. I wanted to make this a grain-free cookie. The best part, these grain-free crescent cookies turned out unbelievably delicious, even better than I remember them.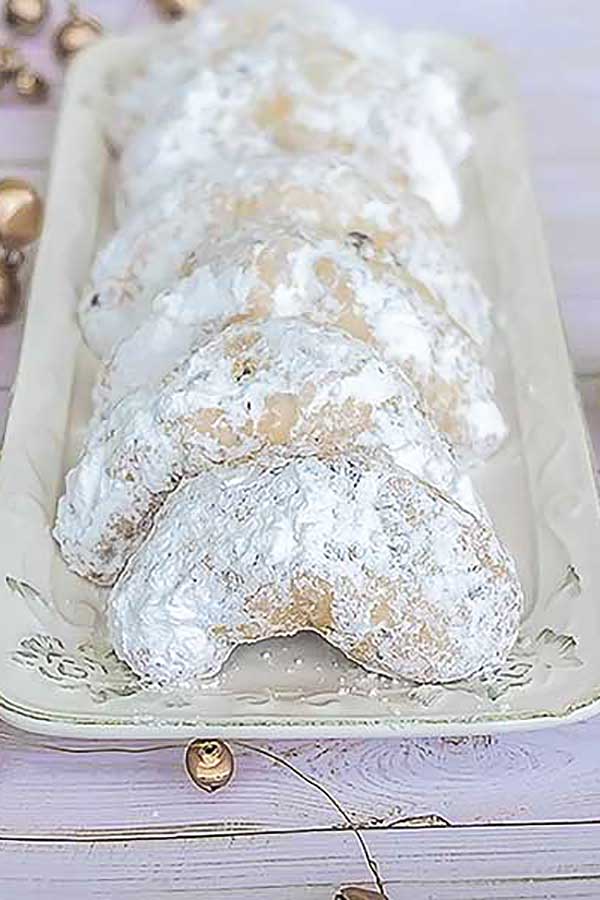 the grain-free crescent cookie details,
The recipe is super simple. Only six ingredients, imagine that. Start with almond flour. Then to sweeten them, I added powdered sugar. Finally, the melt in your mouth cookie texture, I added some butter, and some finely chopped pecans for added bite.
Once the crescent cookies finished baking, I coated them in some powdered sugar. The powdered sugar coating is optional, but I wanted to keep the tradition. So I just had to do it.
OMG….the crescent cookies are heavenly cookies. They may not be fancy, but in my opinion, they are the best tasting gluten-free cookies on my cookie platter.
Don't worry if you can't get the shape perfect or even if they crack a bit. Once you taste them, none of this will matter. These cookies are best when refrigerated and will keep up to seven days in an airtight container.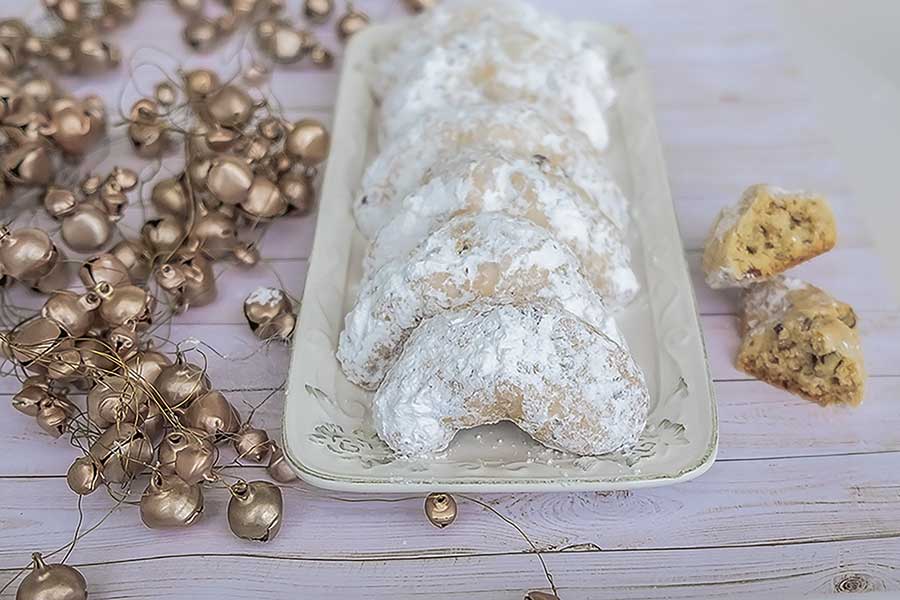 Why are crescent cookies shaped like a moon?
I don't want to bore you too much, so I will get right to the point. First, the crescent cookies were brought to America by German immigrants. But they are common throughout Europe, especially in Slovakia, Czech Republic, Austria, Poland, Germany, Hungary and Italy. Originally they were made with walnuts and also with almonds then dusted with vanilla sugar.
So the question remains, why are they crescent-shaped? As legend has it, the cookie was all about celebrating the triumphant days of the Habsburg Monarchy. This victory was a turning point in the Austrian-Osman conflict.
So to celebrate this monumental event, the bakers of Vienna created cookies shaped like crescent moons, which were characteristic of the flag of the Osman Empire. So this is why they are shaped this way and called crescent cookies.
Grain-Free Crescent Cookies
Published on Dec 19, 2019
by
Kristina Stosek
Instructions
1.

Sift together almond flour, 1/2 cup powdered sugar and salt

2.

Add softened butter and vanilla and mix until the dough sticks together. Mix in pecans. Chill the dough for 15 minutes

3.

After 15 minutes, roll a tablespoon of dough into a small log and shape into a crescent. Continue with remaining dough

4.

Place cookies 1-inch apart on a baking sheet lined with parchment paper and bake in a preheated oven at 325 F for 15 - 17 minutes until the cookies start to golden around the edges

5.

Carefully transfer cookies onto a cooling rack and cool for 10 minutes

6.

Place some powdered sugar in a small bowl and carefully coat the cookie. Or leave the cookies closer together on the cooling rack and give them a good dusting with the powdered sugar.

7.

Note; Leave the cookies out overnight, this allows them to harden. Then refrigerate until ready to serve
Leave a Comment
Kristina
thank you Candace for sharing, you made my day!
My Hungarian grandma cried when I made these saying they tasted just like her mother's (Nagy mama). So thank you for the lovely recipe, they are a go to for all my family gatherings and now have introduced them to many friends (with and without gluten intolerances). Thanks for helping me keep the traditions and memories alive. Oh and they're absolutely delicious!