Grain-Free Crescent Cookies
Published on Dec 19, 2019
by
Kristina Stosek
Prep Time:

15 minutes
Cook Time:

18 minutes
Serves:

28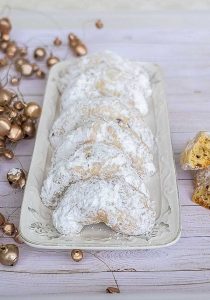 ​This post may contain affiliate links, please see our
privacy policy
for details
Indulge in the ultimate holiday delight with our Grain-Free Crescent Cookies—a gluten-free gourmet sweet treat that will elevate your festive dessert platter to new heights. In the world of holiday treats, we've saved the best for last—these Grain-Free Crescent Cookies are nothing short of extraordinary!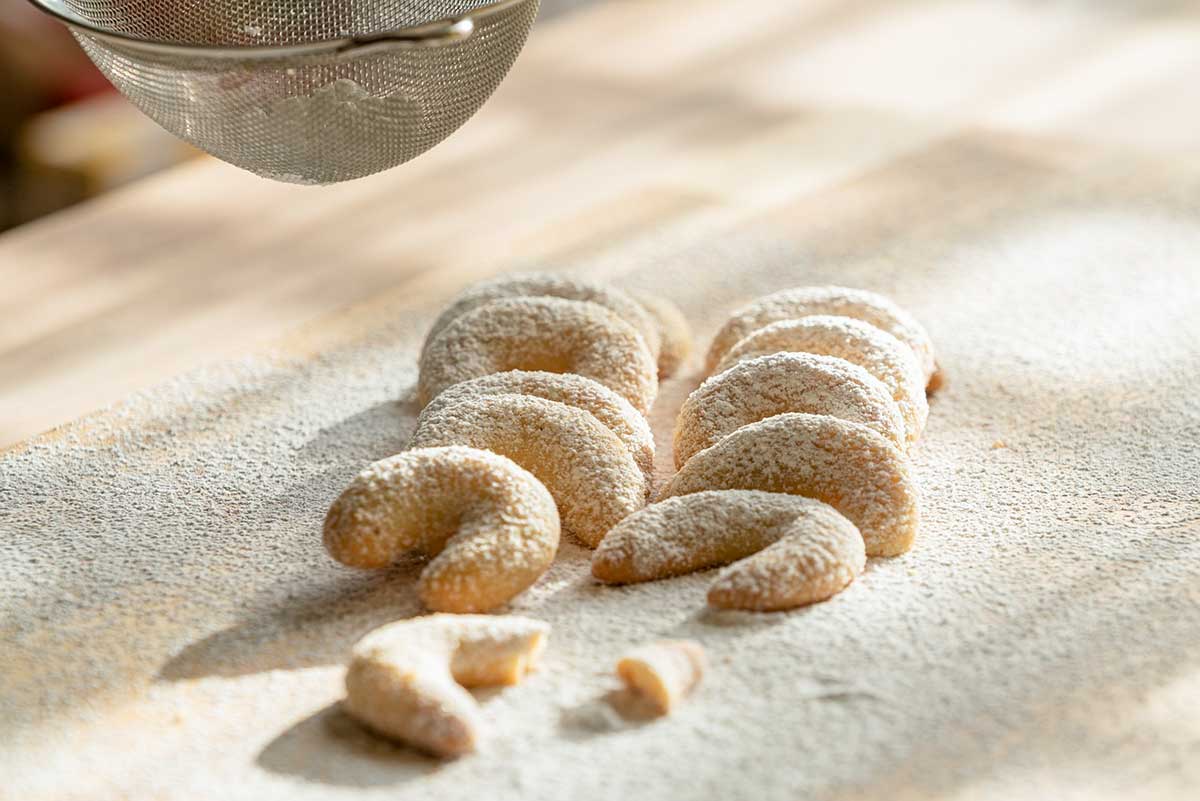 GRAIN-FREE COOKIE FOR YOUR COOKIE COLLECTION
There's always room for another delightful gluten-free cookie in your collection, and trust us, these cookies disappear faster than you can imagine. You can always have a few of these sweet treats on hand.
The nostalgic connection to my Eastern European childhood makes these gluten-free crescent cookies even more special. In our household, a crescent cookie was a must-have on the holiday cookie platter, and recreating that tradition without gluten and grains became a personal challenge.
The result? A grain-free crescent cookie that surpasses my fondest childhood memories.
Let's dive into the details of these heavenly grain-free crescent cookies.
AN IRRESISTIBLE GRAIN-FREE CRESCENT COOKIE RECIPE
The beauty of this recipe lies in its simplicity—just six ingredients, each playing a crucial role in crafting the perfect cookie.
Start with the finest almond flour, the foundation of our grain-free delight. To sweeten the deal and add flavor, vanilla and powdered sugar join the mix, creating an addicitively delicious cookie.
For that melt-in-your-mouth texture, butter is introduced, adding an irresistible richness. To add a crunch texture, finely chopped pecans, elevate these crescent cookies to a new level.
Once these heavenly cookies emerge from the oven, a generous coating of powdered sugar enhances their flavor and makes them look festive. While optional, this finishing touch brings back nostalgia and adds a layer of sweetness to an already divine holiday sweet treat.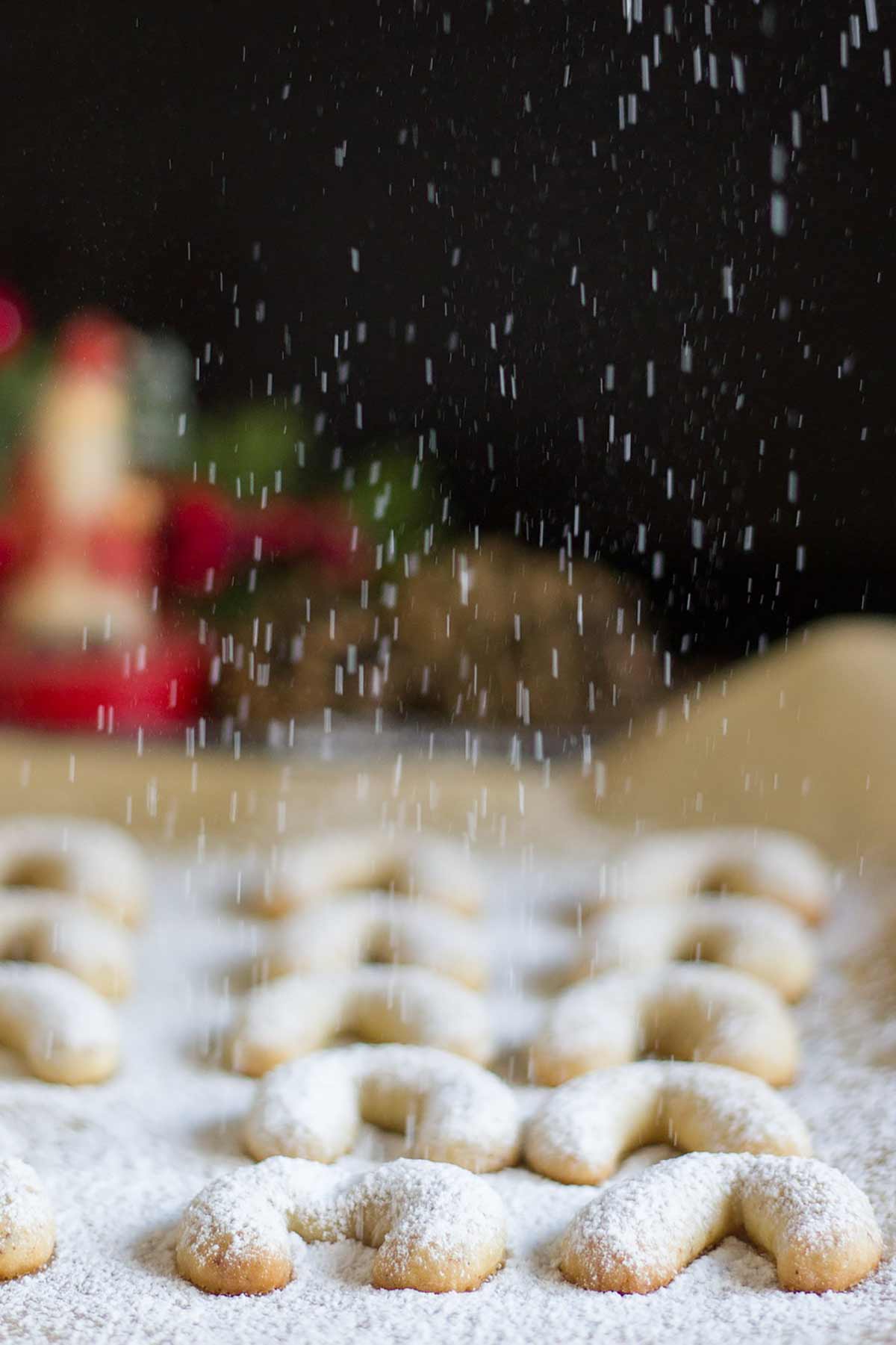 The Magic of Crescent Cookies
Before we get into the magic of our grain-free crescent cookies, let's address a burning question—why are crescent cookies shaped like a moon?
These crescent-shaped delights have a rich history, tracing their roots to German immigrants who brought them to America.
However, their popularity extends far beyond, gracing the holiday tables of Slovakia, the Czech Republic, Austria, Poland, Germany, Hungary, and Italy. Crafted initially with walnuts and almonds, these cookies were dusted with vanilla sugar for an extra touch of decadence.
But why the distinctive crescent shape? Legend has it that the inspiration behind these cookies lies in celebrating the triumph of the Habsburg Monarchy over the Ottoman Empire. In the wake of a pivotal victory in the Austrian-Ottoman conflict, Viennese bakers created cookies resembling crescent moons—a nod to the flag of the Osman Empire. Hence the iconic crescent shape and the name "crescent cookies."
NEED MORE GLUTEN FREE HOLIDAY COOKIES? HERE ARE SOME RECIPES TO TRY
THE HIGHLIGHT OF HOLIDAY COOKIE PLATTER
Our Grain-Free Crescent Cookies aren't just a delicious addition to your holiday spread—they're a triumph of culinary ingenuity and cultural heritage.
Recreating the flavors of childhood, these cookies are always the highlight of holiday cookie platter.
Don't fret if your crescent cookies aren't picture-perfect; their taste is what truly matters. These gluten-free wonders are best enjoyed chilled and will remain fresh for up to seven days when stored in an airtight container.
So, elevate your holiday baking with these exceptional Grain-Free Crescent Cookies. From their rich history to the irresistible blend of almond flour, powdered sugar, butter, and pecans, every element of this recipe is created for deliciousness.
Make space on your cookie platter for a gluten-free cookie that brings back tradition while satisfying the cravings for sweetness.
Let's connect
Meet Kristina. Passionate about creating delicious, innovative gluten free recipes, and author of two gluten free cookbooks, "Entertaining The Gluten Free Way" and "Small Bites The Gluten Free Way".
Be sure to FOLLOW US on FACEBOOK or, check us out on PINTEREST. And don't forget to sign up for our newsletter. We always have something new and exciting for you!
Many thanks!
Kristina x
Grain-Free Crescent Cookies
Published on Dec 19, 2019
by
Kristina Stosek
Instructions
1.

Sift together almond flour, 1/2 cup powdered sugar and salt

2.

Add softened butter and vanilla and mix until the dough sticks together. Mix in pecans. Chill the dough for 15 minutes

3.

After 15 minutes, roll a tablespoon of dough into a small log and shape into a crescent. Continue with remaining dough

4.

Place cookies 1-inch apart on a baking sheet lined with parchment paper and bake in a preheated oven at 325 F for 15 - 17 minutes until the cookies start to golden around the edges

5.

Carefully transfer cookies onto a cooling rack and cool for 10 minutes

6.

Place some powdered sugar in a small bowl and carefully coat the cookie. Or leave the cookies closer together on the cooling rack and give them a good dusting with the powdered sugar.

7.

Note; Leave the cookies out overnight, this allows them to harden. Then refrigerate until ready to serve
Leave a Comment
Kristina
thank you Candace for sharing, you made my day!
My Hungarian grandma cried when I made these saying they tasted just like her mother's (Nagy mama). So thank you for the lovely recipe, they are a go to for all my family gatherings and now have introduced them to many friends (with and without gluten intolerances). Thanks for helping me keep the traditions and memories alive. Oh and they're absolutely delicious!