Gluten-Free Chocolate Swirl Shortbread Cookies
Published on Dec 17, 2019
by
Kristina Stosek
Prep Time:

10 minutes
Cook Time:

17 minutes
Serves:

24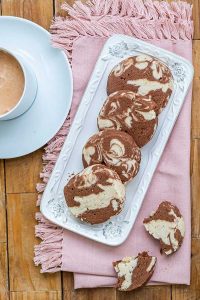 ​This post may contain affiliate links, please see our
privacy policy
for details
Just in time, these Gluten-Free Shortbread Cookies With Chocolate Swirl are a must-have this holiday season. Super easy, chocolate and vanilla flavoured slice'n bake shortbread cookie recipe.
you will need only six ingredients for this holiday cookie recipe…
This holiday cookie is made with only six simple ingredients that you probably have in your pantry already—butter, gluten-free flour, cocoa, vanilla, salt, and sweetened only with pure maple syrup.
The shortbread cookies are pretty, almost looking like the top of a cappuccino, and they are extra delicious. Without a doubt, this holiday, a warm buttery cookie is everyone's favourite.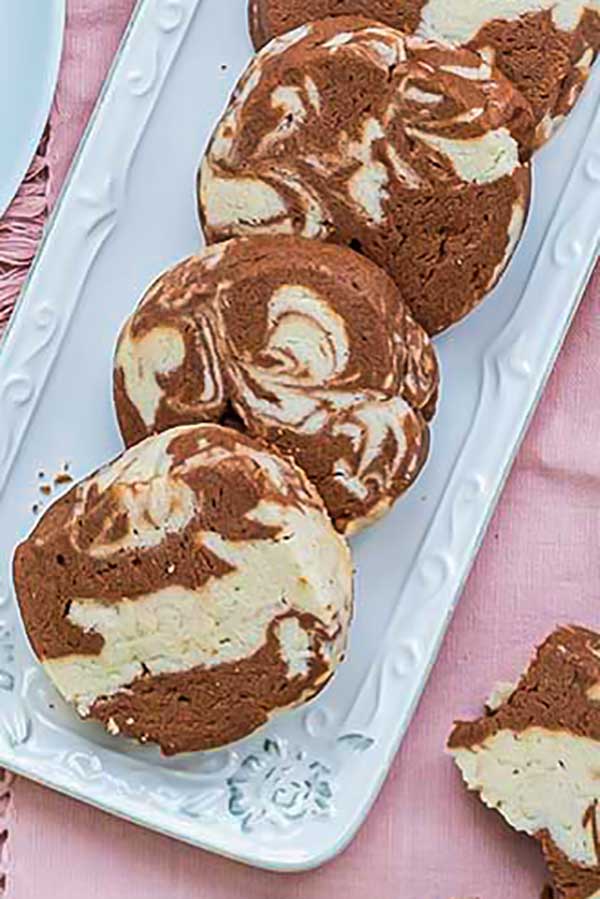 I love this gluten-free shortbread cookie recipe because once you roll the dough into a log, you keep it chilled until you are ready to bake.
So, the cookie can be freshly baked when you need it. All you do is slice it into rounds.
When it comes to gluten-free cookies or desserts, they are best when fresh. I especially love dunking the cookie in my coffee or hot chocolate. Yes, I spoil myself during the holiday season 🙂 YUM!
A few things to know about gluten-free baking!
Gluten-free baked goods don't stay fresh as long as gluten counterparts. This is why this recipe is so wonderful! Preparing the dough in advance and bake when ready keeps the cookies fresh and delicious.
For slice'n bake cookies, always use a serrated knife to slice them.
Make sure the log is tightly compounded and wrapped in plastic wrap.
Chill for a minimum of two hours.
The cookie dough will keep for up to 5 days when refrigerated. You can also freeze it for up to 2 months. When you freeze the cookie dough, transfer the dough to the refrigerator the day before you plan to bake the cookies.
Follow these rules, and your cookies will turn out perfect 🙂
Looking for last-minute holiday cookie recipes? Check out our extensive list of gluten-free cookies.
Gluten-Free Chocolate Swirl Shortbread Cookies
Published on Dec 17, 2019
by
Kristina Stosek
Instructions
1.

Whisk together flour and salt

2.

Using a large bowl of an electric mixer mix butter, 3/4 cup maple syrup and vanilla at medium-high speed until combined. Gradually add flour mixture and blend until a dough forms

3.

Divide dough between 2 bowls. Add remaining 1 tablespoon of maple syrup and cocoa powder into one bowl and mix on medium-low speed to combine

4.

Add the chocolate dough into the vanilla dough and using a spatula swirl throughout, do not mix. Refrigerate dough for 15 minutes

5.

After 15 minutes divide dough in half and tightly press each half into a cylinder about 1½-inch wide, then wrap with plastic and chill for a minimum of 2 hours

6.

Preheat oven to 350 F and line a cookie sheet with parchment paper. Remove the dough from the plastic wrap and using a serrated knife slice into 1/2-inch thick circles

7.

Place cookies one inch apart on the prepared cookie sheet and bake 15 - 17 minutes, until the edges start to golden. Allow the cookies partially cool on the cookie sheet