Cranberry Pistachio Cookies – Gluten Free
Published on Nov 14, 2023
by
Kristina Stosek
Prep Time:

15 + chilling minutes
Cook Time:

15 minutes
Serves:

18 - 24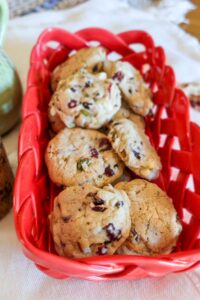 ​This post may contain affiliate links, please see our
privacy policy
for details
Cranberry Pistachio Cookie combines the tartness of cranberries, the nutty Pistachio flavor, the rich, sweet flavor of maple syrup, and the creaminess of white chocolate chips. You can serve this gourmet cookie during the holidays, such as Thanksgiving, or as your new festive gluten free cookie on your Christmas cookie platter.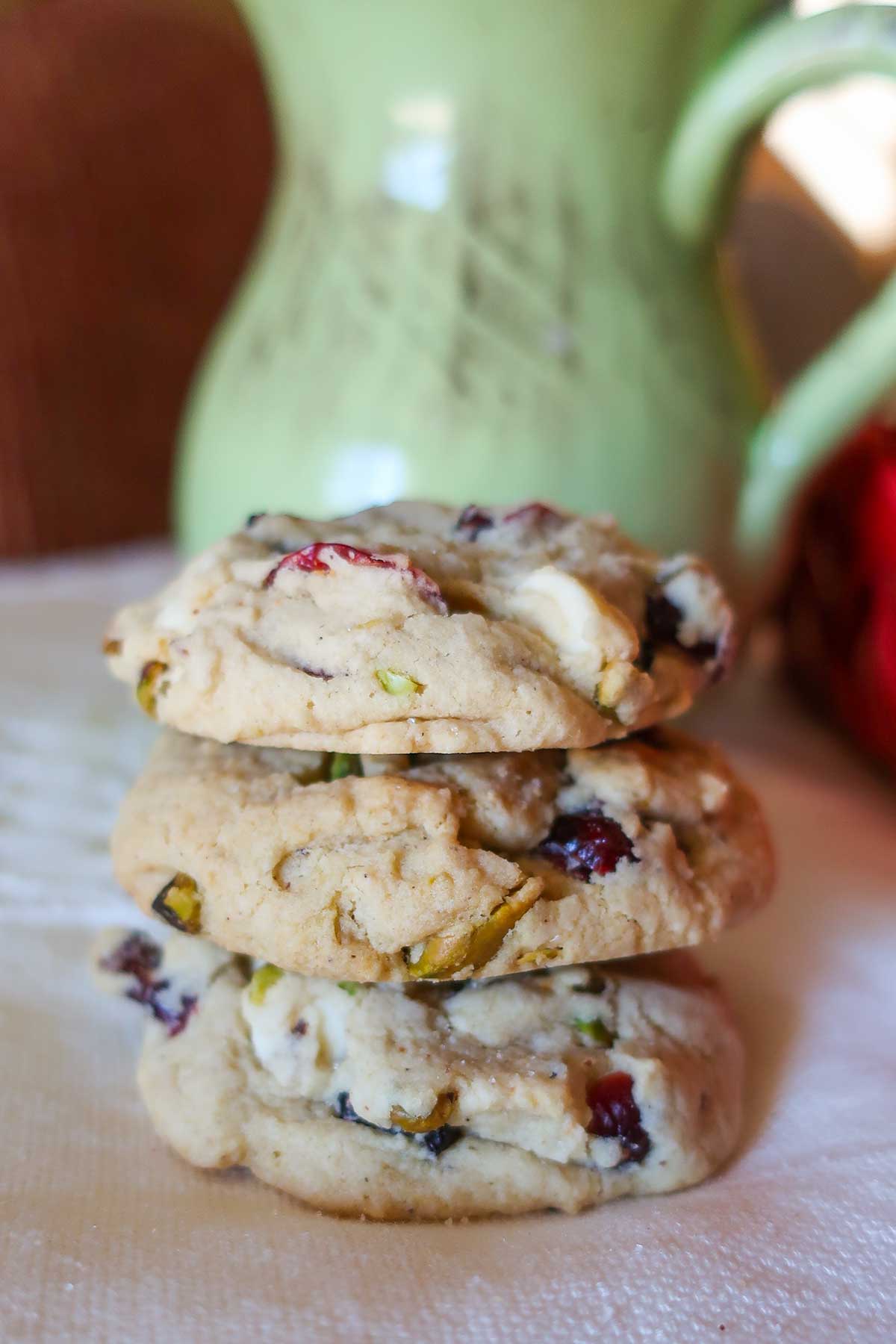 INGREDIENTS FOR GLUTEN FREE CRANBERRY PISTACHIO COOKIES
Dried cranberries
Pistachios
White chocolate chips
Unsalted butter
Pure maple syrup
Vanilla
Measure for Measure gluten free flour blend
Granulated sugar
Baking soda
Ground nutmeg
Sea salt
All these ingredients are naturally gluten-free, plus the gluten-free flour blend. However, check the cranberries, chocolate chips, pistachios, and nutmeg for additives. In addition, it's important to note that cross-contamination can occur during the manufacturing process, so always read the ingredient list and any allergen warnings on the packaging to ensure the product is gluten free.
OUR 3 FAVORITE HOLIDAY COOKIES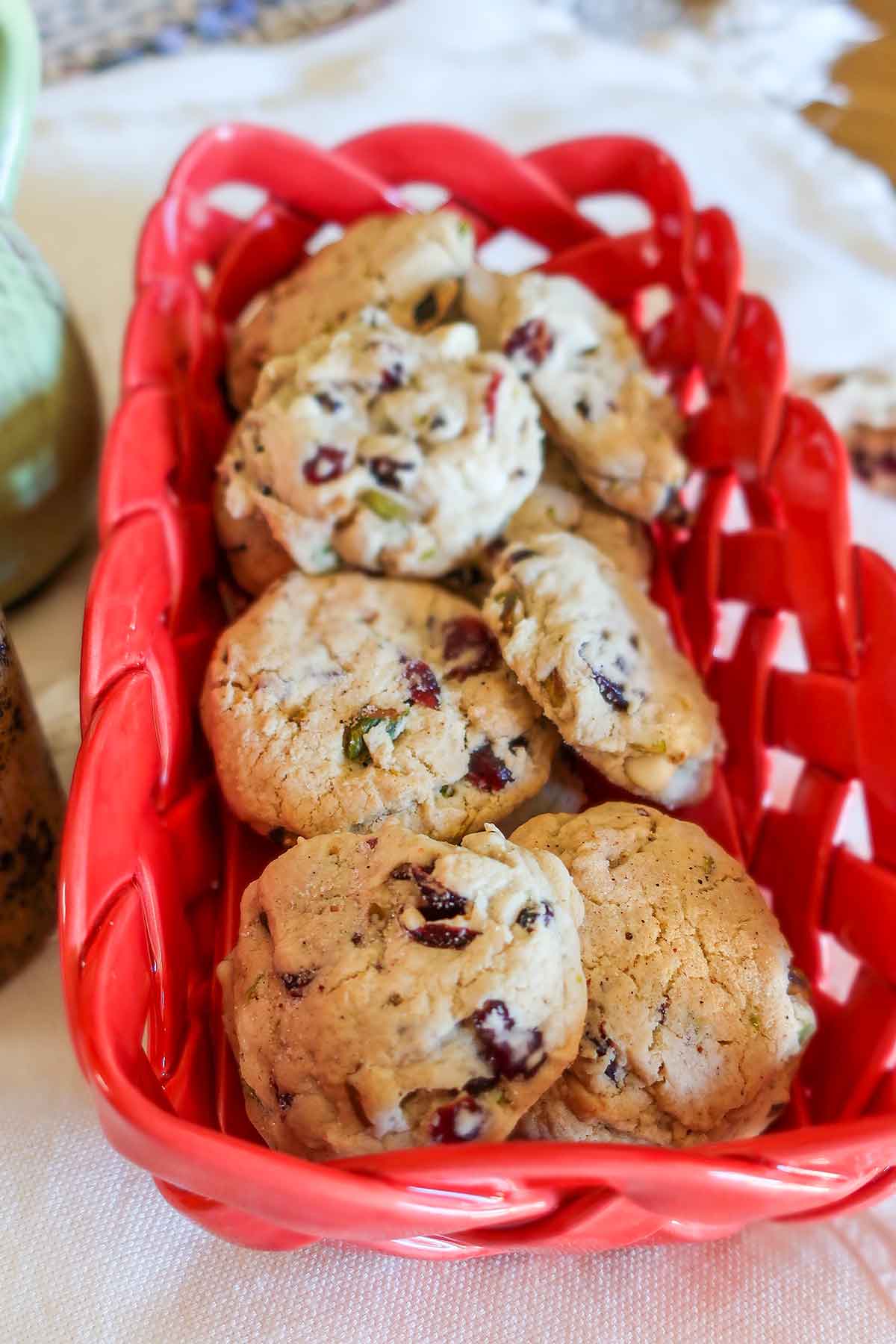 ARE WHITE CHOCOLATE CHIPS GLUTEN FREE?
The ingredients in gluten-free white chocolate chips can vary by brand, so checking the product's packaging for accurate information is essential. However, ingredients commonly found in gluten-free white chocolate chips:
Sugar: sweetener
Cocoa butter: The fat component of cocoa beans gives white chocolate its creamy texture.
Milk solids: For the dairy component in traditional white chocolate. Some gluten-free white chocolate chips may use dairy-free alternatives such as coconut milk powder or soy milk powder.
Vanilla extract: flavor
Sunflower lecithin: Is an emulsifier that helps blend the ingredients.
Salt: flavor
Starch: To replace traditional wheat-based ingredients and make the product gluten-free. Common alternatives include tapioca starch, cornstarch, or rice flour.
Some Hershey's white creme baking chips are gluten-free and made with no artificial colors or preservatives.
ADD GREEN COLOR TO CRANBERRY PISTACHIO COOKIE DOUGH
MATCHA POWDER
When I want my cookies more festive I add a green color. My favorite ingredient is matcha powder. Matcha is a vibrant green tea powder that adds color without using unwanted additives or chemicals. Typically I would add 1 – 2 teaspoons per recipe.
PISTACHIOS
Chopped pistachios contribute a lovely green color and add a nutty and slightly sweet taste to the cookies. Make sure to chop them into small pieces to distribute them evenly in the dough.
WHAT ARE COMMERCIAL FOOD COLORINGS?
Many commercial food colorings contain synthetic dyes that are derived from petroleum-based chemicals. Common synthetic food dyes include:
Red 40 (Allura Red)
Yellow 5 (Tartrazine)
Yellow 6 (Sunset Yellow)
Blue 1 (Brilliant Blue)
Blue 2 (Indigo Carmine)
Green 3 (Fast Green)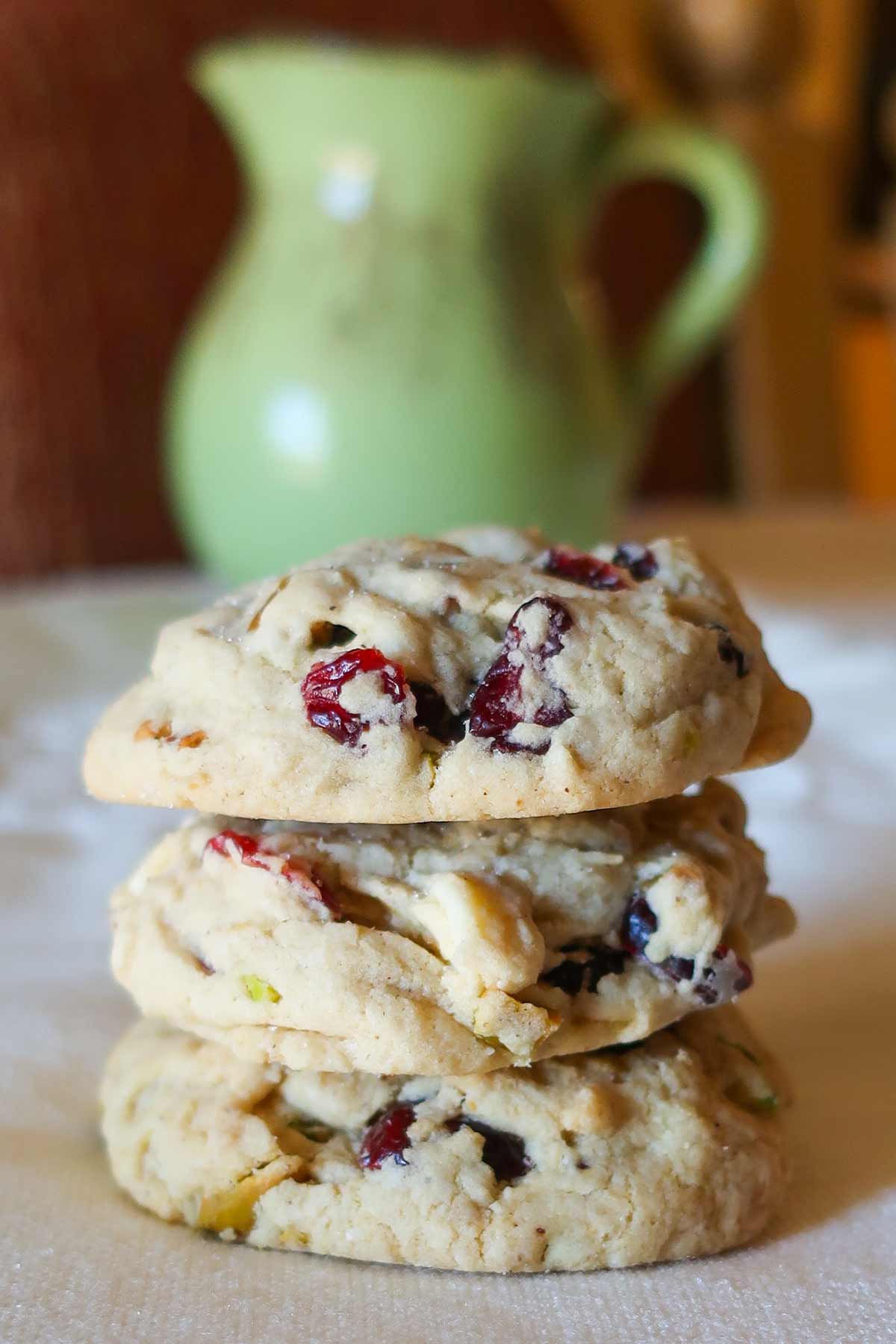 WHY ADD SUGAR TO COOKIE DOUGH?
In this cranberry pistachio cookie recipe, I added maple syrup for flavor and tried to avoid sugar as much as possible. However, adding sugar to cookie dough is more than just sweetening the cookies. Here are 4 reasons.
Texture:
The most obvious role of sugar is to sweeten the cookies. However, sugar contributes to the texture of cookies by affecting their tenderness and chewiness. The type and amount of sugar used can influence the final texture. For example, granulated sugar makes cookies crispier, while brown sugar can add moisture and chewiness.
Color:
Sugar can contribute to the browning of cookies during baking, creating an appealing golden color. This is due to the caramelization of sugars at higher temperatures.
Moisture retention:
Sugar helps retain moisture in the cookies, preventing them from becoming dry and crumbly. This results in a softer, more enjoyable texture.
Leavening agent:
In some cookie recipes, sugar interacts with other ingredients to create aeration and help the cookies rise during baking. This is especially true when sugar is creamed with fats (like butter), such as in this cranberry pistachio cookie recipe. Sugar creates aeration that contributes to a lighter texture.
HOW TO MAKE GLUTEN FREE CRANBERRY PISTACHIO COOKIES?
STEP ONE
Beat together maple syrup, butter, and sugar until smooth and fluffy. Mix in vanilla
STEP TWO
Sift together (dry ingredients) flour, baking soda, salt, and nutmeg, and using a spatula or a wooden spoon, gradually mix with the butter mixture.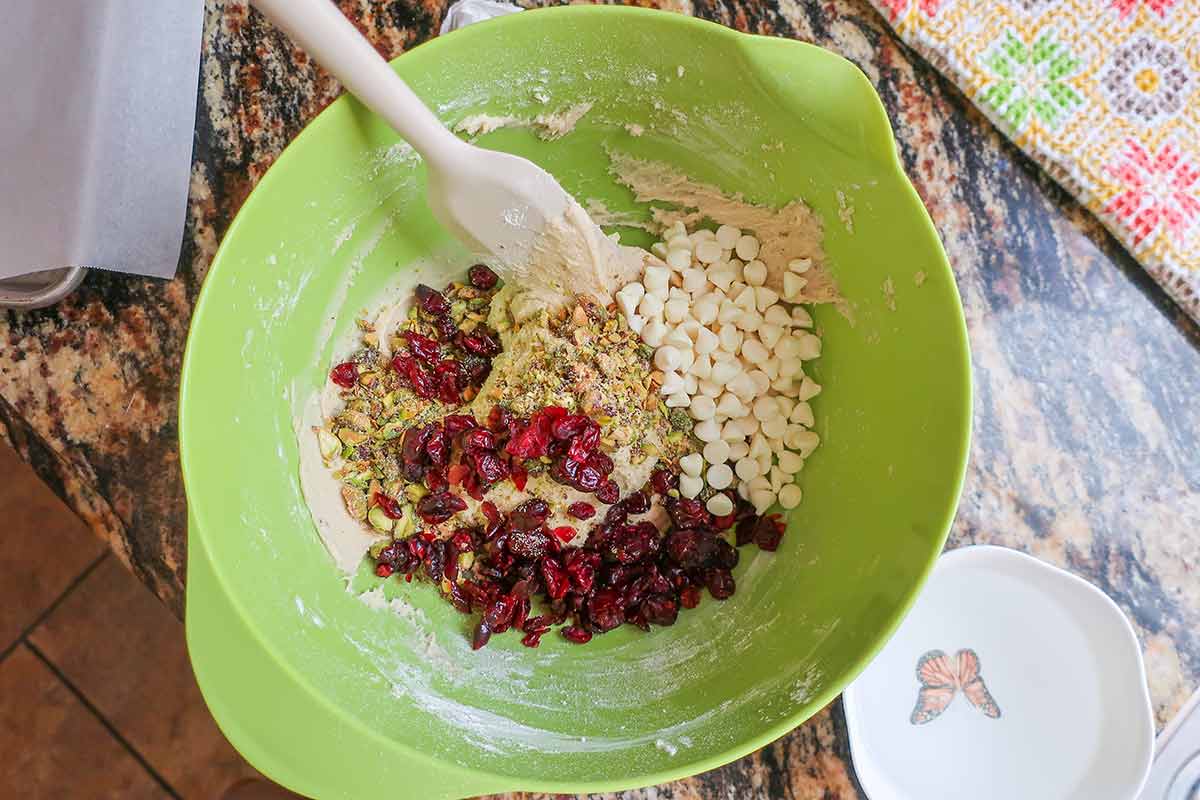 STEP THREE
Fold in the pistachios, cranberries, and chocolate chips, and chill the dough in the refrigerator for 15 minutes.
STEP FOUR
Using a large or medium-sized cookie scoop, drop the cookies onto a large or two small cookie sheets lined with parchment paper.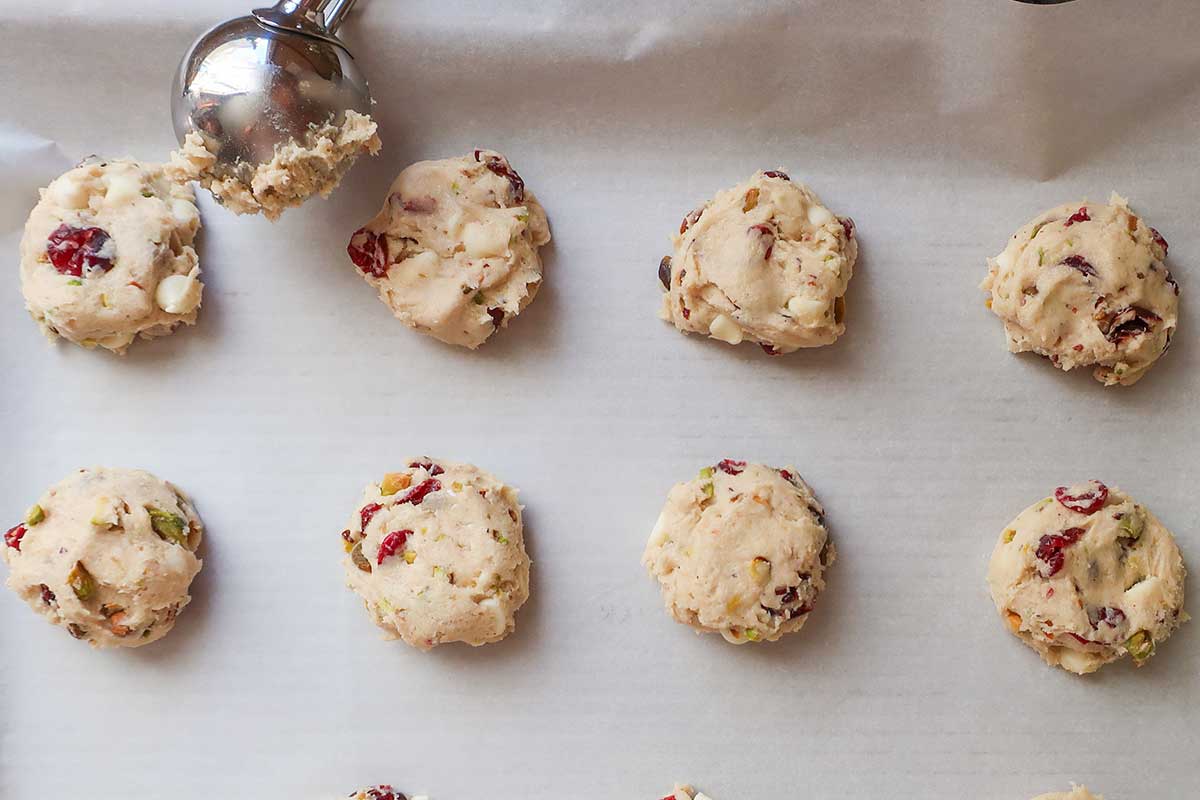 STEP FIVE
Depending on the size of the cookies, bake 12 – 15 minutes. The cookies should be a very light golden color around the edges.
STEP SIX
Cool the cookies fully on the baking sheet.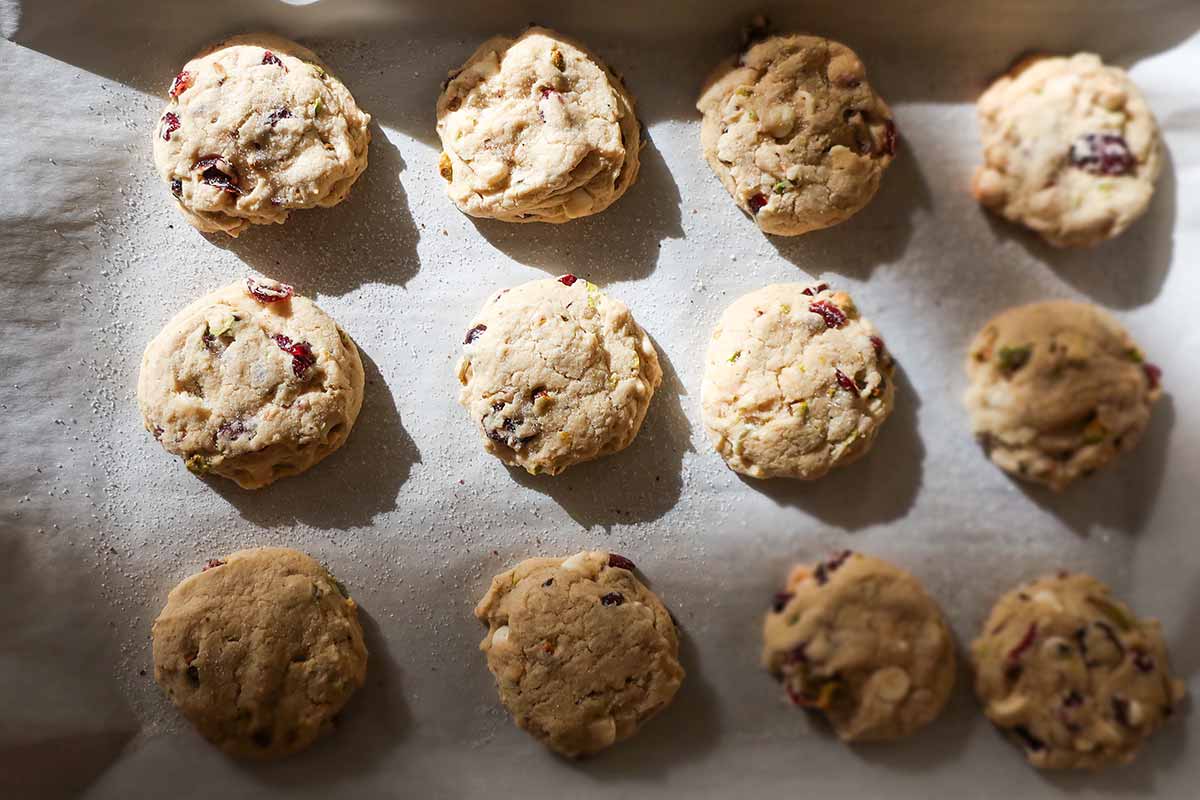 OPTIONAL STEP
To add an extra layer of deliciousness, combine ground nutmeg with sugar and sprinkle over hot cookies. Or, dust with powdered sugar or drizzle with a vanilla glaze.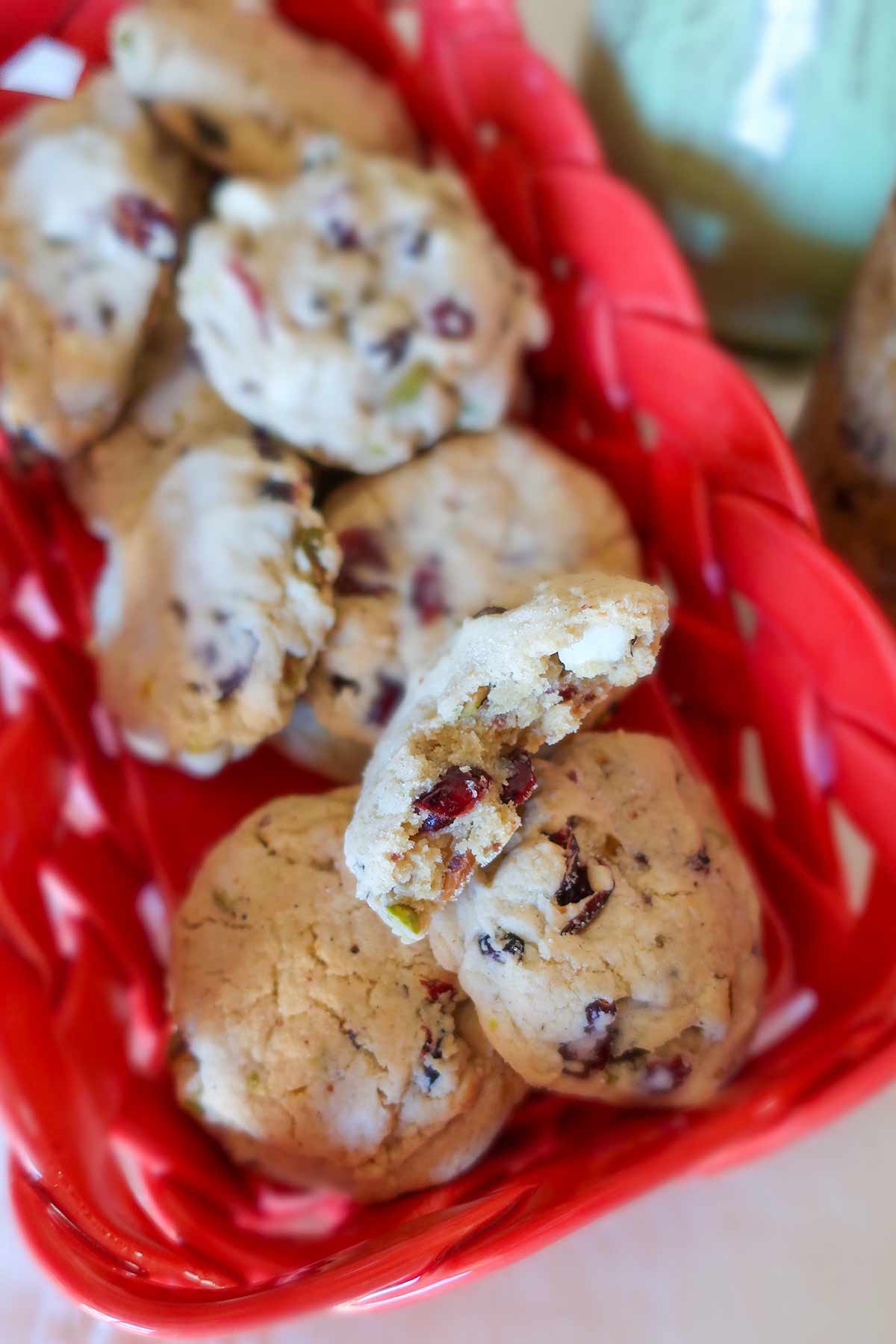 SERVING AND STORAGE
My family loves the cranberry pistachio cookies with a cup of hot cocoa topped with tiny marshmallows. I love mine with a hot cup of coffee, and for an extra special sweet treat, serve them with vanilla bean ice cream, yum! Enjoy
The cookies will keep on a cookie platter for the first day. To maximize the freshness, store leftovers in an airtight container in a cool, dry place, away from direct sunlight. The cookies must be fully cooled before storing.
Let's connect
Meet Kristina. Passionate about creating delicious, innovative gluten free recipes, and author of two gluten free cookbooks, "Entertaining The Gluten Free Way" and "Small Bites The Gluten Free Way".
Be sure to FOLLOW US on FACEBOOK or, check us out on PINTEREST. And don't forget to sign up for our newsletter. We always have something new and exciting for you!
Many thanks!
Kristina x
Cranberry Pistachio Cookies – Gluten Free
Published on Nov 14, 2023
by
Kristina Stosek
Instructions
1.

Preheat oven to 350 F and line a large or 2 small cookie sheets with parchment paper

2.

Beat together maple syrup, butter, and sugar until smooth and fluffy. Mix in vanilla.

3.

Sift together (dry ingredients) flour, baking soda, salt, and nutmeg, and using a spatula or a wooden spoon, gradually mix with the butter mixture.

4.

Using a spatula, fold in the pistachios, cranberries, and chocolate chips and chill the dough in the refrigerator for 15 minutes

5.

Using a large or medium-sized cookie scoop, drop the cookies onto the prepared cookie sheet. You can make 24 smaller cookies or 18 medium size, which is what I did.

6.

Depending on the size of the cookies, bake 12 - 15 minutes. The cookies should be a very light golden color around the edges

7.

Cool the cookies fully before transferring them to a cookie platter

8.

Optional: For an extra layer of deliciousness, sprinkle the hot cookies with a mixture of 1 tablespoon of sugar and 1/4 teaspoon of nutmeg