Gluten Free Linzer Cookie Recipe
Published on Dec 09, 2022
by
Kristina Stosek
Prep Time:

30 minutes
Cook Time:

12 minutes
Serves:

18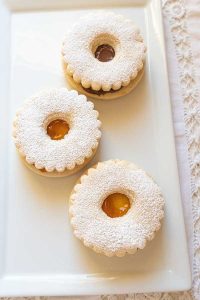 ​This post may contain affiliate links, please see our
privacy policy
for details
This gluten free Linzer cookie recipe is a classic holiday favorite that's been always included on our holiday dessert platter. The key to these cookies is the almond flour, the filling and the melt in your mouth texture.
FAQs about linzer cookies
1. What is a Linzer cookie?
A Linzer cookie is a sandwich cookie consisting of two thin sheets of baked pastry filled with jam, preserves or chocolate spread. The cookies are usually round but can also be found in other shapes, such as hearts, stars or diamonds.
2. Where do Linzer cookies come from?
Linzer cookies are believed to have originated in the city of Linz, Austria, in the 17th century. The cookies were originally made with hazelnut flour and poppy seeds, but over time other ingredients such as almonds, walnuts and cinnamon have also been used.
3. How do you make gluten free Linzer cookies?
One important ingredient in making Linzer cookies is nut flour. Almond, walnut or hazelnut fine-ground flour is typically used to make the cookie dough. The dough is rolled out and cut into desired shapes. Once the cookies are baked, they are sandwiched with a filling in between and dusted with powdered sugar.
4. What kind of jam should I use for my Linzer cookies?
You can use any jam or preserve for filling Linzer cookies, so feel free to get creative! Some popular flavors include apricot, raspberry, strawberry, blueberry, and peach.
If you want something kids and adults love alike, try using chocolate spread or Nutella.
notes on gluten free ingredients
When it comes to gluten free baking, there are a few things to know about the gluten free ingredients
– Use a gluten free all-purpose flour blend with xanthan gum. There are many great brands, so use whatever you have on hand because this recipe is forgiving. If your blend does not include xanthan gum, add one teaspoon.
– It is best to use blanched finely ground almond flour that's called for in the recipe. Almond flour gives these cookies a deliciously nutty flavor and helps to keep them moist
-Not all powdered sugar is gluten free. Please ensure the brand you are using has not been processed in a factory where they process wheat. I always use organic powdered sugar. The powdered sugar gives the cookie a smooth texture.
-Not all brands of jams, preserves or chocolate spreads are gluten free. Check the label or check with the manufacturer to be sure.
-Use pure vanilla extract. The vanilla is much more falvorful and guaranteed gluten free. Imitation vanilla may contain gluten and doesn't taste as good.
With these tips in mind, you'll be able to make delicious gluten free Linzer cookies that will melt in your mouth, that's a promise!
tools you will need to make Linzer cookies
To make Linzer cookies, you will need the following tools:
– electric mixer
– measuring cup
– measuring spoons, I love these because they are also measured in ml
– rubber spatula
– rolling pin, I love the French rolling pin
– linzer cookie cutters
– parchment paper, unbleached is better for you
– cling wrap
– bowl
– baking sheet
and an oven…haha
easy way to roll out Linzer cookie dough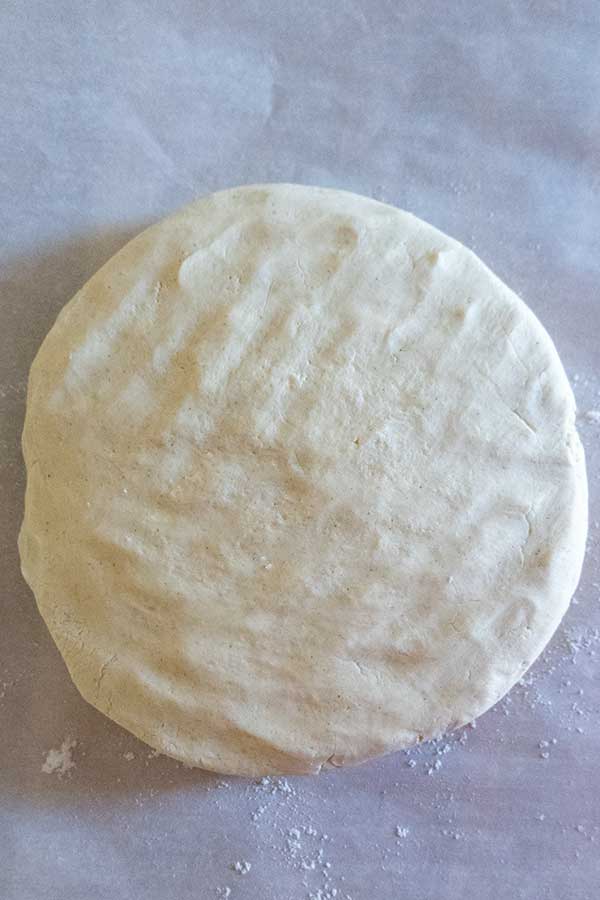 Once the dough is formed, it will be too sticky to roll out. So wrap it with cling wrap, so it doesn't dry out, and place it in the fridge for about 30 – 45 minutes.

When ready, remove the dough from the fridge and rest for 10 minutes before rolling.
Next, place to dough onto a large sheet of parchment paper and cover it with a large sheet of cling wrap. Using the rolling pin, roll the dough to about 1/4 " thickness.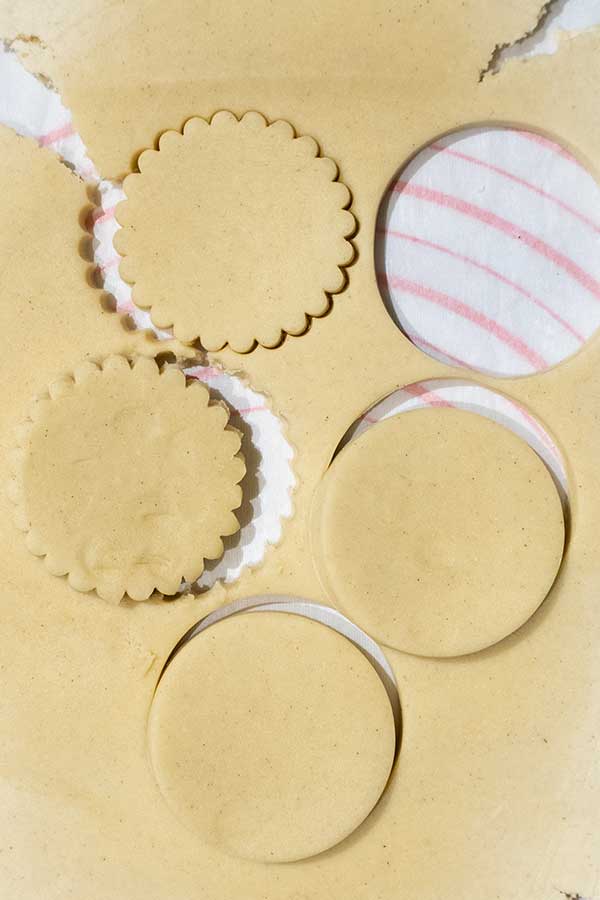 You can also keep the cookie dough in the fridge for up to three days. After that, however, you will need to rest the dough at room temperature for about 30 – 45 minutes before you can roll it out.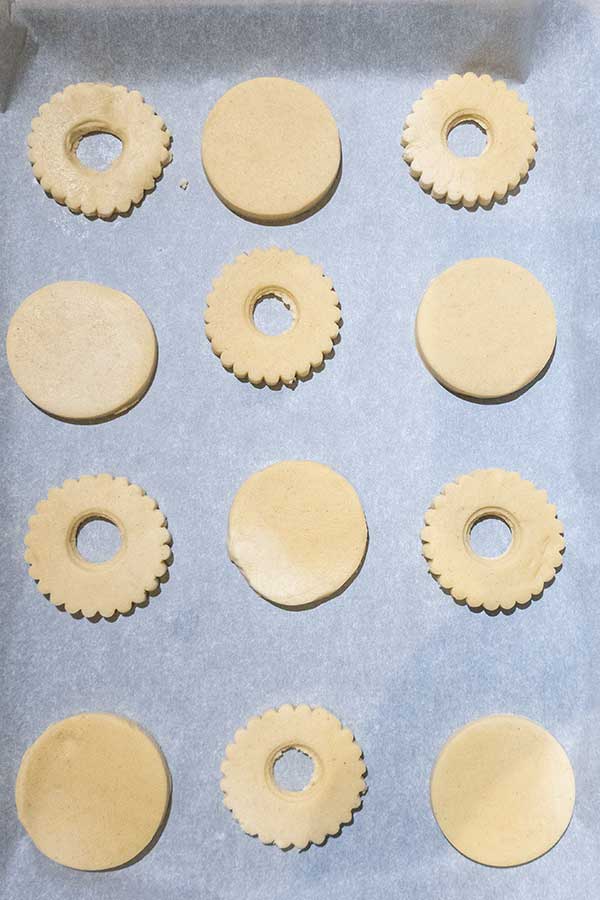 Roll out the dough to about 1/4 inch thickness and cut it into desired shapes. Both the top and the bottom cookie should be the same size. Then combine all the dough scraps, roll them out again and cut out cookies until you have used up all the dough.
Then, use a tiny cookie cutter and cut out a small hole, heart or star in the middle of the cookie that you will use for the tops.
Why do you have to freeze the cookies before baking?
There are a couple of good reasons. For one, it will prevent your cookies from spreading in the oven.
And freezing allows you to bake the cookies in batches, so you're not stuck with a huge batch of cookies all at once.
There are a few different ways you can fill your Linzer cookies: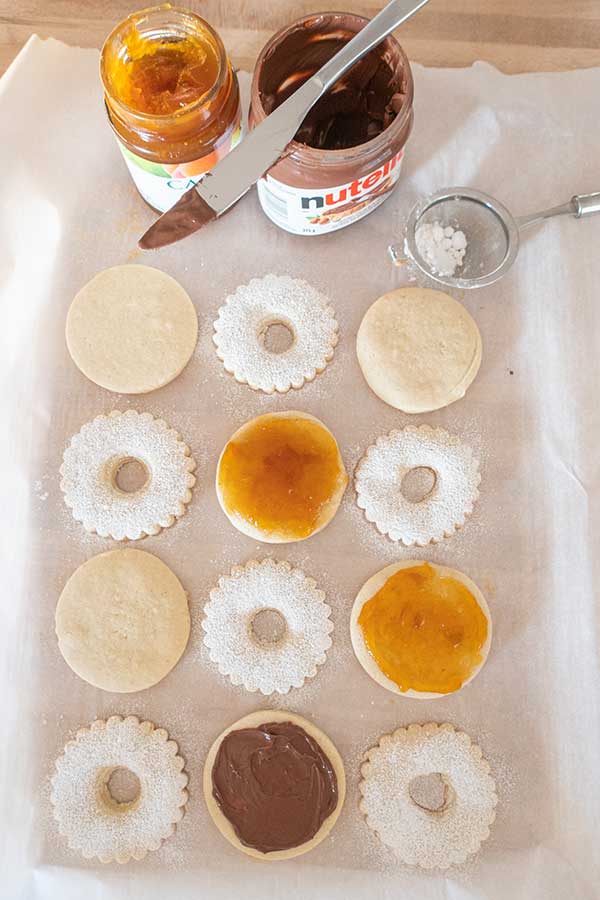 1. Jam or preserves: This is the most traditional filling for Linzer cookies. Any flavor of jam will work, so use your favorite!
2. Chocolate ganache: If you want to take your Linzer cookies to the next level, fill them with chocolate ganache or Nutella spread. Remember, do not use Nutella when making a nut-free cookie version.
3. Lemon curd: For a tart and tangy twist on the classic Linzer cookie, try filling them with lemon curd. This bright and citrusy filling is a perfect balance to the sweet cookies.
Whatever filling you choose, once the cookies are cool, spread the filling on the bottom cookie and top with another cookie sprinkled with powdered sugar. Then gently press them together.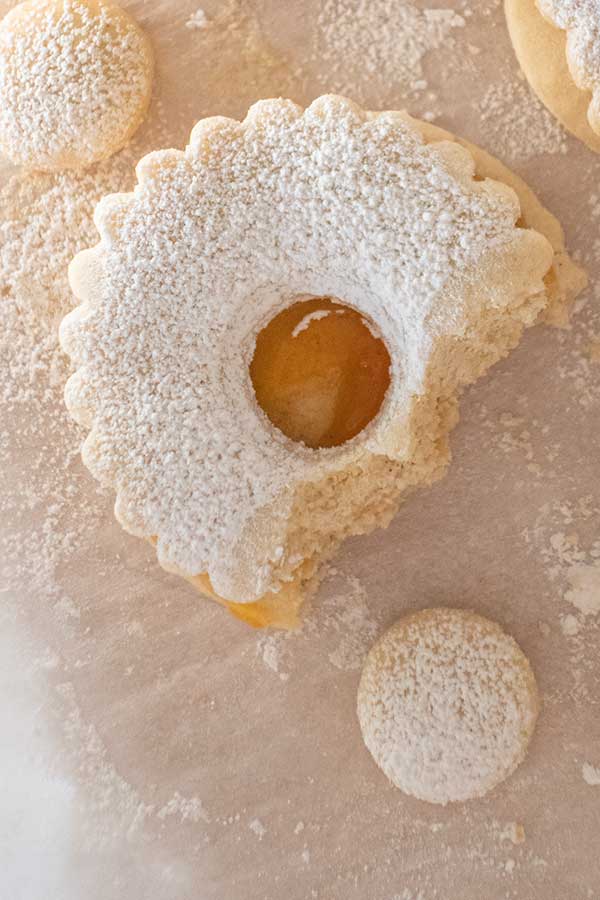 How to make dairy-free Linzer cookies?
Making the cookies dairy-free is simple. Replace the butter with vegan butter, such as earth balance.
How to make vegan Linzer cookies?
Follow the dairy-free version and replace the egg with three tablespoons of dairy-free milk or a flax egg.
How to make nut-free Linzer cookies?
Replace the almond or nut flour with sweet sorghum or buckwheat flour. As a result, the cookies will have a crispier texture.
storing
To store your gluten free Linzer cookies, put them in an airtight container and keep them at room temperature for up to five days.
Or, refrigerate for up to ten days. If the cookies start to soften too much, remove them from the airtight container.
If you plan on freezing them, make sure to wrap them tightly with plastic wrap before placing them in an airtight container. For the best results, eat the cookies within 2-3 months of baking.
Or, you can freeze raw cookies on a baking sheet, then store them in an airtight container for up to three months or until you are ready to bake them.
serving suggestions
Serve them as a snack, in a lunch box, with coffee in the morning or afternoon tea.
Add them to a cookie gift box with your favorite holiday cookies as a hostess gift. Here is a list of all our gluten free cookies.
Add them to a holiday dessert platter with other gluten free sweets.
I hope you enjoy these gluten free Linzer cookies. They are a holiday tradition in our home and loved by the entire family. If you like this Austrian cookie recipe, check out our complete list of gluten free Austrian recipes for inspiration.
Let's Connect!
Be sure to FOLLOW US on FACEBOOK and PINTEREST.
Many thanks!
Kristina xx
Gluten Free Linzer Cookie Recipe
Published on Dec 09, 2022
by
Kristina Stosek
Instructions
1.

Using a large bowl, beat together butter and powdered sugar until smooth and fluffy

2.

Add egg, vanilla and salt and beat until combined

3.

Whisk the flours together and add 1/4 at a time to the mixing bowl, mixing after each time until smooth

4.

Transfer the dough onto parchment paper lightly dusted with gluten free flour. Using the paper, form the dough into a disk. Cover with plastic wrap and refrigerate for 30 - 45 minutes

5.

Remove the dough from the fridge and rest at room temperature for 10 - 15 minutes or until you are able to roll it out

6.

To roll the dough, place it on parchment paper and cover it with a large cling wrap. Using a roller, roll it out to about 1/4 inch thickens

7.

Using a cookie cutter of choice, cut into desired shapes. You should have an even number of cookies. Using a tiny cookie cutter, cut out centers in your top cookies. Carefully place cookies on a cookie sheet lined with parchment paper about 1 inch apart

8.

Combine all the dough scraps and roll them out again into cookies until you use up all the dough. Place the cookies in the freezer for 15 minutes to firm up

9.

Meanwhile, preheat the oven to 350 F

10.

Bake for 10 - 12 minutes. The edges should start turning golden. Cool fully on the baking sheet before assembling

11.

When the cookies are cold, spread a thin layer of filling on the bottom cookie and dust the top cookies with powdered sugar. Sandwich the cookies together.

12.

*see storing and freezing instructions in the post