Gluten-Free Fudgy Brownie Cookies
Published on Jul 11, 2021
by
Kristina Stosek
Prep Time:

10 minutes
Cook Time:

12 minutes
Serves:

15 - 18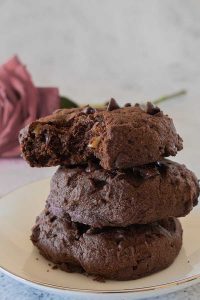 ​This post may contain affiliate links, please see our
privacy policy
for details
The very BEST Gluten-Free Fudgy Brownie Cookies! Easy summer baking with just minutes to whip up these INSANELY DELICIOUS fudgy, chocolaty cookies will become your favourites.
Each cookie oozing with chocolate will melt in your mouth. There is absolutely nothing not to love about these fudgy brownie cookies.
We love this fudgy brownie cookie!
Every bite tastes like chocolate chip cookies but with a fudgy texture and extra chocolate buttery flavour, and plenty of mini chocolate chips. I have also added a handful of nuts, but this is optional.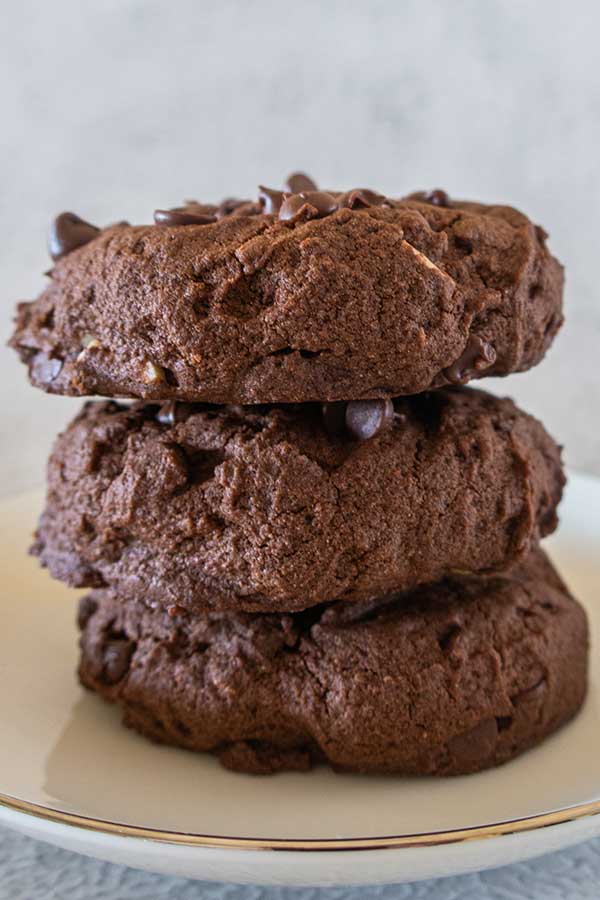 This gluten-free cookie recipe is sooo good, and you can even dip the fudgy brownie cookie into vanilla ice cream, making it into a delectable dessert.
testing the recipe over and over…
Here is the thing, when I set out on creating a recipe such as these fudgy brownie cookies, they have to turn out perfect. And trust me, it takes many batches before the gluten-free cookie recipe is perfect.
This fudgy brownie cookie took me two days to develop. Unfortunately, great recipes take time, especially when the cookie recipes are gluten-free.
I wanted to have the BEST fudgy brownie cookie that I can honestly label "the best cookie," And this cookie recipe is the best!
The ingredients aren't complicated. It is all about the quantity and temperature of each ingredient that makes this fudgy brownie cookie perfect.
Let's jump straight into the fudgy brownie cookie recipe…
Before I start, it took me only ten minutes from start to the oven. And this is why I call this gluten-free cookie my summer cookie recipe. Summer is about outdoors and not hovering in the kitchen.
Start with creaming the butter, olive oil, cocoa and coconut sugar. I used an electric mixer. This way, I let the mixer do its thing.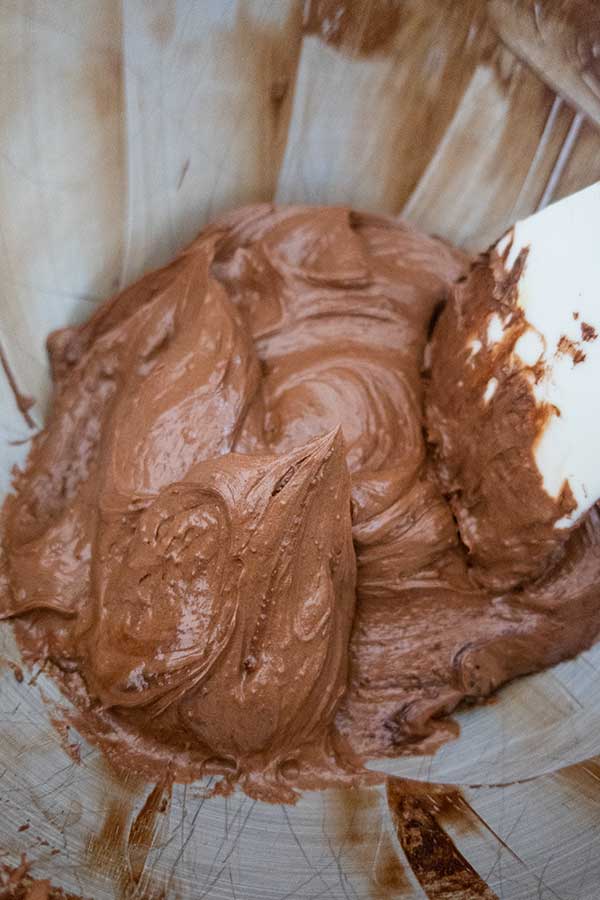 Next, while the fudgy chocolate buttery mixture is getting creamy, I whisk the three dry ingredients together. You will need only one flour, a basic gluten-free all-purpose blend, baking powder and salt.
Now that the fudgy, buttery mixture is super creamy, I added an egg and pure vanilla extract and let the mixer blend everything.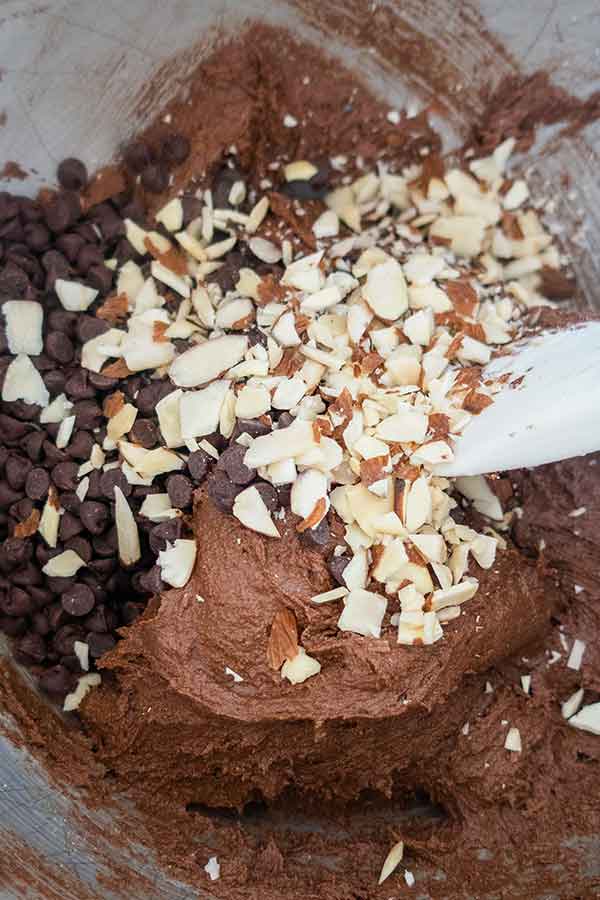 You can put the mixer away now. Add the flour mixture to the fudgy cream, and using a rubber spatula, mix everything until you no longer see dry patches. But do not over mix. It takes about a minute to mix everything.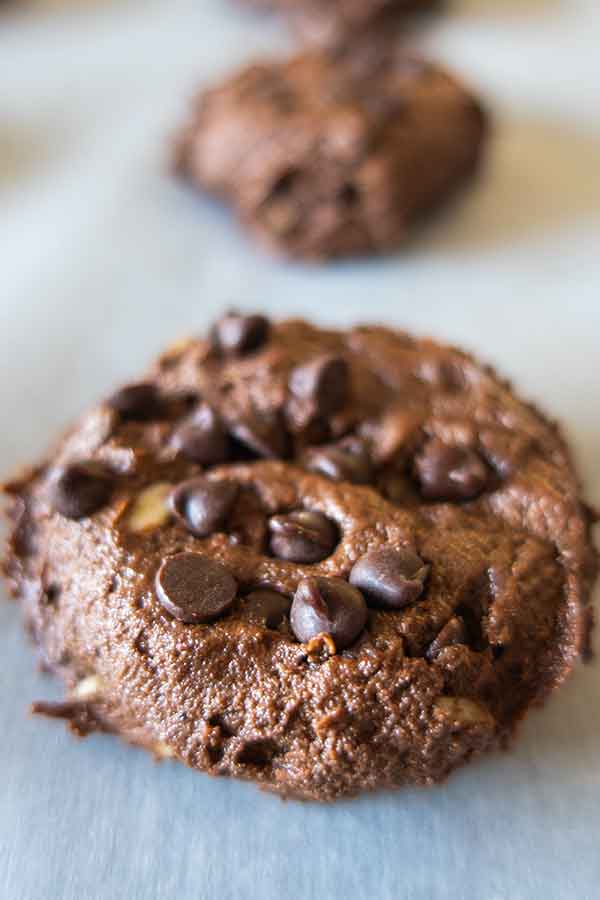 Lastly, add the mini chocolate chips and, if using the chopped nuts.
Using an ice cream scoop or a large spoon, drop the cookie dough about 1/2-inch apart on a baking sheet. I like to add few more chocolate chips on top of each cookie because I LOVE chocolate.
Using your hands, slightly flatten each cookie. All that is left is baking, about 10 -12 minutes. These cookies bake very quickly, so you will probably need only 10 minutes if you are making smaller cookies.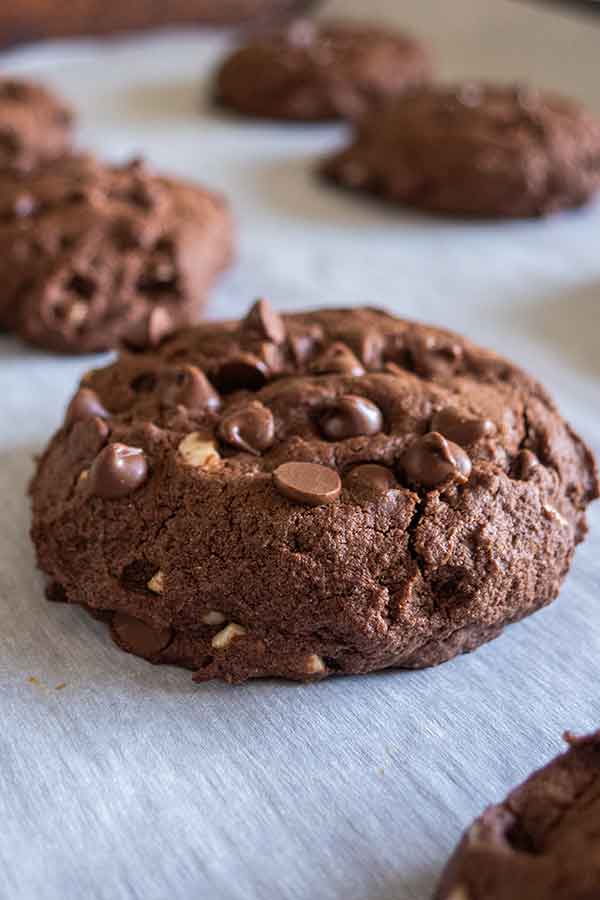 The best way to know if the cookies are done is gently press the top of a cookie, and it shouldn't be soft. But don't overbake them, or they will become too dry. I made larger cookies yielding 15, and it took only 12 minutes of baking time.
Cool the cookies for about 5 minutes on the baking sheet, then transfer onto a cooling rack. That's it! Another easy gluten-free cookie recipe is the Gluten-Free One Bowl Chocolate Chip Cookie.
These fudgy brownie cookies are so delicious when they are still a little warm. However, the cookies do firm up once they are completely cooled.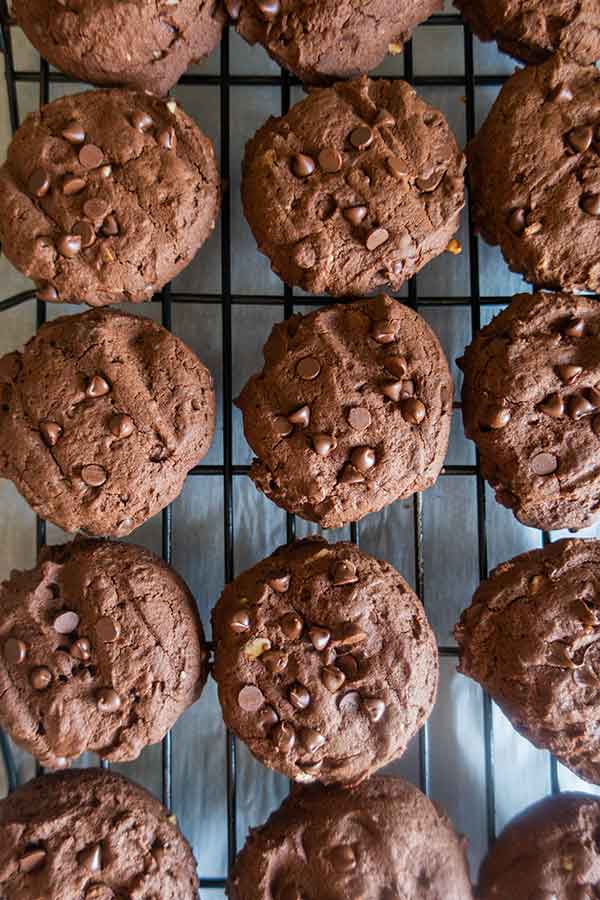 baker's notes
When measuring the flour, please fill the measuring cup with a spoon and then level it off with a knife.
The butter and egg have to be at room temperature.
These gluten-free fudgy brownie cookies are so good when they are chilled. So yes, I keep the cookies in an airtight container in the refrigerator.
I love these chocolate cookies when they are cold. This is because they are so good when they are cold, especially in the summer. But they are also super delicious when they are still warm. So it all depends on what you like.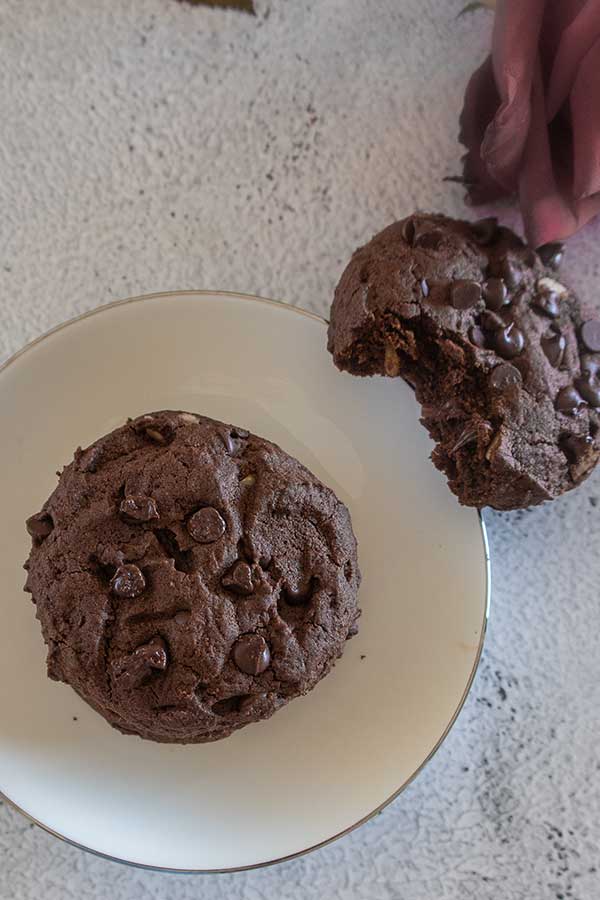 These fudgy brownie cookies are perfect for dipping. So if you have vanilla bean ice cream or whipped cream, go ahead and dip. Or, dip them into a hot cup of coffee.
I can't describe how good of a dessert they make or a sweet, satisfying snack. Enjoy!
Let's Connect!
Be sure to FOLLOW US on FACEBOOK and PINTEREST.
Many thanks!
Kristina xx
Gluten-Free Fudgy Brownie Cookies
Published on Jul 11, 2021
by
Kristina Stosek
Instructions
1.

Preheat oven to 350°F and line a large cookie sheet with parchment paper

2.

Using an electric mixer, cream the butter, olive oil, coconut sugar and cocoa powder. Beat in egg and vanilla until combined

3.

 Whisk the flour with baking powder and salt, and using a spatula, stir into the fudgy cream until just combined. Stir in chocolate chips and nuts

4.

 Scoop out the dough with a cookie scoop or a large spoon and place the dough 1/2-inch apart on the prepared baking sheet. Top with a few extra chocolate chips and slightly flatten each cookie

5.

Bake for 10 - 12 minutes. I made 15 cookies, and it took 12 minutes. If you make smaller cookies, you will probably need only 10 minutes. The cookies should be firm when you lightly touch the tops

6.

Cool on a cookie sheet for 5 minutes, then transfer to a wire rack to cool
Leave a Comment
love love these cookies, the texture is between a cookie and a brownie,
Kristina
OMG, these chocolate cookies are to die for, thank you.
Kristina
Absolutely delicious, they are like brownies except cookie size. Love the idea thank you!