One Bowl Gluten-Free Chocolate Chip Cookies
Prep Time
15 Minutes
Difficulty
Beginner
Cook Time
13 Minutes
Serves
24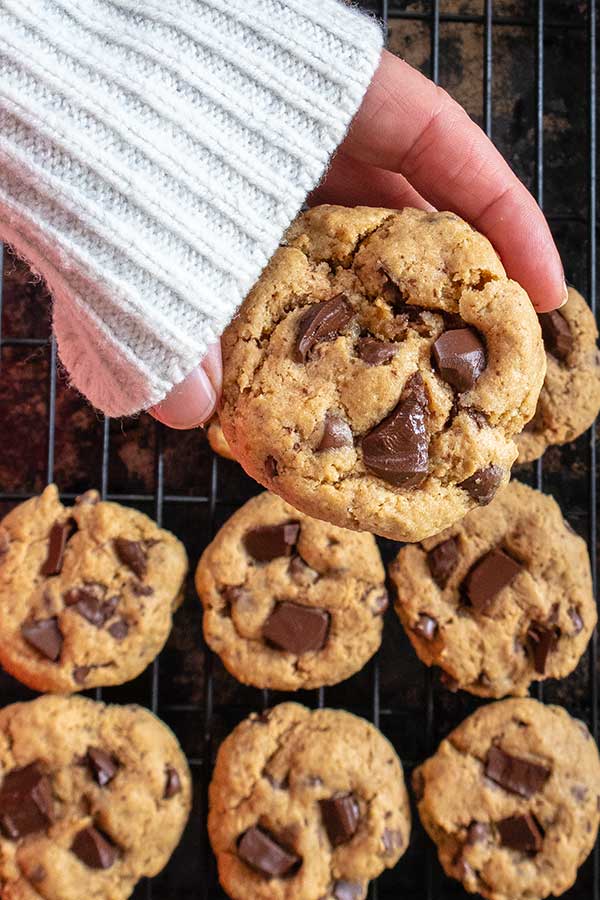 Average Rating: 5 | Rated By: 21 users
Where do I start, these One Bowl Gluten-Free Chocolate Chip Cookies are heavenly! So much chocolate, the texture is just right, and the cookies are nice and thick. All this goodness and all you need is one bowl making this the easiest chocolate chip cookie recipe ever.
To make this chocolate chip cookie extra delicious, I topped each cookie with extra chocolate chunks and made them even more chocolaty. You can also add Maldon flaky salt accentuating the rich chocolate flavour. Sweet, chocolaty a little saltiness, couldn't get better than this!
 gluten-free chocolate chip cookie recipe details…
Whenever I bake, and the recipe calls for only one bowl, I get all excited. The recipe is going to be easy and the clean up even easier. For this gluten-free chocolate chip cookie recipe, I used one large bowl.
First, you whisk the dry ingredients, then add softened butter, eggs and vanilla and mix until well combined. The best way to do this is by using a stand mixer with a paddle attachment because it takes a few minutes for the dough to come together.
Once the dough starts to form, add in the chocolate chips. Now roll the dough into balls and press them into about 3/4-inch disks. You can press extra chocolate chunks or chips into the tops or sprinkle them with flaky salt.
t

he next step is important!
If you want the cookies to be thick so that you can fill them with chocolate…and what better way to eat cookies? Once the cookies are ready for the oven, place them in the freezer for 5 minutes.
By chilling the dough, the butter will not melt too quickly, leaving the cookies thick, crispy, and slightly chewy in the middle → A perfect gluten-free chocolate chip cookie if you ask me!
gluten-free flours to replace gluten-free flour blend…
I know some of you don't like to use gluten-free flour blends when baking. Here is couple of my favourite gluten-free blends that I always keep on hand and use in many of my recipes.
In this chocolate chip cookie recipe I would use the  gluten-free rice-based flour blend. This blend is excellent for making gluten-free cookies. When I create recipes for baking, I do two batches, one with my gluten-free flour blend and one with a blend that comes from a box.
When I use a box blend and the recipe does not meet my expectations, I will use my blend and list the various gluten-free flours I used in the recipes.
You will find that sometimes my recipes call for a gluten-free flour blend. This means that the blend worked well, and to keep things simple, I will use it in that recipe. Here are two of my favourite gluten-free flour blends that I use in baking.
Kristina's gluten-free rice-based flour blend ( 5 cups)This blend is excellent for cookies, desserts, bread, muffins, pizza and thickener in stews and gravy.


∼ 3 cups brown rice flour
∼ 1 cup potato starch (not flour)
∼ 1/2 cup white rice flour
∼ 1/2 cup tapioca flour
∼ 2 tsp xanthan gum


Kristina's grain-free, paleo-friendly flour blend (6 cups)
This blend is excellent for muffins, pies, coffee cakes and most desserts.


∼ 3 cups blanched almond flour
∼ 1 1/2 cups arrowroot flour
∼ 3/4 cups tapioca flour
∼ 3/4 cups coconut flour
how to store gluten-free flour blends
First, to make the gluten-free flour blend, everything must be well mixed. To do this, I whisk the flours together until well blended. To store, use an airtight container or a ziploc slider storage bag and store it in a cool place. When I store my gluten-free flour, I measure 4 cups per each container. This gives me an indication of how much flour I have left and when to do another batch.
If you do make these gluten-free chocolate chip cookies, don't forget to tag me on Instagram! I love looking through the photos of recipes you all have made:-) or join me on my Facebook page for the latest updates.
Ingredients
2 1/4 cup all-purpose, gluten-free flour blend (one with xanthan gum or add 1 tsp.) I used this one
1 1/4 cup coconut sugar or brown sugar
1 Tsp. Baking soda
1/2 cup (1 stick) salted butter, at room temperature
2 large eggs, at room temperature
2 tsp. Pure vanilla extract
3/4 cup roughly chopped GF chocolate or chocolate chips for topping (optional)
Maldon sea salt flakes for topping (optional)
*As an Amazon Associate and member of other affiliate programs, I earn from qualifying purchases. Please check out my sponsorship and disclosure policy page for more details
Instructions
Preheat oven to 350 F and line a baking sheet with parchment paper
In a large bowl whisk together flour, coconut sugar and baking soda
Add softened butter, eggs, and vanilla and mix until combined. I used a stand mixer with the paddle attachment. Stir in chocolate chips. The cookie dough will start dry but will become creamy once everything is mixed well together
Using a medium cookie scoop or tablespoon scoop out cookie dough and roll into a ball, about the size of a walnut. Place on a baking sheet about 1 1/2 inches apart and press each ball into a disk about 3/4-inch thick. Press few extra chocolate chunks or chips into each cookie if you like lots of chocolate and sprinkle them with flaky salt if you wish
Place the cookie sheet in the freezer for 5 minutes. By chilling the dough, the cookie will stay thick when baked. Bake for 13 - 15 minutes. The cookie should be golden brown. Cool cookies on the baking sheet for 10 minutes then transfer to a wire rack to cool fully
Similar Recipes
5 Ingredient Gluten-Free Peanut Butter Chocolate Chip Cookies (Grain-Free, Dairy-Free)
These gluten-free peanut butter chocolate chip cookies are sooo delicious! The cookie 🍪 will melt in your mouth and all you need is five ingredients for this recipe. Just imagine a cookie recipe without flour, doesn't this sound good? In this gluten-free peanut butter chocolate chip cookie recipe, as a sweetener I used coconut sugar, […] Read More
Prep Time
10 Minutes
Difficulty
Easy
Cook Time
14 Minutes
Serves
12
Buckwheat Chocolate Chip Cookies – Gluten Free
These Gluten-Free Buckwheat Chocolate Chip Cookies are a delicious and healthy alternative to traditional cookies. Overall, these vegan cookies are an irresistible treat that everyone will love! How do buckwheat cookies taste? They taste amazing! The buckwheat flour gives the cookies a nutty flavour that pairs perfectly with the chocolate chips and nuts. The cookies […] Read More
Prep Time
15 Minutes
Difficulty
Easy
Cook Time
15 Minutes
Serves
24
Double Chocolate Soft Cookies – Gluten Free
The very best Gluten-Free Double Chocolate Soft Cookies. Cookies made with chocolate are everyone's favourite, especially when they are double chocolate soft cookies. These gluten-free cookies are soft with chocolate chips throughout. The cookie dough is made with cocoa making these soft cookies incredibly delicious.     What is different about these Gluten-Free Double Chocolate […] Read More
Prep Time
15 + Minutes
Difficulty
Easy
Cook Time
12 Minutes
Serves
20 cookies