Gluten-Free Glazed Shortbread Maple Cookies
Prep Time
20 Minutes
Difficulty
Easy
Cook Time
13 Minutes
Serves
20 - 24
Be the first to rate this recipe.
If there ever was a cookie that I would say is my favourite, it is this Gluten-Free Glazed Shortbread Maple Cookie. The shortbread cookies are buttery, glazed with a delicious brown butter maple glaze, and for this festive time of year, I shaped them into pumpkin cookies. Pumpkin shape cookies are great because you can serve them for Thanksgiving or Halloween. Either way, they are a mouthful of deliciousness.
I love fall…the leaves are falling, the vibrant colours everywhere, and the start of baking season. I wanted to create something different, simple, with very few ingredients and more importantly, delicious! Because we are just around the corner from Halloween, I thought, why not shape the cookies into pumpkins, and this is how my favourite fall cookie came about.
Gluten-Free Shortbread Maple Cookies…the details,
As I mentioned earlier, I wanted this glazed shortbread maple cookie recipe to be simple and with only a few ingredients. I used only nine ingredients for this gluten-free cookie recipe, including the glaze.
one more optional ingredient is pure maple extract…
If you have been following my recipes, you know I have made the Gluten-Free Apricot Maple Butter Cake and the Gluten-Free Maple Oat Nut Scones, so I have the maple extract in my pantry — why not use it? I added the extract to the maple butter glaze for more intense maple flavour, but it is optional.
This gluten-free cookie recipe is my basic shortbread cookie recipe with a couple of small changes. The maple butter glaze is something new I have created, and it is the glaze that makes these gluten-free shortbread maple cookies exceptional.
I used these pumpkin cookie cutters, they vary in size so you can choose the one that suits you the best. I found the smallest size worked well in this pumpkin cookie recipe.
The glaze is made simply by first browning the butter. The butter adds more flavour to the glaze. Then add the remaining ingredients and mix until smooth—Nothing to it.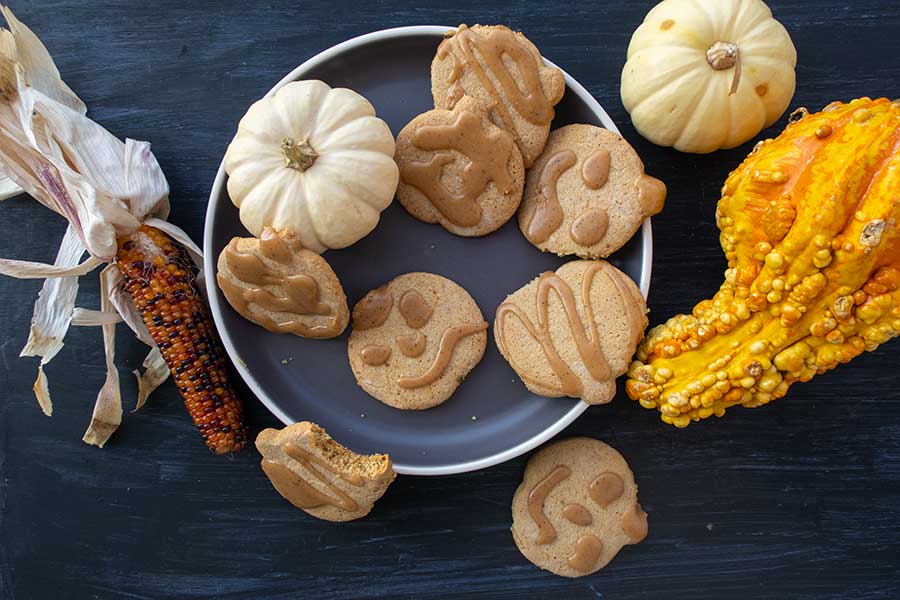 the fun part → decorating the cookies 🙂 
What I love about making these cookies is the decorating. You can have so much fun with it, and it is a great way to include children when making these cookies. The decoration doesn't have to be perfect, as you can see in these pictures, as long as you all have fun doing it.
Yes…I had a little helper decorating these cookies. For a perfect looking cookie, glaze the entire cookie.
If you are thinking of making a gluten-free fall cookie, try this shortbread maple cookie recipe. I promise you it will be a big hit! I just made a batch, and I will have to hide the cookies because they will not last until the end of the day. My advice, double the recipe 🙂
I hope you give these gluten-free shortbread maple cookies a try and let me know your thoughts. If you have any suggestions, please add them to the comments. I always love to hear from you. Enjoy!
Ingredients
1/2 tsp. Baking soda
1/4 tsp. Sea salt
1/2 cup unsalted butter, softened
2 Tbsp. Coconut sugar or brown sugar
1/3 cup pure maple syrup
3/4 tsp. Pure vanilla extract
MAPLE BUTTER GLAZE
1/4 cup unsalted butter
1 Tbsp. milk, at room temperature
2 Tbsp. Pure maple syrup
1/2 tsp. Pure vanilla extract
3/4 cup powdered sugar or as needed to reach desired consistency
*As an Amazon Associate and member of other affiliate programs, I earn from qualifying purchases. Please check out my sponsorship and disclosure policy page for more details
Instructions
Whisk together flour, baking soda and salt
Using a large bowl of an electric mixer, mix butter with coconut sugar until creamy. Add maple syrup and vanilla and blend until smooth.
Gradually add the flour mix and blend until a dough forms. Refrigerate for 20 minutes
Roll out dough on generously floured wax or parchment paper to about 1/4-inch in thickness. Cut the cookies with your favourite cookie cutter. I used a pumpkin cookie cutter. Using a spatula, carefully place cookies 1-inch apart on a large baking sheet lined with parchment paper. 
Place the cookie sheet in the freezer for 20 minutes.
Preheat oven to 350 F and bake cookies for 13 - 15 minutes, until the edges start to turn golden brown.
Cool cookies on the cookie sheet for 10 minutes, then carefully transfer to a cooling rack to fully cool.
MAPLE BUTTER GLAZE
Heat butter over medium heat in a small saucepan. Once the butter starts to turn golden, remove the saucepan from the heat and stir in milk. Add balance of ingredients and stir until smooth. Cool to room temperature and decorate the cookies
Similar Recipes
4-Ingredient Gluten-Free Coconut Cookies
Simplest 4-Ingredient Gluten-Free Coconut Cookie recipe. This is probably one of the easiest gluten-free coconut cookie recipes I have created. All you need is 4 ingredients and a food processor. The delicious cookies are chewy on the inside and crispy on the outside and are made without refined sugar.  4 ingredient gluten-free cookie reecipe… The gluten-free […] Read More
Prep Time
5 Minutes
Difficulty
Beginner
Cook Time
15 Minutes
Serves
18 cookies