Gluten-Free Apricot Maple Butter Cake
Published on Aug 28, 2020
by
Kristina Stosek
Prep Time:

15 min minutes
Cook Time:

55 minutes
Serves:

8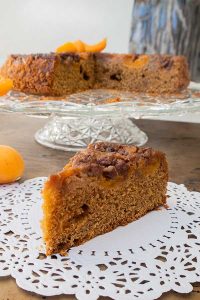 ​This post may contain affiliate links, please see our
privacy policy
for details
This Gluten-Free Apricot Maple Butter Cake is super moist, buttery and topped with a maple apricot walnut topping. The buttery cake is so delicious! We are approaching the end of summer, and now is the time to enjoy the fresh in-season apricots. And what a better way than incorporating them into the most delicious gluten-free maple butter cake.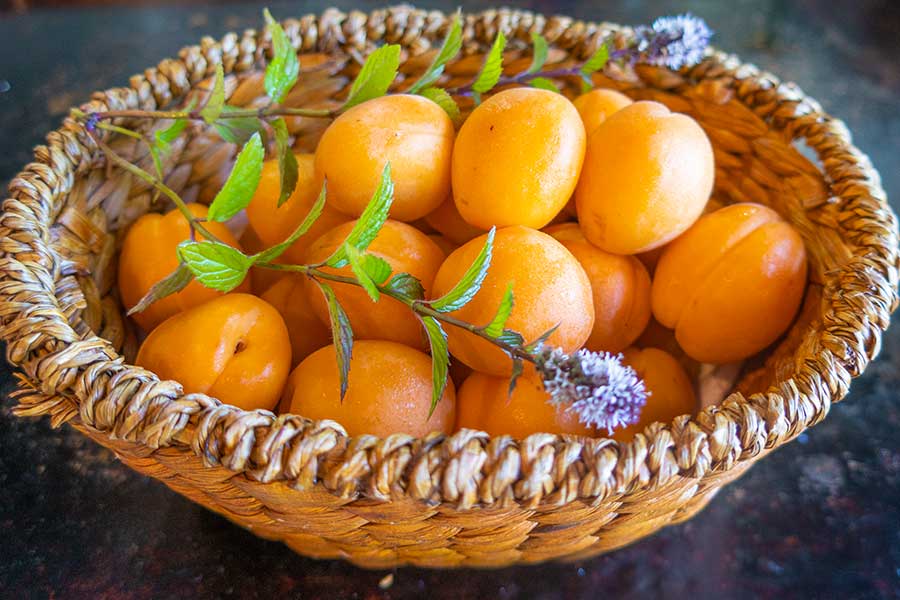 Are apricots healthy?
I don't know about you, but apricots are probably one of my most favourite summer fruits. Not only are they sweet and have a delicate texture, but the apricots are super healthy.
Apricots are nutritionally dense and low in calories and net carbs. Apricots are rich in vitamin C, potassium, fiber and include a fair amount of vitamin B-6, magnesium and iron.
Total net carbs per one cup of sliced apricots are only 14.7 carbs. As fruits go, this fruit is considered low-carb.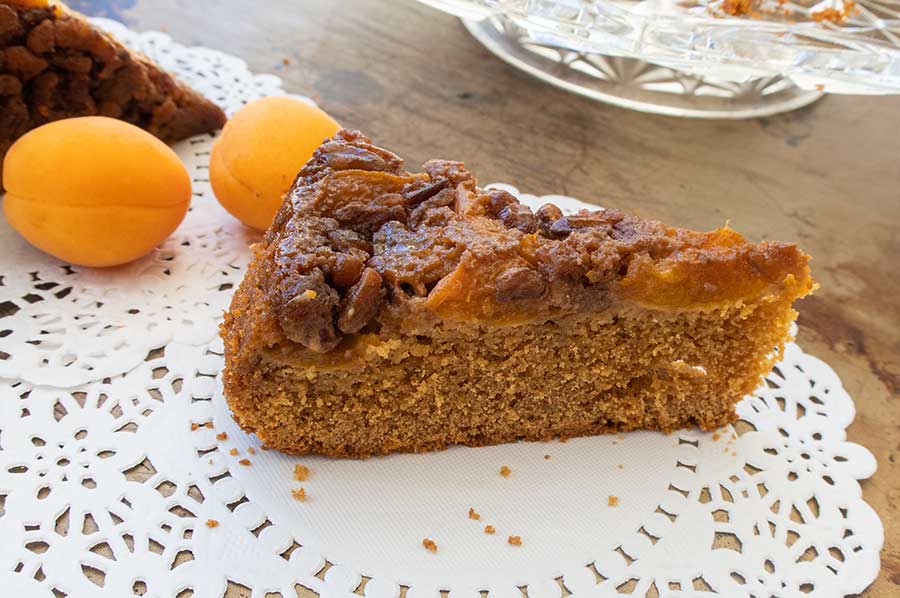 Why is this gluten-free apricot maple butter cake so good!
I could have just made this gluten-free apricot cake into a typical upside-down cake. But I thought why not make this gluten-free cake extra special. So I made a topping with apricots, butter, pure maple extract, walnuts and a little coconut sugar.
The topping turned out so yummy! The apricots are buttery with a maple flavour and filled with sweet walnuts. Doesn't this sound delicious? I am enjoying a piece of this stunning apricot cake as I am writing out this recipe.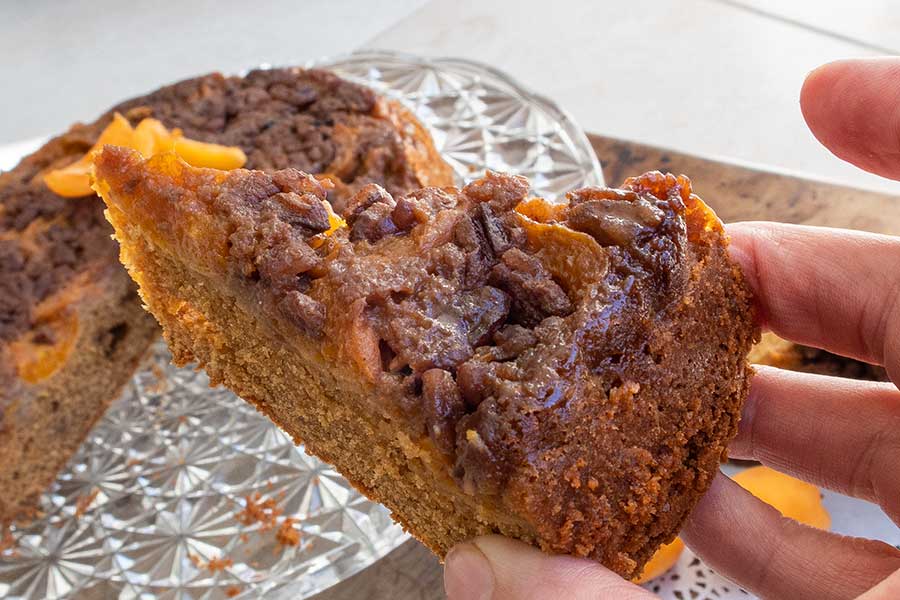 Now that we have the topping, which is what this gluten-free apricot cake is all about, comes the cake. Again, I wanted a bit of maple flavour in the buttery cake.
So, I added some maple extract to the batter. If you like maple walnut scones, you will love this maple butter cake.
However, if you are not that excited about the maple flavour, no problem! Substitute vanilla for the maple flavour and the cake will be apricot vanilla butter cake…he he. Just as delicious.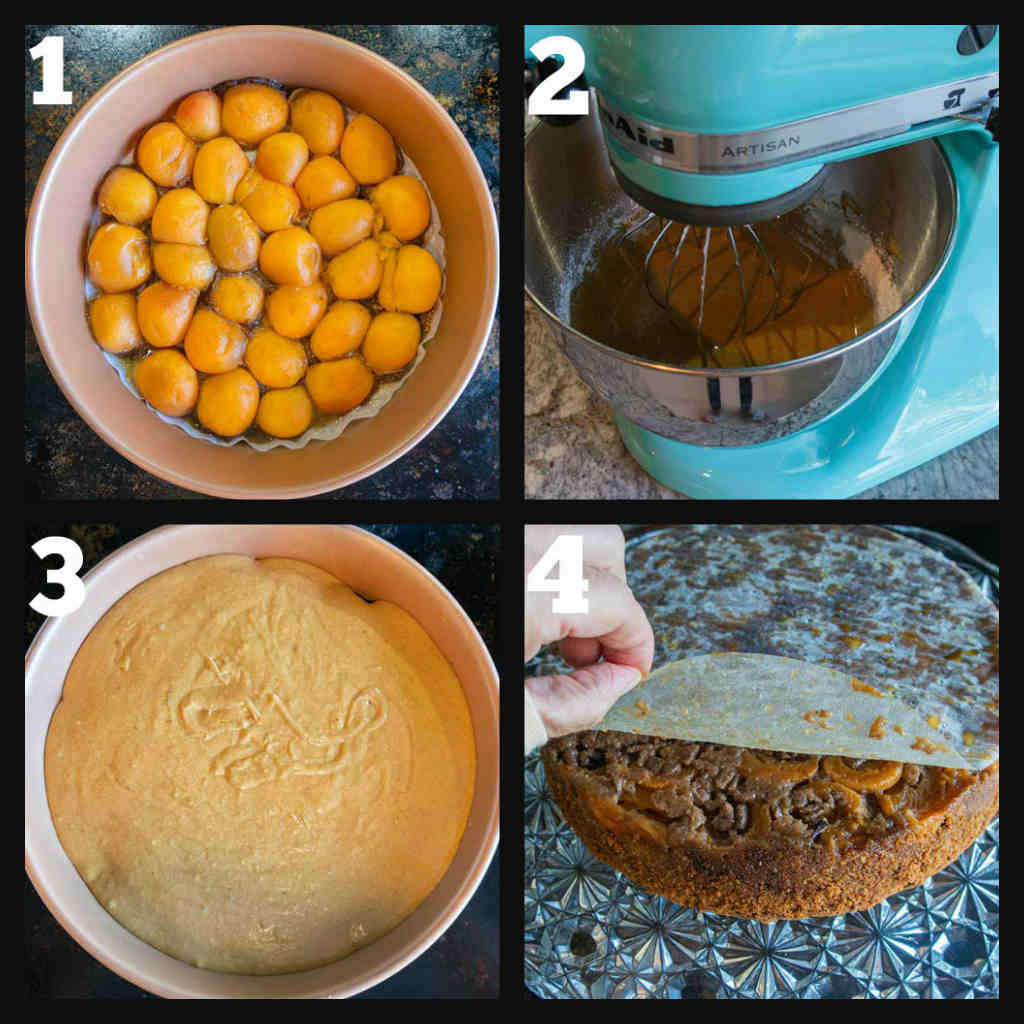 Apricot season is coming to an end, why not give this gluten-free cake recipe a try. The best part is, if the apricots are out of season, you can use frozen apricots or frozen peaches. Just make sure to thaw them out first and discard any liquid.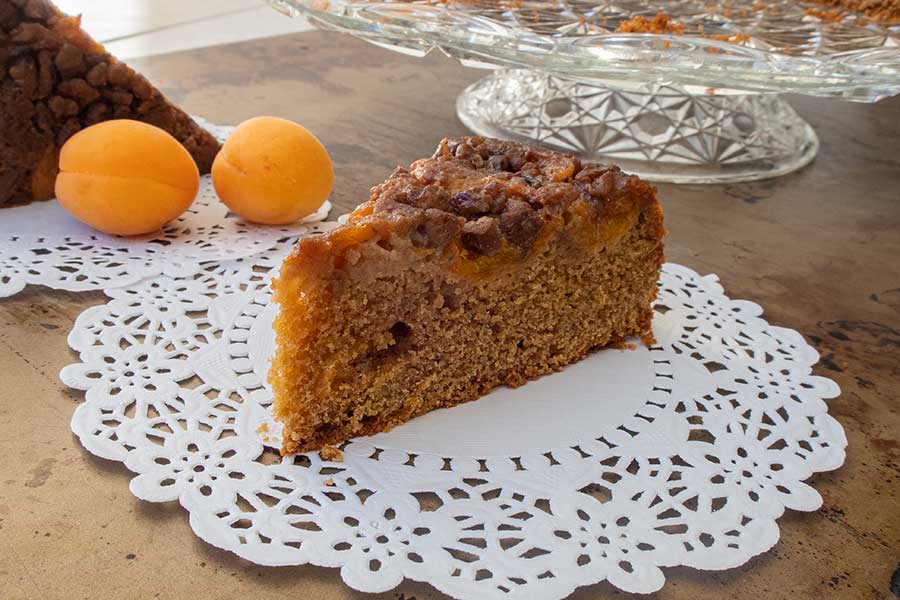 Looking for more recipes made with apricots? Here are my three favourites!
Gluten-Free Apricot Maple Butter Cake
Published on Aug 28, 2020
by
Kristina Stosek
Instructions
1.

Preheat oven to 325 F and line a 9-inch round cake pan with a circle of parchment paper

2.

For the topping; Mix 1 1/2 tablespoons of melted butter, coconut sugar, maple extract and walnuts. Spread over the base of the pan. Halve and stone the apricots and place cut side down in the base of the pan. Set aside

3.

4.

Add eggs, coconut sugar and maple extract into a mixing bowl. Using an electric mixer whisk until creamy and fluffy. Add flour, baking powder and melted butter and whisk until combined, scraping sides as needed. Pour the batter over the apricots and bake for 55 - 60 minutes until the cake is firm to the touch and springs back when lightly pressed

5.

Cool in the pan for twenty minutes, then using a sharp knife loosen the edges. Place a plate over the pan, and carefully flip the cake. Peel off the paper and enjoy a slice of warm or cold apricot cake