Apricot Blueberry Tarte Tatin (Gluten-Free)
Published on Nov 05, 2021
by
Kristina Stosek
Prep Time:

15 minutes
Cook Time:

35 minutes
Serves:

6-8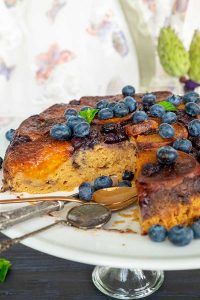 ​This post may contain affiliate links, please see our
privacy policy
for details
This Apricot Blueberry Tarte Tatin is based on the classic French dessert. Tarte Tatin originated in France and is made with caramelized fruit and pastry. In this gluten-free tarte tatin version, I used mascarpone cheese to keep the cake moist and light.
Every bite of this tarte tatin-style dessert is filled with caramelized fruit topped with a moist cake hinted with fresh lemon and cinnamon essence. Soo good!
What is Tarte tatin?
Tarte tatin is an upside-down fruit tart made with pastry baked over fruit in caramelized sugar. This dessert is then served upside down, showcasing the caramelized fruit.
Best fruit for tarte tatin?
Tarte Tatin is traditionally made with apples. However, you can use any number of fruits. The fruit is first cooked in caramelized sugar, so it will taste good no matter what fruit you use.
I used a combination of apricots and blueberries. The tartness of apricots and the sweetness of blueberries complemented each other exceptionally well.
Here are couple of other gluten-free French desserts you may enjoy, the Gluten-Free Dairy-Free Coconut Crème Brûlée, or the Gluten-Free Cream Puffs.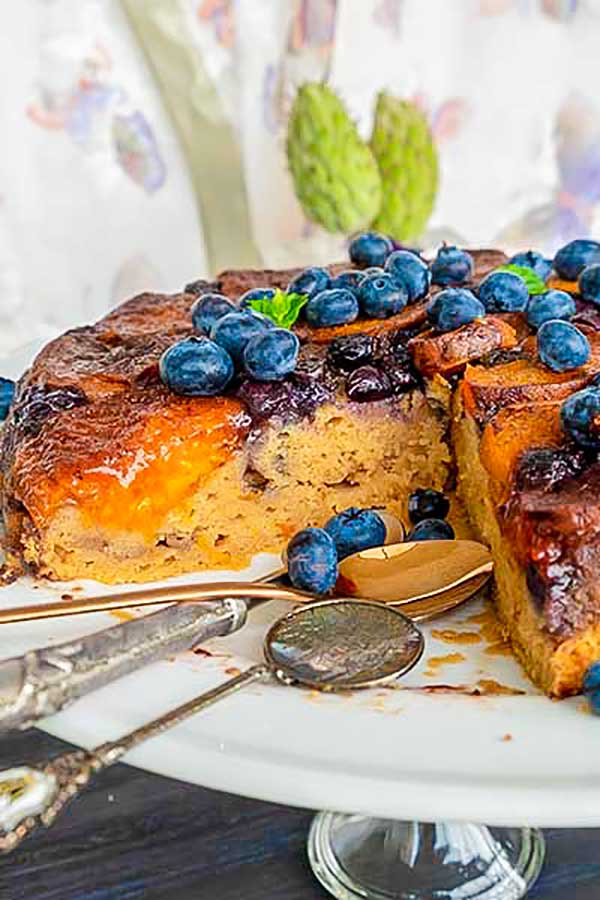 How to make tarte tatin-style cake?
Start with caramelizing the fruit. I used a cast-iron skillet, the fruit caramelizes beautifully in the skillet, and I can make the entire dessert using only one dish.
If you don't have a cast-iron skillet, you can caramelize the fruit in a pan, then transfer the fruit into a baking dish before adding the batter.
How to caramelize fruit for tarte tatin?
First, heat the butter with sugar and cinnamon. Then add the fruit slices like apricots or apples and cook until the fruit turns a golden brown colour and the sauce thickens.
I wanted to add extra fruit, so I tossed in fresh blueberries after the apricots were caramelized. The fruit will be the base for the cake, which later will become the topping.
cake batter with mascarpone
The batter is a simple cake batter, except I substituted mascarpone cheese for some of the butter that I typically use in a cake recipe. The mascarpone made the cake lighter and extra moist.
I also added fresh lemon juice and lemon zest to add freshness.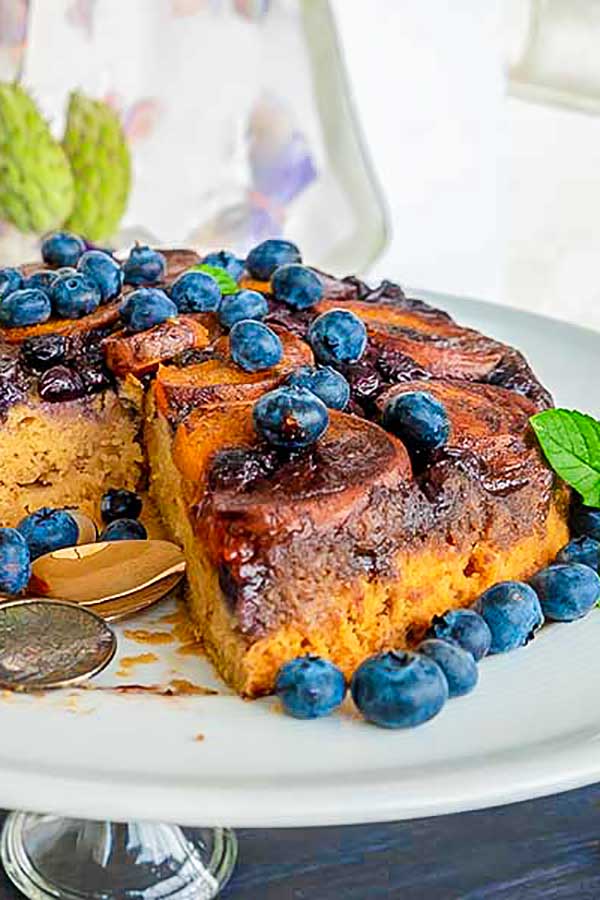 spread the batter over the caramelized fruit
By now, the caramelized fruit has cooled. Spread the batter over the fruit and bake until the top of the cake is golden brown.
Cool the cake in the pan for fifteen minutes first. Then loosen the edges with a knife and flip the cake onto a serving platter.
This gluten-free tarte tatin will showcase a beautiful topping of caramelized fruit. OMG, this French-style dessert is unbelievably delicious.
You can serve the Apricot Blueberry Tarte Tatin as is. Or, top with vanilla bean ice cream or whipped cream. This gluten-free dessert will impress your family and guests every time. Enjoy!
Let's Connect!
Be sure to FOLLOW US on FACEBOOK and PINTEREST. And don't forget to sign up for our newsletter. We always have something new and exciting for you!
Many thanks!
Kristina xx
Apricot Blueberry Tarte Tatin (Gluten-Free)
Published on Nov 05, 2021
by
Kristina Stosek
Instructions
1.

2.

In a 10-inch cast iron or oven-safe skillet heat butter over medium-low heat. Add 2 tablespoons of coconut sugar and cinnamon. Mix together. Add apricots and caramelize them on both sides. About 1 minute per side. Remove half the apricots and scatter the blueberries over the apricots in the skillet. Top with remaining apricots, set aside

3.

In a small bowl whisk together flour, baking powder and salt

4.

In a separate bowl, add mascarpone cheese, 3/4 cup coconut sugar, butter, eggs, lemon juice and lemon zest. Using an electric mixer, mix until creamy. Stir in dry ingredients until blended

5.

Evenly spread the batter over the fruit and bake for 35 minutes. Remove the skillet from the oven and rest for 15 minutes. Using a sharp knife loosen the edges and then place a large serving plate over the skillet. Invert the skillet for the cake to fall out onto the plate. Enjoy!
Leave a Comment
This was so good! Making again!
Kristina
The pears sound good, I will try and use them next time I make the tarte tatin, thank you Samantha
I made this tarte tatin with pears, it was very good. I will definitely make it again. Thank you Kristina!
Kristina
thank you Roberta, I am thrilled that you enjoyed it.