Coconut Crème Brûlée – Dairy Free, Gluten Free
Published on May 12, 2021
by
Kristina Stosek
Prep Time:

15 minutes
Cook Time:

55 minutes
Serves:

6-8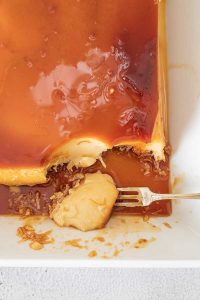 ​This post may contain affiliate links, please see our
privacy policy
for details
Easy Coconut Crème Brûlée recipe is all about a creamy custard, perfectly sweetened with a caramel topping. The dairy-free coconut crème brûlée is infused with delicious maple flavour and unsweetened coconut.
This gluten-free dessert is a twist on the classic French dessert and is a combination of Crème Brûlée and a flan.
Coconut Crème Brûlée – Easy Recipe
The best part, it's easier to make than you'd think, and this is a dairy-free dessert.
I know most of you probably already have a Crème Brûlée recipe, but I promise you nothing like this. Why is it different? Well, first, this gluten-free dessert recipe is dairy-free.
Many of you have asked me to create more dairy-free desserts. This recipe is one of them…and I must say it is a winner! A litte different than the classic.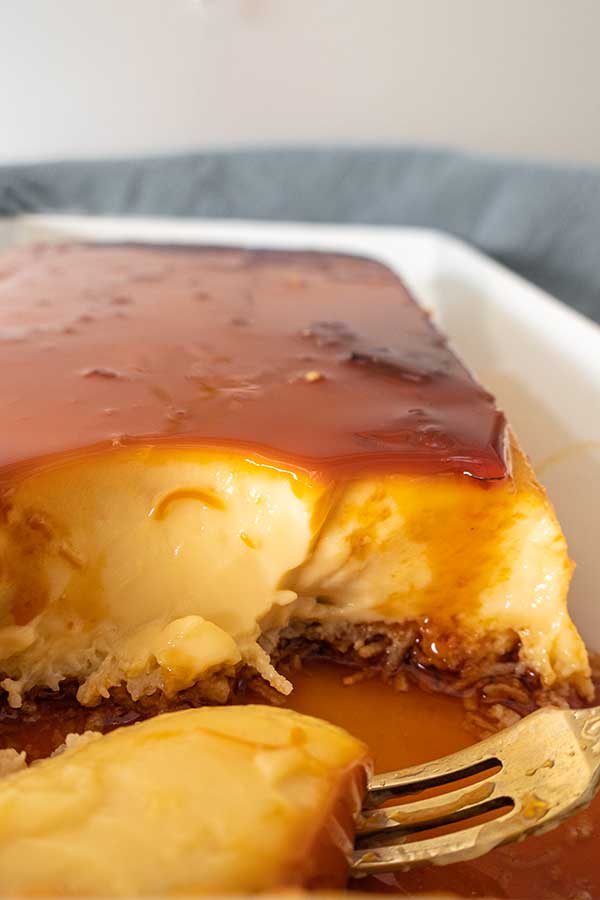 creme brûlée with a touch of coconut
To give this dairy-free dessert a boost of deliciousness, I added unsweetened long shred coconut. The coconut is finely shredded, making it a perfect addition to this crème brûlée dessert.
If you like French desserts, check out our complete list of gluten-free French dessert recipes, especially the gluten-free French pastry cheese cups.
Who doesn't like crème brûlée? Ask ten people, and I bet nine out of ten people will say they love this French dessert.
This creamy custard recipe has been on my list of desserts to make for a long time. But, I wanted to create something more than just a basic crème brûlée. So here it is. I know you will not be disappointed.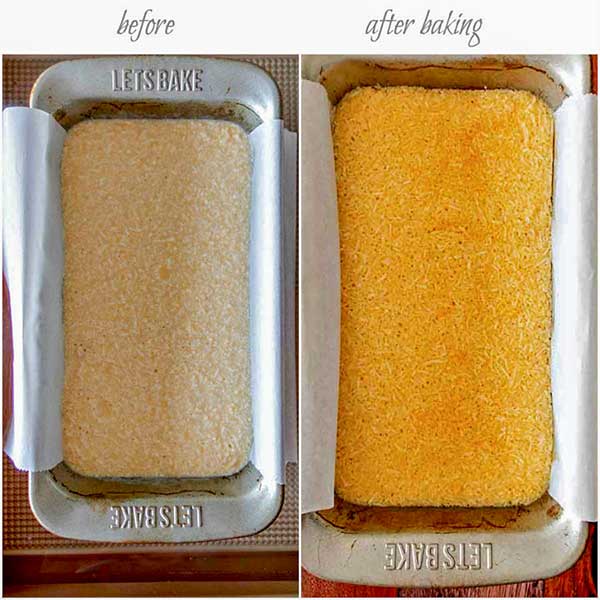 dairy free coconut creme brûlée recipe overview
To start, I made the caramel topping. I know, ordinarily, you make the custard and then finish with the caramel topping. Not in this recipe.
First you make the topping. To do this, using a small saucepan, dissolve the sugar until it becomes a light amber colour, then pour it into a loaf pan. Done — no stirring, just melting the sugar for about three minutes.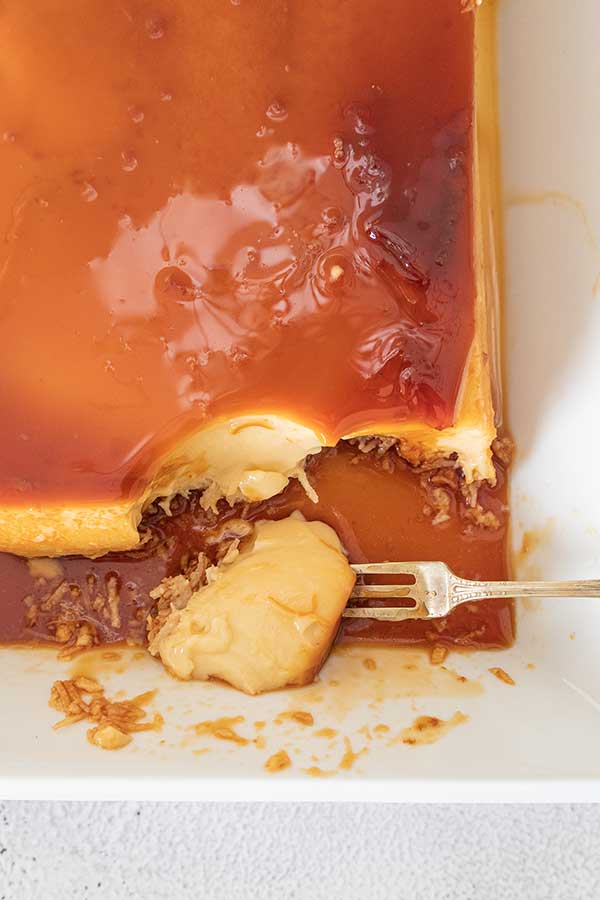 the creamy dairy-free custard
The custard is the easiest part, ever! Whisk the sweetened condensed coconut milk with coconut milk, eggs, maple extract, unsweetened shredded coconut and a pinch of salt. Pour the mixture over the caramel in the pan and bake.
chill to firm up the brûlée
Chill the crème brûlée for few hours. Ideally overnight. As the custard chills, it becomes firm. When it finishes baking, it may still look a bit jiggly. Don't worry, it will firm up as it chills.
how to plate crème brûlée?
Now the dessert is well chilled, and it is time to plate it. Using a larger pan than the loaf pan, add about one inch of hot water. Place the loaf pan in hot water for about thirty seconds.
The caramel will soften, and it will be easier to peel the parchment paper off and leave you with plenty of dairy-free caramel sauce.
Now invert the dessert onto a plate and pour the remaining sauce over the top.
Ingredients,
the maple extract
First, you can substitute the maple extract with vanilla extract. I like the maple flavour because it compliments the brûlée. Brûlée means burnt or scorched, as in this case is the sugar.
the milk
In this dairy-free dessert recipe, I used sweetened condensed coconut milk. If you are not lactose intolerant and are able to fully digest the sugar (lactose) in milk, you can use low-fat or no-fat sweetened condensed milk and use regular coconut milk to replace the canned regular coconut milk.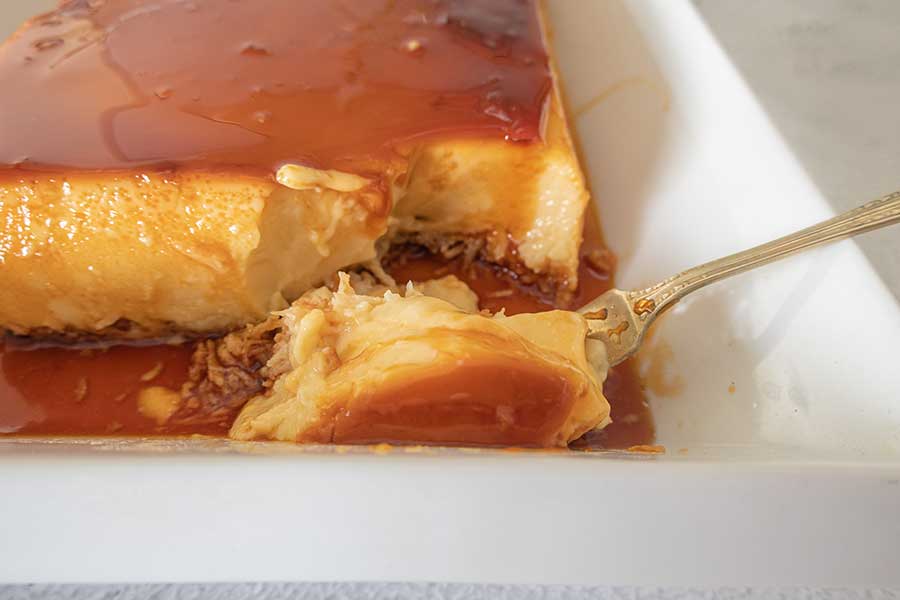 easy gluten free and dairy-free dessert for novice bakers
everyone can make coconut crème brûlée dessert
Voilà…the crème brûlée dessert is ready for serving. Every last spoonful is creamy, with a hint of maple, coconut and subtle sweetness. This French-inspired dessert is easy to make, using only a handful of ingredients, and it looks so pretty, and everyone will be impressed. Perfection!
Coconut Crème Brûlée – Dairy Free, Gluten Free
Published on May 12, 2021
by
Kristina Stosek
Instructions
1.

2.

3.

Lightly spray a standard loaf pan with cooking oil. Line the loaf pan with parchment paper with paper hanging over 2 sides

4.

5.

Place sugar in a small saucepan over medium heat. Do not stir the sugar, only shake occasionally until the sugar dissolves and turns a light amber colour. As soon as all the sugar has dissolved and changed colour (about 2 -4 minutes), immediately remove from the heat and pour evenly over the bottom of the prepared pan. Careful not to burn the sugar. Set aside to cool

6.

7.

Using a large bowl, whisk together custard ingredients and pour in the pan over cooled caramel

8.

Place loaf pan in a larger pan filled with water about 1/4 up the sides of the pan. Bake for 50 - 55 minutes until the top is golden in colour. Cool at room temperature, then transfer into a refrigerator and chill a minimum of 5 hours or overnight. The custard firms up as it chills

9.

When well chilled, place the loaf pan in about 1 inch of hot water for about 30 seconds. This will soften the caramel. Run a sharp knife around the two ends of the custard without the parchment paper to loosen the edges. Place a plate over the pan and invert on the plate. Peel the parchment paper off and refrigerate until ready to serve. Enjoy!
Leave a Comment
Kristina
it looks perfect, the creme brulee holds its shape.
how does this end up looking on the plate? This is a unique recipe in making a "slab" of creme brulee in a loaf pan instead of individual portions in ramekins. thanks!