Gluten-Free French Pastry Cheese Cups
Published on Nov 16, 2018
by
Kristina Stosek
Prep Time:

20 minutes
Cook Time:

25 minutes
Serves:

18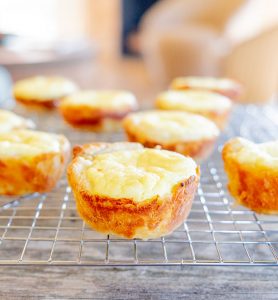 ​This post may contain affiliate links, please see our
privacy policy
for details
If you like French pastry, you will LOVE these Gluten-Free French Pastry Cheese Cups. Think flaky, buttery pastry filled with lightly sweetened ricotta cheese custard. A dream combination if you ask me.
However, I knew I had my work cut out for me. French pastry is not the easiest to make, add the gluten-free part…well it became a challenge!
I'll be honest when I set out making this French pastry recipe I wasn't sure if this French dessert will be suitable for my gluten-free recipe collection. Why? Because I will not make recipes that are too complicated, I feel that recipes should be easy enough for anyone to make.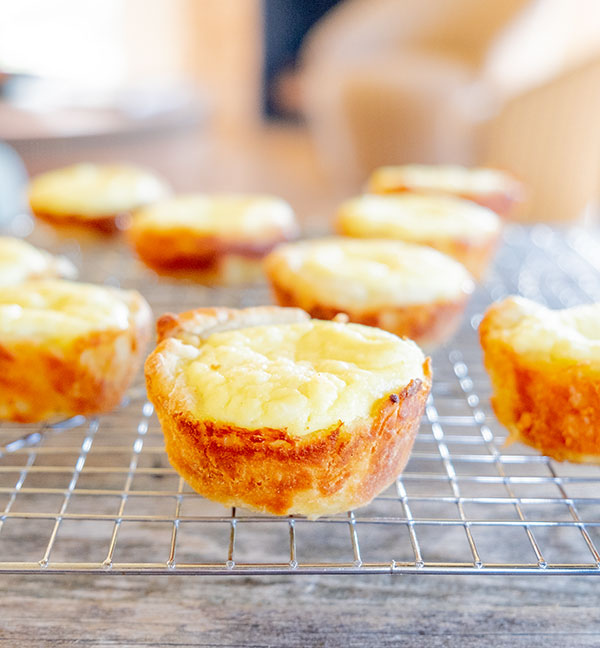 So I set out on a mission making the most delicious gluten-free French pastry cheese cups. For the first two batches, well they were a disaster, they didn't even come close. So, now it became a challenge for me.
I just had to make the gluten-free puff pastry work. After a few disappointing tries, the French pastry cheese cups turned out nothing short of amazing, especially right out of the oven.
French pastry cups for novice bakers…
Trust me, they are simple enough for anyone to make, and you will get exceptional results! So there, I finally made a gluten-free French pastry that anyone can whip up. If you like French cuisine, check out our French inspired gluten-free recipes, especially the dairy-free Coconut Crème Brûlée 🙂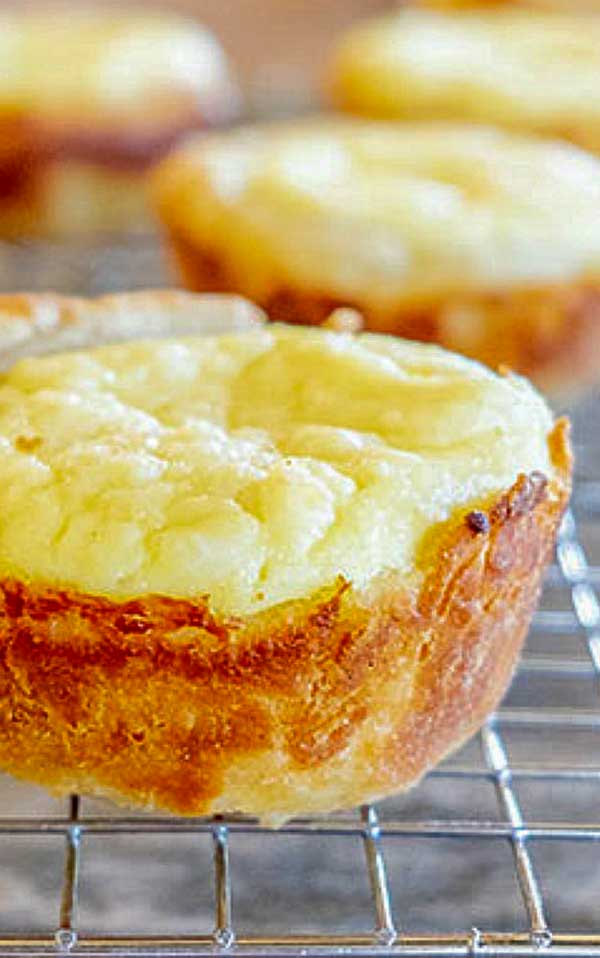 I will be making the pastries this weekend again and serve them with a cup of good organic coffee. If there are any leftovers, I will save them for a snack later in the day… Good luck on having leftovers 🙂
If you are looking for something sweet and with fruit, than you may enjoy is the Gluten-Free Apricot Galette
Gluten-Free French Pastry Cheese Cups
Published on Nov 16, 2018
by
Kristina Stosek
Instructions
1.

In a small bowl, add 1 tablespoon of sugar and warm milk. Stir until the sugar has dissolved, then add the yeast and stir. Set aside until foamy, about 5 minutes

2.

In a large bowl whisk together flour, remaining sugar, xanthan gum, baking powder and salt

3.

Add melted butter and eggs, to frothy yeast mixture and mix. Add to dry ingredients and using a pastry blender blend the dough. Cover bowl and allow to rise for 1 hour in a warm place

4.

Place dough onto a floured work surface. Roll dough into a rectangle that is about 1/2 inch thick. Using half the butter put small chunks of cold butter over half of the dough. Fold the dough over the butter. Roll again and repeat one more time with remaining butter. Lightly wrap dough in plastic wrap and refrigerate for 1 hour


5.

Preheat oven to 350 F and spray 18 muffin cups with cooking spray

6.

Place dough onto a lightly floured work surface. Roll to about 1/2 inch thickness. Using a cookie cutter or a glass cut dough into circles about 3-inch in diameter. Place each circle in a muffin cup and press against bottom and sides to form a crust

7.

Mix cheese filling ingredients and spoon into crusts about 2/3 way up

8.


Bake for 25 minutes or until the crust is golden-brown 


9.

Remove from the oven and allow to cool in the muffin pan for 5 minutes before transferring onto a rack to cool