Apricot Almond Quick Bread
 – Gluten Free
Published on May 26, 2020
by
Kristina Stosek
Prep Time:

15 minutes
Cook Time:

40 minutes
Serves:

1 loaf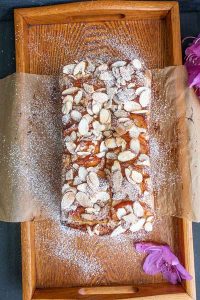 ​This post may contain affiliate links, please see our
privacy policy
for details
Easiest Gluten-Free Apricot Almond Quick Bread recipe for your weekday baking. Pantry staple ingredients, super quick to prepare and made with fresh apricots. The best part? The juicy cinnamon slices of apricots in every bite. It's the perfect quick bread recipe to whip up today.
quick bread gluten-free ingredients
As I mentioned, this apricot almond quick bread is made with ingredients you will most likely have in your pantry, plus the fresh apricots.
First, you will need a good gluten-free flour blend because this is the only flour you will use in this recipe. I found that Cup4Cup Gluten Free Flour Blend, gave me great results. I tend to stay away from blends that include bean flour because bean flour makes gluten-free loaves dense and heavy.
To make this quick bread healthier, I used olive oil and coconut sugar. I know sugar is sugar, but coconut sugar has a lower glycemic index. The rest of the ingredients you will need are eggs, yogurt, baking powder, cinnamon, vanilla and salt.
To give the apricot quick bread a crunchy topping, I added a handful of sliced almonds.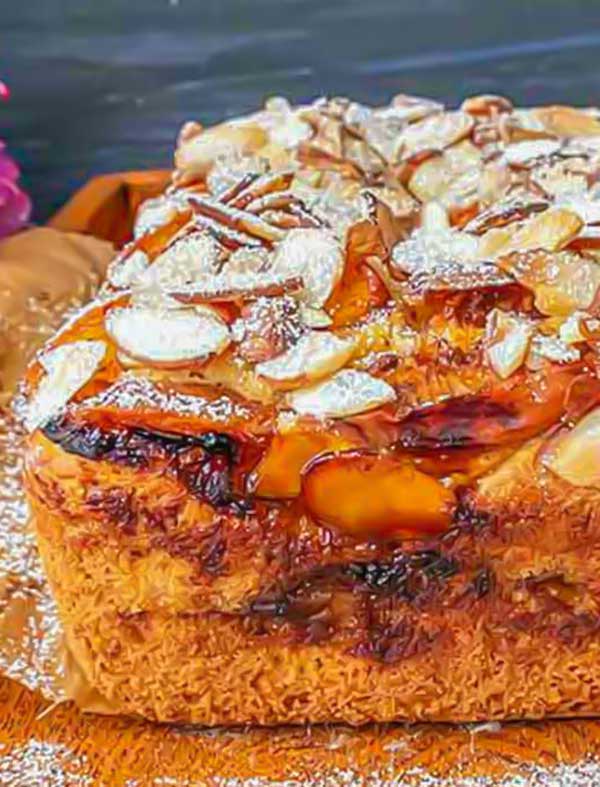 apricot almond quick bread, the details
To start, toss the apricot slices in coconut sugar and cinnamon. Whisk the eggs with olive oil and sugar and add the dry ingredients.
To make sure the apricots are evenly spread out through the batter, I spread a layer of batter first, then a layer of apricots, another layer of batter and more apricots.
I find when you mix fruit in the batter, the fruit often stays on the bottom. For the finish some sliced almonds, they add a nice crunchy topping. If you don't have almonds, you can use chopped pecans or walnuts.
The loaf texture is soft and moist with sweet cinnamon apricots throughout. For me, it is the crunchy topping that sets this recipe apart from most. You will find that every last bite will keep you wanting another.
Sometimes I drizzle a bit of honey or maple syrup over the slices, but I only do this if I am craving something extra sweet.
Are apricots healthy?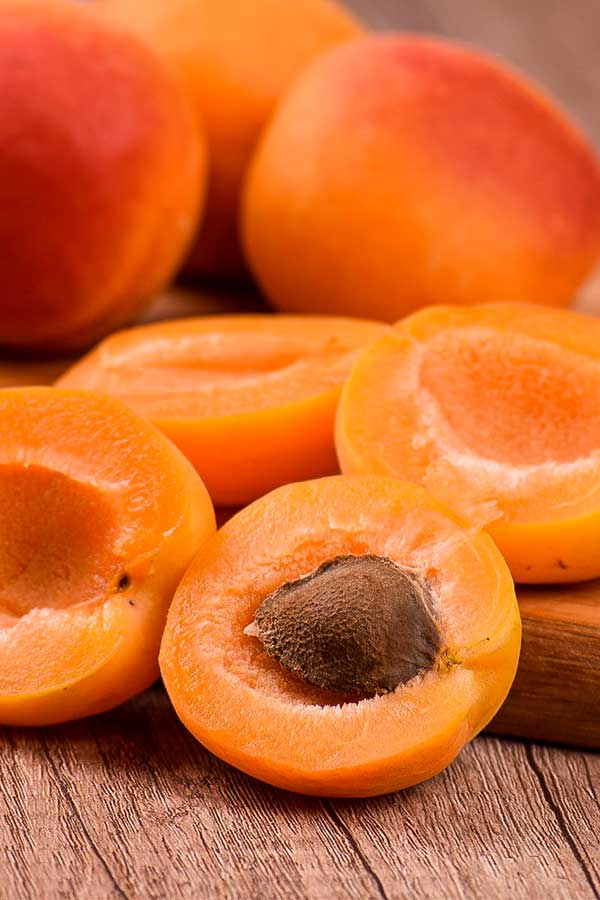 Regarding healthy fruits, apricots often get overshadowed by flashier options like acai berries and goji berries. But don't write off this little orange fruit just yet – apricots are rich with vital nutrients that can benefit your health in many ways.
For one, apricots are a good source of fiber. Fiber is essential for keeping your digestive system healthy and can also help regulate blood sugar and cholesterol levels.
Apricots are also a good source of vitamins A and C, which are important for maintaining healthy skin and eyesight.
And last but not least, apricots contain potassium, which is essential for proper muscle function. The best part is apricots are super low in calories. Each apricot has only about 17 calories and only about 3 net carbs. Yey!
So if you're looking for a healthy-ish snack that will boost your energy and provide nutrients, reach for a slice of gluten-free apricot almond quick bread
.
When are apricots in season?
The best time to make this quick bread is during the apricot season, which runs from late May to early August. The fruit is at its peak ripeness and flavour, so you'll get the most taste and nutrition from the apricots.
Can you freeze gluten-free quick bread?
You can freeze gluten-free quick bread. Wrap the cooled bread in plastic wrap or place it in a freezer-safe bag. It will keep for up to 3 months.
When you're ready to enjoy a slice of this delicious apricot loaf, thaw it overnight in the refrigerator and bring it to room temperature before serving.
health benefits of almonds
This apricot quick bread is topped with almonds to add crunchy texture and deliciousness. In addition, there are many health benefits of almonds.
They are a good source of protein, fiber, and healthy fats. Almonds also contain antioxidants and vitamins.
Why is quick bread so easy to make?
Quick bread is one of the easiest types of loaves to make. They don't require any yeast, so there's no need to wait for the dough to rise.
Quick bread also tends to be less dense and moister than other types of bread. This makes them perfect for breakfast or a snack. And since they're so easy to make, you can always have a fresh loaf on hand.
Easiest gluten-free apricot almond quick bread recipe!
There are many reasons to love quick bread, but one of the best things about them is that they can be easily made gluten-free. This apricot almond quick bread is a great example. It's moist, flavourful, perfect for breakfast or a snack and an easy recipe.
Whether you're celiac or just trying to avoid gluten, there are plenty of delicious gluten-free quick bread recipes. Some of our favourites are the Gluten-Free Dutch Apple Quick Bread, or the Gluten-Free Double Chocolate Banana Quick Bread.
So if you're looking for a quick and easy gluten-free quick bread recipe, this Apricot Almond version is the perfect solution! The recipe has just a few simple ingredients, and the quick bread is moist and delicious and can be enjoyed anytime.
If you like apricots, check out these gluten-free recipes with apricots.
Let's Connect!
Be sure to FOLLOW US on FACEBOOK and PINTEREST.
Many thanks!
Kristina xx
Apricot Almond Quick Bread
 – Gluten Free
Published on May 26, 2020
by
Kristina Stosek
Instructions
1.

2.

Toss apricots with 3 tablespoons of sugar and cinnamon. Set aside for 10 minutes

3.

Beat 3 eggs with 1/3 cup of sugar and olive oil until fluffy. Add yogurt and vanilla and mix to combine

4.

In a separate bowl, whisk together flour, baking powder and salt. Add to the egg mixture and using a spatula briefly combine. Do not over mix!!

5.

Spread half the batter into the pan. Top with 1/2 of the apricot slices in an even layer, then remaining batter and finish with apricot slices. 

6.

Pour leftover apricot juice over the apricots and finish with sliced almonds

7.

Bake for 38 - 40 minutes, until set in the middle and golden brown on top

8.

Let the cake cool for about 10 minutes before carefully removing it from the pan. Place on a cooling rack to cool