Apricot Danish Coffee Cake – Gluten Free
Published on Jul 09, 2022
by
Kristina Stosek
Prep Time:

15 minutes
Cook Time:

35 minutes
Serves:

12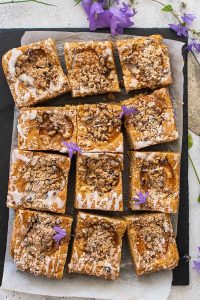 ​This post may contain affiliate links, please see our
privacy policy
for details
It's summertime, and this Gluten-Free Apricot Danish Coffee Cake screams summer and sunshine! There is nothing better tasting than a dessert made with fresh fruit. Apricots have a short season, from July to August, so I used fresh apricots in this Danish coffee cake.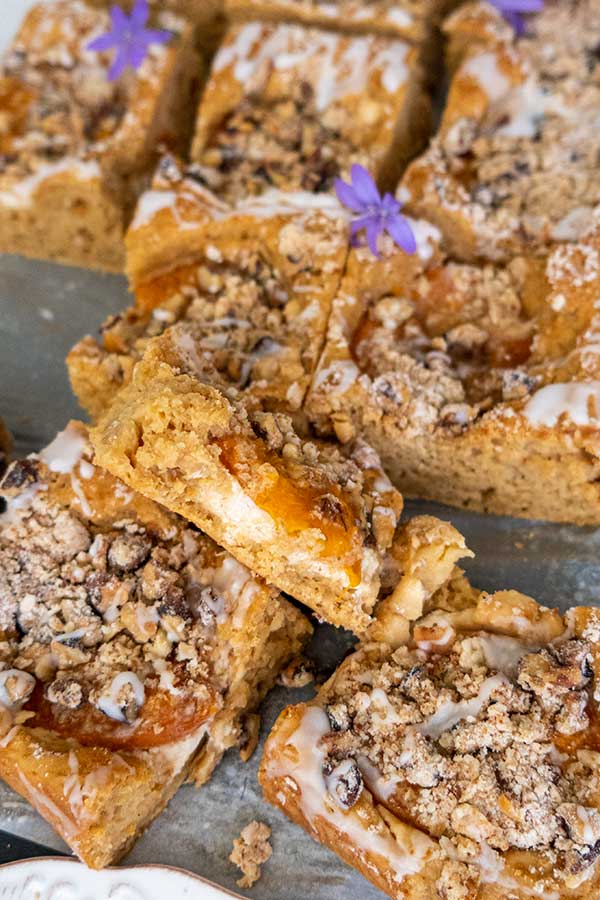 What does Danish coffee cake taste like?
If you like Danish pastry, I know you will LOVE this juicy, delicious apricot dessert. Think a layer of vanilla cake topped with creamy, lightly sweetened custard, juicy apricots and finished with a light butter walnut crumble. How does that sound?
Are apricots good for baking?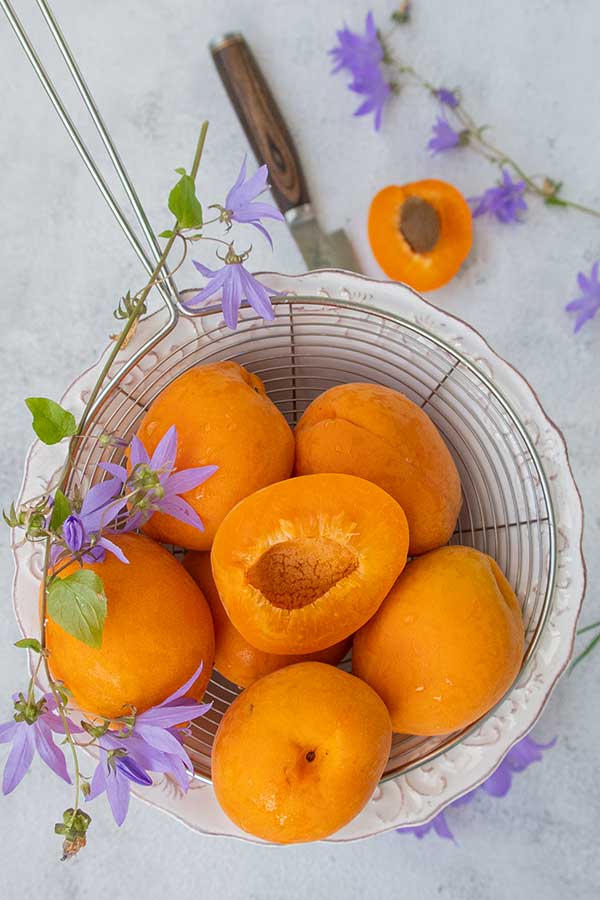 Apricots are small stone fruits with golden orange velvety skin. The flesh tastes similar to a peach but not as sweet. Peaches have about four times higher sugar content making them a lot sweeter.
Have you tried our gluten-free cheese Danish recipe?
When baked, apricots become like apricot jam, juicy, delicious, zesty sweetness. This makes them an excellent fruit for desserts like this apricot Danish coffee cake.
Are raw apricots healthy?
One medium apricot has only about 17 calories, about 3 net carbs and only about 4 grams of sugar. In addition, they are an excellent source of vitamins, minerals and antioxidants. This makes them a very healthy summer fruit.
Can I use canned apricots?
The short answer is yes. However, canned apricots are ladened with granulated sugar. As per Johns Hopkins Medicine, consuming too much added sugar contributes to weight gain and increases your risk of chronic conditions like obesity, diabetes and heart disease.
How to reduce sugar in canned apricots?
To reduce sugar in canned apricots, rinse them in a strainer or buy them in light syrup. You can use the syrup in desserts that call for fruit juice or apple sauce.
Substitutions;
Raw apricots; thawed frozen apricots or apricots canned in light syrup
Cream cheese; ricotta, mascarpone (less 1 Tbsp. of milk that the recipe calls for)
Fresh lemon juice; orange juice, pineapple juice
Walnuts; slivered almonds, chopped cashews, chopped pecans
1 Tbsp. baking powder; 1 teaspoon baking soda
Coconut sugar; brown sugar, turbinado, granulated sugar
Butter; coconut oil
Snapshot of Apricot Danish Coffee Cake recipe
Mix the dry ingredients
Whisk the sour cream, eggs and vanilla and mix with the flour mixture. Spread the batter into a pan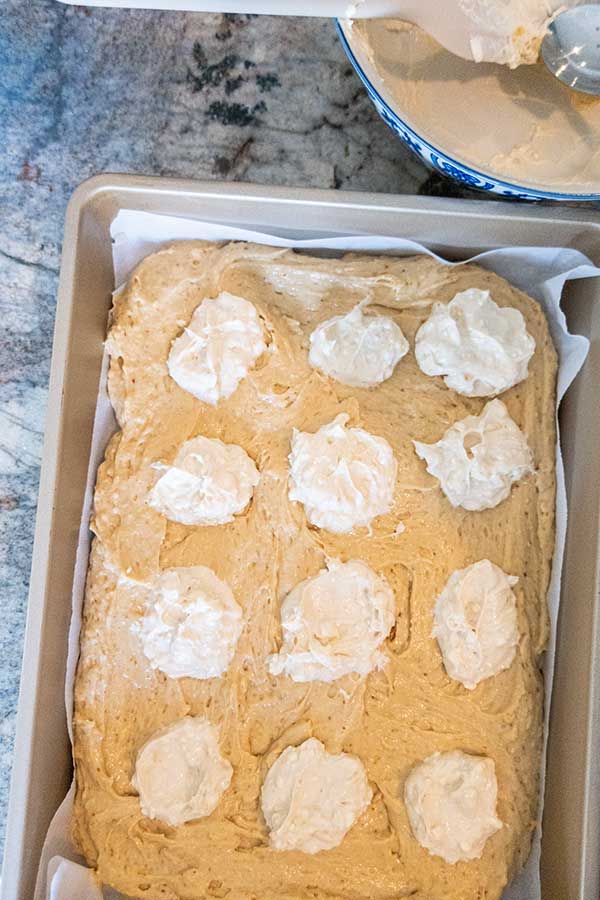 Whisk the cream cheese with milk and sugar and dollop over the cake
Place apricot halves cut side up on the cream cheese and press into the batter. If you have small apricots use 7. This will give you 14 servings.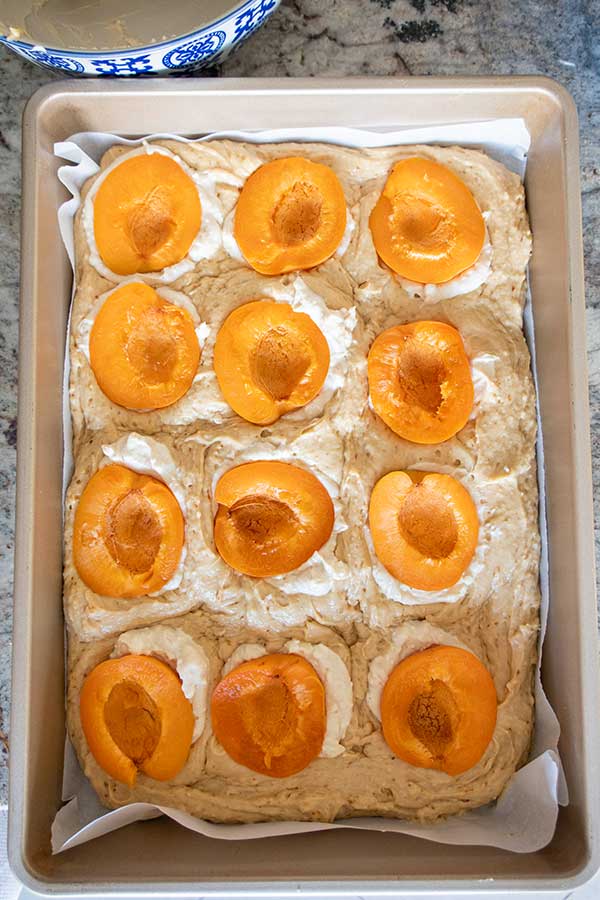 Make the crumble walnut topping, sprinkle it over the cake and bake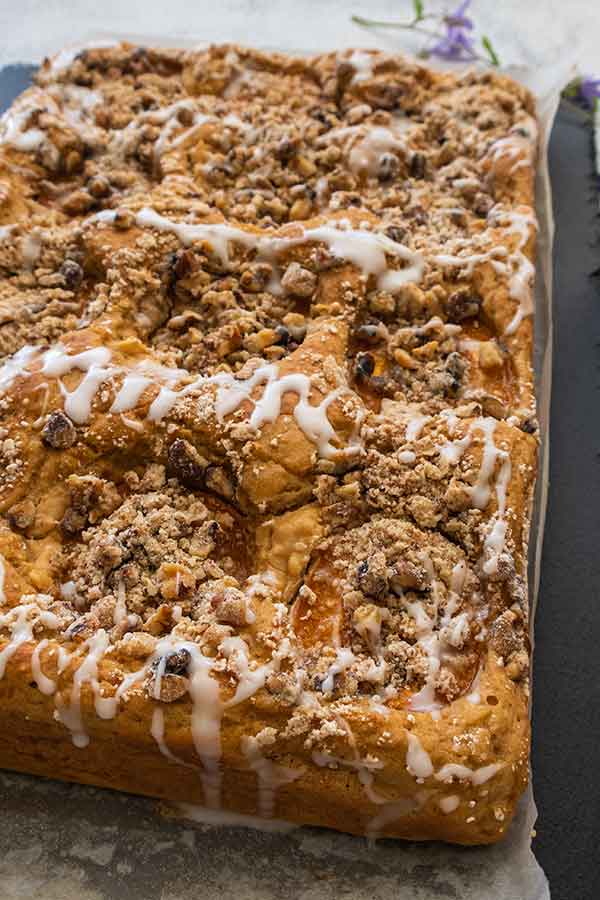 Make the glaze by mixing confectioners sugar with water and drizzle over the cooled cake
How to store gluten-free Danish coffee cake?
This gluten-free coffee cake will keep for up to 3 days when refrigerated in an airtight container.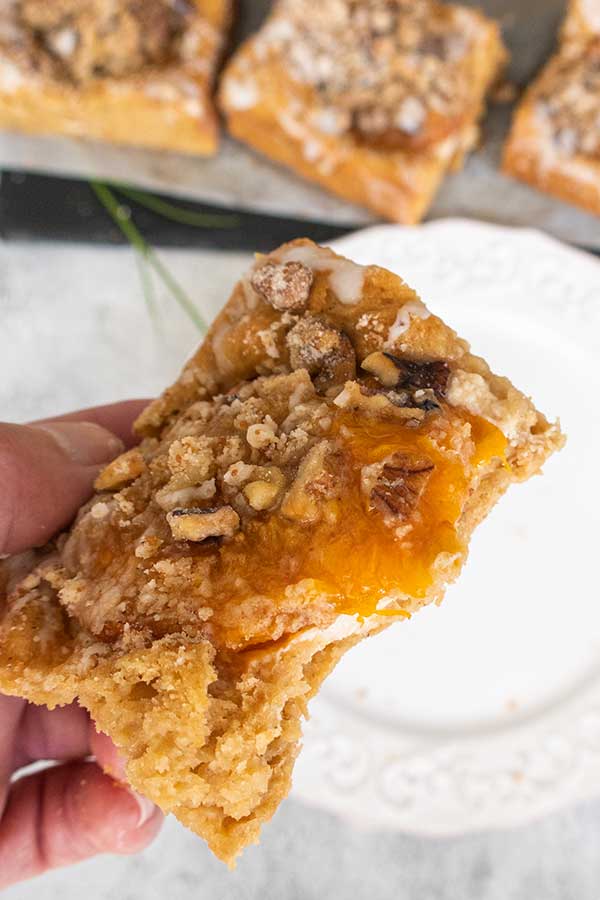 I hope you give this gluten-free apricot Danish coffee cake a try. This recipe is easy, even for novice bakers. I hope I have answered most of your questions. Feel free to comment with suggestions or questions. I always love to hear from you. Enjoy!
Apricot Danish Coffee Cake – Gluten Free
Published on Jul 09, 2022
by
Kristina Stosek
Instructions
1.

Preheat the oven to 350 F and line a 9 x 13 baking pan with parchment paper

2.

In a large bowl, combine flour, 3/4 cups coconut sugar, baking powder and salt. Set aside 1/3 cup of the flour mixture

3.

In a medium bowl, whisk together sour cream, eggs and vanilla. Stir in the flour mixture (less 1/3) until just combined. Spread batter into the prepared pan

4.

Whisk together cream cheese, milk, lemon juice and the remaining 3 Tbsp. of coconut sugar

5.

Using a large spoon, drop 12 equal dollops of cream cheese mixture on top of the batter. See the photo on the blog. 

6.

Press 1 apricot half cut side up on top of each mound of cream cheese into the batter.

7.

In a small bowl, grate the cold butter into the remaining 1/3 cup of the flour mixture and use a fork to combine. Add the nuts, and using your hands, create a crumbly mixture. Sprinkle evenly over the cake

8.

Bake for 30 - 35 minutes until golden brown and the cake passes the toothpick test

9.

Once the cake has fully cooled, stir together confectioners sugar with water and drizzle the glaze over the cake. If the glaze is too thick and few extra drops of water until you reach desired consistency

10.

* see tips and substitutions on the blog