Easy Gluten-Free Cheese Danish Recipe
Prep Time
20 Minutes
Difficulty
Easy
Cook Time
18 Minutes
Serves
10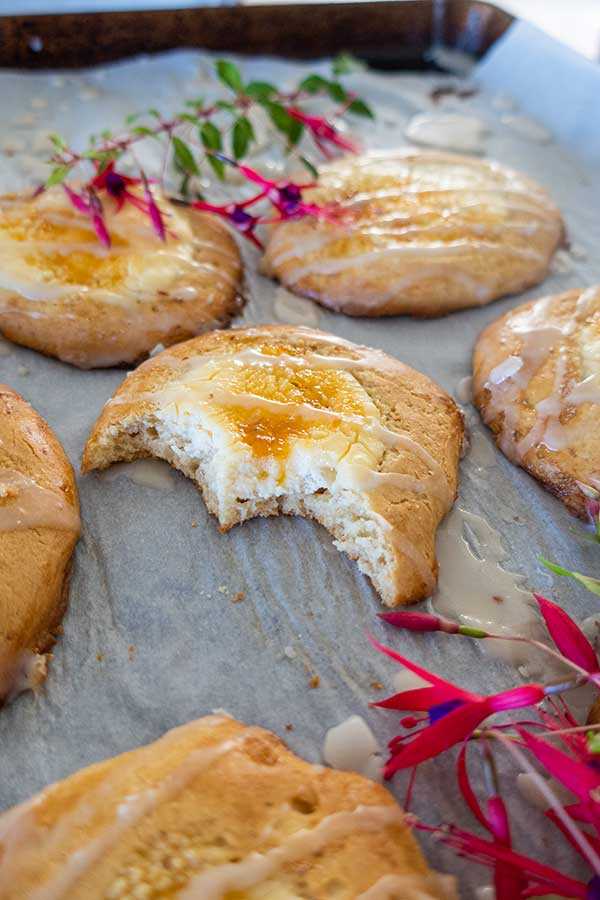 Average Rating: 5 | Rated By: 12 users
Nothing beats a freshly baked pastry! This Gluten-Free Cheese Danish recipe will surprise you how easy it is to make delicious gluten-free danish pastries from scratch.
In this danish recipe, the flaky pastry is filled with creamy cheese and topped with jam, the same as the classic cheese danish.
easiest gluten-free Danish recipe
Before I started to create this gluten-free cheese danish recipe, I knew it had to be easy enough for anyone to make. There is nothing worst than when the recipe is too complicated because often, we read the recipe and decide not to make it.
I promise you this is the easiest gluten-free cheese danish recipe. There is no rolling of the dough, no complicated ingredients and the hands-on time only 20 minutes.
Sooo simple…you will love this gluten-free pastry recipe! Or try the Gluten-Free Apricot Danish Coffee Cake.
Typically the traditional pastry dough is rolled with chunks of butter to give the pastry layers of butter pockets. To simplify this step, I kept the dough relatively wet and folded the butter chunks in the dough with a spatula.
Then, instead of creating little squares with the edges folded upwards, I used a cookie scoop and scooped the dough on to a baking tray, just like you would do with cookies.
Using my fingers, I created a well in the middle, which I filled with creamy cheese filling and jam—nothing to it. The gluten-free cheese danishes turned out spectacular!
What makes gluten-free pastry flaky?
To make the gluten-free pastry soft, the dough should be fairly wet. To add flakiness to the pastry, it is all about super cold butter. I place the butter in the freezer while the dough is rising.
Next, I fold small chunks of butter into the dough. The butter will create lots of pockets and will give the gluten-free cheese danish the flakiness.
Why is this pastry named Danish?
The flaky pastry named danish originates from Denmark. Danish pastries are similar to croissants made with puff pastry, except the dough is made with yeast and more butter or some other fat.
It is the butter that makes the pastry flaky, and it is the yeast that gives the pastry a more airy structure.
Variations of fillings for danishes.
Once you mastered the dough for the danish pastry, you can choose the fillings. My favourite is the classic cheese danish that I used in this gluten-free danish recipe.
However, there are many variations, such as flaked almonds, jam, apples, dried apricots, berries etc…The choices are limitless. I have even made savoury danishes using my samosa filling. The savoury filling is outstanding in the danish pastry.
So, why not give this gluten-free cheese danish recipe a try and leave a comment? As with all pastries they are best when eaten the same day.
For any leftovers, pop them in a microwave for a few seconds or in a hot oven for about five minutes.
Let's Connect!
Be sure to FOLLOW US on FACEBOOK and PINTEREST.
Many thanks!
Kristina xx
Ingredients
1/4 cup arrowroot starch
1/3 cup coconut sugar or sweetener of choice
1 tsp. GF baking powder
2 large eggs at room temperature, whisked
1/2 cup warm milk (120 F)
10 Tbsp. salted butter, divided
1 tsp. Fresh lemon juice
FILLING
4 oz. cream cheese, at room temperature
1 large egg, separated
1 Tbsp. Coconut sugar or sweetener of choice
1/4 cup jam (apricot, plum, cherry, strawberry or raspberry)
ICING (optional)
1 1/2 Tbsp. Fresh lemon juice (or as needed to reach desired consistency)
1 cup powdered sugar
Note: to measure flour do not dip the measuring cup into the flour, using a scoop fill the measuring cup and level with a knife
*As an Amazon Associate and member of other affiliate programs, I earn from qualifying purchases. Please check out my sponsorship and disclosure policy page for more details
Instructions
In a large bowl whisk flour, arrowroot starch, sugar, yeast and baking powder
Melt 4 tablespoons of butter and place the remaining butter in the freezer
Add eggs, milk, melted butter and lemon juice to dry ingredients and mix. The dough should be fairly wet. Cover the bowl with plastic wrap and set aside for 1 hour allowing the dough to rise.
Once the dough has risen, cut the frozen butter into small cubes and fold into the dough
Preheat the oven to 350 F and line a large baking tray with parchment paper
Using a large cookie scoop, scoop out 10 mounds of dough and place on the baking tray 2 inches apart. Dip your fingers in some oil and create a well in each mound of dough
For the filling, cream together cheese, egg yolk and sugar. Add one spoon of cheese mixture to each well and top with one spoon of jam. Whisk the remaining egg white and brush over the exposed dough. Bake for 18 - 20 minutes until golden
For the icing, whisk the lemon juice with the powdered sugar and drizzle over the pastries
Similar Recipes
Gluten-Free French Pastry Cheese Cups
If you like French pastry, you will LOVE these Gluten-Free French Pastry Cheese Cups. Think flaky, buttery pastry filled with lightly sweetened ricotta cheese custard. A dream combination if you ask me. However, I knew I had my work cut out for me. French pastry is not the easiest to make, add the gluten-free part…well […] Read More
Prep Time
20 Minutes
Difficulty
Easy
Cook Time
25 Minutes
Serves
18
Gluten-Free Puff Pastry Spinach Cheese Cups
This Gluten-Free Puff Pastry Spinach Cheese Cups is a winner of a recipe. Buttery puff pastry, ricotta and cheddar cheese, spinach and a hint of garlic with nutmeg filling. The pastry is flaky and golden, and the filling is cheesy filled with spinach     These puff pastry spinach cheese cups are the perfect summertime […] Read More
Prep Time
30 Minutes
Difficulty
Intermediate
Cook Time
40 Minutes
Serves
12
Apricot Danish Coffee Cake – Gluten Free
It's summertime, and this Gluten-Free Apricot Danish Coffee Cake screams summer and sunshine! There is nothing better tasting than a dessert made with fresh fruit. Apricots have a short season, from July to August, so I used fresh apricots in this Danish coffee cake.     What does Danish coffee cake taste like? If you […] Read More
Prep Time
15 Minutes
Difficulty
Easy
Cook Time
35 Minutes
Serves
12