Gluten-Free Spicy Beef Samosas
Published on Apr 18, 2018
by
Kristina Stosek
Prep Time:

20 minutes
Cook Time:

40 minutes
Serves:

12 pc
​This post may contain affiliate links, please see our
privacy policy
for details
Gluten-Free Spicy Beef Samosas are Indian pastries filled with beef, green peas and onions, deliciously spiced with garlic, ginger, cumin, curry powder and cinnamon.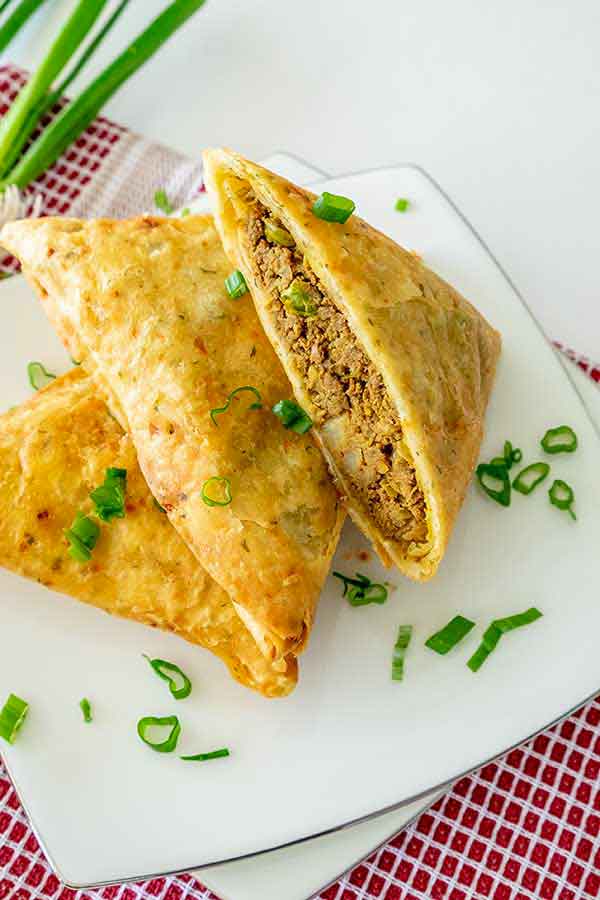 The Indian mini pies are usually served hot and can be accompanied by various condiments and dipping sauces. Common choices include mint chutney, tamarind sauce, or yogurt-based raita to balance the spiciness of the filling.
samosa filling
The filling of this Gluten-Free Spicy Beef Samosa is the star of the dish. The beef is deliciously seasoned with onions, garlic, ginger, curry powder, and cinnamon, providing depth and complexity.
the vegetables
Some variations may include vegetables like peas, carrots, or potatoes. I used garlic, onions, and peas in this samosa recipe, adding a good balance to the spicy beef.
How to make gluten-free samosa?
Start with the filling. Whether you are making a vegetarian samosa or chicken or beef, the filling is well seasoned with Indian spices. In this samosa spicy beef filling, the spices are ginger, curry powder, cinnamon, and red chili pepper flakes.
The samosa filling takes about ten minutes to cook. Once the filling is cooked and cooled, it is ready for the samosa pastry. Quick and simple.
gluten-free samosa pastry
To make gluten-free samosa pastry is relatively simple. Mix dry ingredients with milk and some olive oil and create a dough.
The dough has to rest for about 40 minutes before you can easily roll it out into circles. The dough should be thin but not too thin, or the pastry will break.
Once the dough is rolled out, add the cooled filling, in this case, beef and peas, and form into the desired shapes. There are two ways to shape the samosa – The easy way (my way) and the classic triangle shape.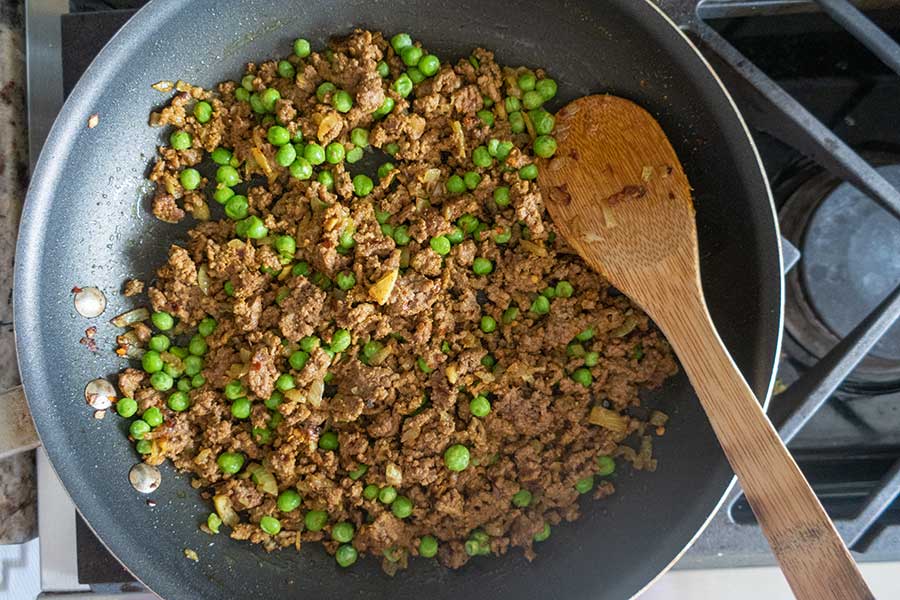 shaping gluten free beef samosas the easy way
To easily shape the samosa, roll a small dough ball into a circle about 4 – 5 inches in diameter. The best way to do this is by rolling the dough between two sheets of parchment paper.
Add about two tablespoons of the filling in the center and fold the dough over—seal by moistening the edges of the dough with water and firmly pressing the edges to seal.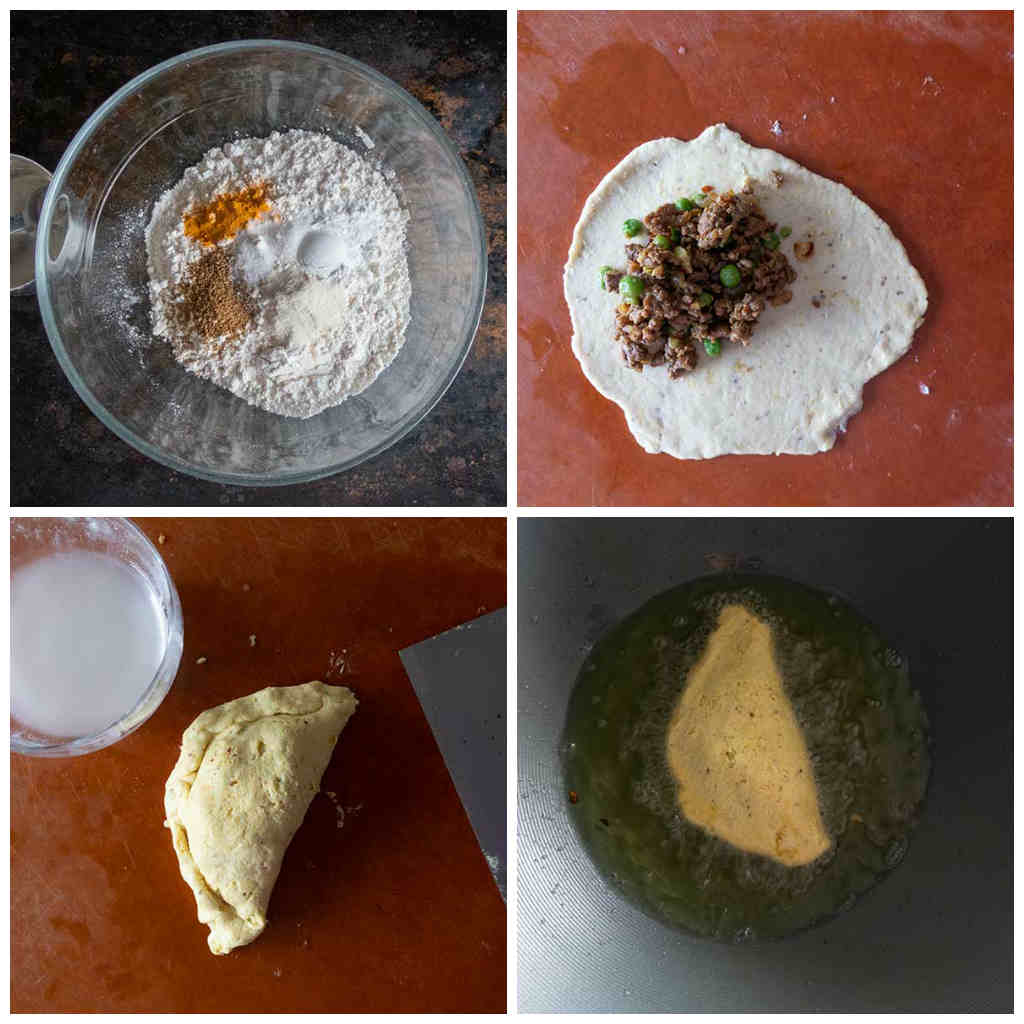 classic triangle shape for samosa
Roll one dough ball into a circle-oval shape, around 6 to 7 inches in diameter, and cut it in half.
Moisten the edges with water, bring two ends of the straight edge together, and pinch them to shape into a cone.
Fill the cone with about two tablespoons of the filling and firmly press the top to seal. Do not overfill the cone.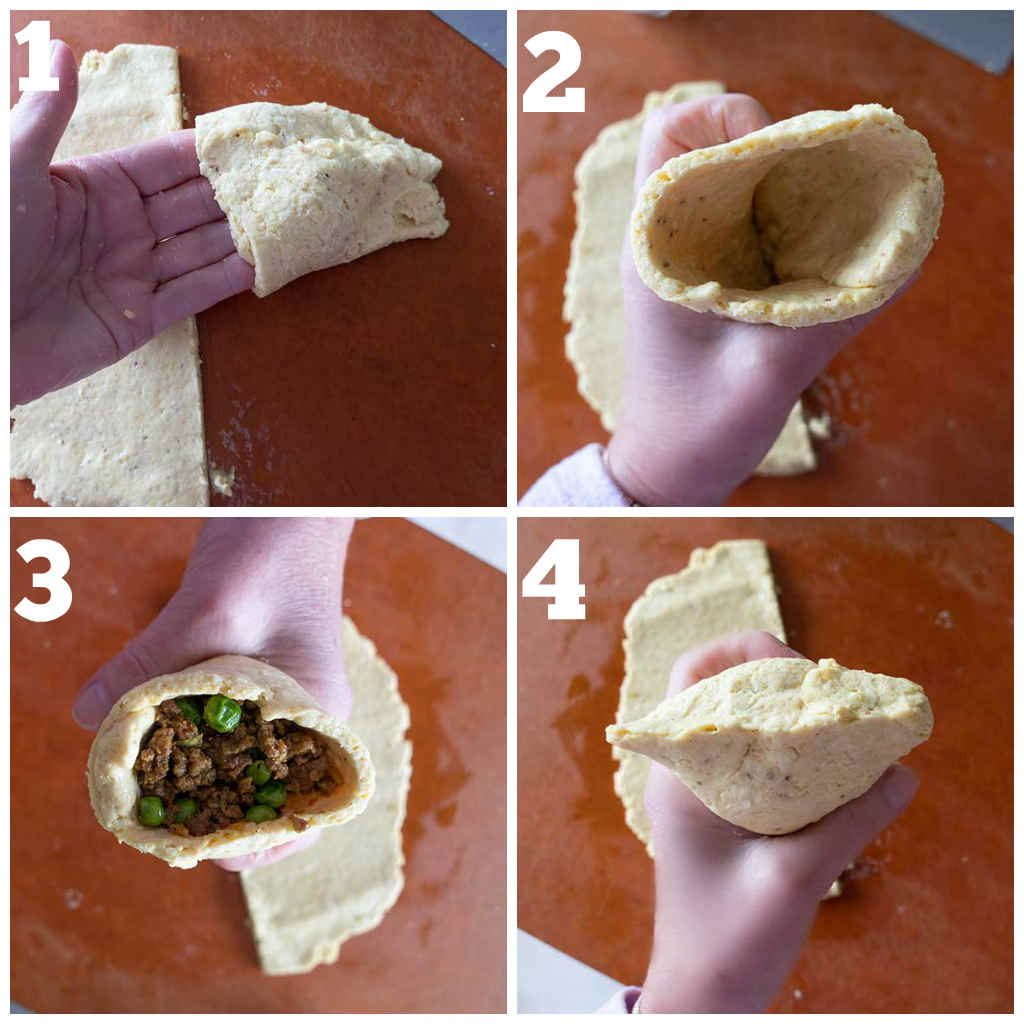 Cook the samosas
The samosas are ready to be fried. The oil should be at medium temperature, not hot. If the oil is hot, the pastry will be hard.
And do not overcook them. Remember, the filling is already cooked, you just need to crisp up the pastry.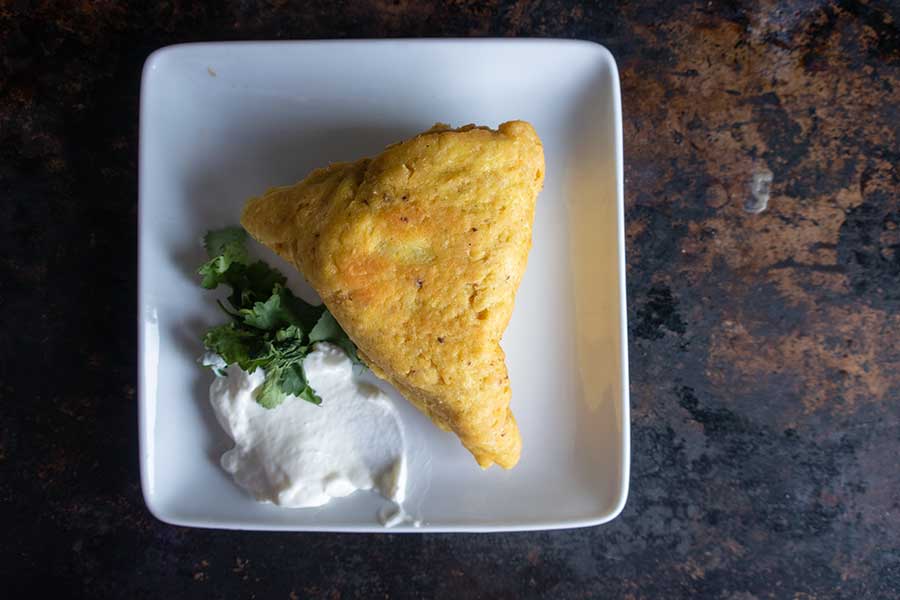 These Indian hand pies take a little extra work, but they are worth it! The gluten-free samosas are best fresh but can easily be reheated in the oven for any leftovers.
In our home, there are never any samosa leftovers. These small pastries filled with Indian spiced beef and peas are super addictive because they pack a lot of flavors. And remember, they don't have to look perfect, because they taste so good!
FAQS about samosas
What is a samosa?
A samosa is a popular savory pastry snack that originated in South Asia. It typically consists of a triangular or cone-shaped pastry shell filled with a mixture of spiced ingredients, often including vegetables, meat (such as lamb, chicken, or beef), lentils, or a combination thereof.
Where did samosas originate?
Samosas are believed to have originated in the Middle East or Central Asia before spreading to South Asia. They have since become a staple in Indian, Pakistani, and other South Asian cuisines.
How are samosas typically served?
Samosas are often served as appetizers, snacks, or street food. They are commonly accompanied by chutneys, sauces, or yogurt-based dips for added flavor. Sometimes, samosas can also be served as part of a larger meal with a light salad.
What is the best way to cook samosas?
Samosas are typically deep-fried for a crispy texture but can also be baked or air-fried for a healthier alternative. The cooking method depends on your preference.
Can samosas be frozen?
Yes, samosas can be frozen for later use. After assembling and shaping the samosas, you can freeze them on a baking sheet until they are firm and then transfer them to an airtight container or freezer bag. When ready to eat, they can be cooked from frozen, adding a few extra minutes to the cooking time.
What is the history of samosas?
Samosas have a long history that dates back to ancient times. They are believed to have been introduced to India by traders and travelers along the Silk Road. Over the centuries, they evolved and became a beloved part of Indian and South Asian cuisine.
Are samosas gluten-free?
Traditional samosas are made with wheat-based pastry, so they are not gluten-free. However, today we share our gluten-free version made using Gluten Free 1 to 1 Baking Flour Blend for the pastry.
3 filling variations for gluten free samosas
Potato and Pea Samosa Filling:
This vegetarian filling is one of the most common and classic choices for samosas. To make it, you'll need:
Boiled and mashed potatoes.

Cooked green peas.

Finely chopped onions.

Chopped green chilies (adjust to your spice preference).

Minced ginger and garlic.

A mix of spices like cumin seeds, coriander powder, garam masala, turmeric, and salt.

Chopped fresh cilantro for garnish.
Spicy Chicken Samosa Filling:
For those who prefer a non-vegetarian option, a spicy chicken filling is popular. To make it, you'll need:
Cooked and shredded chicken (boneless chicken breasts or thighs).

Chopped onions.

Minced garlic and ginger.

Spices like cumin, coriander, turmeric, red chili powder, and garam masala.

Chopped green chilies (adjust to your spice preference).

Chopped fresh cilantro for flavor.

You can also add peas or other vegetables if you like.
Lentil (Dal) Samosa Filling:
This vegetarian filling is made with cooked and spiced lentils, making it nutritious. To make it, you'll need:
Cooked and mashed lentils (usually yellow or red lentils).

Chopped onions.

Minced garlic and ginger.

Spices like cumin, coriander, turmeric, and garam masala.

Chopped green chilies for heat.

Chopped tomatoes (optional).

Chopped fresh cilantro for added flavor.

You can also add a bit of lemon juice for a tangy kick.
These fillings can be customized to suit your taste preferences by adjusting the spice levels or adding additional ingredients. The key is to create a flavorful and well-seasoned mixture that complements the crispy samosa pastry.
Love Indian food? Check out our selection of 100 + gluten-free Indian recipes, especially the famous low fat Indian butter chicken…so so good. Enjoy!
Let's Connect!
Be sure to FOLLOW US on FACEBOOK or, check us out on PINTEREST. And don't forget to sign up for our newsletter. We always have something new and exciting for you!
Many thanks!
Kristina xx
Gluten-Free Spicy Beef Samosas
Published on Apr 18, 2018
by
Kristina Stosek
Instructions
1.

2.

Sauté onions in olive oil until translucent. About 5 minutes. Stir in garlic, ginger, and chilli pepper flakes.

3.

Add beef, curry powder, cumin, cinnamon and salt. Cook until browned

4.

Add peas and cook until heated. Set aside

5.

6.

Whisk together flour, xanthan gum, salt, and if using anise seed and turmeric. Add milk and olive oil and mix until a dough forms. Cover with plastic wrap and rest the dough for 40 minutes

7.

Divide the dough into 12 equal portions for small samosas, about the size of a lime. Roll out the dough into thin rounds between two pieces of parchment paper about 4 - 5 inches in diameter. Scoop about 2 tablespoons of the filling in the center of the dough. Wet the edges of the dough with water and overlap one side of the dough over the filling. Using your fingers press the edges together. Place samosas on parchment paper. * see below two ways of shaping samosas

8.

Fry small samosas in 1/2-inch vegetable oil over medium heat, until golden brown. About 3 - 4 minutes per side. Place on paper towel or wire rack for the oil to drain.
Leave a Comment
Kristina
sounds good Deute, thank you for sharing.
I'm going to cheat a bit on this recipe. I have a friend who makes what he calls burger bundles so I'll use your meat recipe partially and add sugar free bar-b-que sauce and make the pastry. My gluten free, sugar free burger bundles.
Kristina
A+ for effort Rachel, well done! Kristina xx
I did a terrible job filling the dough, so even though my samosas were ugly, they were absolutely delicious!!!
Kristina
yes I agree Ali, a little more work, a good recipe for the weekend. Thank you.
a little work to make the samosas but my family loved them, thank you!
I am so happy I found this recipe. I made them four times already. You are the best, love your website!
Kristina
the best gluten-free samosas recipe, thank you sooo much!
Kristina
yes you can use coconut milk or rice milk. And yes you can freeze untried samosas in freezer bags.
Hello, in order to make it dairy free, do you think coconut milk will work as a substitute instead of cow milk? Also, can some of these unfried samosas be freezed for future use?
Kristina
I am so happy to hear that you are loving them. Yes I added the photographs because I received many requests for them, I hope the instructions are easier to follow now.
This is the third time I am making them, we love them so much. Thank you for adding the photographs, makes it a lot easier to follow the instructions.
Kristina
I will get some done and post them as soon as they are ready!
Photographs would have been so helpful
Kristina
Hi Mary, to fold the dough, first you fold it over the filling in half, then one more time making sure the edges meet. Hope this helps.
I am not following the folding directions. Any advice?
Kristina
thats excellent, thank you!
Kristina
It's very delicious, I like it
Great gluten free samosa recipe! Thank you for this! It took about 40 minutes