Gluten-Free Spicy Beef Samosas
Prep Time
20 Minutes
Difficulty
Intermediate
Cook Time
40 Minutes
Serves
12 pc
Average Rating: 4.5 | Rated By: 23 users
Gluten-Free Spicy Beef Samosas are Indian pastries filled with beef, green peas and onions, deliciously spiced with garlic, ginger, cumin, curry powder and cinnamon.
the samosa filling
The samosas' fillings vary from vegetarian made mostly with potatoes and spices to chicken or spicy beef with peas. In our home, the most requested filling is the spicy beef with peas. 
How to make gluten-free samosa?
I like to start with the filling. Whether you are making a vegetarian samosa or chicken or beef, the filling is well spiced with Indian spices. In this samosa spicy beef filling, the spices are ginger, curry powder, cinnamon and red chilli pepper flakes.
Once the filling is cooked and cooled, it is ready for the samosa pastry.
gluten-free samosa pastry
To make gluten-free samosa pastry is relatively simple. You mix dry ingredients with milk and some olive oil and create a dough.
The dough has to rest for about 40 minutes before you can easily roll it out into circles. The dough should be thin but not too thin, or the pastry will break.
Once the dough is rolled out, add the cooled filling, in this case, beef and peas and form into the desired shapes. There are two ways to shape the samosa – The easy way (my way) and the classic triangle shape.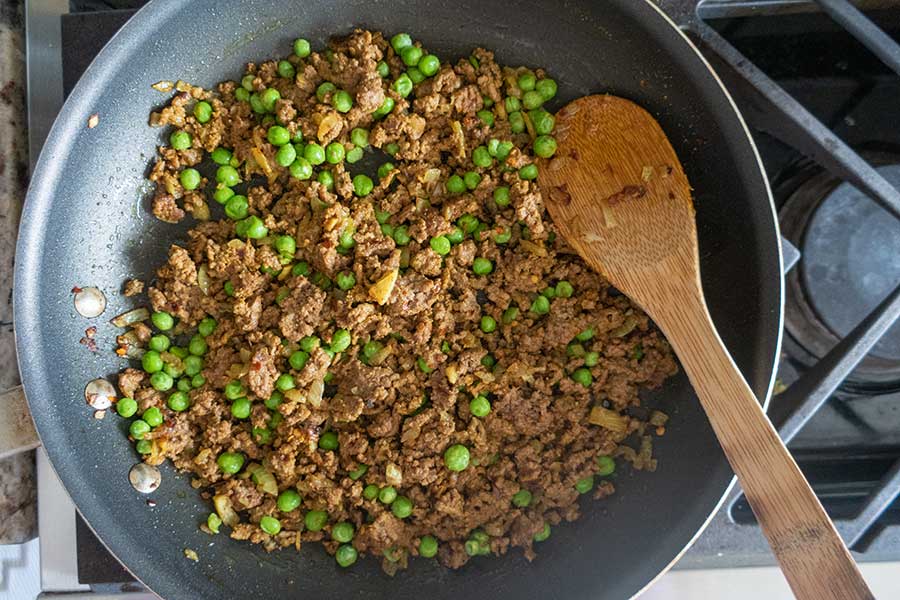 shaping samosas the easy way
First, to shape the samosa the easy way, take a small dough ball and roll into a circle about 4 – 5 inches in diameter. The best way to do this is by rolling the dough between two sheets of parchment paper.
Add about two tablespoons of the filling in the center and fold the dough over. Seal by moistening the edges of the dough with water and firmly pressing the edges to seal. 
classic triangle shape for samosa
Roll one ball of dough into a circle-oval shape, around 6 to 7 inches in diameter, and cut it into half. Moisten the edges with water and bring two ends of the straight edge together and pinch them to shape into a cone. 
Fill the cone with about two tablespoons of the filling and firmly press the top to seal. Do not overfill and you are done.
The samosas are ready to be fried. The oil should be at medium temperature, not hot. If the oil is hot, the pastry will be hard.
And do not overcook them. Remember, the filling is already cooked. You just need to crisp up the pastry.
Yes, these Indian hand pies take a little extra work, but they are worth it! The gluten-free samosas are best fresh, but they can easily be reheated in the oven for any leftovers.
In our home, there is never any samosa leftovers. These small pastries filled with Indian spiced filling are super addicting because they pack a lot of flavours. And remember, they don't have to look perfect…just taste good!
Love Indian food? Check out our selection of 100 + gluten-free Indian recipes, I especially love the low fat Indian butter chicken…so so good 😀 Enjoy!
Let's Connect!
Be sure to FOLLOW US on FACEBOOK and PINTEREST.
Many thanks!
Kristina xx
Ingredients
2 Tbsp. Extra virgin olive oil
1 medium onion, chopped
3 garlic cloves, minced
2 tsp. minced ginger
1/2 - 1 tsp. GF red chilli pepper flakes
3/4 lb. lean ground beef
1 Tbsp. GF curry powder
1 tsp. GF ground cumin
1/4 tsp. GF ground cinnamon
1/2 tsp. Pure sea salt
3/4 cup frozen or fresh peas
SAMOSA DOUGH
1 tsp. Xanthan gum, add only if the baking flour mix doesn't include xanthan gum
1 tsp. GF aluminum-free baking powder
1/2 tsp. Sea salt
1 tsp. GF ground anise seed (optional but adds lovely flavour to the samosa pastry)
1/4 tsp. GF ground turmeric (adds natural colour and is optional)
1 cup milk
1 Tbsp. + 1 tsp. Extra virgin olive oil
*As an Amazon Associate and member of other affiliate programs, I earn from qualifying purchases. Please check out my sponsorship and disclosure policy page for more details
Instructions
SPICY BEEF FILLING
Sauté onions in olive oil until translucent. About 5 minutes. Stir in garlic, ginger, and chilli pepper flakes.
Add beef, curry powder, cumin, cinnamon and salt. Cook until browned
Add peas and cook until heated through. Set aside
SAMOSA DOUGH
Whisk together flour, xanthan gum, salt, and if using anise seed and turmeric. Add milk and olive oil and mix until a dough forms. Cover with plastic wrap and rest the dough for 40 minutes
Divide the dough into 12 equal portions for small samosas, about the size of a lime. Roll out the dough into thin rounds between two pieces of parchment paper about 4 - 5 inches in diameter. Scoop about 2 tablespoons of the filling in the center of the dough. Wet the edges of the dough with water and overlap one side of the dough over the filling. Using your fingers press the edges together. Place samosas on parchment paper. * see below two ways of shaping samosas
Fry small samosas in 1/2-inch vegetable oil over medium heat, until golden brown. About 3 - 4 minutes per side. Place on paper towel or wire rack for the oil to drain.
Similar Recipes
Gluten-Free Baked Pizza Pockets
Baked Gluten-Free Pizza Pockets filled with cheese, pepperoni and pizza sauce. If you are looking for a new back to school snack to keep your kids hunger at bay, give this recipe a try. The pizza pockets are baked not fried, and they are filled with gooey cheese, throughout. Every bite is packed with so […] Read More
Prep Time
25 Minutes
Difficulty
Moderate
Cook Time
18 Minutes
Serves
12 - 16
Gluten-Free Buffalo Chicken Biscuits
These Gluten-Free Buffalo Chicken Biscuits are the perfect snacks, appetizers or brunch go-to. Gluten-free pastries rolled up with saucy buffalo chicken and two kinds of cheese. Enjoy them hot straight out of the oven while the cheese is still goey. YUM! Every bite of these buffalo chicken biscuits is flavourful, cheesy, with a kick of […] Read More
Prep Time
20 Minutes
Difficulty
Moderate
Cook Time
35 Minutes
Serves
20 - 24
Traditional Gluten-Free Cornish Pasty Recipe
I am thrilled to share this Gluten-Free Cornish Pasty Recipe with you today. The pastry is flaky and buttery filled with savoury filling made with steak, potatoes, rutabaga and onions. The hearty filling in this Pasty is traditionally used in Cornish Pasty Recipes. I believe you will be impressed by how delicious these Gluten-Free Cornish […] Read More
Prep Time
30 + Minutes
Difficulty
Intermediate
Cook Time
45 Minutes
Serves
6 - 8