Gluten-Free Spicy Beef Samosas
Prep Time
20 Minutes
Difficulty
Intermediate
Cook Time
40 Minutes
Serves
12 pc
Average Rating: 4.5 | Rated By: 14 users
Gluten-Free Spicy Beef Samosas – a pastry filled with beef, green peas and onions, beautifully spiced with garlic, ginger, cumin, curry powder and cinnamon. Samosas are only as good as the filling!
Samosa is an Indian pastry lightly filled with a savoury filling. The filling varies from vegetarian, chicken or spicy beef with peas, this is my favourite.
♥

How to make gluten-free samosa?

To make samosa first you start with the filling. Whether it is vegetarian or one with chicken or beef, the filling has to be spiced with typical Indian spices. Once the filling is cooked and chilled it is ready to be used in the pastry. To make gluten-free samosa pastry is fairly simple. You mix dry ingredients with milk and some olive oil and create a dough. The dough has to rest for about 30 minutes before you can easily roll it out into squares. The dough should be as thin as possible for the best results. Once you have the squares ready, fill them up with the cooled mixture, in this case, beef and peas. You fold the pastry into triangles and firmly press around the edges to seal them. The Gluten free samosas are then fried in about 1/2-inch vegetable oil until golden brown. Yes, samosas take a little more work to make, but believe me they are worth it!

The gluten free samosas are best fresh, but for any leftovers, they can easily be reheated in the oven. In our home, there is never enough of samosas because they are finished in minutes, they are that delicious! I must admit I LOVE samosas. They are filling and packed with so much flavour.

Love Indian food? Check out our selection of 100 + gluten-free Indian recipes, I especially love the low fat Indian butter chicken…so so good 😀 Enjoy!
Ingredients
2 Tbsp. Extra virgin olive oil
1 medium onion, chopped
3 garlic cloves, minced
2 tsp. minced ginger
1/2 - 1 tsp. GF red chilli pepper flakes
3/4 lb. lean ground beef
1 Tbsp. GF curry powder
1 tsp. GF ground cumin
1/4 tsp. GF ground cinnamon
1/2 tsp. Pure sea salt
3/4 cup frozen or fresh peas
SAMOSA DOUGH
1 tsp. Xanthan gum, add only if the baking flour mix doesn't include xanthan gum
1 tsp. GF aluminum-free baking powder
1/2 tsp. Pure sea salt
1/4 tsp. GF ground turmeric (adds natural colour and is optional)
1 cup milk
1 Tbsp. + 1 tsp. Extra virgin olive oil
Instructions
SPICY BEEF FILLING
Sauté onions in olive oil until translucent. About 5 minutes. Stir in garlic, ginger, and chilli pepper flakes.
Add beef, curry powder, cumin, cinnamon and salt. Cook until browned
Add peas and cook until heated through. Set aside
SAMOSA DOUGH
Whisk together flour, xanthan gum, salt and turmeric. Add milk and olive oil and mix until a dough forms. Cover with plastic wrap and rest the dough for 30 minutes
Divide the dough into 12 equal portions, about the size of a lime. Roll out the dough into thin rounds between two pieces of parchment paper. Scoop about 2 tablespoons of the filling in the center of the dough. Using the paper, overlap the dough in three layers creating a triangle. Using your fingers press the edges together. Place samosas on parchment paper.
Fry samosas in 1/2-inch vegetable oil over medium-high heat, until golden brown. About 3 - 4 minutes per side. Place on paper towel or wire rack to drain.
Similar Recipes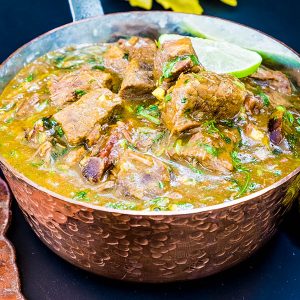 Indian Spiced Beef And Dates Ragout
Indian spices developed a dubious reputation in modern cuisine. In this recipe, the carefully selected spices bring the beef to another level. The seasoned beef is slowly simmered with dates in lime juice creating a sensational rich flavour This recipe is an easy gluten free one-pot dish for those nights when you crave something more […] Read More
Prep Time
10 Minutes
Difficulty
Easy
Cook Time
120 Minutes
Serves
4
Pahadi Chicken – Gluten Free
This Pahadi Chicken dish is an aromatic Indian chicken dish. This is a modern version sometimes called Pahari chicken simplified, but still keeping the stunning flavours. The term pahadi originates from pahad meaning mountain. Food in India is made with many spices and varies depending on the region. This chicken recipe is truly outstanding, not […] Read More
Prep Time
15 Minutes
Difficulty
Easy
Cook Time
20 Minutes
Serves
4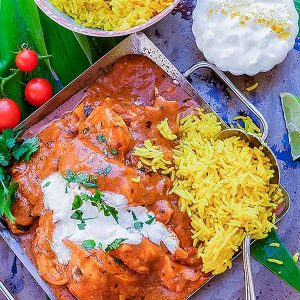 Gluten-Free Low-Fat Indian Butter Chicken
Gluten-Free Low-Fat Indian Butter Chicken – This is the most popular dish in Indian restaurants. Since the recipe is so popular, many home cooks have recreated the butter chicken at home. I am sharing a simplified low-fat version of this incredibly delicious Indian chicken dish. Indian food is well known for its many exotic spices. […] Read More
Prep Time
15 Minutes
Difficulty
Easy
Cook Time
35 Minutes
Serves
6