Grain-Free Summer Plum Cake
Prep Time
15 Minutes
Difficulty
Easy
Cook Time
40 Minutes
Serves
6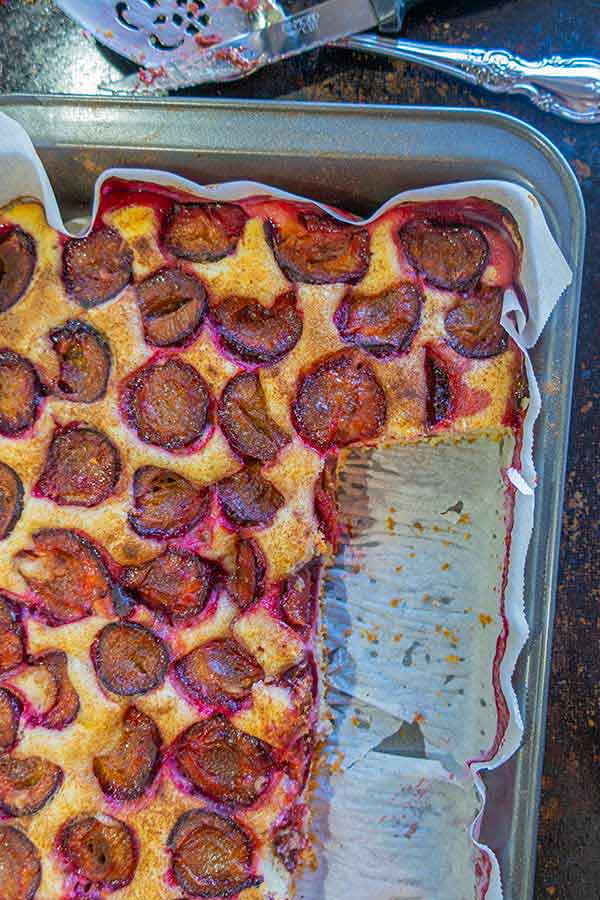 Average Rating: 5 | Rated By: 7 users
Curiosity, I'm sure that will compel anyone seeing this very rustic Grain-Free Summer Plum Cake. The sweet tartness of the plums accents the moist gluten-free summer plum cake.
This plum dessert is brilliant, not only because it is beyond delicious but also for its simplicity and healthy ingredients—a summer's finale before the onset of fall.
this gluten-free cake is all about fresh plums
How can I let the plum season slip away without at least one more plum cake? Such intense plum flavour in one very moist gluten-free, grain-free plum cake.
Every bite is just as delicious as the other filled with juicy plums, a hint of cinnamon, a touch of lemon zest and nothing but deliciousness.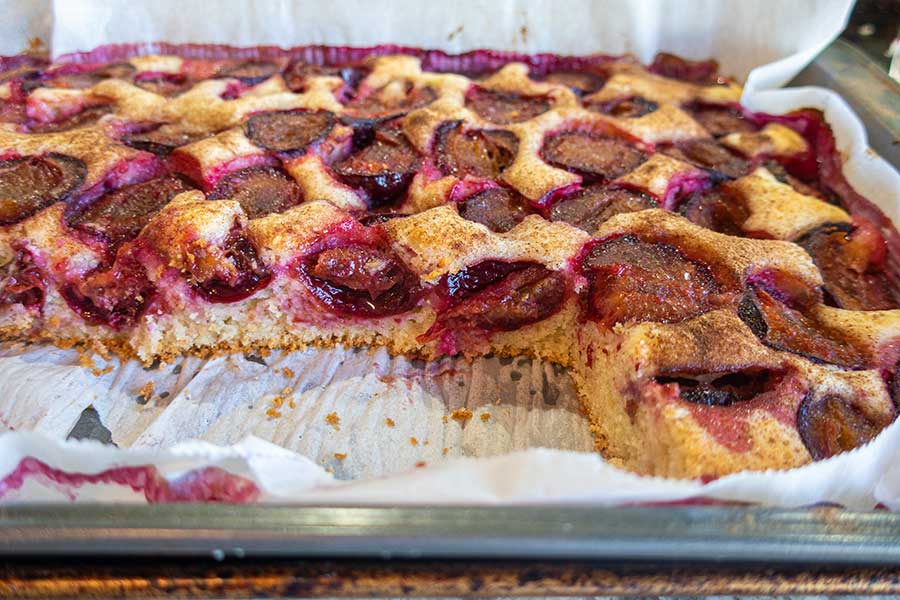 the grain-free summer plum cake recipe
This grain-free fresh fruit cake is made with only nine ingredients, fresh plums, almond flour, eggs, maple syrup, coconut oil, vanilla, cinnamon, lemon zest and a pinch of salt. Sometimes I add a sprinkle of poppy seeds, giving the plum cake extra goodness.
The dough for the plum cake is made simply by mixing the ingredients with an electric mixer, which provides the cake with lightness. Once the dough is ready, spread it into a cake pan lined with parchment paper.
For the plum topping, the plums need to be ripe, otherwise, you will have to add extra maple syrup to sweeten them up.
There is something about ripe plums. The juices are flowing into the cake, adding sweetness and keeping the cake extra moist. The plums are mixed with one tablespoon of maple syrup, a pinch of cinnamon and lemon zest.
Then, the plums are pressed lightly into the dough and sprinkled with poppy seeds, if using.
The grain-free plum cake takes about forty minutes to bake and then cooled fully in the cake pan before serving.
Why are plums so healthy?
I love using fresh plums in dessert recipes. Plums are highly nutritious, containing many vitamins, minerals, antioxidants and fiber. Plums add sweetness to desserts, and this magical fruit also improves the body's ability to absorb iron. Plums can be eaten fresh or dried and are relatively low in calories.
Plums are typically in season from the end of May through to October. There are twelve different types of plums. In this grain-free plum cake recipe, I used the black beauty plum. This stone fruit is exceptionally juicy when firm and soft, making it an excellent fruit in desserts.
With the summer coming to a close, I wanted to share one more plum cake to enjoy with your family. This plum dessert will accommodate a dairy-free and grain-free diet and is made without refined sugar. I hope you enjoy this end of summer season gluten-free summer plum cake!
Are you looking for more desserts made with fruit? Check out our list of gluten-free desserts made with fresh fruit. Enjoy!
Let's Connect!
Be sure to FOLLOW US on FACEBOOK and PINTEREST.
Many thanks!
Kristina xx
Ingredients
1 ¼ cup blanched almond flour
¼ tsp. sea salt
3 large eggs, at room temperature
3 Tbsp. maple syrup, divided
1 Tbsp. melted coconut oil
½ tsp. pure vanilla extract
1 ½ lb. ripe plums, pitted and sliced
1 Tbsp. GF ground cinnamon
Zest of 1 lemon
1 Tbsp. poppy seeds (optional)
*As an Amazon Associate and member of other affiliate programs, I earn from qualifying purchases. Please check out my sponsorship and disclosure policy page for more details
Instructions
Preheat oven to 350 F
Line the bottom of an 8-inch square cake pan with parchment paper
Add flour, salt, eggs, 2 tablespoons of maple syrup, coconut oil and vanilla into a large bowl. Whisk with an electric mixer until smooth and fluffy
In a separate bowl, combine plums, 1 tablespoon maple syrup, cinnamon and lemon zest
Spread the dough in the pan and top with plums facing cut side up. Press the plums slightly into the batter and sprinkle with poppy seeds, if using
Bake for 40 minutes or until the cake is firm to touch and golden
Cool the cake on a cooling rack first, then remove the cake by loosening the edges with a sharp knife first. Enjoy
Similar Recipes
Breakfast Plum Cake – Gluten Free
Breakfast cake like never before! A Gluten-Free Breakfast Plum Cake filled with fresh plums, a hint of cinnamon and vanilla in a buttery cake. Now the decision to make is, when are you going to eat it, breakfast, brunch, lunch or dinner? The answer is simple, any time of the day! Because it is filled […] Read More
Prep Time
15 Minutes
Difficulty
Easy
Cook Time
35 Minutes
Serves
12
Gluten-Free Plum Skillet Country Cake
We are starting the summer on a high note! This gluten-free plum skillet cake is tender, moist and tasty, with a light cinnamon hue. Unlike traditional coffee cakes, this cake is made with healthy buckwheat flour and topped with juicy plums flavoured with cinnamon. This summer country cake is hard to beat and perfect for […] Read More
Prep Time
15 Minutes
Difficulty
Easy
Cook Time
45 Minutes
Serves
8 slices