Grain-Free Summer Plum Cake
Published on Aug 09, 2016
by
Kristina Stosek
Prep Time:

15 minutes
Cook Time:

40 minutes
Serves:

6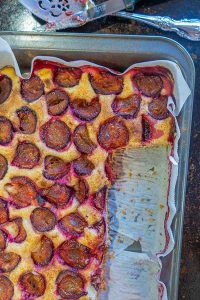 ​This post may contain affiliate links, please see our
privacy policy
for details
Curiosity, I'm sure that will compel anyone seeing this very rustic Grain-Free Summer Plum Cake. The sweet tartness of the plums accents the moist gluten-free summer plum cake.
This plum dessert is brilliant, not only because it is beyond delicious but also for its simplicity and healthy ingredients—a summer's finale before the onset of fall.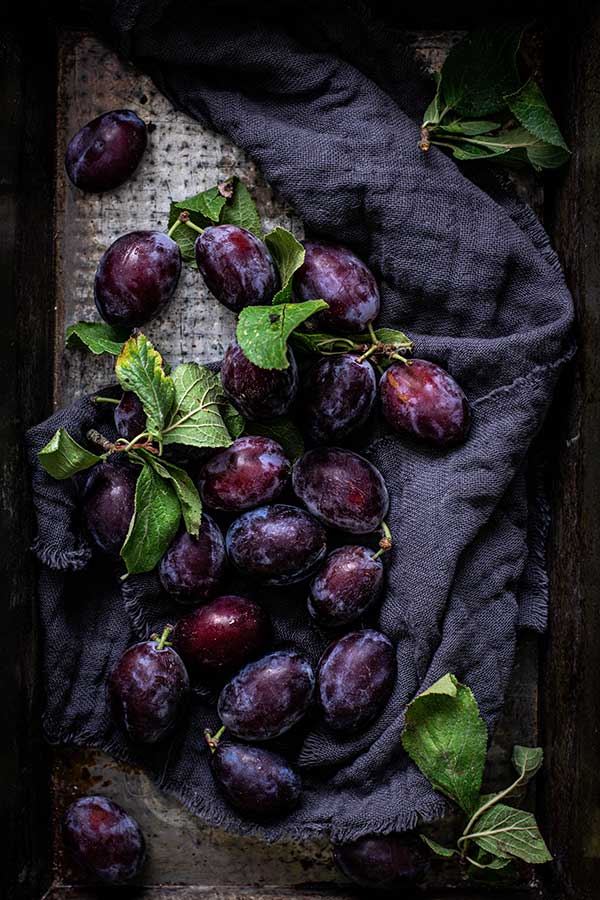 this gluten-free cake is all about fresh plums
How can I let the plum season slip away without at least one more plum cake? Such intense plum flavour in one very moist gluten-free, grain-free plum cake.
Every bite is just as delicious as the other filled with juicy plums, a hint of cinnamon, a touch of lemon zest and nothing but deliciousness.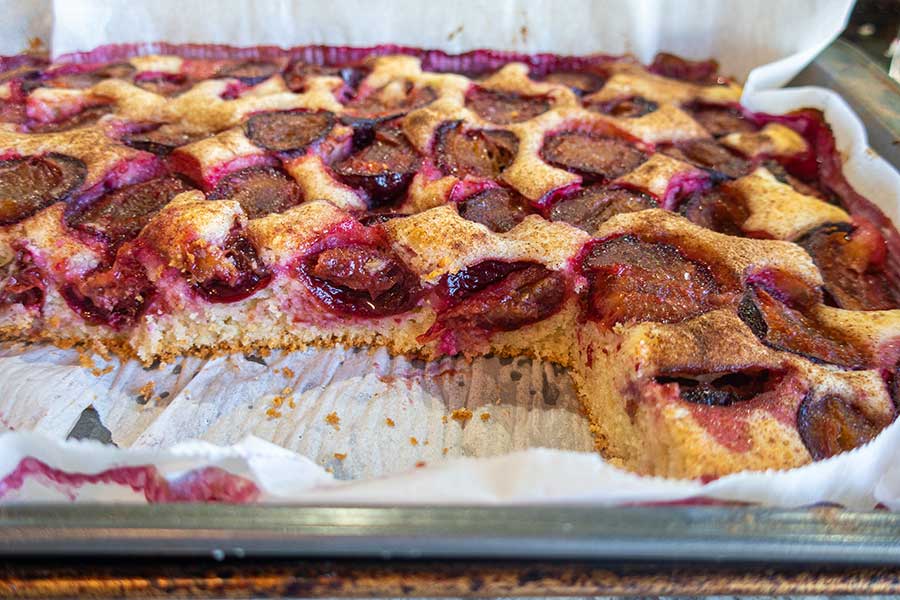 the grain-free summer plum cake recipe
This grain-free fresh fruit cake is made with only nine ingredients, fresh plums, almond flour, eggs, maple syrup, coconut oil, vanilla, cinnamon, lemon zest and a pinch of salt. Sometimes I add a sprinkle of poppy seeds, giving the plum cake extra goodness.
The dough for the plum cake is made simply by mixing the ingredients with an electric mixer, which provides the cake with lightness. Once the dough is ready, spread it into a cake pan lined with parchment paper.
For the plum topping, the plums need to be ripe, otherwise, you will have to add extra maple syrup to sweeten them up.
There is something about ripe plums. The juices are flowing into the cake, adding sweetness and keeping the cake extra moist. The plums are mixed with one tablespoon of maple syrup, a pinch of cinnamon and lemon zest.
Then, the plums are pressed lightly into the dough and sprinkled with poppy seeds, if using.
The grain-free plum cake takes about forty minutes to bake and then cooled fully in the cake pan before serving.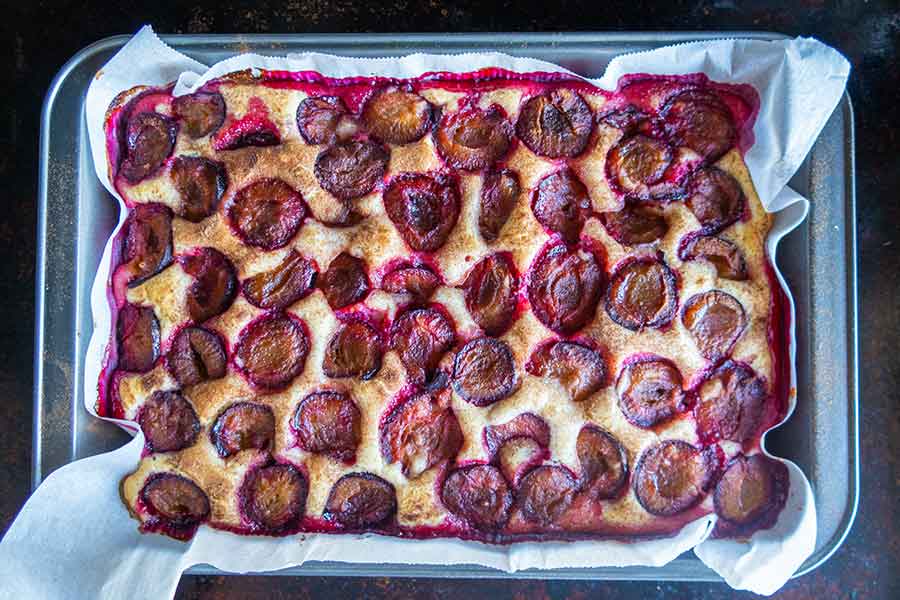 Why are plums so healthy?
I love using fresh plums in dessert recipes. Plums are highly nutritious, containing many vitamins, minerals, antioxidants and fiber. Plums add sweetness to desserts, and this magical fruit also improves the body's ability to absorb iron. Plums can be eaten fresh or dried and are relatively low in calories.
Plums are typically in season from the end of May through to October. There are twelve different types of plums. In this grain-free plum cake recipe, I used the black beauty plum. This stone fruit is exceptionally juicy when firm and soft, making it an excellent fruit in desserts.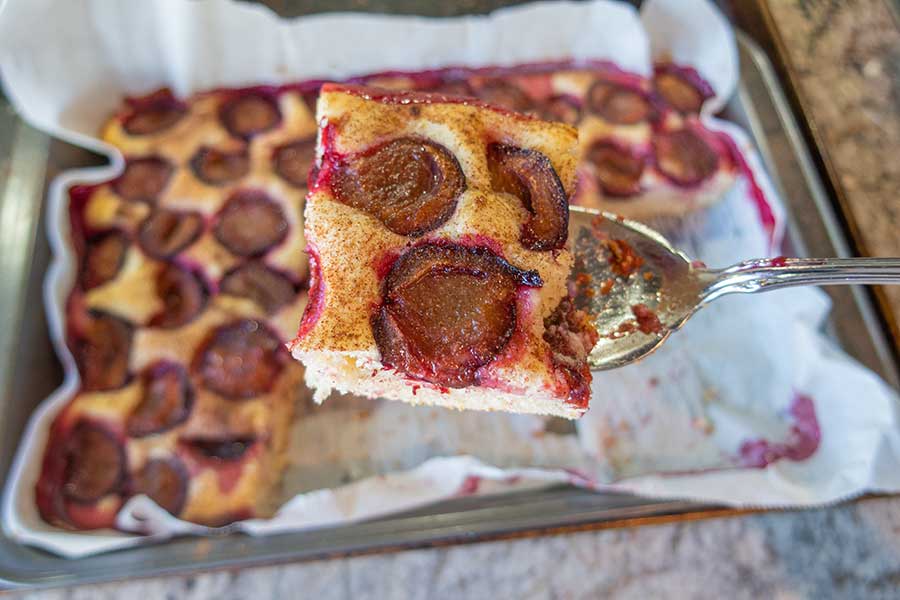 With the summer coming to a close, I wanted to share one more plum cake to enjoy with your family. This plum dessert will accommodate a dairy-free and grain-free diet and is made without refined sugar. I hope you enjoy this end of summer season gluten-free summer plum cake!
Are you looking for more desserts made with fruit? Check out our list of gluten-free desserts made with fresh fruit. Enjoy!
Let's Connect!
Be sure to FOLLOW US on FACEBOOK and PINTEREST.
Many thanks!
Kristina xx
Grain-Free Summer Plum Cake
Published on Aug 09, 2016
by
Kristina Stosek
Instructions
1.

2.

Line the bottom of an 8-inch square cake pan with parchment paper

3.

Add flour, salt, eggs, 2 tablespoons of maple syrup, coconut oil and vanilla into a large bowl. Whisk with an electric mixer until smooth and fluffy

4.

In a separate bowl, combine plums, 1 tablespoon maple syrup, cinnamon and lemon zest

5.

Spread the dough in the pan and top with plums facing cut side up. Press the plums slightly into the batter and sprinkle with poppy seeds, if using

6.

Bake for 40 minutes or until the cake is firm to touch and golden

7.

Cool the cake on a cooling rack first, then remove the cake by loosening the edges with a sharp knife first. Enjoy
Leave a Comment
Kristina
yes Frances, I found the plum cake needed the full tablespoon of cinnamon. Thank you for sharing K.
This was delicious! The flavouring of the plums was especially nice. Not too sweet, either. I used just a teaspoon of cinnamon but could barely taste it so would use the full tablespoon next time.
Kristina
I added one tablespoon John, but if you feel it's too much then use less. Please let me know how it turns out, thank you.
A tablespoon of cinnamon? Are you sure. I used a teaspoon. Waiting for the cake to cool.
Kristina
there is no baking powder or baking soda in this recipe.
No Baking powder/soda required?