Skillet Cherry Breakfast Bread – Gluten Free
Published on Jul 14, 2019
by
Kristina Stosek
Prep Time:

15 minutes
Cook Time:

45 minutes
Serves:

8 slices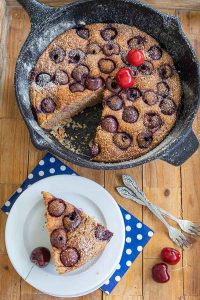 ​This post may contain affiliate links, please see our
privacy policy
for details
A healthy gluten-free skillet cherry bread is a way to go when we are too busy to prepare breakfast. Every bite is studded with cherries and tastes like a moist, lightly spiced, zesty muffin with a hint of cinnamon.
This is a gluten-free quickbread recipe, so it's easy to make. And the cherry bread is perfect for satisfying morning hunger. Plus, you can enjoy it right out of the skillet.
healthy cherry breakfast bread
This healthy morning bread is packed with healthy ingredients like fresh cherries, lemon juice, almond, sorghum, buckwheat, rice flour, and eggs and is gluten-free and dairy-free.
The quickbread recipe is baked in a cast iron skillet for a truly rustic and tasty breakfast treat. Another delicious breakfast bread you may enjoy is our Very Best Gluten-Free Apple Fritter Bread.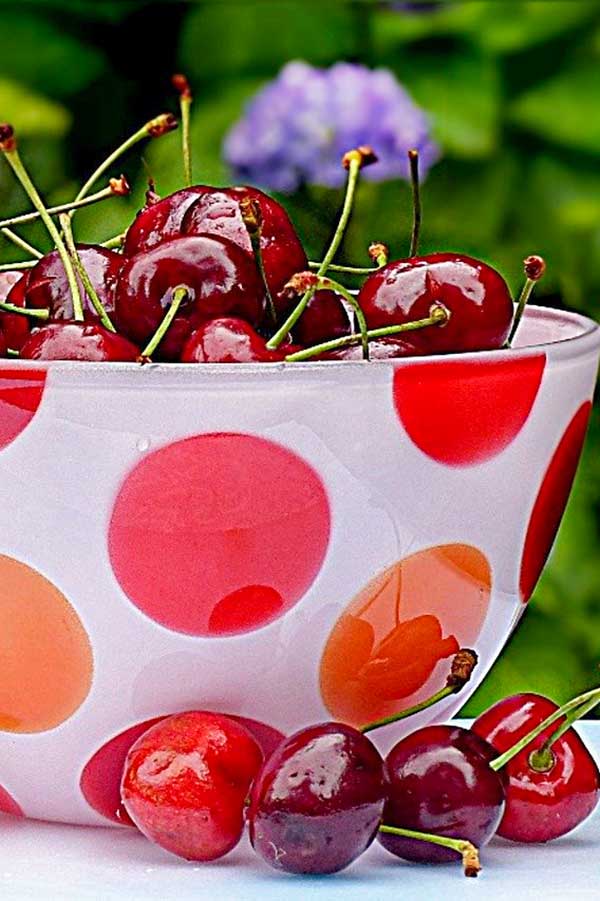 Questions and Answers about cherries
1. What are cherries?
Cherries are a type of fruit that belongs to the rose family. There are two main types of cherries – sweet cherries and sour cherries.
Sweet cherries are the kind that is often eaten fresh or used in baking, while sour cherries are used more frequently in cooking because of their tart flavor.
2. What is the difference between sweet and sour cherries?
Sweet cherries are larger and sweeter, while sour cherries are smaller and have a tart flavor.
3. How do you pick the best cherries?
When picking fresh cherries, look for ones that are shiny, plump, and have a deep color. Avoid any that are hard, bruised or have any mold on them.
4. How do you store fresh cherries?
Fresh cherries should be stored in a plastic bag with holes punched in the refrigerator. They will last for about a week stored this way.
5. What are some uses for fresh cherries?
Fresh cherries can be eaten out of hand, used in baked goods, or cooked down into cherry sauce or pie filling.
6. Why do cherries sometimes crack?
This occurs as the cherry nears ripening and is exposed to long periods of rain, dew, or high humidity.
Why is a cast iron skillet good for baking
When baking, a cast iron skillet can be a great way to get evenly cooked results. And when it comes to cherry breakfast bread, using a skillet can help to keep the cherries from sinking to the bottom of the loaf.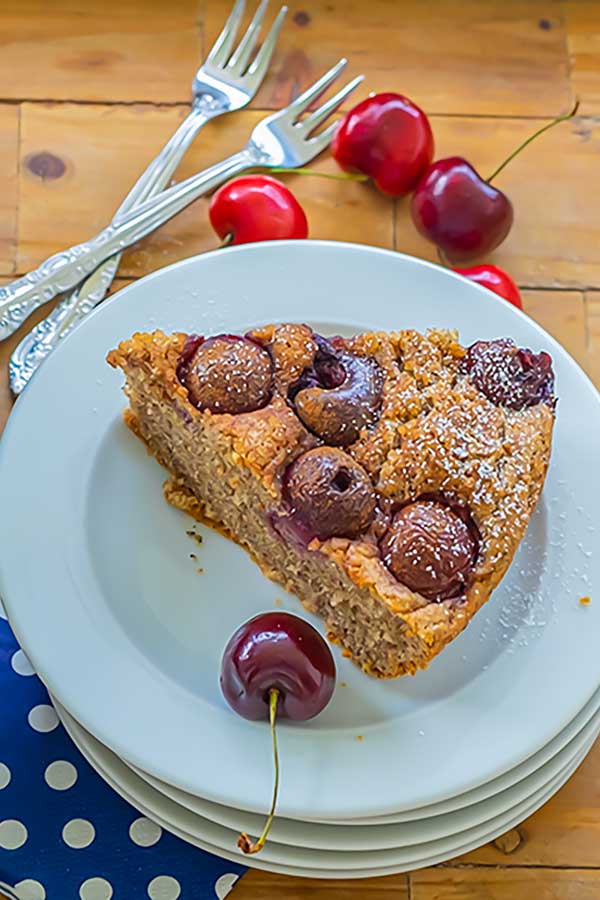 healthy cherry breakfast bread – the details
I wanted to keep this recipe healthy, so I used olive oil for fats and kept the sweetenest to a minimum with coconut sugar. The cherries add plenty of sweetness and keep the gluten-free breakfast bread moist.
The breakfast dish is packed with fibre, protein and healthy nutrients by using nutrient-rich flours, such as almond, sorghum, arrowroot, rice and buckwheat flour.
The flavour of this cherry recipe comes from cinnamon, nutmeg, fresh lemon juice and vanilla. They make a great addition to baked goods when using cherries.
This recipe is also dairy-free for those who are lactose intolerant.
When are cherries in season?
This is a question that many people ask, as they are trying to enjoy the delicious taste of cherries while they are in season. The answer to this question can be difficult to determine, as the season for cherries can vary depending on the region where you live.
However, cherries are generally in season from late May to early August. So if you want to enjoy some delicious cherry breakfast bread, keep an eye out for fresh cherries during this time!
cherry breakfast bread for dessert
This cherry breakfast bread is the perfect way to start your day. It is gluten-free, healthy, and delicious. The best part is that you can also serve it for dessert.
To make this breakfast bread a spectacular dessert, warm the bread in the oven for a few minutes, then serve with dollops of vanilla bean ice cream. YUM!
There you have it—a delicious, gluten-free, guilt-free skillet cherry breakfast bread that is sure to please! This recipe is perfect for a leisurely weekend brunch or a quick weekday breakfast.
And, leftovers (if you're lucky enough to have any) reheat beautifully. So, what are you waiting for? Give this recipe a try, and let us know how it turns out!
When cherries are in season, this is a must-try breakfast bread recipe. For our collection of delicious freshly-baked muffins, check out the gluten-free muffin recipes. You will find savoury and sweet muffin recipes to start your day.
Skillet Cherry Breakfast Bread – Gluten Free
Published on Jul 14, 2019
by
Kristina Stosek
Instructions
1.

2.

Whisk together flours, baking powder, cinnamon, nutmeg, xanthan gum and salt

3.

In a separate bowl beat eggs, 1/2 cup coconut sugar, and olive oil until creamy. Beat in milk, lemon juice, lemon zest and vanilla. Add to dry ingredients and stir to combine

4.

Pour batter into prepared skillet and scatter cherries over the top. Mix 1/4 teaspoon of cinnamon and 2 teaspoons of coconut sugar and sprinkle over the cake

5.

Bake for 45 - 50 minutes until a toothpick inserted in the center comes out clean. Cool before slicing
Leave a Comment
Kristina
This recipe was super easy, and the bread was super moist. I love the idea of using a skillet. So good!
Kristina
Hi Gina, thank you so much for letting us know. Great idea to use this recipe as a base and personalize it :-)
This is so delicious! I've made this so many times. One of my favorites for breakfast. I've also made some variations using this as a base recipe. I've made one using apples instead of cherries and it was fantastic! Next time I'm going to try other fruits as well. Thanks for this recipe.