Blackberry Peach Galette – Gluten Free
Published on Aug 13, 2022
by
Kristina Stosek
Prep Time:

30 minutes
Cook Time:

30 minutes
Serves:

6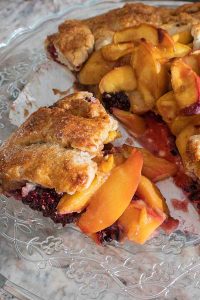 ​This post may contain affiliate links, please see our
privacy policy
for details
This Gluten-Free Blackberry Peach Galette is a delicious way to enjoy summer fruits! The crust is made with gluten-free flour and is buttery and flaky. The lightly sweetened filling mixes fresh blackberries and peaches with flavours such as cardamom and fresh lemon juice. This galette is the perfect dessert for brunch or a summer picnic.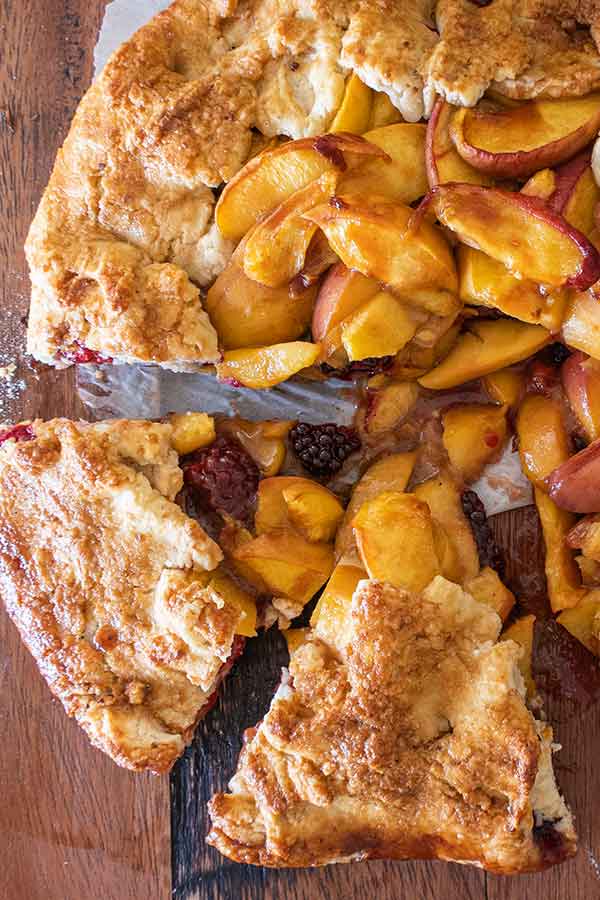 What is a galette?
A galette is a type of French pastry that typically consists of a single crust of dough that is filled with fresh fruit or other ingredients and then baked.
However, they are most popular when made with fruit, such as peaches, apricots, apples, pears, or berries. Gluten-Free galette is a delicious summertime treat that is perfect when using fresh in-season fruit.
If you are looking for French desserts, check out our tantalizing Gluten-Free French Dessert Recipes.
FAQ about gluten free galette
1. How is a gluten free galette made?
A galette consists of a singles crust (usually made from gluten-free flour, water and butter) and various fillings (such as fruits, cheese or meats).
The dough is rolled out into a flat circle, the filling is placed in the center, and the edges are folded up and over the filling creating a border. The galette is then baked until the crust is golden brown.
2. What is the difference between a galette and a pie?
The main difference between a galette and a pie is that pies typically have double crusts (meaning there is a crust on the bottom and top), while galettes only have a single crust.
In addition, pies are usually baked in pie pans, while galettes are baked on baking sheets.
3. What are some common fillings for galettes?
Fruit fillings (such as stone fruit, apples, pears or berries) are very common for galettes. Other popular fillings include cheese, chocolate, nuts or custard.
4. Can I make a galette without gluten?
Yes! You can enjoy this French dessert by using a basic gluten-free pie crust recipe.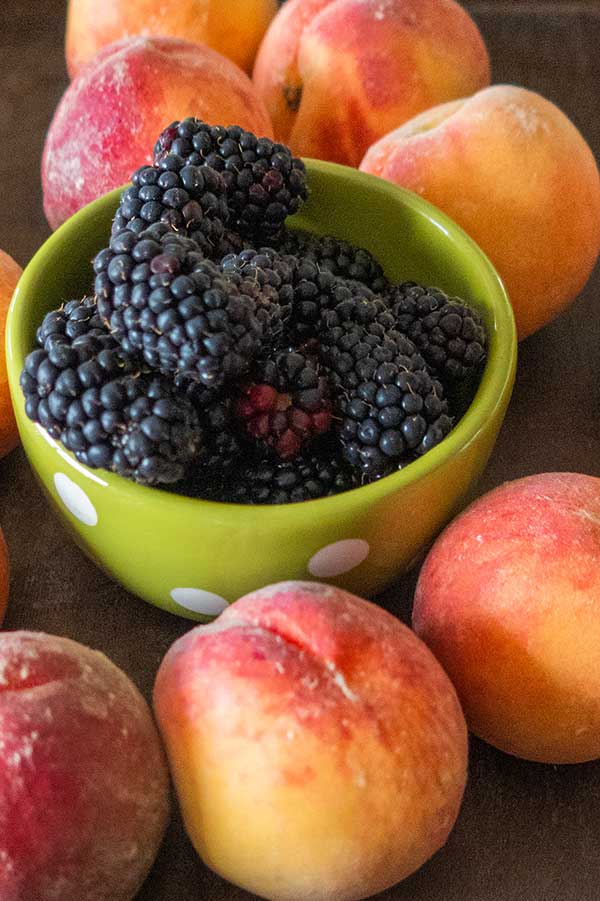 What is the best fruit for a galette recipe?
There's nothing like summer fruit, and this blackberry peach galette is the perfect way to enjoy it. This galette is made with a gluten-free crust, so it's perfect for those with gluten sensitivities or celiac disease.
The filling is fresh blackberries, nutrient packed peaches, cardamom and lemon juice. The result is a beautiful, rustic tart perfect for a summer brunch or a barbecue.
blackberry peach galette recipe details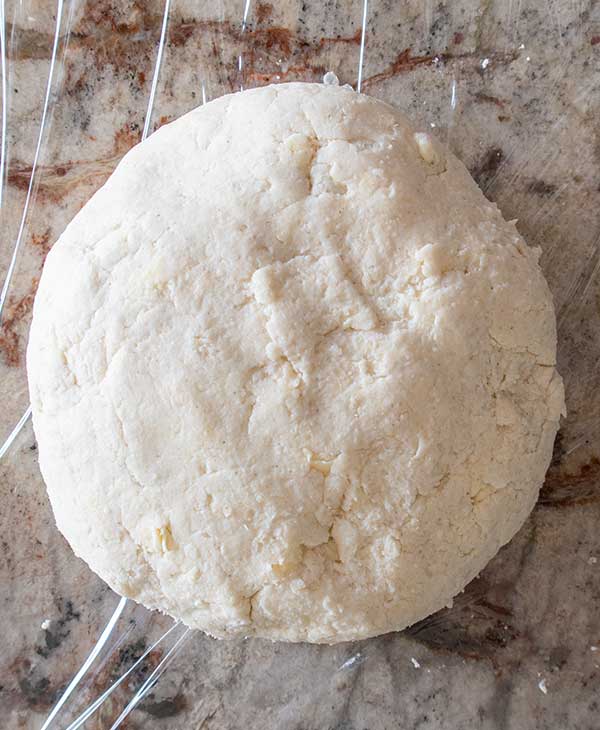 roll out the dough into a circle and top with fruit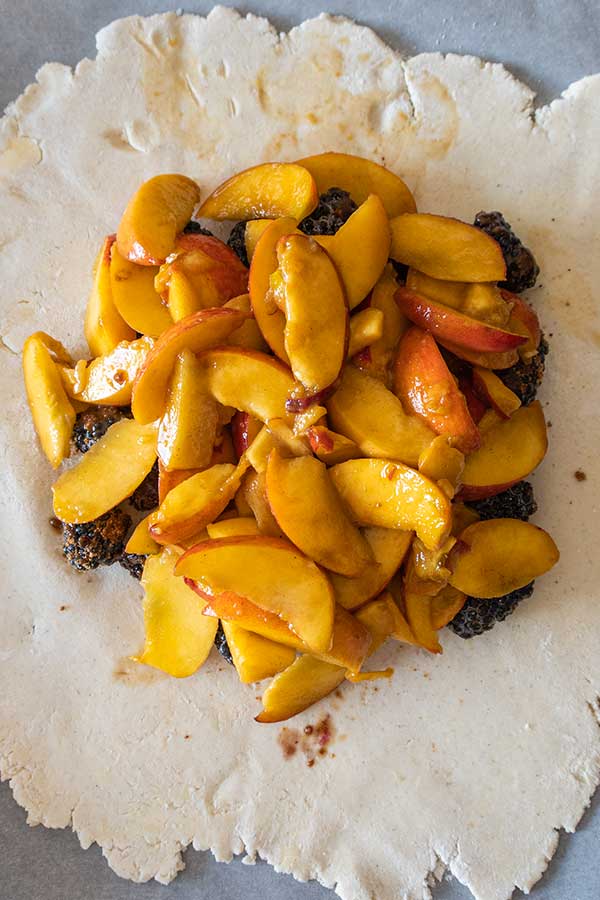 fold the edges over the fruit and brush with egg wash and sugar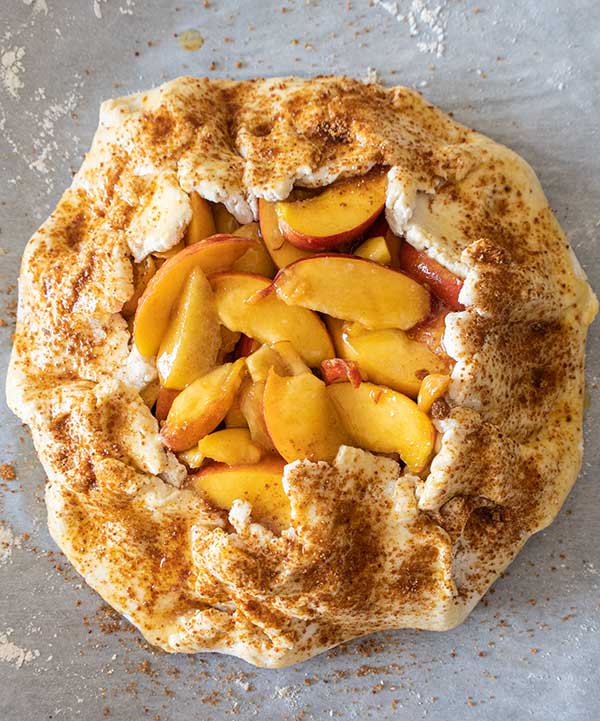 bake and serve warm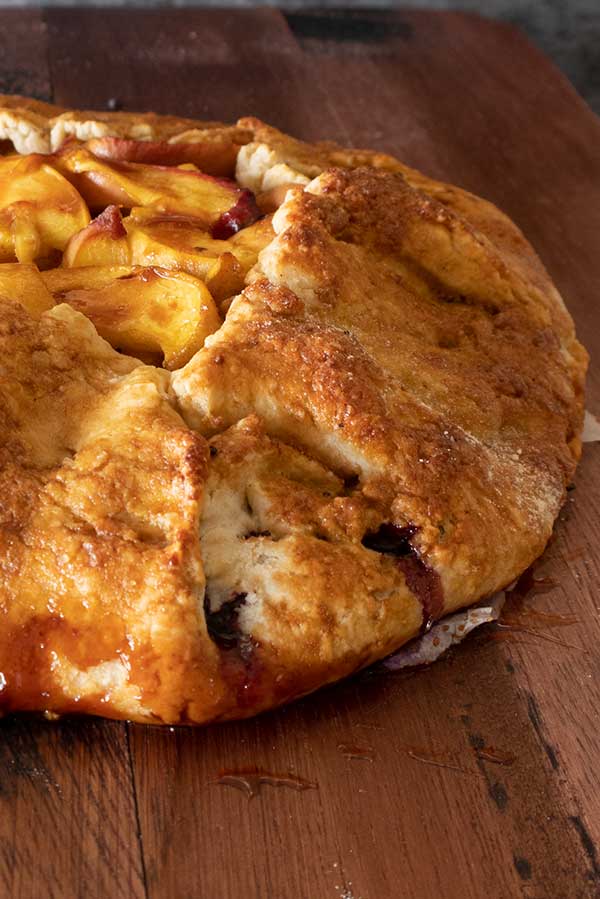 When to serve gluten-free galette?
This rustic gluten-free tart is perfect for summer entertaining. When deciding when to serve a galette, it depends on the type of fruit you use.
If you're using fresh berries and stone fruit, you can serve it immediately after it's baked.
If you are using apples or pears, the galette is best the next day allowing the fruit to soften and absorb the juices.
Should you serve gluten-free galette warm or cold?
If you're wondering whether you should serve your Blackberry Peach Galette warm or cold, gluten-free pastry is best when served warm or at room temperature.
If you're serving the galette to guests, it's a good idea to ask their preference to ensure everyone is happy.
toppings
The most popular topping for a fruit galette is vanilla ice cream. However, serving this dessert for brunch, you can top it with Greek yogurt or whipped cream.
Is galette popular?
A galette is a free-form tart that is easier to make than a classic gluten-free pie. While it's not as popular as some other desserts, it is an excellent way to serve fresh in-season fruit. This Blackberry Peach Galette is a delicious example of a gluten-free fruit galette.
a perfect gluten free summer dessert
After reading this delicious recipe for a blackberry peach galette, I'm sure you're as excited as I am to try it out! The best part is that this light, fruity, and refreshing dessert is also gluten-free.
So whether you're celiac or gluten-intolerant, this recipe is worth trying. Please let me know how yours turns out in the comments below!
Let's Connect!
Be sure to FOLLOW US on FACEBOOK and PINTEREST.
Many thanks!
Kristina xx
Blackberry Peach Galette – Gluten Free
Published on Aug 13, 2022
by
Kristina Stosek
Instructions
1.

2.

Dust the dough with gluten-free flour and place between 2 sheets of parchment paper. Roll it out to a 14-inch round, and slide it with the bottom parchment paper onto a large baking sheet. If the dough is hard to roll out, leave it at room temperature for about 5 minutes or until it is pliable 

3.

In a large bowl, mix the sugar, tapioca starch and cardamom/cinnamon

4.

Toss the blackberries with half the sugar mixture and place in the center of the dough, leaving a 2-inch border

5.

Toss the sliced peaches with the remaining sugar mixture and arrange them on top of the blackberries

6.

In a small saucepan or microwave, melt the butter with maple syrup and lemon juice or vanilla, and drizzle over the peaches

7.

Fold the edges of the pastry over the fruit and brush with egg or cream, and sprinkle with sugar

8.

Bake for 30 - 35 minutes or until golden brown. Cool slightly and serve warm with ice cream, whipped cream or Greek yogurt