Basic Gluten-Free Pie Crust Recipe
Prep Time
15 Minutes
Difficulty
Easy
Cook Time
10 Minutes
Serves
9-inch pie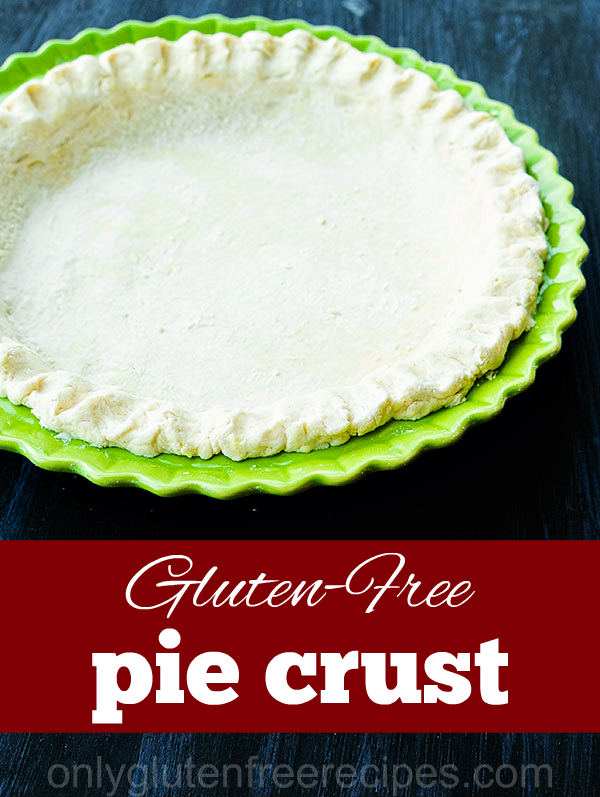 Average Rating: 5 | Rated By: 10 users
We all love pies, especially when made from scratch using fresh fruit. This is why I created a basic fail-proof gluten-free pie crust recipe.
In this single gluten-free pie crust recipe, I used only four ingredients plus ice water. There are no fancy ingredients, only gluten-free flour blend, baking soda, butter and sour cream. The sour cream is what makes this pie crust extra flaky. 
It is essential to have the butter and sour cream well chilled for the crust to be light. I find placing the butter in the freezer for a few minutes and then using a box grater to grate it works exceptionally well in this pie crust recipe.
When you add the ice water, add very little at a time, the dough has to be reasonably dry but moist enough to hold together. This gluten-free pie dough works so well in the gluten-free blackberry peach galette recipe.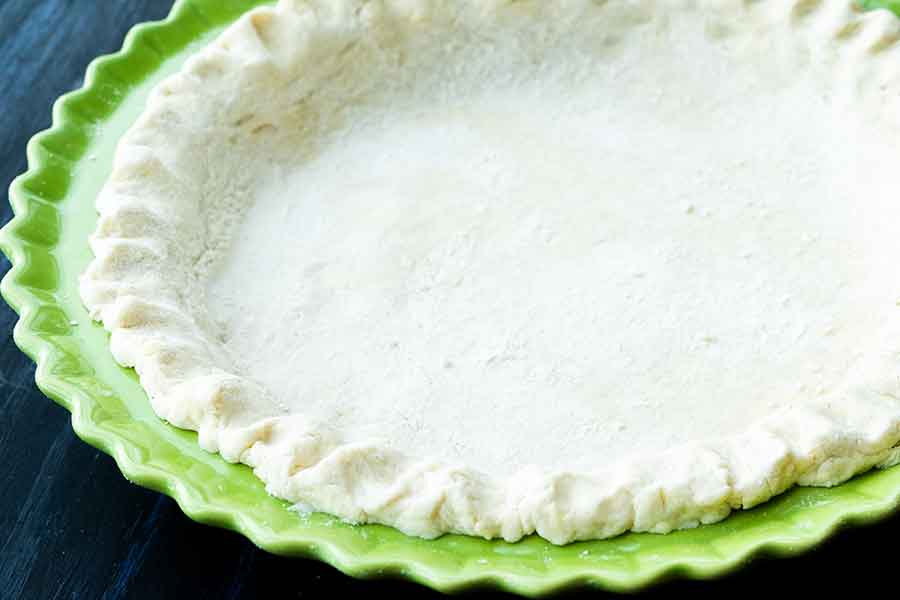 Should you par-bake gluten-free pie crust?
This gluten-free pie crust has to be par-baked before being used in recipes. By par-baking the crust, it will stay flaky and not soggy.
To par-bake the crust is simple. Once the dough has chilled, pierce the bottom of the crust all over with a fork. 
Then top the crust with a sheet of parchment paper and fill with dried beans or pie weights—Bake for ten minutes before adding the filling.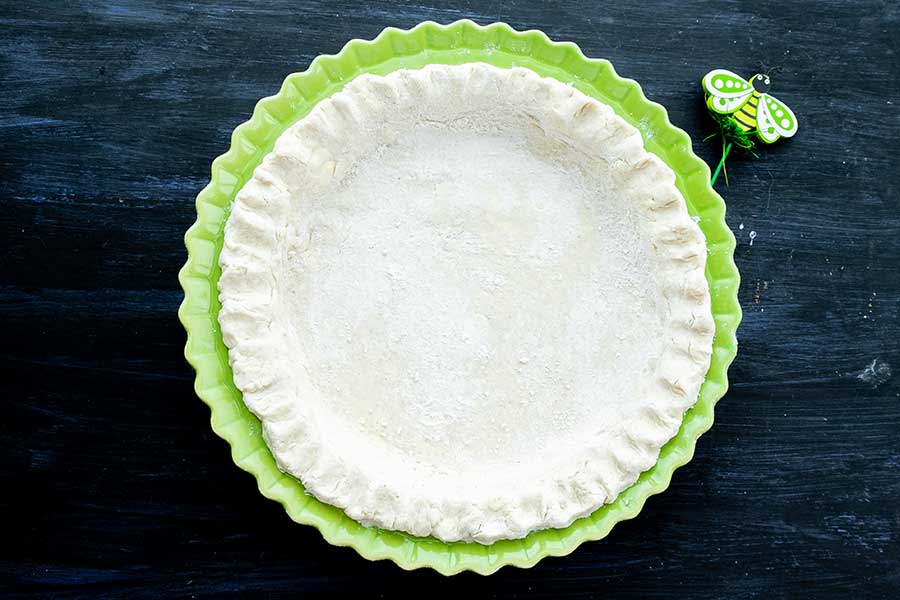 3 of my favourite gluten-free pie filling recipes
∼ Gluten-free cherry pie filling
3 cups pitted cherries

1 cup sugar

1 Tbsp. Tapioca starch

Water
Place the cherries and sugar in a pot over medium heat. Combine tapioca starch with enough water to form a smooth paste. Add to the cherries and mix. Cook over medium heat continually stirring until the sauce is slightly thickened and glossy, cool. Pour into the parbaked pie crust and bake at 350 F for about 30 – 35 minutes, until the crust is golden brown
∼ Gluten-free strawberry pie filling
5 cups sliced strawberries, divided

3/4 cup sugar

3/4 cup water

1 tsp. Pure vanilla extract

3 Tbsp. Tapioca starch
Place 4 cups sliced strawberries into a saucepan. Mix sugar, water, vanilla and tapioca starch and add to the strawberries. Cook over medium heat, continually stirring until thickened. As soon as the sauce starts to thicken, remove it from the heat. Stir in the remaining cup of sliced strawberries and cool. Pour into the parbaked pie crust and bake at 350 F for about 30 – 35 minutes, until the crust is golden brown
∼ Gluten-free peach pie filling
5 cups sliced peeled peaches

1 Tbsp. Fresh lemon juice

1/2 cup sugar

2 Tbsp. Tapioca starch

1/2 tsp. GF ground cinnamon

1/4 tsp. GF ground nutmeg

2 Tbsp. Unsalted butter
Place the sliced peaches in a large bowl and sprinkle with lemon juice. Mix gently. In a separate bowl, mix the sugar, tapioca starch, cinnamon, and nutmeg Pour over the peaches and mix gently. Pour into parbaked pie crust and dot with butter. Bake at 350 F for about 30 – 35 minutes until the crust is golden brown.
For our complete list of sweet and savoury pies, check out these gluten-free pie recipes
If you do make a gluten-free sweet summer pie, don't forget to join me on my Facebook page for the latest updates.
Ingredients
1 1/2 cups all-purpose gluten-free flour blend, one that includes xanthan gum. (Otherwise, add 3/4 tsp.) My favourite flour for this recipe is Jules
1/4 tsp. Baking soda
6 Tbsp. Salted butter, place in the freezer for 10 minutes before using
1/2 cup full fat sour cream, chilled
1 - 3 Tbsp. Ice water as needed
Tip: make sure to measure flour correctly. Do not dip the measuring cup into the flour. To measure, lightly fill with a scoop and level off with a knife
*As an Amazon Associate and member of other affiliate programs, I earn from qualifying purchases. Please check out my sponsorship and disclosure policy page for more details
Instructions
Using a large bowl whisk together flour with baking soda
Using a box grater, grate the butter and add to dry ingredients. Using a spatula mix the butter just long enough to coat it with the flour. Using your fingers, work the butter into the flour until just crumbly
Add sour cream and mix. The dough will still be a bit dry. At this point add one tablespoon of ice water and using your hands knead the dough until it begins to come together. If the dough is too dry, add 1 tablespoon at a time working the dough until it holds together. I used 3 tablespoons.
Transfer dough onto a plastic wrap and form a compact disk. Wrap the dough and place in the refrigerator for 30 minutes
Place chilled dough onto a lightly floured parchment paper and lightly sprinkle the top with more flour. Roll out the dough to approximately 12-inch round, using more flour if needed. Roll the dough loosely onto the rolling pin, and then carefully unroll it over a 9-inch pie plate. Tuck any excess dough under the pie crust and crim the edge. Cover it with plastic wrap and refrigerate for 45 minutes.
Similar Recipes
Gluten Free Fresh Fruit Tart
Fresh fruit offers excellent taste and nutrition, making this a wonderful, simple healthy dessert. Fruit tart is especially popular on hot summer days. Serve as is or with a dollop of coconut ice cream and indulge in this modestly magical gluten free dessert Read More
Prep Time
15 Minutes
Difficulty
Easy
Cook Time
30 - 35 Minutes
Serves
6 - 8
Gluten-Free Apple Turnovers
Freshly made from scratch Gluten-Free Apple Turnovers. There is nothing better than homemade pastries. The flaky pastry is filled with an amazing fresh apple cinnamon filling and kids love them!  The shortcrust gluten-free pastry is light, slightly crispy, and perfect for bubbly, buttery fresh apples lightly dusted with cinnamon and fresh lemon juice filling. Sometimes […] Read More
Prep Time
30 Minutes
Difficulty
Intermediate
Cook Time
25 Minutes
Serves
8