Apple Cinnamon Chips – Easy Recipe
Published on Feb 26, 2014
by
Kristina Stosek
Prep Time:

10 minutes
Cook Time:

90 minutes
Serves:

4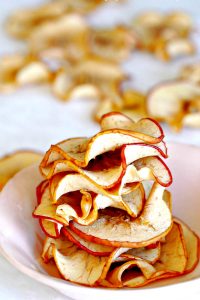 ​This post may contain affiliate links, please see our
privacy policy
for details
One of the easiest snacks to make is Apple Cinnamon Chips — the apple chips are one of the most delicious and healthiest snacks to eat. The best part is, both the kids and grown ups love these chips. And all you need is two ingredients, the apples and cinnamon.
How do apple cinnamon chips taste?
The apple cinnamon chips are chewy and sweet, making them very addictive. I recommend that you double the recipe, or you will run out of the apple chips very quickly. To keep the chips as healthy as possible, leave the skin on.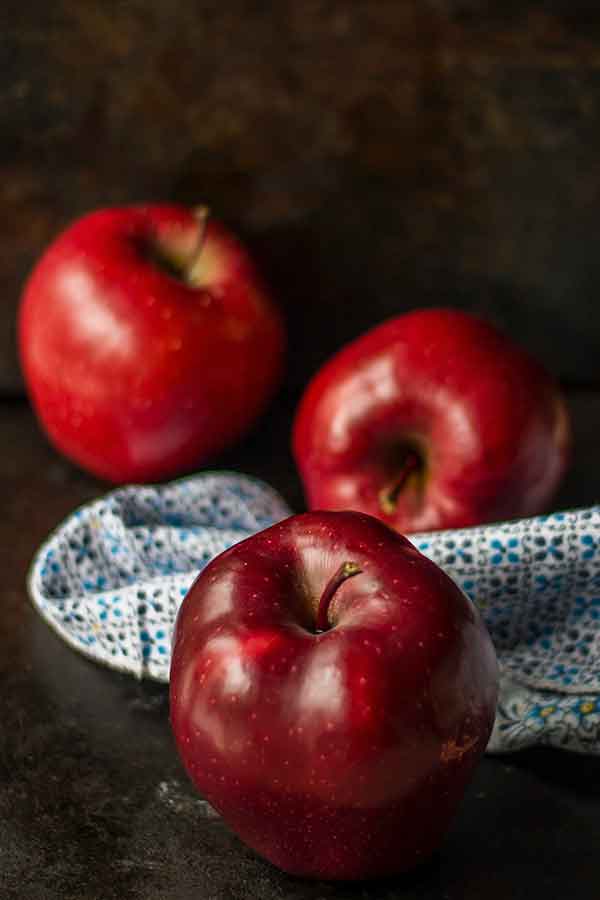 Best apple for apple chips.
What's the best apple for apple chips? For these baked cinnamon chips, it is best to use apples that hold up well in the oven. Gala or Golden Delicious work the best for this recipe.
Drying fruit is just removing the natural moisture. For this, you need only two things, the correct oven temperature and the length of baking time.
Keep the skin on the apples, here is why?
Much of the antioxidant content in apples is found in its peel, for this reason, look for organic apples. Most apples are sprayed with pesticides and possibly other chemicals, so organic apples are a healthier choice.
How to remove pesticides from apples?
If you decide to use conventional apples, briefly soaking them in a solution of 10 percent vinegar to 90 percent water will help remove pesticides and bacteria.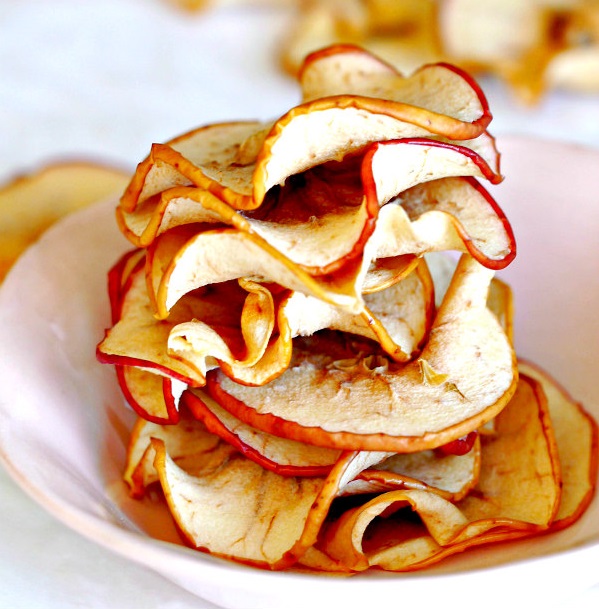 you don't have to deseed the apples
To make the apple cinnamon chips is so easy! All you need to do is slice the apples very thinly, no need to peel or deseed the apples. The seeds pop right out after they finish baking. So as you can see, it takes very little work to prepare the chips.
The apples are then slowly baked at a very low temperature, making the chips sweeter, more flavourful and perfectly chewy. To make these apple chips even tastier, I added a sprinkle of cinnamon. Enjoy!
For more snack ideas, check out these gluten-free snack recipes. One of our most popular snacking cakes for kids is the Gluten-Free Snickerdoodle Oat Snacking Cake.
Let's Connect!
Be sure to FOLLOW US on FACEBOOK and PINTEREST.
Many thanks!
Kristina xx
Apple Cinnamon Chips – Easy Recipe
Published on Feb 26, 2014
by
Kristina Stosek
Instructions
1.

2.

Slice the apples thinly, same as you would potato chips (do not peel). No need to remove the seeds, they pop out after the chips are baked. I used a mandolin

3.

Place on a baking sheet lined with parchment paper and sprinkle with cinnamon to taste

4.

Place on the middle rack in your oven and bake for 1 hour. Flip apples over, and continue baking for another half hour

5.

Turn off the heat and let the apple chips cool off in the oven, this will help them get crunchy, sometimes they are more chewy then crunchy but still delicious!