Snickerdoodle Oat Snacking Cake – Gluten Free
Published on Sep 07, 2022
by
Kristina Stosek
Prep Time:

15 minutes
Cook Time:

30 minutes
Serves:

16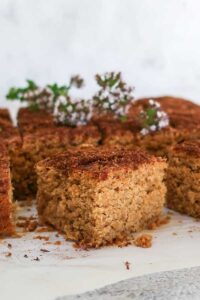 ​This post may contain affiliate links, please see our
privacy policy
for details
I'm excited to share this recipe for Snickerdoodle Oat Snacking Cake with you today. This melt in your mouth cake is not only gluten-free but is made with nutrient-packed oats, and it's topped with a sweet and crunchy cinnamon-sugar topping.
It's all about the ingredients in this Snickerdoodle Oat Snacking Cake
Today I will briefly discuss the ingredients and why I chose them for this gluten-free snickerdoodle oat snacking cake.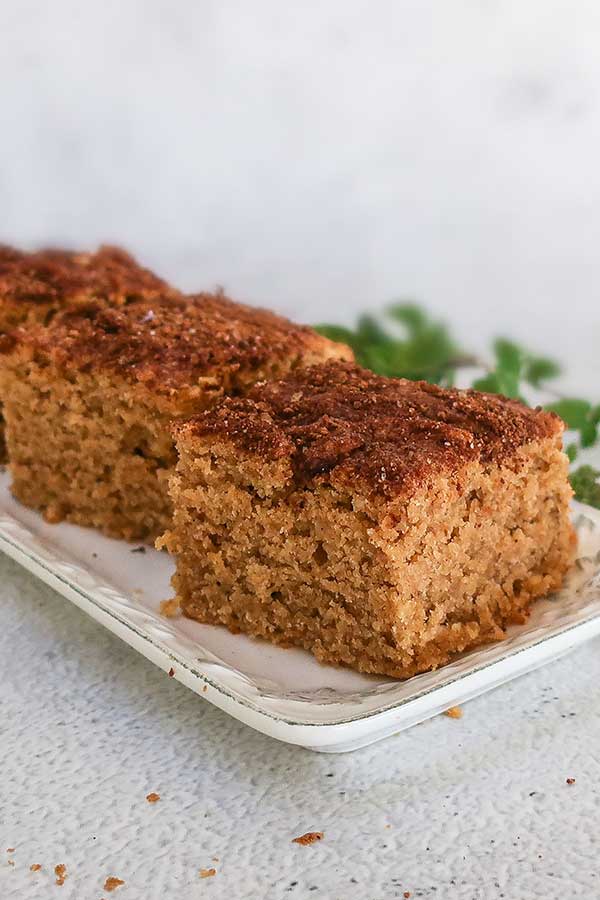 certified gluten-free oats vs gluten-free oats
There's a big difference between "certified gluten-free" oats and regular gluten-free oats. The former is grown in fields that have never had wheat, rye, or barley (the grains that contain gluten) planted in them.
They're also processed in a dedicated gluten-free facility. This means there is no chance of contamination with gluten. And the oats are tested using the R5 ELISA methodology for gluten.
You should only eat certified gluten-free oats if you have celiac disease or non-celiac gluten sensitivity.
Is cinnamon healthy?
There's no denying that cinnamon has some pretty impressive health benefits. But is it healthy? Let's take a closer look at this popular spice.
Cinnamon is loaded with antioxidants, which can help protect your body against damage from free radicals. Free radicals are harmful molecules that can contribute to developing chronic diseases like cancer.
In addition to its antioxidant content, cinnamon also has anti-inflammatory properties. This means it can help reduce inflammation throughout the body, which benefits conditions like arthritis and asthma.
Cinnamon also has blood sugar-lowering effects and can help improve insulin sensitivity. This is good news for people with diabetes or at risk of developing the condition.
So, is cinnamon healthy? Yes, it certainly seems to be! Adding cinnamon to your diet like in this snickerdoodle oat snack, is a great way to boost your intake of this health-promoting spice.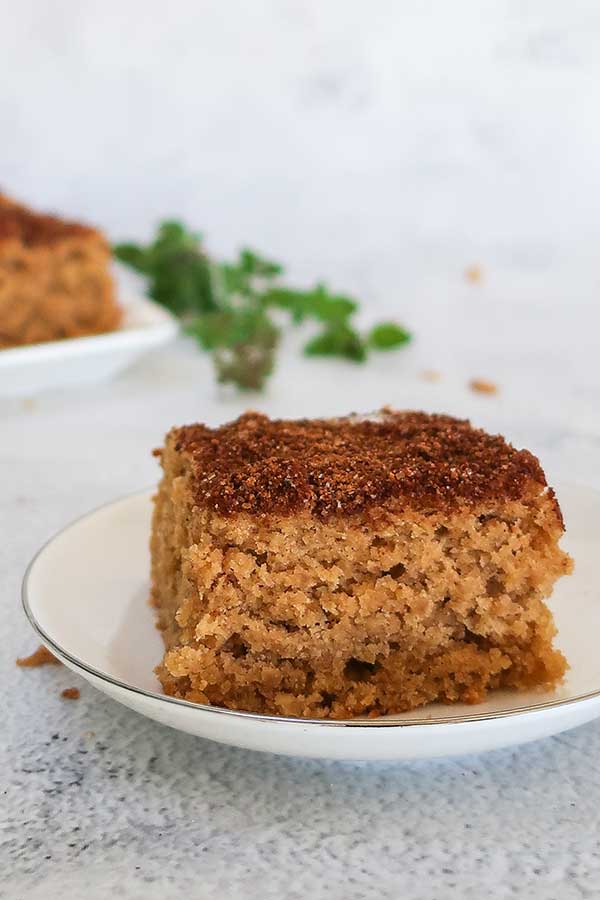 Is butter healthy?
We all know that butter is delicious. But did you know that it's also good for you? Here are three reasons why you should include butter in your diet:
1. Butter is a source of healthy fats.
2. Butter is rich in vitamins and minerals like bone-building calcium
3. Butter can help you lower your chances of obesity
Yes, you read that last point correctly! Including butter in your diet can help you lose weight. That's because the healthy fats in butter help to keep you full and satisfied after eating.
Grass-fed butter vs regular butter
Grass-fed organic butter is a great source of Vitamin A, and it contains more heart-healthy omega-3 fatty acids than regular butter.
What is a cream of tartar?
Cream of tartar is a white powder used as a leavening agent in baking. It is also known as potassium bitartrate or potassium hydrogen tartrate. When combined with baking soda, it helps to create gluten-free baked goods that are light and fluffy.
coconut sugar vs refined sugar
There are many types of sugar, and it can be hard to know which one to use for what. But when it comes to baking, it's important to choose the right type of sugar, so your final product turns out just the way you want it.
So, what's the difference between coconut sugar and refined sugar?
Coconut sugar is made from the sap of coconuts and has a lower glycemic index than refined sugar. This means that it won't cause spikes in your blood sugar levels, making it a good choice for people watching their blood sugar levels.
Coconut sugar also has a slight caramel flavor that can add depth to your baked goods. It also has traces of minerals.
Refined sugar is made from cane or beet sugar and has a higher glycemic index than coconut sugar. This means that it will cause spikes in your blood sugar levels, so it's not the best choice for people watching their blood sugar levels.
However, refined sugar is sweeter that can be good for certain baked goods such as the Gluten-Free Baked Jelly Donuts
So which sugar should you use for this snack? We would recommend using coconut sugar, especially for kids.
What is blond coconut sugar?
Blonde coconut sugar is as healthy as coconut sugar. The one difference you will notice is the color. This is because blonde coconut sugar doesn't require high heat, so it produces less caramelization.
Dark coconut sugar usually has a strong caramel taste and is a good substitute for maple syrup. Meanwhile, a blonde colour will keep the baked goods lighter tasting and lighter colored. Therefore, it is an ideal substitute for honey or agave.
Why are eggs important in a gluten-free snacking cake?
Eggs are often used as a binder in gluten-free baking recipes, helping to hold everything together. In this recipe, they also add moisture and help create a light and fluffy texture in the cake.
add-ins to gluten-free snickerdoodle oat snacking cake
This snickerdoodle cake is a good base for a gluten-free snacking cake. Therefore, you can personalize it with your favorite add-ins.
There are a few things you can add. Some of our favorites are chopped apples, nuts, seeds, raisins, shredded coconut, and even some chocolate chips. You will need about one cup.
If you are not that into cinnamon, you can change it for vanilla sugar.
gluten-free snickerdoodle oat snacking cake recipe – 4 easy steps
Prepare the oats by using a food processor. Then add most of the dry ingredients and pulse to combine.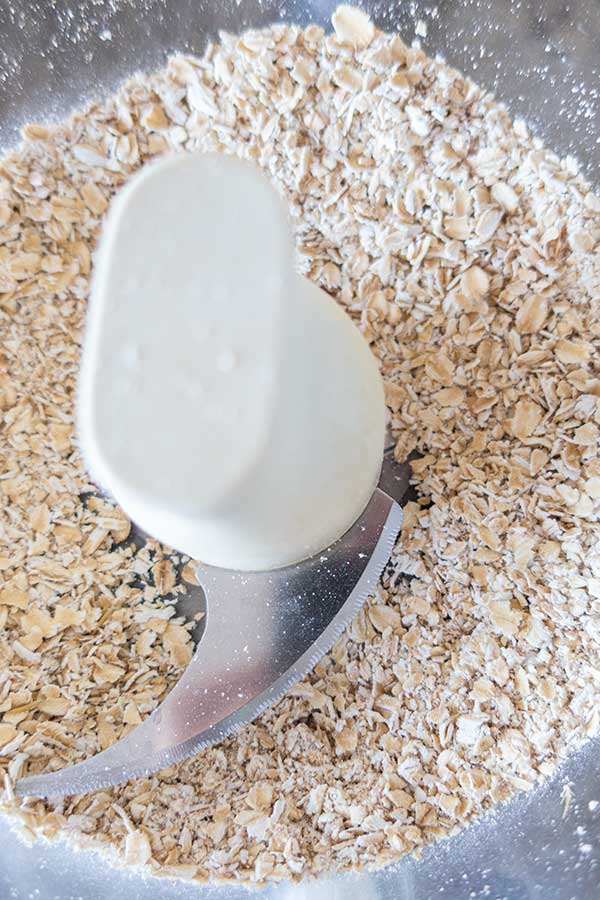 Cream the butter with sugar, and continue adding the wet ingredients alternating with dry ingredients. This all happens in the same bowl.
Spread the batter in the pan and sprinkle with cinnamon sugar.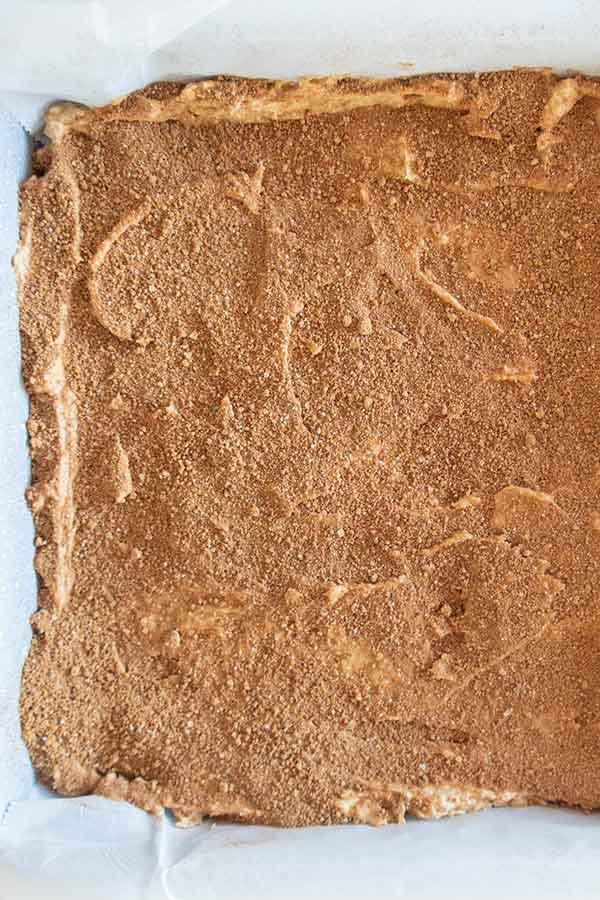 Bake. Nothing to it!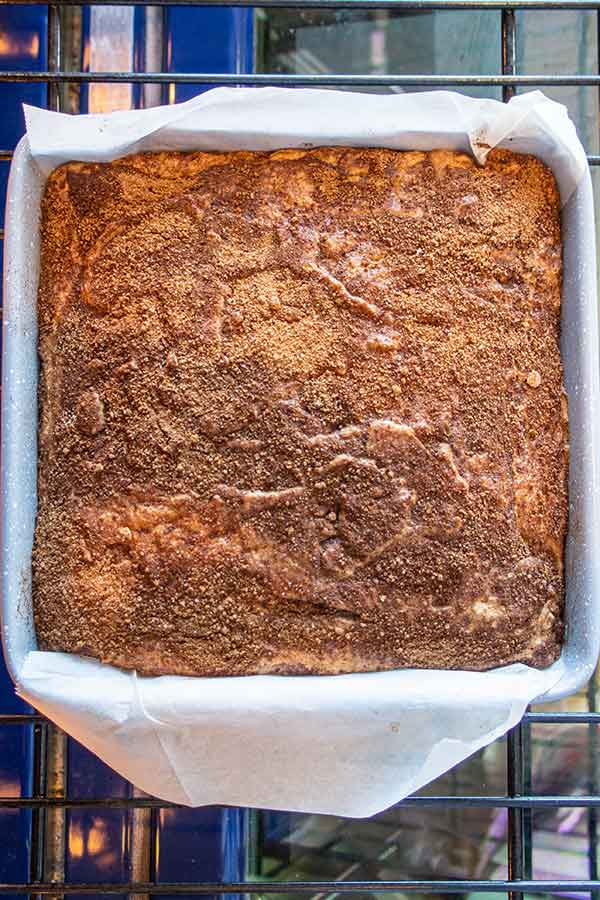 Snickerdoodle Oat Snacking Cake Baker's notes:
— All wet ingredients must be at room temperature
— If you don't have the cream of tartar, you can substitute it with equal amounts of baking powder
— Like to add extra healthiness, add 3/4 cup chopped nuts or seeds, raisins or chopped dates
— Don't have blond coconut sugar, substitute it with light brown sugar or granulated sugar
— Can't have eggs? No problem, use flax eggs or gluten-free egg replacer
storing
This gluten-free cake is best stored in an airtight container at room temperature. If you keep it in the refrigerator, bring it to room temperature before serving.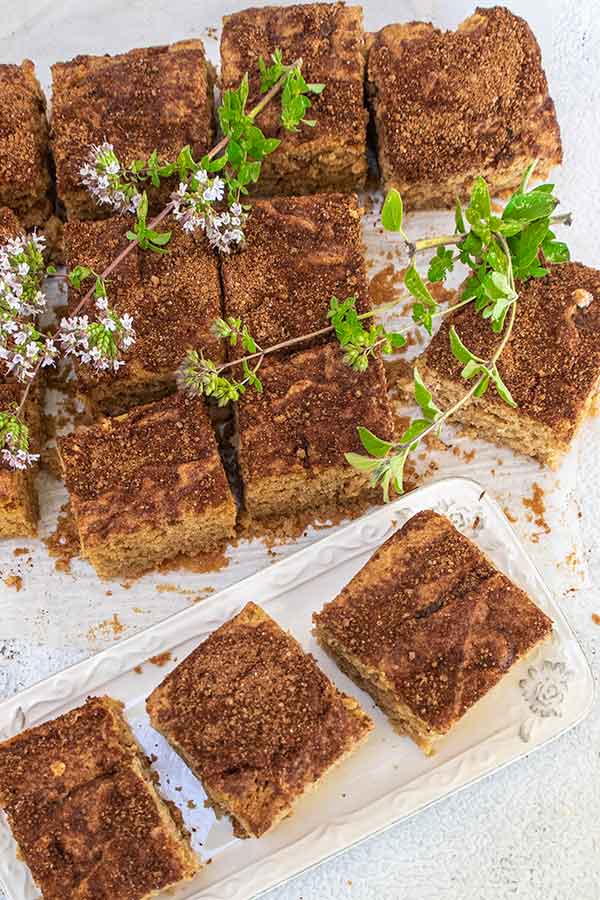 It is not often I will say this. But I would really like you to try this snacking cake recipe. Our test kitchen, family and friends have tested it many times. And each time, everyone raves about the cake. I hope you give this Snickerdoodle Oat Snacking Cake a try it. Enjoy!
Let's Connect!
Be sure to FOLLOW US on FACEBOOK and PINTEREST.
Many thanks!
Kristina xx
Snickerdoodle Oat Snacking Cake – Gluten Free
Published on Sep 07, 2022
by
Kristina Stosek
Instructions
1.

Preheat the oven to 350 F and line a greased 8-inch square baking pan with parchment paper. You can also use a 9-inch square pan and reduce baking time by about 4 minutes

2.

Place rolled oats into a food processor bowl and pulse until oats are about half the size. About 15 seconds. Add flour, cream of tartar, baking soda, 1/2 teaspoon cinnamon and salt and pulse to combine. Set aside

3.

In the bowl of a stand mixer fitted with the paddle attachment, cream the butter with 3/4 cup coconut sugar on medium-high speed until creamy. Scraping sides of the bowl as needed. About 4 minutes.

4.

Add the eggs and vanilla and beat to combine. Add confectioner's sugar and beat until smooth. Scraping sides of the bowl as needed. Add sour cream, and using a spatula, mix to combine. 

5.

Add the dry ingredients, and using a spatula, mix to combine

6.

Transfer the batter to the prepared pan and, using a spatula, spread to an even layer.

7.

For the topping, combine the sugar with cinnamon and evenly sprinkle over the top

8.

Bake for 30 minutes, and a toothpick inserted in the middle comes out cean. Allow cooling in the pan before slicing
Leave a Comment
Kristina
thank you Essbee for sharing, K xx
I subbed light butter and Swerve instead of sugar and it came out excellent. Will be saving this recipe!