Gluten-Free Baked Jelly Donuts Recipe
Published on May 29, 2022
by
Kristina Stosek
Prep Time:

20 minutes
Cook Time:

15 minutes
Serves:

9 - 12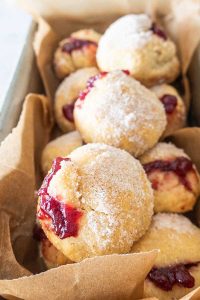 ​This post may contain affiliate links, please see our
privacy policy
for details
This gluten-free baked jelly donut recipe is easy enough for anyone to make! Pillowy soft, filled with your favourite jelly or jam, and irresistibly yummy! The donuts are coated in lightly scented with cinnamon sugar for added deliciousness.
The yeasted dough is easy to work with, and the donuts are baked in a muffin pan. There is nothing complicated about this recipe. Even a novice baker can make these gluten-free jelly donuts.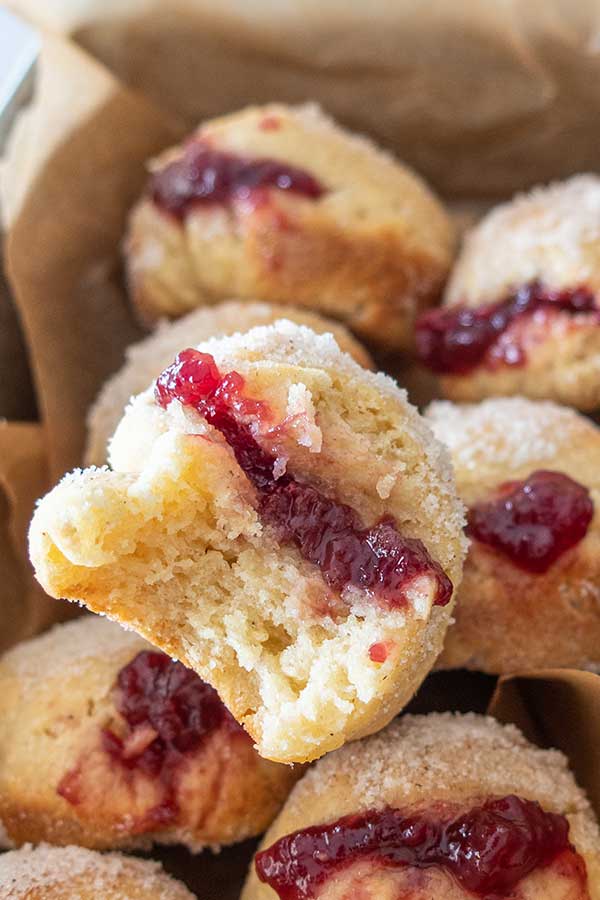 Today I will show you step by step how to make these baked jelly donuts. The best part is children LOVE LOVE these donuts.
If you miss jelly donuts because you can't have gluten, you don't have to wait any longer. I have received many requests for a gluten-free jelly donut recipe, and here it is. If you like savoury donuts, try our very best Low-Carb Grain-Free Ham and Cheese Donuts.
I wanted to keep these gluten-free donuts healthier, so I baked them. I know you will enjoy these jelly donuts even though they are baked.
Why are baked donuts much healthier?
During the donut frying process, a lot of oil is absorbed into the donut. After frying, the oil makes up approximately 22% of the donut.
As per Healthline, Generally speaking, eating more fried foods is associated with a greater risk of developing type 2 diabetes, heart disease and obesity.
Step-by-step instructions on how to make
these insanely good gluten-free jelly donuts!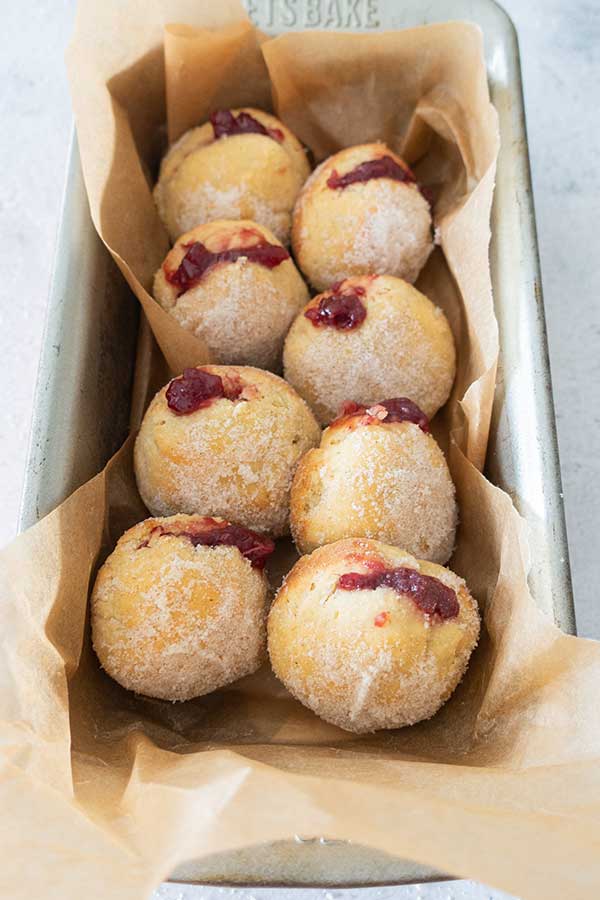 Prepare the yeast dough. I used instant rapid-rise yeast for this donut recipe. This means you can mix it right into the dry ingredients. No need to proof it first. One less step.
Tip – when you mix the dry ingredients with the wet, start by adding only half the dry and mix well with the wet mixture. Then add the remaining dry ingredients and mix to combine.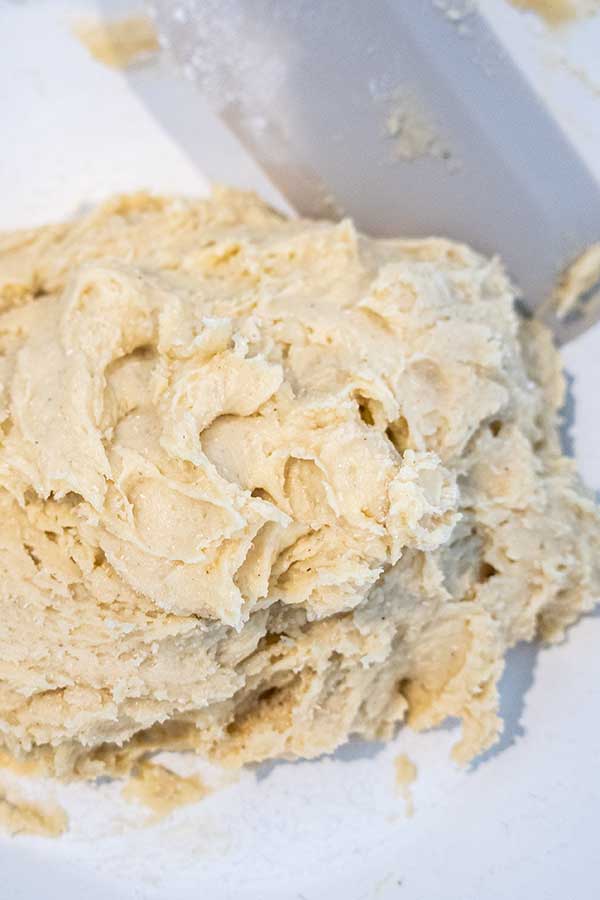 Rest the dough in the fridge for 30 minutes, then roll into a log and cut into 12 even pieces. If you want larger donuts, cut the dough into 9 pieces.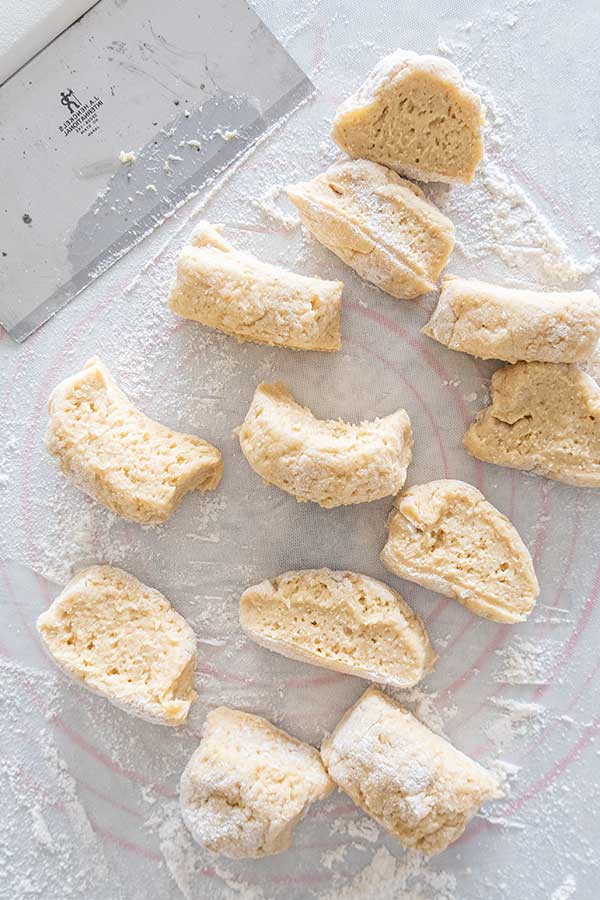 Shape each piece into a ball and place it in a lightly oiled muffin pan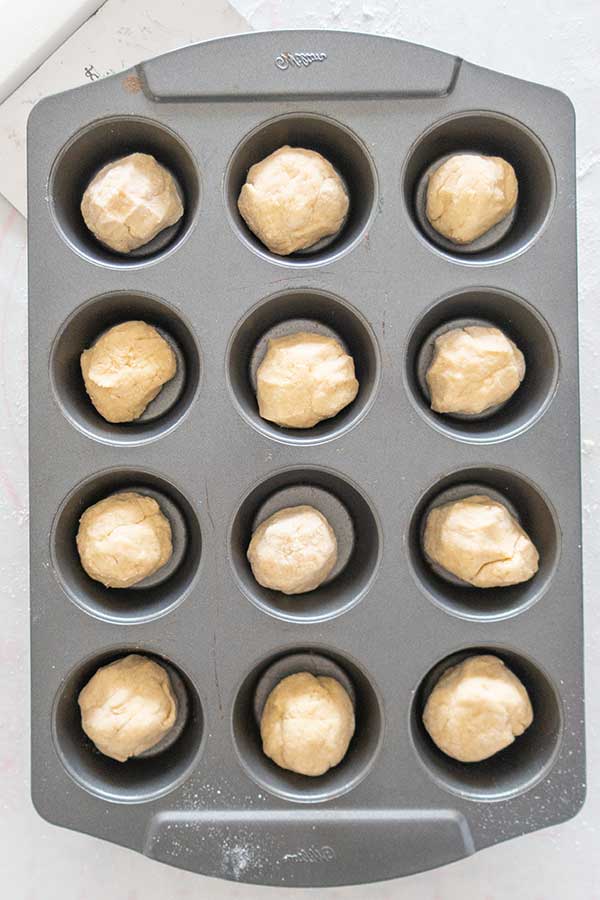 Loosely cover with plastic wrap and proof in a warm oven (80 F) for 90 minutes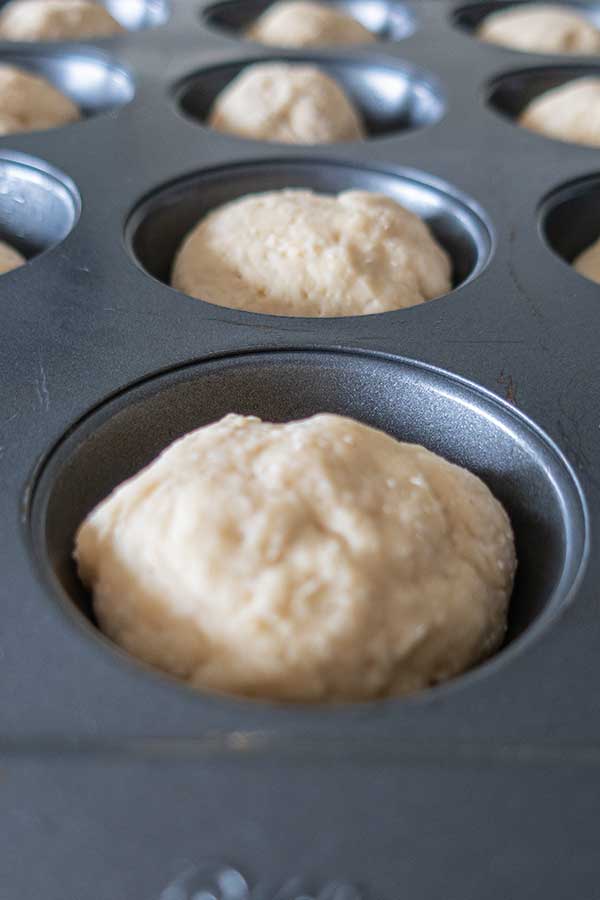 Bake for 15 minutes or 18 minutes for the larger donuts. They should be golden. Then immediately brush them with butter and roll them in cinnamon sugar. The donuts should be hot when you roll them in sugar, this will help the sugar adhere to the donuts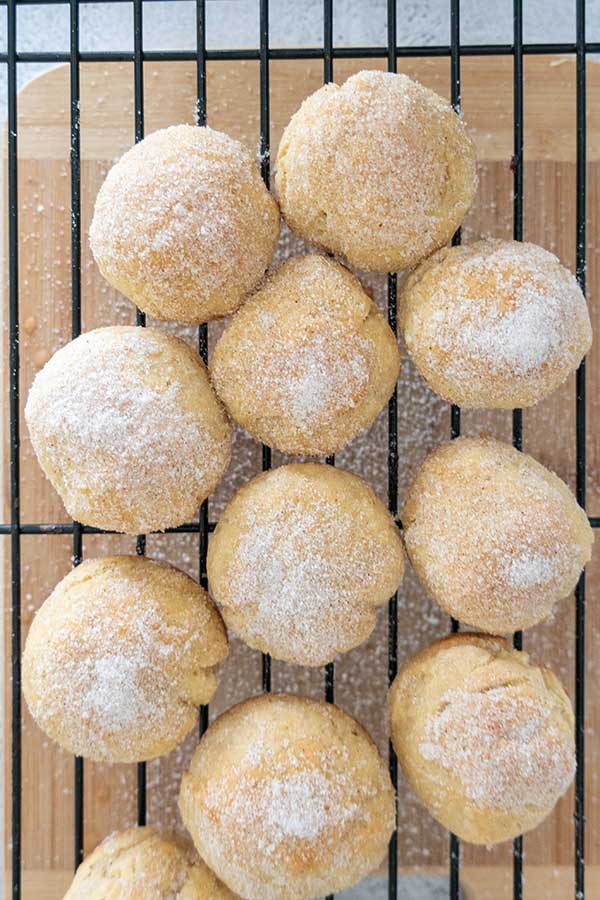 Fill the donuts; use a long thin knife make a hole in the side of each donut, then fill a pastry piping bag with a Bismarck piping tip with your favourite jelly or jam and fill the donuts. If you don't have the long Bismarck tip, you can use a round piping nozzle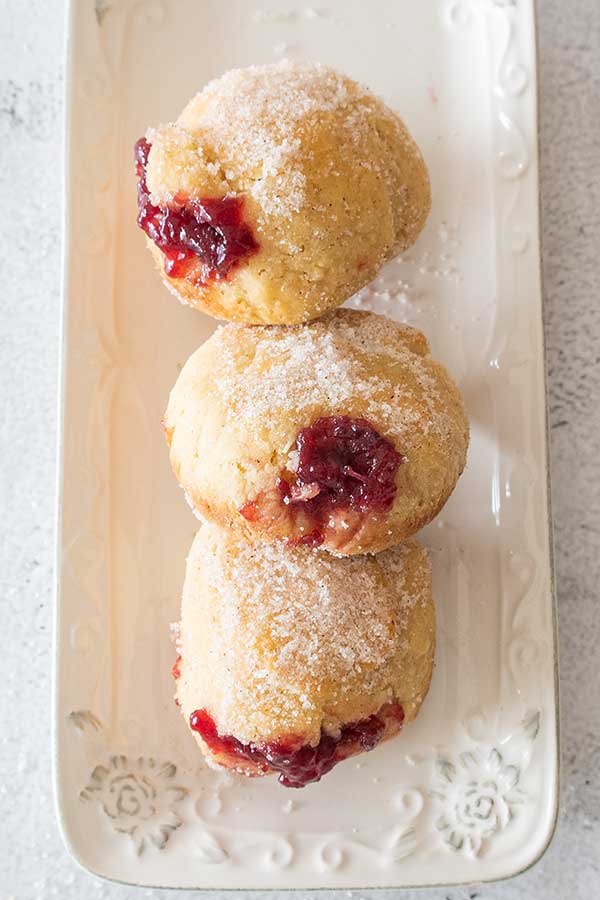 How much jelly do you use to fill donuts?
I like my donuts to have a lot of filling. However, the rule of thumb is to fill the donuts until the jelly starts coming out of the hole.
To cut back on sugar, I used sugar-free, gluten-free strawberry jam. Feel free to use your favourite jam or jelly as long as it doesn't have chunks of fruit.
Ways to shape baked donuts
I always like to do things the easiest way possible. So I cut the dough into 12 equal pieces and rolled each into a ball.
If you want the donuts to look perfect, roll the dough out to about 1-inch thickness and using a round cookie cutter 2 or 3-inch diameter cut them out. Re-rolling leftover scraps of dough until the dough is used up.
Why didn't my donuts rise?
One reason, the yeast is old. Check the date on the package to be sure the yeast is good. And always store the yeast in the fridge to keep it fresh.
The gluten-free dough needs a warm, draft-free environment to proof (rise). I always use my oven at 80 F, so lukewarm. I preheat the oven, turn it off, and place the dough loosely covered with plastic inside to rise.
How long will gluten-free baked jelly donuts stay fresh-tasting?
As will most gluten-free baked goods, they are the freshest immediately after baking. So I typically make them for Sunday brunch or special occasions like kid's Birthdays.
If you have leftovers, I like to pop them in a microwave for about 20 seconds to give them that soft pillowy texture. However, I recommend eating them the same day.
Storing?
You should store the gluten-free donuts in an airtight container at room temperature.
Substitutions
Tapioca Starch – you can use arrowroot starch, corn starch or potato starch. (Not potato flour)
Egg yolks – the yolks add moisture and keep the crumb tender. For 2 egg yolks, use 1 tablespoon of cooking oil and 1 tablespoon of water
Milk – you can use a dairy-free version
Butter – you can use vegan butter
Sugar – I used granulated sugar to coat the donuts. You can also use powdered sugar or coconut sugar
A quick reminder, when measuring flours and starches, do not dip the measuring cup into the flour; instead, use a spoon, scoop the flour into the measuring cup and level off with a knife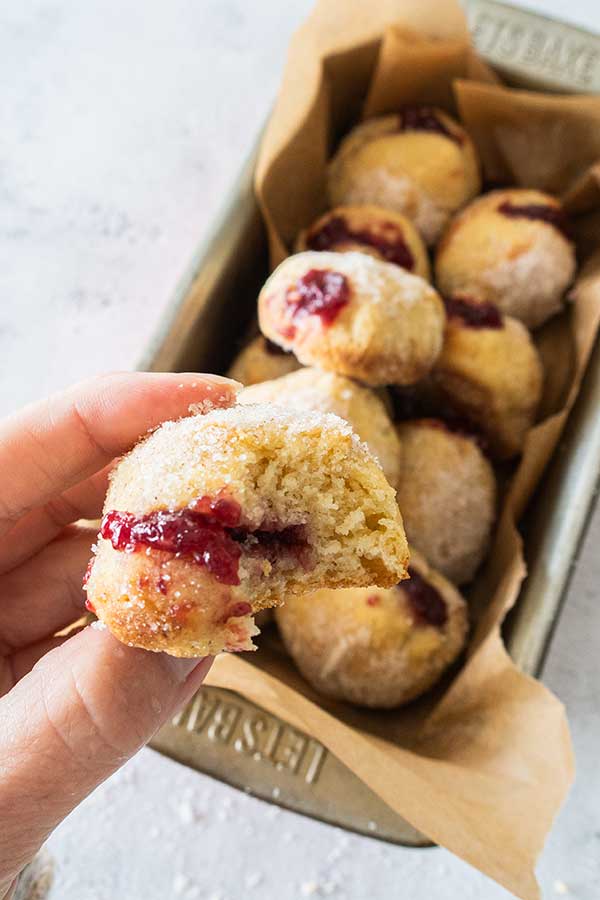 And there you have it. Gluten-free baked jelly donuts are a lot of fun to make. They are a fun project to do with children. Quick hint, their favourite part is filling the donuts!
Gluten-Free Baked Jelly Donuts Recipe
Published on May 29, 2022
by
Kristina Stosek
Instructions
1.

Lightly spray or brush a muffin pan with cooking oil

2.

Whisk together flour, tapioca starch, sugar, yeast, baking powder, salt and xanthan gum

3.

In a large bowl, whisk together milk, butter, egg yolks and vanilla

4.

Add half the dry ingredients to the wet mixture and whisk to combine. Add remaining dry ingredients and mix to combine. The dough will be soft and sticky. Cover the bowl with plastic wrap and set aside to rest in the fridge for 30 minutes. It will allow the gluten-free flour and starch time to absorb the moisture in the dough), which will make the dough less sticky and the butter firm up.

5.

Turn dough out onto a lightly floured working surface and form a log about 10 inches long. Cut the log into 12 pieces and roll each piece into a ball using flour if needed, so the dough doesn't stick to your hands

6.

Place the balls into the muffin pan and loosely cover with plastic wrap. Let rise (proof) for 90 minutes in a warm place. I do this in a warm (80 F) oven

7.

Bake in a preheated oven at 375 for 15 minutes until lightly golden on top.

8.

Right out of the oven, brush the donuts with melted butter and roll them in cinnamon sugar. Transfer donuts onto a cooling rack and cool for 10 minutes

9.

Fill the donuts by cutting a slit with a sharp thin knife in the side of each donut, about 2/3 deep and pipe jam with a pastry piping bag and preferably using a Bismarck tip (longer tip) inside each donut. Enjoy!
Leave a Comment
Kristina
Julie, any GF flour blend without bean flour in the blend will work. I used this flour and it worked like a dream
Looks so good! Question: which GF flour blend do you think works best for these baked donuts?
As soon as this baked jelly donut recipe came out I had to make them. My 7 year old daughter helped me and we both had so much fun together. The donuts, considering that they are baked are fabulous. Thank U!!!