Gluten-Free Strawberry Tiramisu
Published on Feb 10, 2021
by
Kristina Stosek
Prep Time:

20 minutes
Cook Time:

minutes
Serves:

6 - 8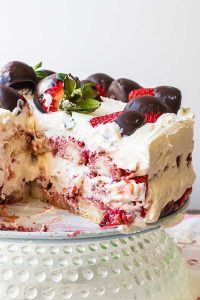 ​This post may contain affiliate links, please see our
privacy policy
for details
This gluten-free strawberry tiramisu is all about fresh strawberries, gluten-free ladyfingers and a light and creamy mascarpone cheese. The stunning no-bake dessert is without added eggs and can be made with or without alcohol.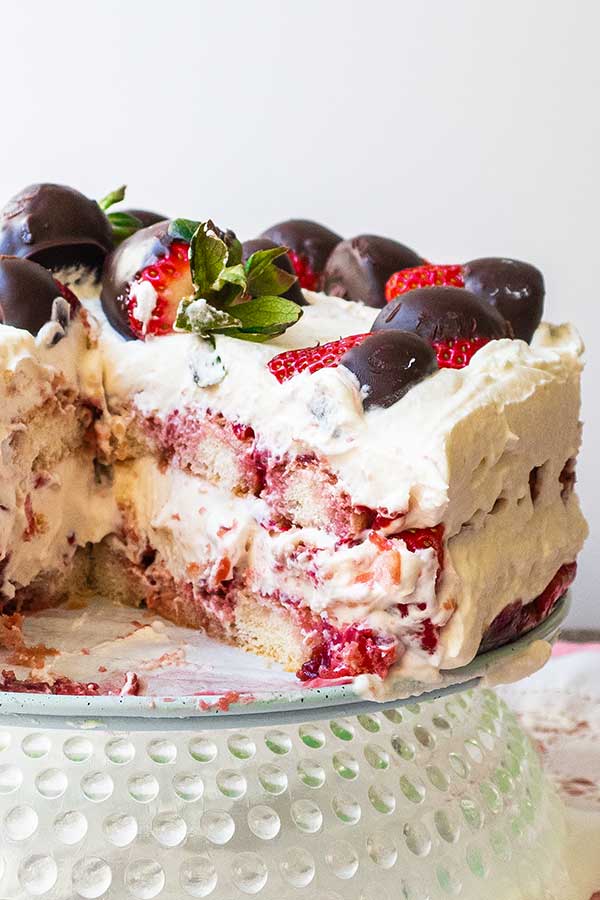 For a special occasion like Valentines, Birthdays, Thanksgiving or Anniversaries, nothing beats an impressive dessert such as this strawberry tiramisu.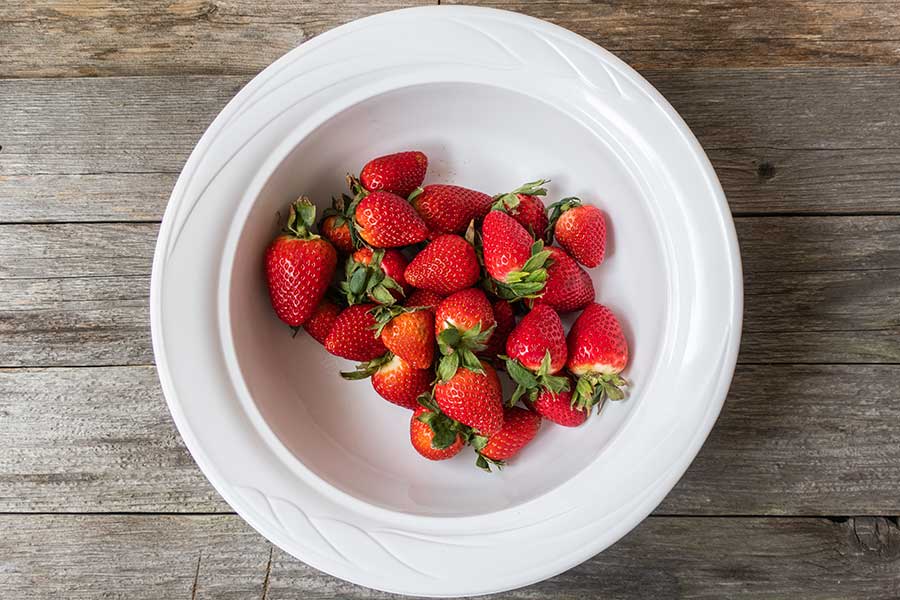 Strawberry tiramisu puts a twist on the classic tiramisu dessert. This gluten-free dessert is made with layers of ladyfingers soaked with richly flavoured strawberries and light creamy mascarpone cheese.
For the topping, I went an extra step and made strawberries dipped in chocolate ganache sauce.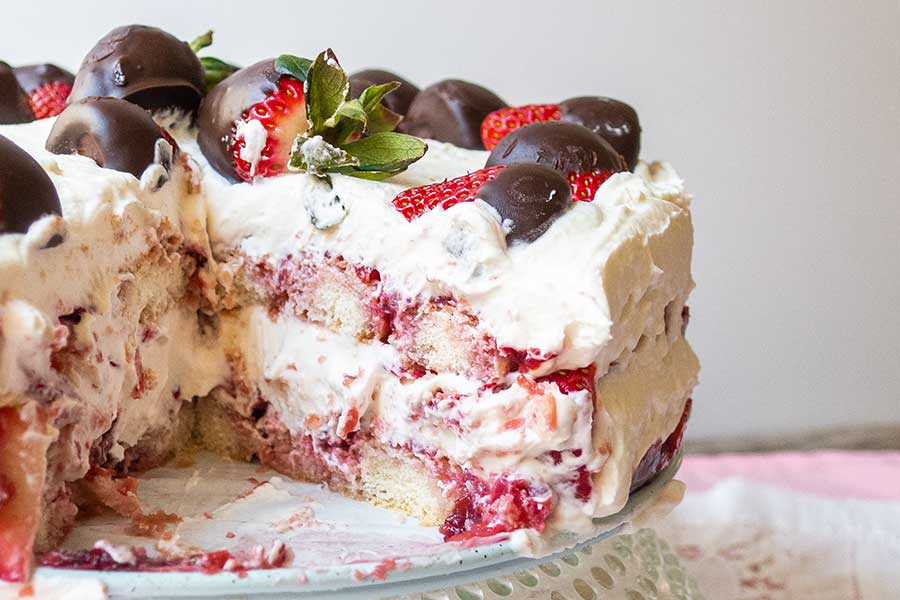 this gluten-free strawberry tiramisu recipe is super easy!
I promise you that anyone can make this dessert. This Italian inspired dessert is all about mixing and layering. There is nothing to it, and you will get exceptional results every time.
To keep this gluten-free dessert simple, you can buy gluten-free ladyfingers. If you have time, I recommend making them from scratch. Please see the gluten-free ladyfingers recipe below.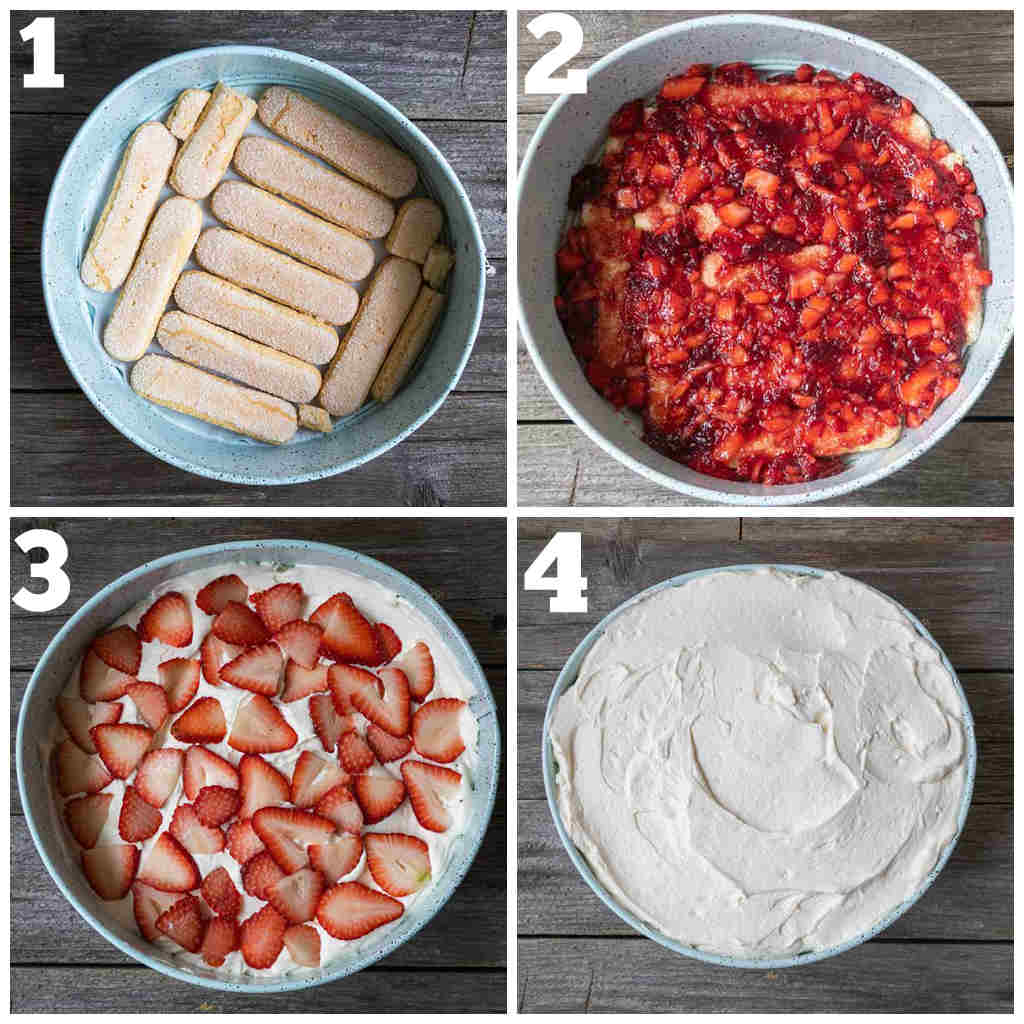 the recipe details
First, half of the strawberries are chopped and mixed with strawberry preserve and alcohol. If you want to skip the alcohol, you can replace it with orange juice. For extra special occasions like Valentine's, I like to add Rum or Cointreau for an exotic flavour. Be sure to buy the gluten-free version.
make the cream layer
The mascarpone cheese mixture is made super simple without added eggs. The classic tiramisu recipe has egg yolks, which have to be cooked before adding them to the mascarpone cheese. In this recipe, I skipped the eggs keeping the mascarpone layer light. I did add a couple of tablespoons of alcohol, but you can replace it with additional 1/2 a teaspoon of pure vanilla extract.
Once the strawberry mixture and the mascarpone cream is ready, all you have to do is start layering.
Somewhere in between, I added some more fresh strawberries, giving this gluten-free tiramisu fresh strawberry flavour – this dessert is sooo good!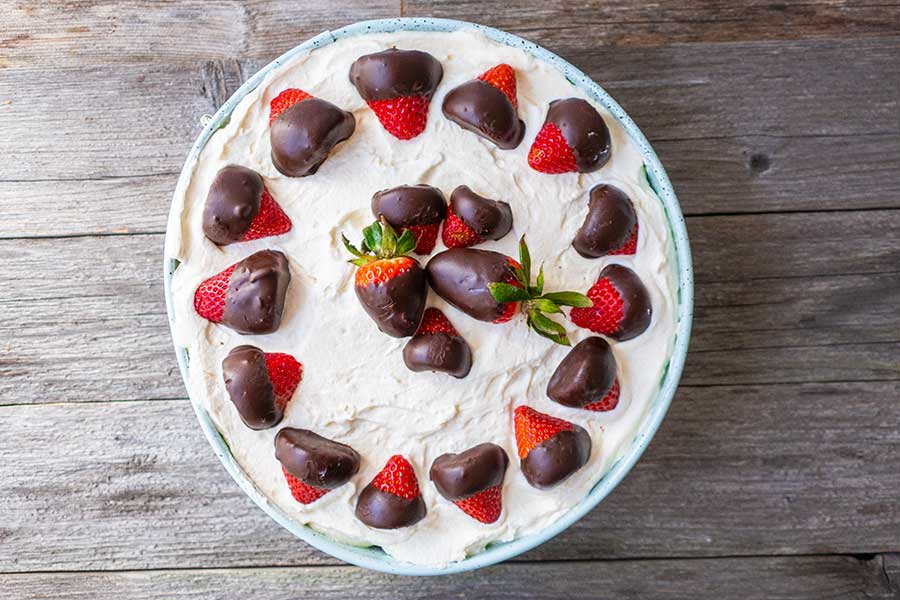 topping for gluten free strawberry tiramisu
There are a couple of options here. The simplest option is sliced strawberries. However, if you want to impress someone, top this heavenly gluten-free tiramisu cake with chocolate ganache strawberries. YUM.

make the strawberries with ganache
For the chocolate ganache dipped strawberries, I know it is an extra step…but well worth it. The chocolate ganache sauce takes about 4 minutes to make.
The thing to remember when making strawberries dipped in chocolate is, the strawberries must be dry. If they are wet, the chocolate sauce doesn't stick to the strawberries very well.
Whether you are celebrating Valentine's or another special occasion, I promise you will not be disappointed with this gluten-free strawberry tiramisu dessert. Enjoy!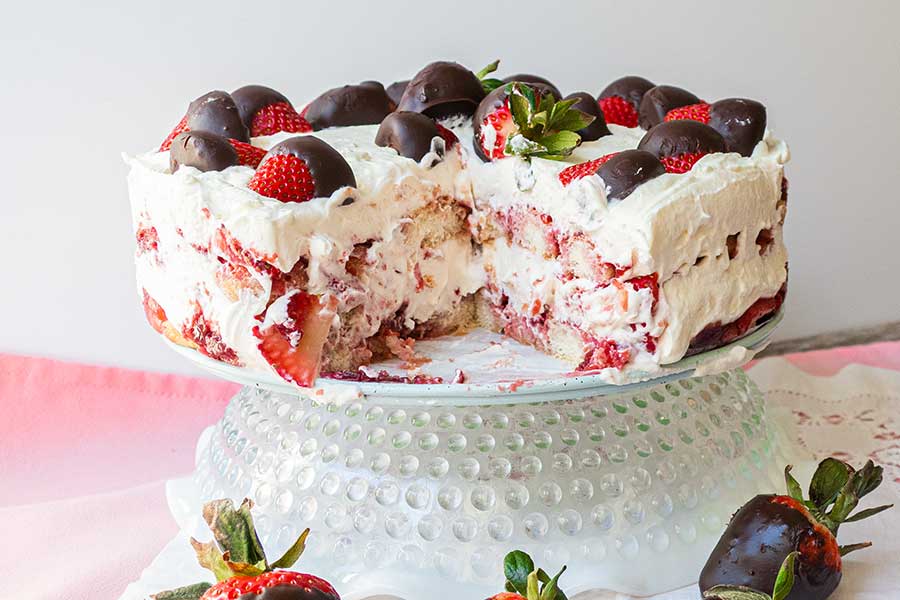 gluten-free ladyfingers recipe
½ cup almond flour
¼ cup brown or white rice flour
¼ cup arrowroot starch
1 tsp. GF aluminum-free baking powder
¼ tsp. sea salt
4 large eggs whites, at room temperature
3 large egg yolks
1/3 cup fine coconut sugar
1 tsp. pure vanilla extract
Preheat oven to 350 F
Sift together almond flour, rice flour, baking powder, tapioca starch and salt
Add one tablespoon of sugar in the egg whites and beat until stiff peaks form
Add the balance of sugar and vanilla into egg yolks and beat until creamy
Gently fold egg whites in the egg yolks, and then fold in the dry ingredients
Transfer the batter into a pastry bag, or a plastic ziploc with the end snipped off.
Pipe the batter on a greased cookie sheet or cookie sheet lined with parchment paper in the form of ladyfingers. But don't worry too much about the shape. They are used as a layer.
Bake for 8 minutes, then cool for 5 minutes before transferring on a cooling rack to fully cool
Let's Connect!
For the latest recipes and tips, please like us on Facebook or follow us on Pinterest
Gluten-Free Strawberry Tiramisu
Published on Feb 10, 2021
by
Kristina Stosek
Instructions
1.

Hull and chop half the strawberries. Add strawberry preserves and 1/3 cup rum. Mix to combine

2.

Place mascarpone cheese, 2 tablespoons of rum, sugar and vanilla in a large bowl; stir to combine (if you are not using alcohol add extra 1/2 teaspoon of vanilla

3.

Using an electric mixer, beat cream until soft peaks form. Gently fold whipped cream 1/3 at a time into mascarpone mixture until blended

4.

Arrange 12 ladyfingers over the bottom of a 9-inch springform pan. Spoon 1/2 strawberry mixture over ladyfingers, then spread half the mascarpone mixture over

5.

Hull and thinly slice half of the remaining strawberries and layer them over the mascarpone mixture. Arrange remaining ladyfingers over the strawberries, remaining strawberry mixture and mascarpone mixture. Cover with plastic wrap and chill at least 8 hours or overnight

6.

For the topping, you have two choices. You can finish with sliced strawberries or with halved chocolate ganache strawberries. Top the tiramisu after it has chilled

7.

CHOCOLATE GANACHE STRAWBERRIES

8.

Place whipping cream and chocolate chips into a double boiler filled with boiling water and stir until the chocolate has melted and is smooth

9.

Hull and halve remaining strawberries. Dry them with a paper towel and dip each strawberry into the chocolate ganache. Place the strawberries on a baking sheet lined with parchment paper and chill for 20 minutes. 

10.

Top tiramisu with chocolate ganache strawberries
Leave a Comment
Kristina
thank you Renata, glad your family enjoyed it.
My family LOVED this strawberry tiramisu dessert. And so easy to make, thank you!
Kristina
I am so happy you enjoyed it Lorna, thank you for sharing
omg, this tiramisu with strawberries is the BEST. And since I can't have eggs even better, thank you!