Gluten-Free Strawberry Shortcakes
Prep Time
10 Minutes
Difficulty
Easy
Cook Time
12 Minutes
Serves
4
Be the first to rate this recipe.
Buttery, flaky and perfect Gluten-Free Strawberry Shortcakes – filled with juicy sweet strawberries and a lightly flavoured whipped cream, these classic gluten-free strawberry shortcakes are a perfect summertime treat!
What I love about these shortcakes they are simple to make, using pantry staples and every bite is filled with whipped cream and juicy strawberries 🙂 Another recipe you may enjoy is the Gluten-Free Berry Shortcake.
Which strawberries are best for shortcake recipes?
For the berries, it is important to use sweet ripe strawberries, because these buttery shortcakes are all about fresh, sweet and delicious strawberries. First, the strawberries need to soften a bit.
To do this, toss them in a touch of sugar. The berries will release some of their juices and soften to perfection. It only takes about fifteen minutes or so. This is why I start with the strawberries.
How to choose the right strawberry?
To be sweet and ripe, a strawberry does not have to be a deep red colour. The strawberry should be firm, but you should be able to squeeze them. And ripe strawberries smell so good, kind of a sweet smell of a strawberry.
Should you buy organic strawberries?
If your budget allows it, always buy organic strawberries. Unfortunately, strawberies are on the dirty dozen list. When tested by The Environmental Working Group (EWG), more than 90 percent of samples tested were positive for residues of two or more pesticides.
 the gluten-free shortcake recipe
Finding delicious gluten-free strawberry shortcakes in your local supermarket is very hard. This shortcake recipe is made with only eight ingredients, including a gluten-free all-purpose flour blend. 
For the shortcake, to keep it flaky and buttery, I used a mixture of butter and half-and-half. The butter must be ice cold, so I freeze the butter for fifteen minutes before using it.
Before I even start the recipe, the butter goes in the freezer. The ice cold butter creates flaky layers and pockets throughout the shortcake. The ice cold butter is the secret to perfect gluten-free shortcakes.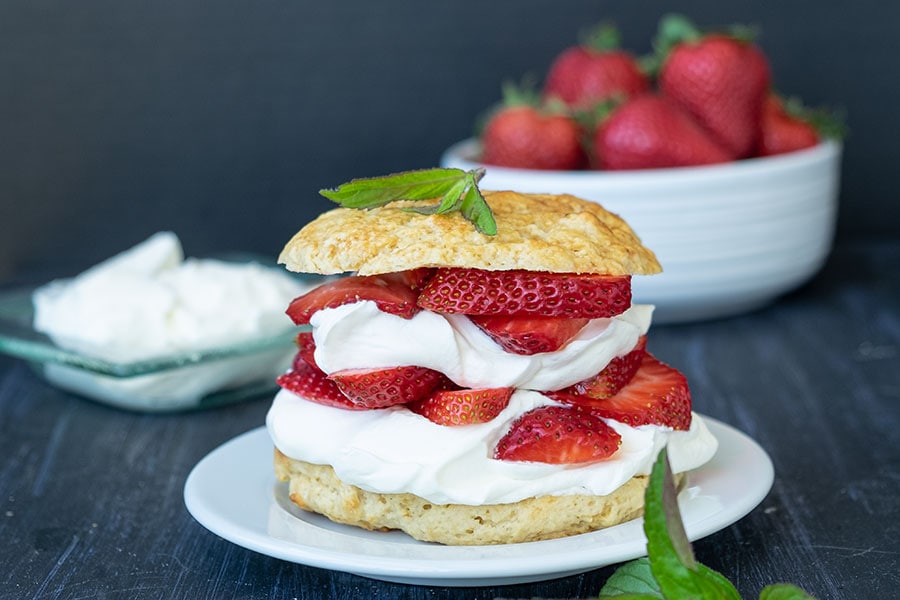 whipped cream with flavour makes the difference
Now comes my favourite ingredient, the whipped cream. I know, indulgent, but so well worth it! Whipped cream tastes fantastic even without sweeteners or flavours.
However, I wanted to make these gluten-free strawberry shortcakes extra flavourful, so I added a touch of coconut sugar, a hint of vanilla and some lemon zest.
It's the perfect whipped cream to add to the shortcake, especially the lemon zest, because it adds extra flavour. Although I used coconut sugar, you can change it for pure maple syrup or honey.
So there it is, buttery, flaky gluten-free strawberry shortcakes, filled with juicy strawberries and the best whipped cream. In my house, I always serve the shortcakes slightly warm, making every bite unforgettable.
If you like strawberry shortcakes you will love the Skillet Strawberry Cobbler with Cinnamon Cream Cheese Biscuits!
Ingredients
FOR THE STRAWBERRIES
1 lb. sliced strawberries
2 Tbsp. Coconut sugar
FOR THE SHORTCAKES
2 Tbsp. Coconut sugar plus some for sprinkling
2 1/2 tsp. GF aluminum-free baking powder
1/4 tsp. Baking soda
1/8 tsp. Sea salt
1/4 cup (1/2 stick) ice cold salted butter, cut into small cubes and place in the freezer for 15 minutes before using
2/3 cup half-and-half plus some for brushing
1 large egg, whisked
FOR THE WHIPPED CREAM
1 1/2 cups whipping cream, chilled
1 Tbsp. Coconut sugar
1/2 tsp. Pure vanilla extract
1 tsp. Freshly grated lemon zest
*As an Amazon Associate and member of other affiliate programs, I earn from qualifying purchases. Please check out my sponsorship and disclosure policy page for more details
Instructions
Mix strawberries with 2 tablespoons of sugar and let the berries sit for 15 - 20 minutes to release some of its juices. Chill until ready to use
Preheat oven to 425 F and line a baking tray with parchment paper
In a food processor, pulse the flour, coconut sugar, baking powder, baking soda, and salt until incorporated, about 4 pulses. Add the butter and pulse until incorporated with lots of pea-size pieces, 10 to 12 pulses. Do not overprocess
Transfer the mixture to a bowl and stir in the half-and-half and egg until just incorporated. Adding more half-and-half a bit at a time if needed. The dough should be slightly sticky
Using a large spoon or a cookie scoop, place the dough on the baking tray in 4 even mounds. Brush the tops with cream and using your hands lightly flatten each to about 3-inch in diameter. Sprinkle with coconut sugar and bake for 12 minutes until the tops are deeply golden
While the shortcakes are baking, prepare the whipped cream, using a mixer, beat the cream, sugar, vanilla, and lemon zest until soft peaks form. Refrigerate until ready to use.
To assemble, slice the shortcake horizontally and fill with strawberries and some juices and whipped cream
Similar Recipes
Easy Paleo Strawberry Pie Recipe
I am super excited about this Paleo Strawberry Pie Recipe. The juicy strawberries topped with gluten-free almond crumble make this paleo strawberry pie explosively delicious. I promise you — this is the easiest strawberry pie recipe you will ever make. First, you will need many fresh, preferably organic strawberries. When I say many, I mean two […] Read More
Prep Time
15 Minutes
Difficulty
Easy
Cook Time
45 Minutes
Serves
8-inch pie
Gluten-Free Strawberry Muffins
There is nothing more intoxicating than the aroma from freshly baked muffins. In this recipe, the muffins are made with fresh strawberries adding that extra flavour of freshness. The muffin is moist and light with plenty of strawberries throughout. The recipe comes together quick and easy, making this healthy muffin recipe a winner! Vegan option […] Read More
Prep Time
10 Minutes
Difficulty
Easy
Cook Time
35 Minutes
Serves
12 muffins