Skillet Strawberry Cobbler with Cinnamon Cream Cheese Biscuits (Gluten-Free)
Published on Oct 19, 2018
by
Kristina Stosek
Prep Time:

15 minutes
Cook Time:

40 minutes
Serves:

6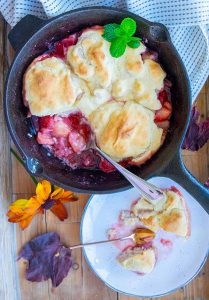 ​This post may contain affiliate links, please see our
privacy policy
for details
Yes, it's Friday, and this calls for a gluten-free Sunday brunch recipe! Yesterday I was at Whole Foods supermarket and saw these beautiful organic sweet strawberries, and they were on sale. Can you believe it? This time of the year buying such beautiful fresh organic strawberries and on sale…wow! So this is how I ended up making skillet strawberry cobbler.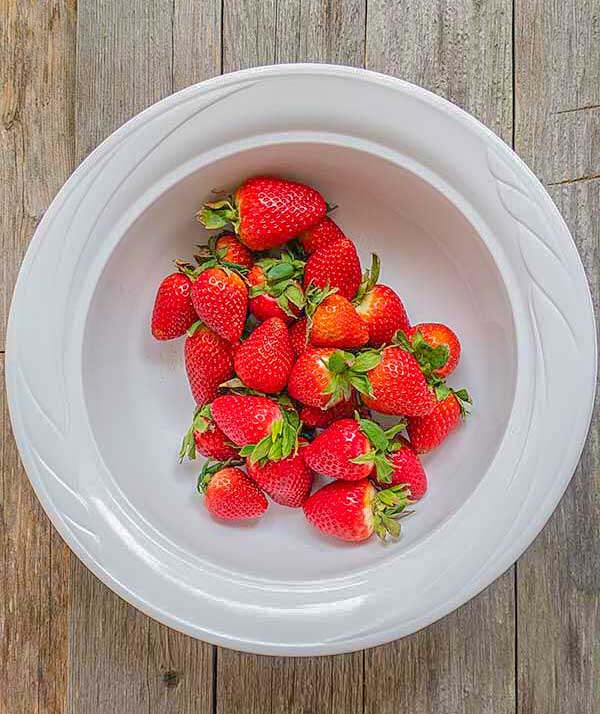 I wanted to try something new besides just a cobbler. So I thought why not make cinnamon cream cheese biscuits to go with the cobbler.
What's the worst that can happen? I will end up eating it all..haha. I must say I even surprised myself, this is the best gluten-free cobbler I have ever had. Since the strawberries were perfectly ripe and sweet, I did not have to add too much sweetener, and the biscuits tasted like a mix of cheesecake and a muffin.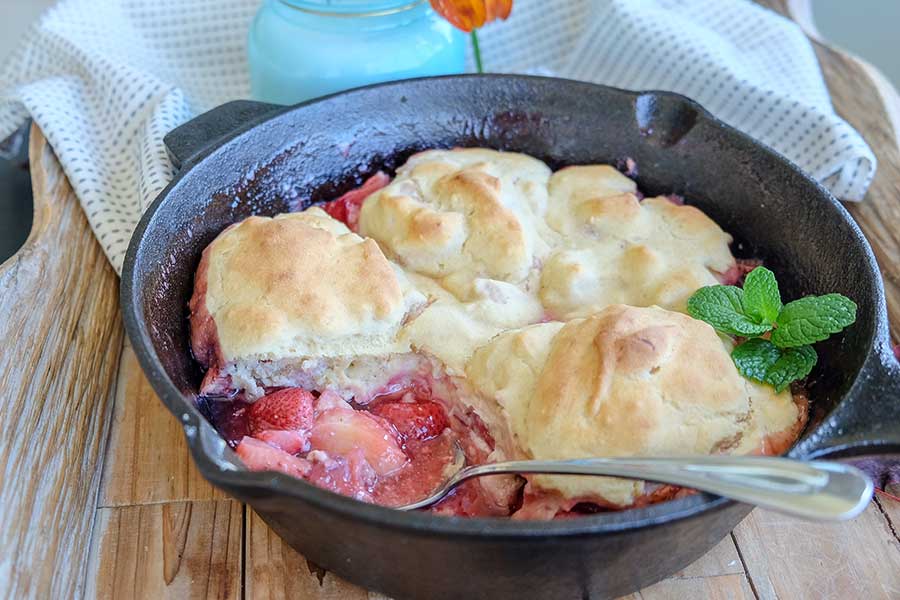 Gosh, it was sooo good! Adding cinnamon to the cream cheese tied everything together beautifully. You can't go wrong mixing strawberries and cinnamon. The biscuits soaked up the delicious strawberry sauce, and the cinnamon cream cheese just melted right in with the strawberries. Hungry yet?
Although I made this recipe for Sunday brunch, the leftovers were devoured the same day with vanilla ice cream for dessert. I was already asked to make it for next Sunday.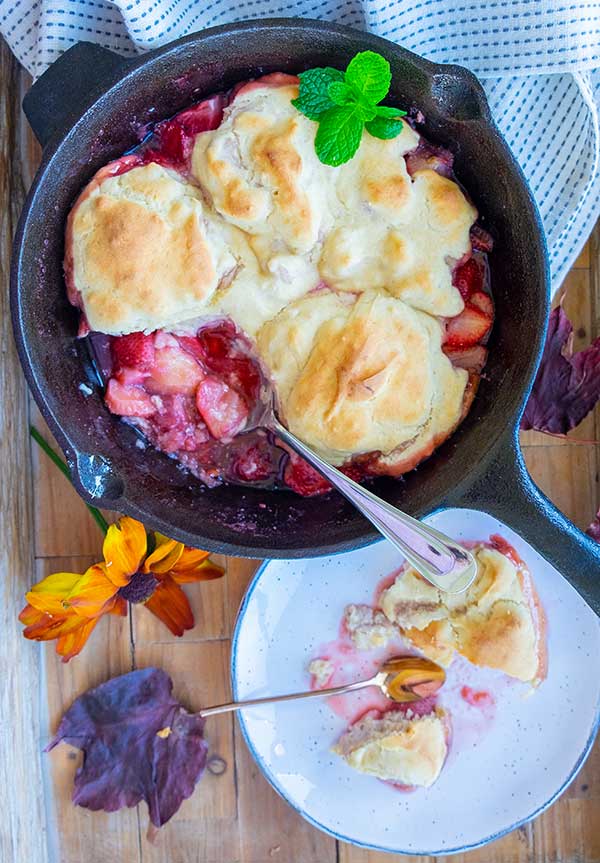 Do you want to hear a funny thing? My family always says, "we love your cooking", but we rarely get to eat the same dish twice. Yes, it is true, I love creating recipes, and I rarely make the same recipe twice, except for soups. I must admit, I love healthy soups, so there is always soup on the stove.
I hope you enjoy this skillet strawberry cobbler with cinnamon cream cheese biscuits as much as my family did.
Have you visited our online store yet?
Skillet Strawberry Cobbler with Cinnamon Cream Cheese Biscuits (Gluten-Free)
Published on Oct 19, 2018
by
Kristina Stosek
Instructions
1.

In a small bowl mix cream cheese, cinnamon and maple syrup. Then place a sheet of parchment paper on a small cutting board and spread the cheese mixture over the top about 1/2-inch thick. Place in the freezer for 30 minutes to harden. Once the cheese is hard, cut it into 1/2-inch cubes

2.

3.

In the meantime rub a 9-inch round oven safe dish or a skillet with butter. Add strawberries, 1/4 cup coconut sugar, lemon juice and tapioca. Stir to combine and set aside

4.

In a large bowl whisk together flour, 2 tablespoons of coconut sugar, 1 tablespoon tapioca starch, baking powder, salt and xanthan gum. Add milk and egg and stir to combine, do not over mix. Fold in the frozen cream cheese cubes

5.

Using a large spoon (about 1/4 cup) dollop batter on top of the strawberries. You should have 6 biscuits. Bake for 35 - 40 minutes, until the top of the biscuits is light brown

6.

Serve warm with a dollop of vanilla ice cream or serve as is at a room temperature