Gluten-Free Key Lime Squares (Dairy-Free)
Published on Nov 18, 2018
by
Kristina Stosek
Prep Time:

15 minutes
Cook Time:

25 minutes
Serves:

9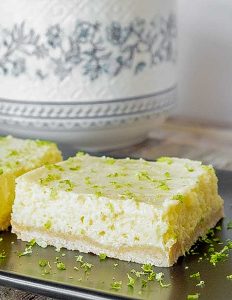 ​This post may contain affiliate links, please see our
privacy policy
for details
These are the best gluten-free Key Lime Squares by far – the crust is mildly spiced with ginger and nutmeg. The key lime custard topping has a light texture, almost like a mousse. Hinted with key lime juice and sweetened with only condensed coconut milk, keeping the key lime squares light and dairy-free.
I love chilled desserts! Especially after having a heavy meal, the last thing you want to add is a rich dessert. Besides, chilled desserts are refreshing, satisfying and often replace ice cream during warmer weather.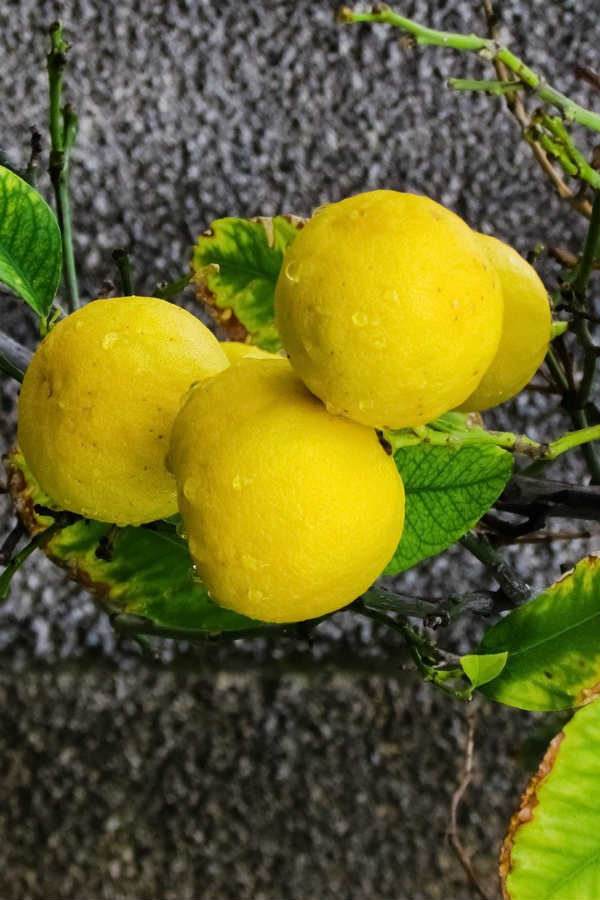 What is a key lime?
The Key lime is a citrus species with an oval fruit. Typically key lime is picked when green, but it turns to a yellow colour when ripened. This fruit is grown in the United States, Mexico, South America and Central America. It is more pungent than Persian lime, and it is smaller and more acidic.
recipe details for key lime squares
I wanted to keep this key lime recipe easy enough for even novice cooks to master. To start, I took a traditional key lime pie recipe and converted it to a gluten-free and dairy-free key lime cake. I baked the key lime dessert in a square pan so that it can be cut into squares.
the gluten-free crust
The crust is partially made with almond flour, keeping it buttery and moist. I added ginger and nutmeg for flavour and because both spices go well with key lime.
the dairy-free key lime custard
I kept the key lime custard light and refreshing, almost like a mousse texture. Using condensed coconut milk, the custard is dairy-free, and I did not have to add extra sugar. The only flavour in the gluten-free dessert topping is key lime.
The key lime makes this sweat treat taste incredibly fresh. However, if you can't get key limes, you can combine fresh lime juice with lemon juice to get the same results. You may also enjoy our Classic Gluten-Free Flapper Pie or the Easiest Gluten-Free Blender Coconut Pie.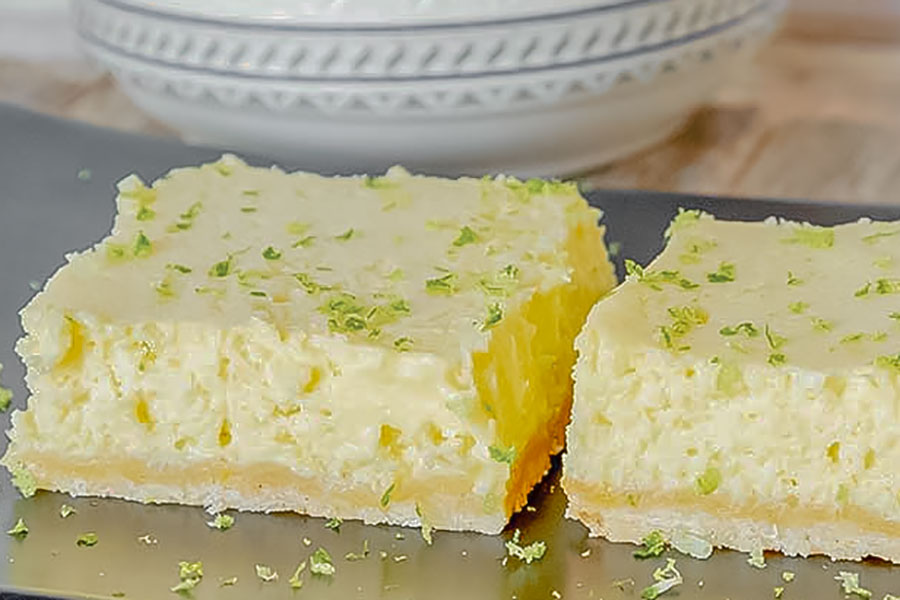 start with baking the gluten-free crust
The crust is partially baked before the custard topping is added. This keeps the crust firm and buttery, not soggy. Once the crust is partially baked, add the topping and bake it few more minutes. Just long enough so that the dairy-free custard is no longer jiggly.
chill
Next, the cake is chilled overnight. By cooling the cake overnight, the custard will set to perfection.
top with key lime zest
This dessert is a no-fail recipe, it is super easy to make and tastes so good!! I like to serve the squares with fresh key lime zest, but if you want to go all out, serve it with whipped cream. These gluten-free key lime squares don't get any more delicious than this! Enjoy.
Gluten-Free Key Lime Squares (Dairy-Free)
Published on Nov 18, 2018
by
Kristina Stosek
Instructions
1.

Preheat the oven to 350 F and line a 9 x 9-inch baking pan with parchment paper

2.

Prepare the crust. In a medium mixing bowl, stir together all the dry ingredients, then stir in the coconut oil and water. Mix until thoroughly combined. Press the mixture evenly over the bottom of the pan and bake for 10 minutes Remove from the oven and cool completely while preparing the filling.

3.

Using an electric hand mixer or a stand mixer whisk 3 egg yolks with 1 egg until smooth. Beat in condensed coconut milk, then the key lime juice and zest until thick and smooth. Set aside

4.

In a large bowl, beat the egg whites until firm peaks form. Fold one third of the egg whites at a time into the custard. Pour custard into the baking pan and bake for 15 minutes until no longer jiggly. Cool completely and then refrigerate overnight
Leave a Comment
Kristina
Absolutely delicious, and so easy to make. Thank you for this recipe :-)
Kristina
thank you Nancy, always nice to hear!
This is amazing. We like keylime pie. These keylime squares are next level fabulous! I've already shared this recipe.
best gluten-free dessert I have ever made and super easy too, thank you!!!!!