Gluten-Free Key Lime Squares (Dairy-Free)
Prep Time
15 Minutes
Difficulty
Easy
Cook Time
25 Minutes
Serves
9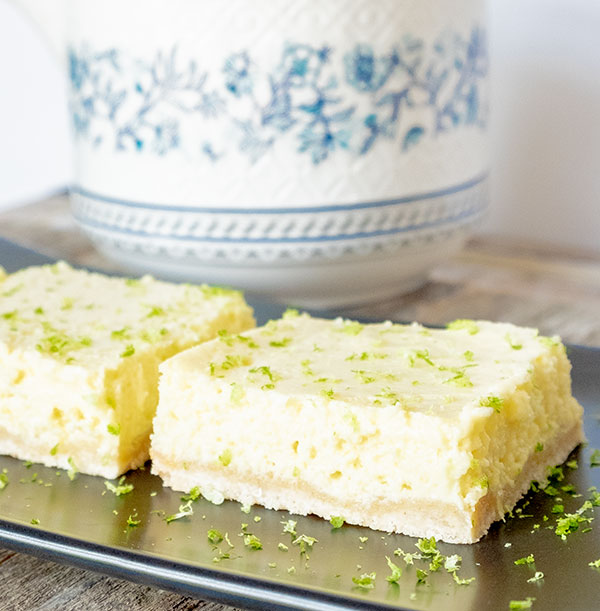 Average Rating: 5 | Rated By: 4 users
I must confess I love refrigerator desserts they are so refreshing, especially after Thanksgiving dinner. The last thing you want to add is a rich dessert. So I made a dessert that is light almost like a mousse or a gelato ice cream. I took a traditional key lime pie recipe, made a gluten-free crust and created a mousse-like custard. I baked it in a square pan instead of a pie dish, this way I can cut it into small bite size pieces or in my case larger pieces making everyone happy 🙂 This gluten-free key lime dessert is super light and dairy-free not like the typical dense version, you will love it! I know that key limes may not be available everywhere, but don't stress, you can substitute the key lime juice with a mixture of fresh lemon juice and fresh lime juice and still call it key lime dessert. This is a no-fail dessert that is super easy to make and tastes so good!! I like to serve the squares with just fresh key lime zest, but if you want to go all out serve it with whipped cream. Trust me, it doesn't get any better than this.
If you haven't checked out our store please go and visit. I have been adding exciting new products weekly
Ingredients
FOR THE CRUST
2/3 cup almond flour
2 Tbsp. Sweetener, I used coconut sugar
1/2 tsp. GF ground ginger
1/4 tsp. GF ground nutmeg
3 Tbsp. coconut oil, melted and slightly cooled
1 Tbsp. water
FOR THE FILLING
3 large eggs, separated
1 large egg
1/3 cup fresh key lime juice, (if you don't have key limes, you may substitute the key lime juice with a mixture of fresh lemon juice and fresh lime juice in equal parts)
1 Tbsp. key lime or lime and lemon zest
Instructions
Preheat the oven to 350 F and line a 9 x 9-inch baking pan with parchment paper
Prepare the crust. In a medium mixing bowl, stir together all the dry ingredients, then stir in the coconut oil and water. Mix until thoroughly combined. Press the mixture evenly over the bottom of the pan and bake for 10 minutes Remove from the oven and cool completely while preparing the filling.
Using an electric hand mixer or a stand mixer whisk 3 egg yolks with 1 egg until smooth. Beat in condensed coconut milk, then the key lime juice and zest until thick and smooth. Set aside
In a large bowl, beat the egg whites until firm peaks form. Fold one third of the egg whites at a time into the custard. Pour custard into the baking pan and bake for 15 minutes until no longer jiggly. Cool completely and then refrigerate overnight
Similar Recipes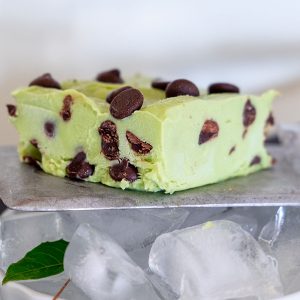 Avocado Chocolate Chip Ice Cream Squares (vegan, gluten-free)
Here is an easy way to add healthy fruit like avocado to your diet and also satisfy your sweet tooth. Just imagine a delicious chocolate chip ice cream bar that is nutrient rich with healthy monounsaturated fats, potassium and fiber. These ice cream squares get the thumbs up every time! Read More
Prep Time
10 Minutes
Difficulty
Easy
Serves
12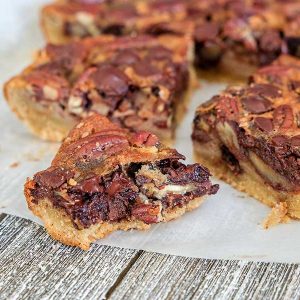 Chocolate Pecan Shortbread Squares (Gluten-Free)
Gluten-Free Chocolate Pecan Shortbread Squares never tasted this good! A two-layer dessert made of a buttery shortbread crust and a layer of sticky, chocolaty topping packed with pecans.  I love to serve this gluten-free dessert for special occasions such as Thanksgiving or Easter because these chocolate pecan shortbread squares are exceptionally delicious. The perfect squares […] Read More
Prep Time
15 Minutes
Difficulty
Easy
Cook Time
55 Minutes
Serves
9
Gluten Free Coconut Chocolate Cherry Squares
Combination of coconut, chocolate and cherries make for a scrumptious gluten free dessert or anytime snack. The tasty squares are made up of three layers, almond crust, chocolate cherry filling and topped with crunchy pecan coconut topping. This is truly an outstanding easy to make dessert recipe Read More
Prep Time
15 Minutes
Difficulty
Easy
Cook Time
30 Minutes
Serves
16 squares