Classic Gluten-Free Flapper Pie
Published on May 22, 2020
by
Kristina Stosek
Prep Time:

20 minutes
Cook Time:

20 minutes
Serves:

6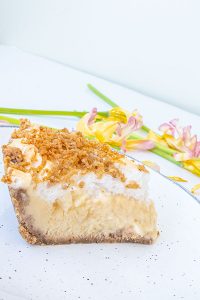 ​This post may contain affiliate links, please see our
privacy policy
for details
Flapper pie is a staple of the Canadian prairie culture. This incredibly delicious dessert is the Classic Flapper Pie recipe but without gluten.
The Canadian dessert may look complicated because it has three layers, but it is simple enough, even for novice bakers.
The three layers are vanilla custard and buttery paleo crust, and the pie is topped with a final layer of meringue.
I am super excited about this gluten-free dessert recipe because it is made entirely from scratch. I have also included six variations of the flapper pie recipe.
Gluten-Free Flapper Pie Recipe Overview.
the paleo crust,
All you need is a food processor to make the mixture for the crust, then press it into a pie dish. The crust needs to be briefly baked before adding the custard. Very simple!
the vanilla custard layer,
The second layer takes a bit of time to make because you have to cook the custard first…and yes, you have to keep stirring it so that it doesn't clump up.
But once this is done, there is only one layer to do — the meringue topping.
meringue topping,
Meringue is a simple mixture of egg whites, cream of tartar and a sweetener beaten until stiff peaks form.
assembling flapper pie,
To assemble, pour the custard mixture into the baked pie crust. Then, spread the meringue topping over the top. Once the pie is baked and cooled, it needs to be refrigerated. This allows the pie to set.
As you can see, the flapper pie is not difficult to make, but it takes a little time and a few extra steps. But I can assure you it is well worth it.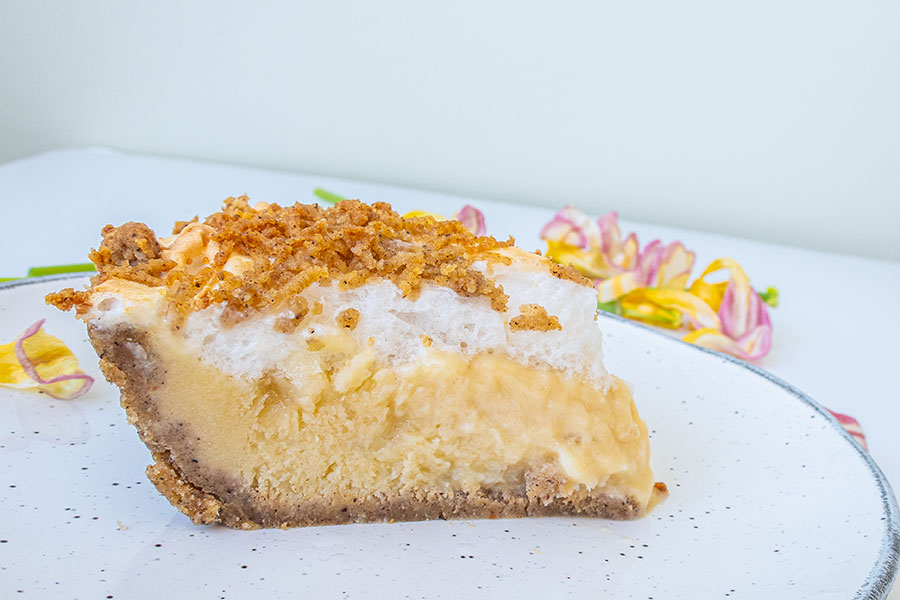 6 Flapper Pie Variations.
The wonderful thing about a flapper pie is that once you have the basic recipe, you can easily make it into various pies. Here are some of our favourites:
Banana Cream Pie
Placed sliced bananas into the pie shell and top with cream
Coffee Cream Pie
Add two tablespoons of instant coffee to the hot milk mixture and one extra tablespoon of sweetener.
Butterscotch Cream Pie
Substitute butterscotch flavour for vanilla
Chocolate Cream Pie
Mix 1/4 cup of pure cocoa powder and one extra tablespoon of sugar before adding the milk
Fruit Cream Pie (my favourite)
Fold 1/2 cup of fresh fruit of choice into the filling and top with extra fruit before adding the meringue topping.
Coconut Cream Pie (A very popular pie)
Add one cup of shredded coconut into the filling and sprinkle some on top of the meringue before baking.
If you love pies, please check out our entire list of gluten-free savoury or sweet pie recipes!
Let's Connect!
Be sure to FOLLOW US on FACEBOOK and PINTEREST.
Many thanks!
Kristina xx
Classic Gluten-Free Flapper Pie
Published on May 22, 2020
by
Kristina Stosek
Instructions
1.

2.

Place almond flour, sugar and cinnamon into a food processor and pulse briefly. Add butter and egg and pulse until a ball forms

3.

Scoop out 1 tablespoon and set aside. Press dough into a 9-inch pie dish and bake at 375 F for 8 minutes

4.

5.

Mix sugar, arrowroot starch and salt in a saucepan, then whisk in the milk. Cook over medium heat until the milk starts to thicken, whisking constantly to avoid lumps

6.

Remove from the heat and add a couple of tablespoons of the hot mixture into the egg yolks. Whisk, then add the egg mixture to the saucepan. Bring the milk to boil and cook for 1 minute. The mixture should be very thick. Remove from the heat and stir in vanilla and butter, cool for 10 minutes then pour into the prepared crust

7.

8.

While the custard is cooling, prepare the topping. Beat the egg whites with cream of tartar until soft peaks form. Gradually add sugar while beating until stiff peaks form

9.

Spread the egg whites over the custard. Then sprinkle with the reserved crust mixture. Bake in a preheated oven at 375 F for 15 - 18 minutes, until the meringue is deeply golden

10.

Cool to room temperature, then refrigerate for a few hours or overnight allowing the pie to set