Easiest Gluten-Free Blender Coconut Pie
Published on Apr 21, 2022
by
Kristina Stosek
Prep Time:

10 minutes
Cook Time:

50 minutes
Serves:

8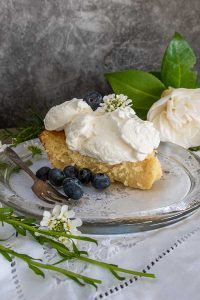 ​This post may contain affiliate links, please see our
privacy policy
for details
Decadent gluten-free blender coconut pie made from scratch, without a crust, with only 9 ingredients and using only a blender. Rich and sweet, no-fuss coconut pie for special occasions like Mother's day or Father's day brunch.
This blender dessert recipe is for someone that is a novice baker and is looking for a fail-proof homemade gluten-free coconut pie recipe.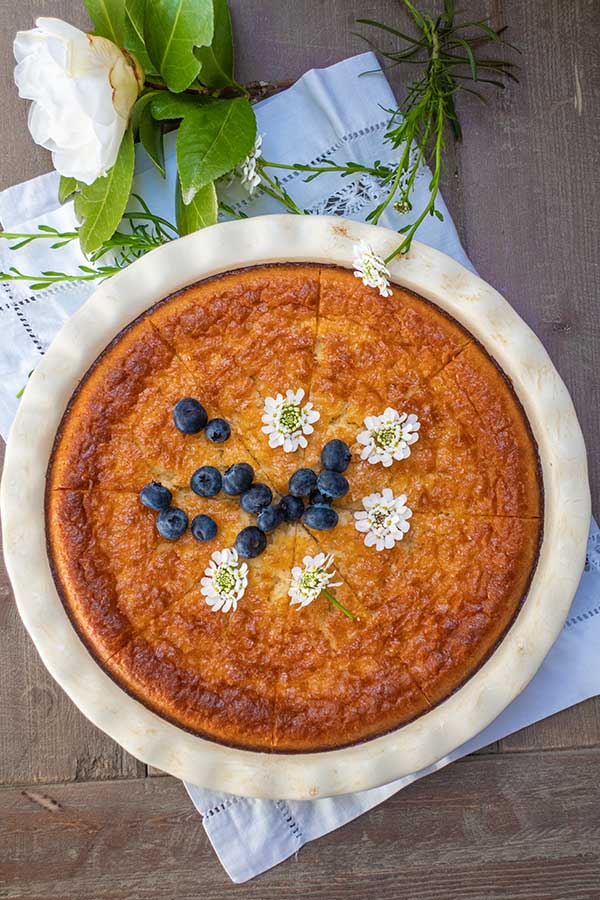 I promise if you have a blender and a pie dish, you can prepare this pie in under five minutes. So this blender coconut pie is not only the easiest gluten-free coconut pie recipe, but the clean-up takes just minutes.
How to use coconut flour in baking?
Coconut flour is highly absorbent, and this is why you will need very little coconut flour to get a perfect texture in a dessert recipe. Here are some of our favourite gluten-free recipes using coconut flour that you may enjoy. Blueberry Maple Coconut Flour Pancakes, or the Gluten-Free Coconut Flour Banana Bread With Chocolate Chips.
When using coconut flour, you will almost always need to add eggs when used in baked goods. And coconut flour will require more eggs than recipes that use only grain flours.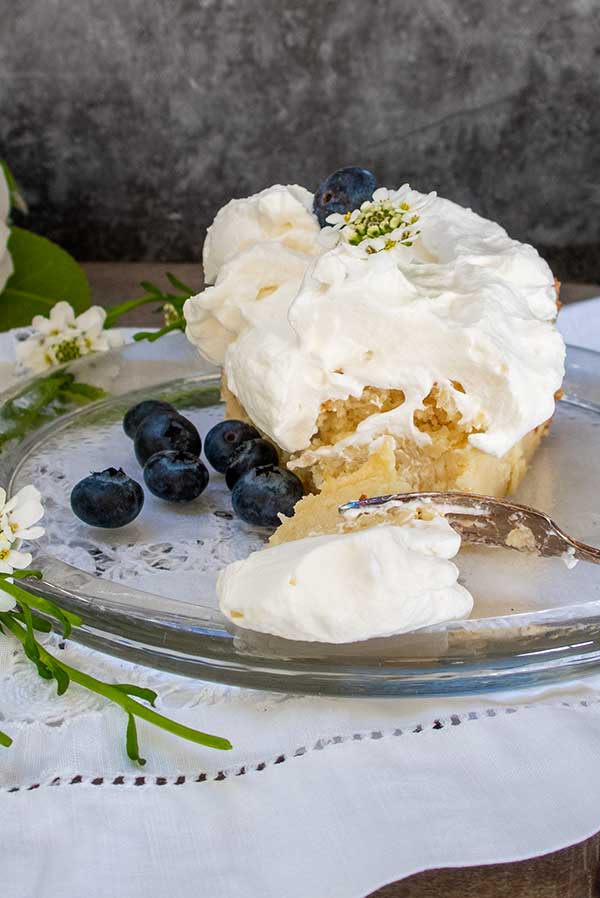 Health benefits of coconut flour.
Coconut flour is naturally gluten-free and grain-free. It has the same protein as almond flour and five times more fiber than almond flour. As per Healthline, coconut flour is also good for digestion and heart health.
How is a blender coconut pie made?
To get the best results, add the ingredients in the same order as listed. The eggs and milk must be at room temperature and the butter melted. Once you have this packed down, you are good to go and start the coconut pie batter.
Add the ingredients into a blender as listed, and blend in intervals as per instructions.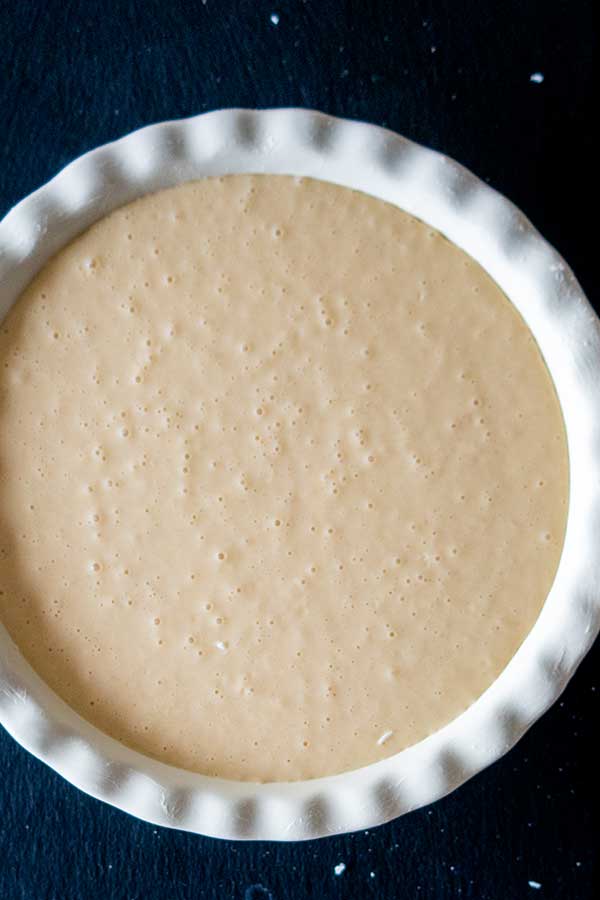 Once the batter is ready, it needs to rest for 15 minutes. While the coconut pie batter is resting, the coconut flour will absorb most of the liquids. This will give you a perfect pie batter for baking.
Before you pour the batter into the pie dish, generously brush the dish with butter. I also place a circle of parchment paper in the bottom of the dish. This will make the pie slices come out easily.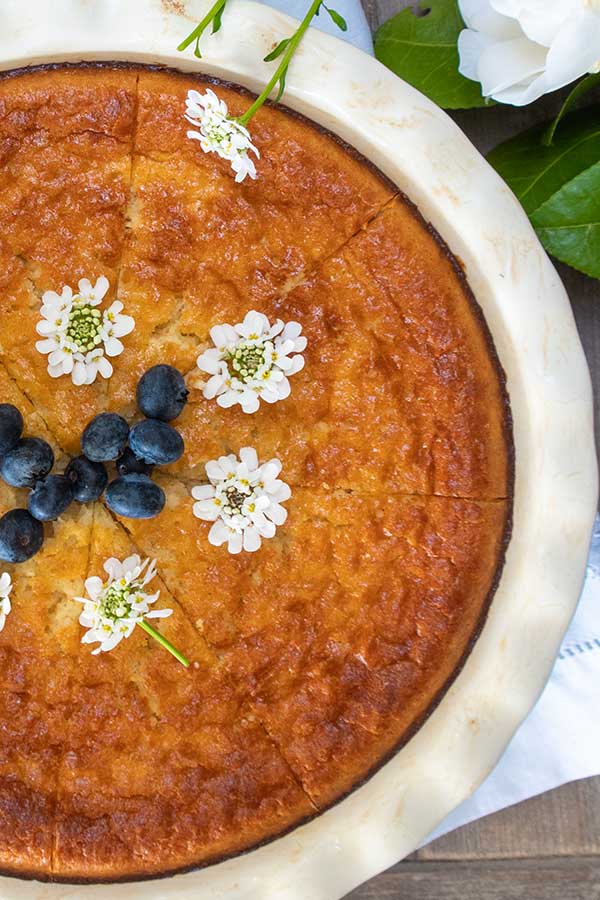 Turn the oven off once the pie is baked and leave the door slightly open until the pie cools. Then cover the pie dish with plastic wrap and chill for a minimum of four hours or overnight, allowing the coconut pie to set.
How to make vanilla whipped topping?
To make this blender coconut pie decadent, I topped the pie with lightly sweetened vanilla whipped cream. The cream is optional; to add extra healthiness, add fresh berries instead.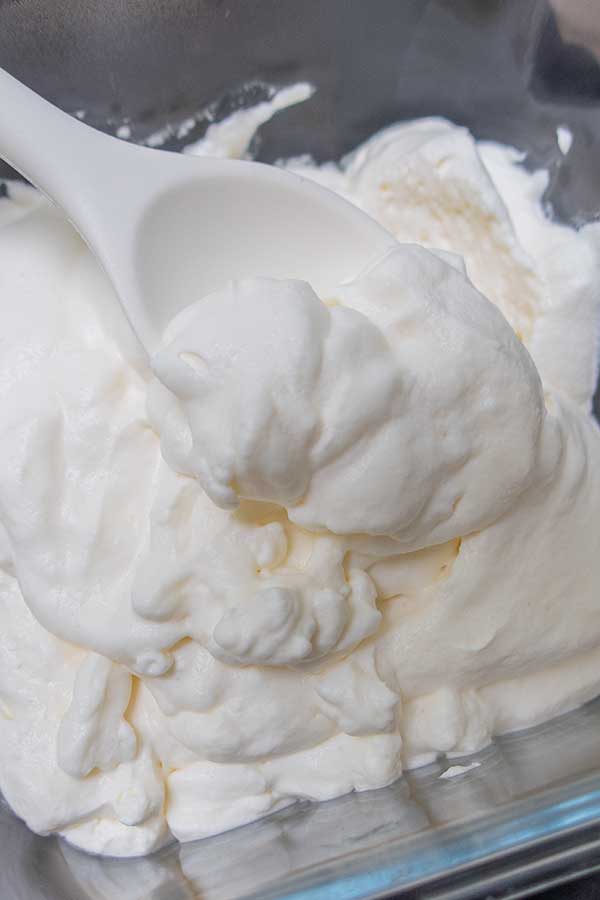 FAQs about whipping cream.
How long does whipping cream take to whip?
Whip whipping cream on medium-high until you form firm peaks, about 5 – 6 minutes. If you continue whipping, the cream will stiffen even more, and you might notice it taking on a grainy texture. If you whip more, the whipping cream will turn into butter.
How do you salvage over whipped cream?
I have more than once over whipped my whipping cream. This is why it is important to keep a close eye on the cream while making whipped cream.
To salvage overwhipped cream, add some unwhipped cream, then gently fold it into the whipped cream. After a few minutes, you will restore the overwhipped cream to whipped cream.
Why is my whipping cream not getting whipped?
One of the most common mistakes people make when their cream doesn't whip is that it is not cold enough. The cream has to be cold. I also recommend to chill the bowl before adding the cream for the best and fluffiest cream.
Why is my whipped cream runny?
The answer is simple. The cream needs to be whipped longer. You should have firm peaks on the whisk for perfectly whipped cream.
If you are worried about making the vanilla whipped cream, you can buy Cool Whip. However, I highly recommend using real whipping cream. As per the manufacturer Cool Whip a creamy topping is gluten-free.
Can you add flavours to Cool Whip?
You can transform the original Cool Whip into any flavour you desire. For example, you can mix in strawberry or blueberry yogurt, vanilla extract or fresh berries for a personalized whipped cream topping.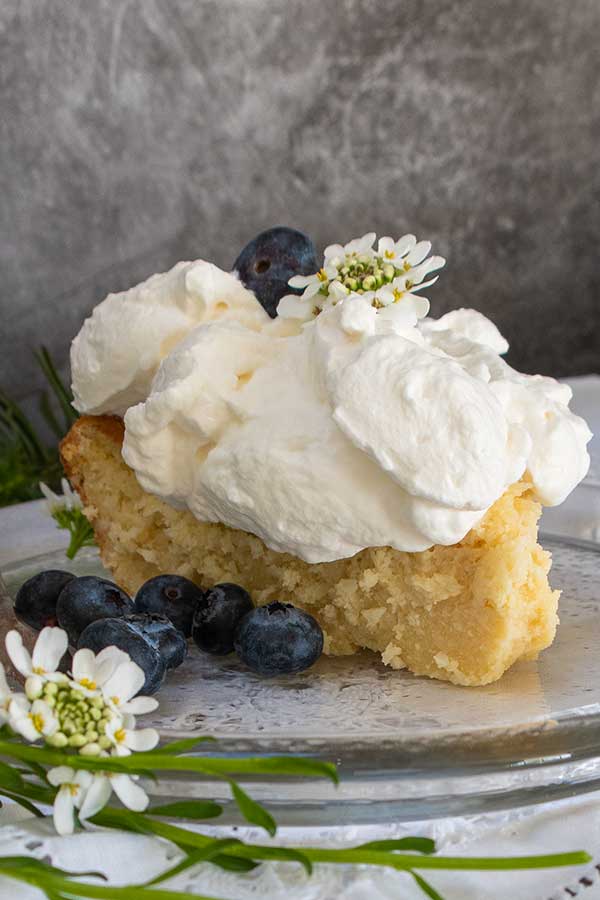 Don't let the simplicity of this gluten-free blender coconut pie fool you. This is a decadent, melt in your mouth special occasion dessert.
And the best part, you don't have to have baking skills to make this wicked gluten-free dessert from scratch. Enjoy!
Let's Connect!
Be sure to FOLLOW US on FACEBOOK and PINTEREST.
Many thanks!
Kristina xx
Easiest Gluten-Free Blender Coconut Pie
Published on Apr 21, 2022
by
Kristina Stosek
Instructions
1.

Preheat the oven to 350 F Grease a pie dish with butter and place a circle of parchment paper on the bottom of the dish 

2.

Add to blender; eggs, condensed milk, butter and vanilla. Blend to mix

3.

Add flours and baking powder, blend to mix

4.

5.

Add coconut, briefly blend just to combine

6.

Pour the mixture into the pie dish, and rest for 15 minutes. This allows the coconut flour to absorb some of the liquids. (Don't miss this step)

7.

Bake for 45 - 50 minutes; the top should be golden but not starting to crack

8.

Turn the oven off and leave the pie in the oven with the door slightly open until cooled. The pie will deflate a bit; this is normal

9.

Once cooled, cover with plastic wrap and refrigerate for 4 hours or overnight

10.

11.

Place whipping cream, sugar and vanilla in a chilled bowl and whip with an electric mixer on medium-high until firm peaks form. Careful not to over whip or the cream will turn into butter. *see notes in the blog regarding whipped cream