Blueberry Maple Coconut Flour Pancakes
Published on Jul 26, 2021
by
Kristina Stosek
Prep Time:

5 minutes
Cook Time:

15 minutes
Serves:

4 medium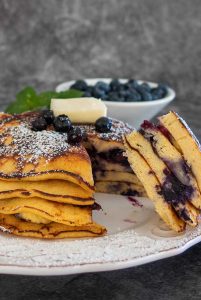 ​This post may contain affiliate links, please see our
privacy policy
for details
Bursting Blueberry Maple Coconut Flour Pancakes…healthy, grain-free, naturally gluten-free, keto-friendly best coconut flour pancake recipe! These coconut flour pancakes are made with a touch of cream cheese, a hint of maple flavour and juicy fresh blueberries.
grain-free blueberry pancakes
Extra fluffy, lightly sweetened with pure maple syrup and so so good! The gluten-free and grain-freee pancakes are perfect! Nothing beats a good blueberry pancake, especially when the pancake is rich in healthy nutrients and has only 7 ingredients!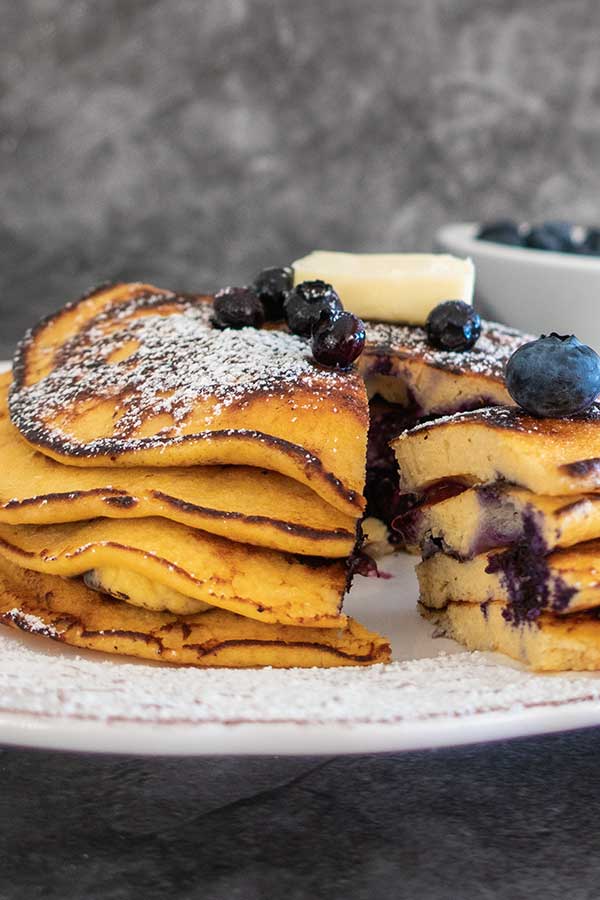 These high-protein blueberry maple pancakes are satisfying even for big appetites. Honestly, all you will need is two medium pancakes to keep you full for hours.
coconut flour pancakes recipe the details
The recipe itself is super easy! You will need eggs, cream cheese, coconut flour, a pinch of baking powder and fresh blueberries.
I also added a tablespoon of pure maple syrup and some maple extract for sweetness and maple flavour. If you don't have maple extract, you can use vanilla.
If you are following a keto diet, no problem! Substitute the maple syrup for pure monk sugar—a plant-based sweetener with zero net carbs. Or use your favourite zero-carb sweetener.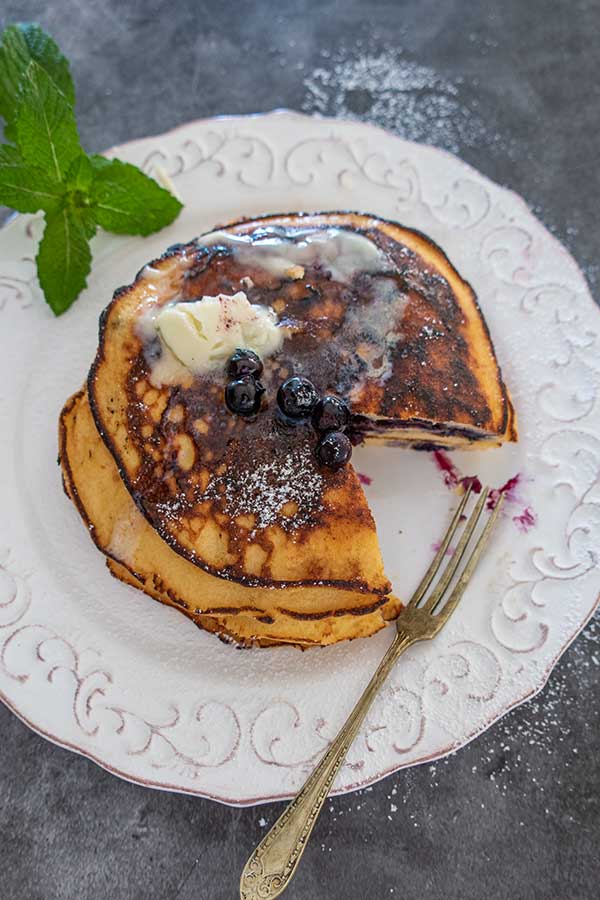 Why add the maple flavour?
I believe that pancakes and maple syrup go hand in hand. So why not make the pancake batter with maple flavour. I used maple extract and maple syrup which gave these coconut pancakes a warm maple flavour. YUM!
How to make blueberry maple coconut flour pancakes?
For the pancakes to be extra fluffy, the eggs and the cream cheese should be at room temperature.
Once the batter is mixed, rest it for about 10 minutes. The coconut flour will absorb some of the liquids creating a perfect light batter.
The coconut flour pancakes take about four minutes to cook. Once you spread the batter in the pan, sprinkle it with some fresh blueberries. Allow the pancake to cook until it starts to form small bubbles. About 2 – 3 minutes.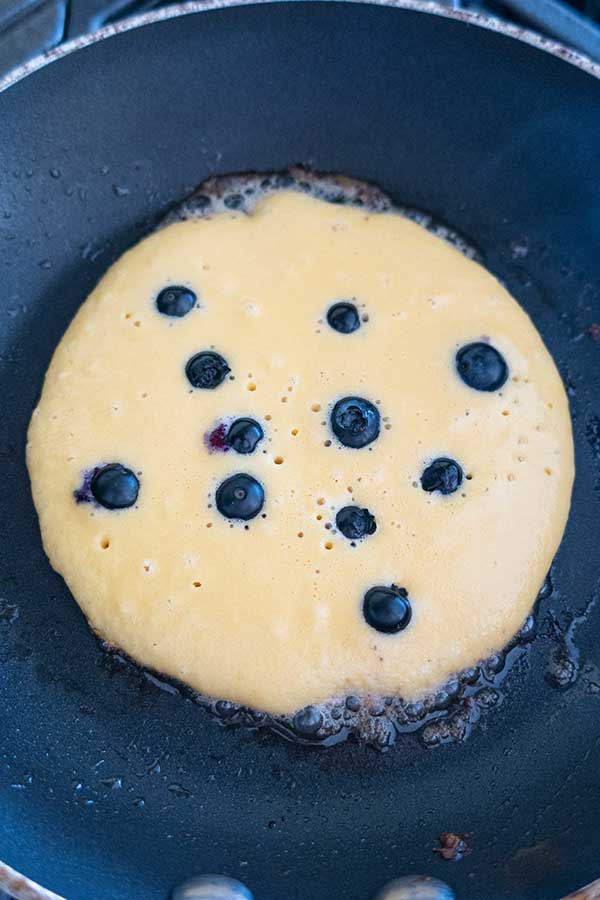 Then flip the pancake over and cook for one more minute. Done!
Fresh VS frozen blueberries?
Blueberries are healthy, and well documented as a superfood! The tiny berries are a powerhouse of antioxidants. So the more blueberries, the better 🙂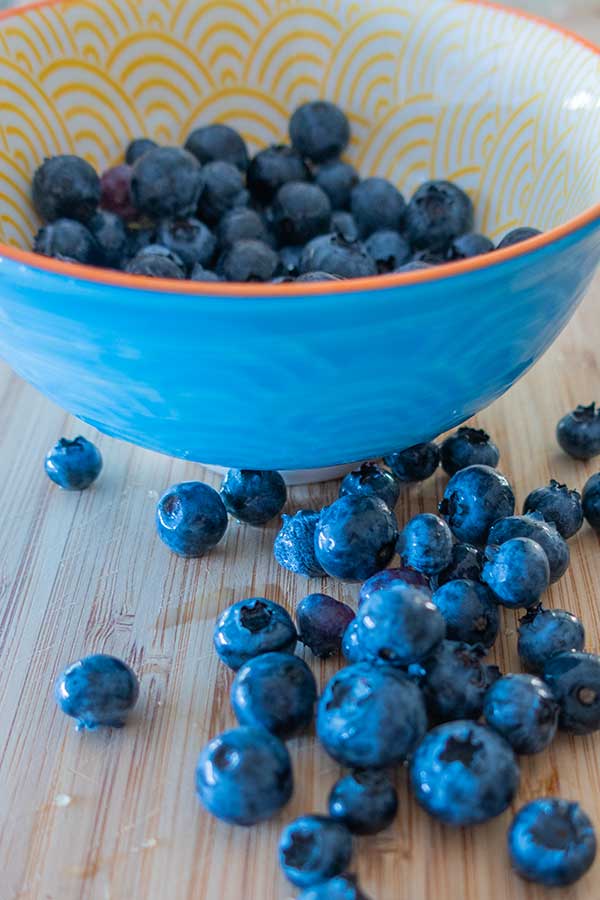 If you can, always use fresh blueberries. I used organic wild blueberries. They are smaller and perfect for pancakes. Smaller blueberries always work better in pancakes.
I tested this gluten-free coconut flour pancake recipe with frozen blueberries, and although still delicious, not as fresh-tasting as if you would use fresh blueberries.
And besides, blueberries are now in season, so there is no reason not to use fresh blueberries.
serving coconut flour pancakes
Coconut Flour Pancakes are perfect for leisurely Sunday brunch but easy enough for any morning of the week.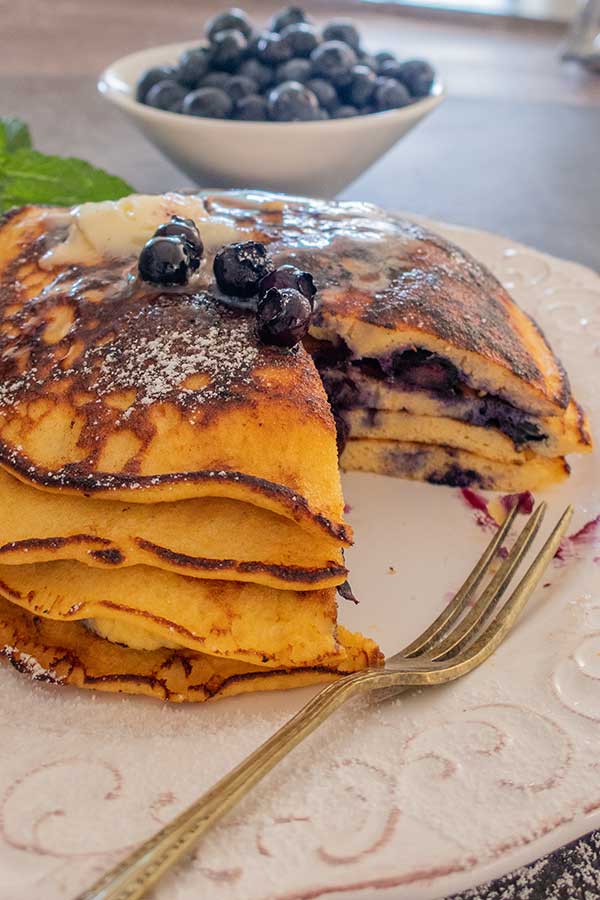 The grain-free Blueberry Maple Coconut Flour Pancakes don't need extra toppings because they are flavoured with fresh blueberries.
But, to make these grain-free pancakes extra special, you can top them with any of these; pat of butter, blueberries, jam, whipped cream, yogurt or just a sprinkle of powdered sugar.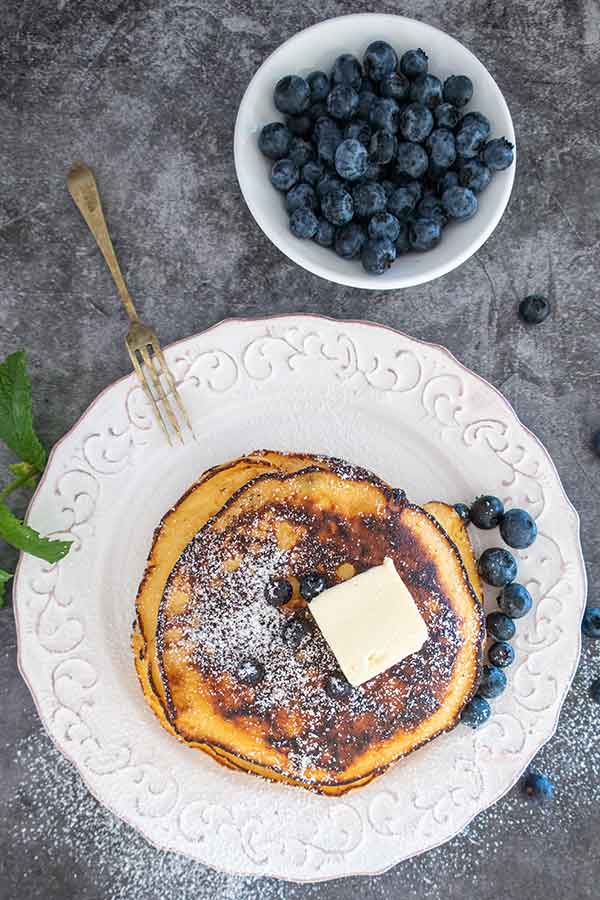 In our home, gluten-free pancakes are served for breakfast, lunch or dinner. The coconut flour pancakes are healthy, satisfying and insanely delicious! And let's be honest, you can enjoy pancakes any time of the day!
Do you need healthy blueberry recipes? Check out the Grain-Free Blueberry Buttermilk Muffins or the Easy Grain-Free Blueberry Cobbler Recipe. Both of these recipes are grain-free and easy to prepare.
Let's Connect!
Be sure to FOLLOW US on FACEBOOK and PINTEREST.
Many thanks!
Kristina xx
Blueberry Maple Coconut Flour Pancakes
Published on Jul 26, 2021
by
Kristina Stosek
Instructions
1.

Beat the eggs until fluffy

2.

Add cream cheese, maple syrup and maple extract/vanilla extract and mix until combined

3.

Whisk in coconut flour and baking powder and set aside for 10 minutes

4.

Heat a non-stick pan over medium heat brushed with coconut oil or butter 

5.

Add 1/4 cup of batter to the pan and sprinkle with a few blueberries. Cook for about 2 - 3 minutes until the pancake starts to form small bubbles. Flip the pancake over and cook one more minute
Leave a Comment
Kristina
I am so happy you enjoyed it!
too delicious for words, thank you for this pancake recipe :-)