Gluten-Free Chocolate Banana Pancakes
Published on Jan 31, 2017
by
Kristina Stosek
Prep Time:

5 minutes
Cook Time:

25 minutes
Serves: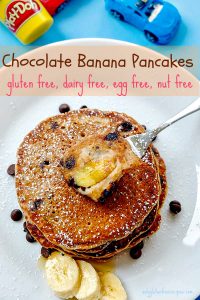 ​This post may contain affiliate links, please see our
privacy policy
for details
What makes these gluten free chocolate banana pancakes so good? They are plant-based, studded with chocolate chips and fresh banana slices, and extra fluffy. And, they are super easy to make using only ten ingredients.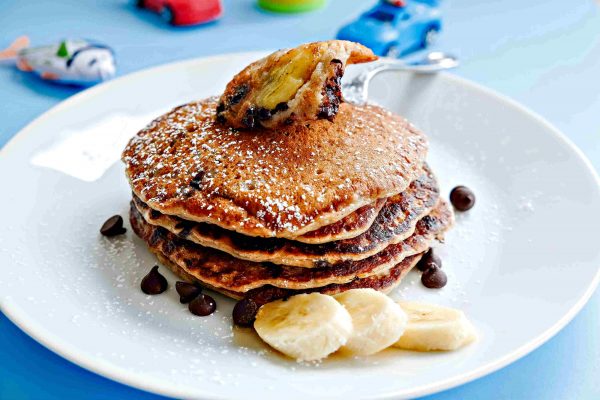 What makes a good gluten free chocolate banana pancake?
The batter should be smooth and not too thick
Not too many chocolate chips
The pancakes should be cooked evenly on both sides
Fresh firm bananas sliced thinly
They should be fluffy and not dense
They shouldn't be too sweet, so you can add maple syrup
They should be served fresh and warm
These chocolate banana pancakes meet all of those criteria and more! They're made with simple plant-based ingredients, including sliced bananas, cinnamon and chocolate chips.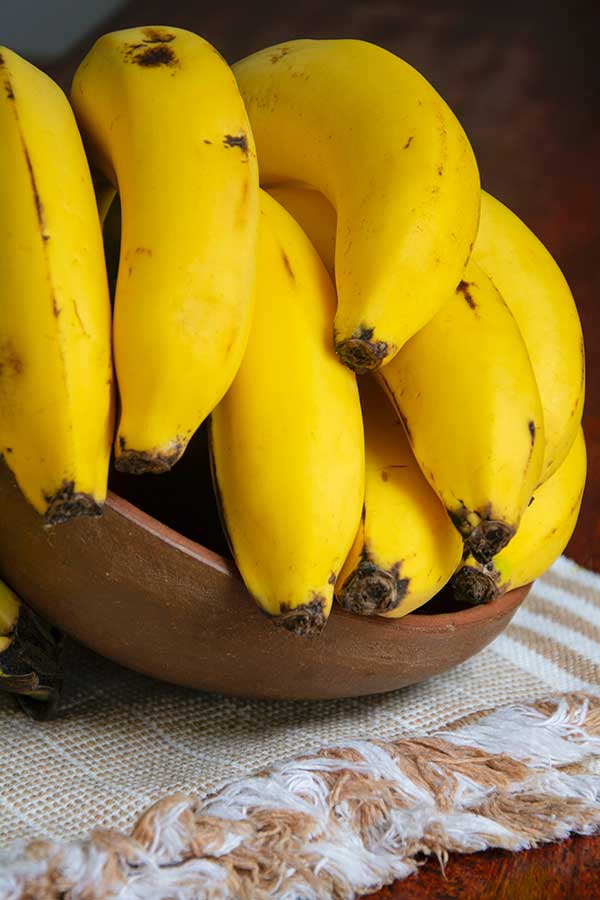 Why add banana to gluten free pancake batter?
Bananas are a great way to add sweetness and flavor to gluten free pancake batter. They are also a good source of fiber and vitamins, which can help to improve the texture and make them more nutritious.
What makes a gluten free vegan pancake fluffy?
There are a few key things that make a fluffy pancake. Firstly, you need to use the right type of gluten free flour. For gluten free pancakes, we recommend using a light gluten free flour blend.
Make sure your baking powder is fresh – this will help the pancakes rise and be nice and fluffy.
The right amount of liquid is essential – too much and the pancakes will be dense and heavy. Too little, and they will be dry and crumbly.
The pancakes should be cooked on medium heat to cook evenly without burning.
Finally, if you want extra fluffy, moist pancakes, add some melted vegan butter or oil to the batter before cooking.
Here are some of our favorite gluten free pancake recipes:
Pancake VS Crepes
Pancakes are thicker and use a leavening agent. Crepes are thin and made without a leavening agent. An, they can be rolled and filled with a sweet or savory filling.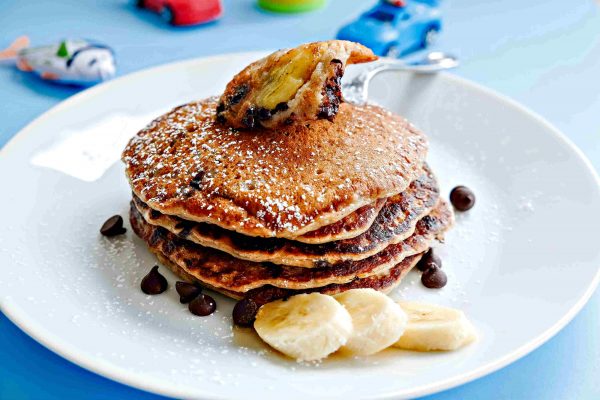 best way to store gluten free pancakes
Gluten free pancakes are best stored in a closed container. They will keep up to three days when refrigerated.
How to reheat pancakes?
The best way to reheat gluten free pancakes is about 20 seconds in the microwave or until heated.
toppings for chocolate banana pancakes
To make these pancakes extra special, top them with your favorite toppings. There are so many delicious toppings for pancakes. Here are a few of our favourites:
-Fresh berries
-Maple syrup
-Coconut flakes
-Nut butter
-Chocolate chips
-Chopped nuts
-Honey
-Nutella
-Whipped cream
-Cream cheese
-Yogurt
summary
These chocolate banana pancakes are gluten-free, vegan, and made with only ten ingredients! They make for a delicious, healthy breakfast, snack, or dessert. Plus, they can easily be made ahead of time and stored in the fridge for later.
We found that even the pickiest eater will love these mouthwatering pancakes. After all, bananas and chocolate are always a delicious combo.
Gluten-Free Chocolate Banana Pancakes
Published on Jan 31, 2017
by
Kristina Stosek
Instructions
1.

In a medium size bowl, combine flour, flaxseed, baking powder, cinnamon, salt and chocolate chips

2.

In a separate bowl whisk together milk, maple syrup and 1 tablespoon of olive oil

3.

Add wet ingredients to dry and mix until smooth. Set aside for 10 minutes, allowing the flour to absorb some of the moisture and thicken the batter. If the batter gets too thick, add milk as needed

4.

Brush griddle or skillet with oil, and heat over medium heat

5.

For each pancake, pour slightly less than 1/4 cup of batter onto hot griddle/skillet and top with a few banana slices. Cook about 1 minute or until edges are dry. Turn; cook the other side until golden brown