Gluten-Free Chocolate Banana Pancakes
Prep Time
5 Minutes
Difficulty
Easy
Cook Time
25 Minutes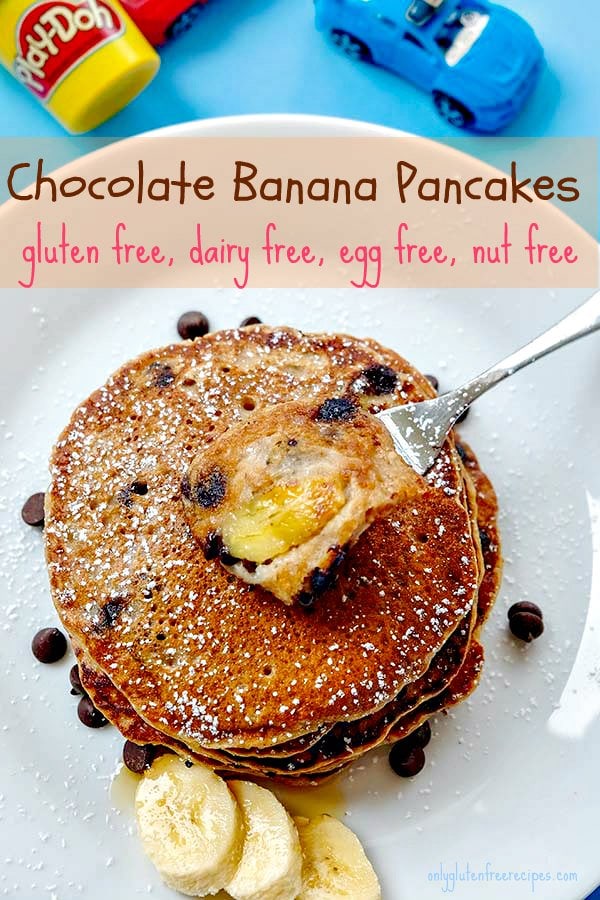 Average Rating: 5 | Rated By: 7 users
These are the best Gluten-Free Chocolate Banana Pancakes by far! When following a gluten free diet basic pancakes can be pretty boring for breakfast. By adding bananas and chocolate the pancakes become magically delicious. This is an allergy friendly vegan recipe and will accommodate most restricted diets. Even the pickiest eater will love these mouthwatering pancakes. For dessert add a scoop of coconut ice cream and fresh berries
Bananas are tasty and healthy! They have a fair amount of fiber, are rich in antioxidants and contain several healthy nutrients. An average banana has only about 105 calories. Dark chocolate is high in antioxidants and research, published in The BMJ, suggests that consuming chocolate could help lower the risk of developing heart disease by one-third. The report was presented at the European Society of Cardiology Congress in Paris, France.
Ingredients
1 cup all purpose gluten free flour blend
1 Tbsp. ground flaxseed
2 tsp. GF aluminum free baking powder
1 tsp. GF ground cinnamon
¼ tsp. sea salt
½ cup GF chocolate chips or 4 oz. chopped GF chocolate bar (preferably 80% pure cocoa or more)
1 ¼ cup coconut milk or any non-dairy milk
2 Tbsp. pure maple syrup or agave syrup
1 Tbsp. extra virgin olive oil
1 firm banana, thinly sliced
*As an Amazon Associate and member of other affiliate programs, I earn from qualifying purchases. Please check out my sponsorship and disclosure policy page for more details
Instructions
In a medium size bowl combine flour, flaxseed, baking powder, cinnamon, sea salt and chocolate chips
In a separate bowl whisk together milk, maple syrup and olive oil
Add wet ingredients to dry and mix until there are no more lumps. Set aside for 5 minutes. The batter will thicken. If the batter gets too thick add a little more milk as needed
Lightly oil a non-stick pan and preheat over medium heat. Using about ¼ cup for each pancake pour the batter in the pan and top with few slices of banana. Slightly press the bananas into the batter. Cook for 2 – 3 minutes or until they start to bubble around the edges before you flip them. Cook another 1 – 2 minutes. Enjoy!
Similar Recipes
Gluten-Free Apple Cinnamon Buckwheat Pancakes
Bump up the flavour and texture of these Gluten-Free Apple Cinnamon Buckwheat Pancakes with a dose of nutrient packed buckwheat flour. Add some coconut flour a hint of fresh lemon juice and plenty of fresh, delicious apples and cinnamon. What a comforting, healthy breakfast to treat you in the morning.     why is buckwheat […] Read More
Prep Time
10 Minutes
Difficulty
Easy
Cook Time
20 Minutes
Serves
8 pancakes
Baked Potato Pancake – Easy Recipe
Crispy gluten-free baked potato pancakes without frying! Thinking about pancakes, but want something more savoury? This tasty, crispy, German-style potato dish is hard to resist – so, no need to look any further. gluten-free baked potato pancake recipe overview This baked potato pancake recipe is made simply with freshly grated potatoes, onions, garlic herbs and […] Read More
Prep Time
15 Minutes
Difficulty
Easy
Cook Time
25 Minutes
Serves
8 pancakes