Grain-Free Nut-Free Ricotta Pancakes
Published on Feb 13, 2020
by
Kristina Stosek
Prep Time:

5 minutes
Cook Time:

30 minutes
Serves:

6 (6-inch round) pancakes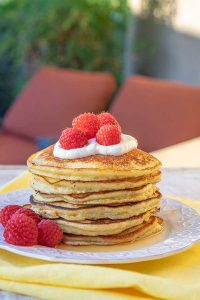 ​This post may contain affiliate links, please see our
privacy policy
for details
Fluffy Grain-Free Nut-Free Ricotta Pancakes. The ricotta cheese takes this pancake to another level of deliciousness. With Valentine's Day coming up, breakfast in bed is a must. This is where the grain-free nut-free ricotta pancakes come in. 
Nutritious and Delicious Breakfast!
Today I am talking about a pancake made without grains and nuts that is fluffy and nutritious <- To start, blending two nutritionally packed flours, coconut flour and arrowroot flour is what gives the pancakes that perfect texture. To make the pancakes extra light and fluffy, I added eggs, ricotta cheese, milk and olive oil. I also wanted to add some sweetness, so I added a splash of pure maple syrup. For added flavour, a little vanilla and fresh lemon juice. Honestly, these pancakes are heavenly! This breakfast is for that special occasion like Valentine's Day, Mother's Day or a special brunch. To add festive colour, I serve the pancakes with fresh raspberries, a dollop of yogurt, and if you like a little maple syrup. 
Is coconut flour better than almond flour?
Coconut flour is highly nutritious and is made purely from coconuts. This fiber-rich flour is an excellent choice to use in gluten-free and low carb baked goods. Coconut flour is lower in calories and fat in comparison to almond flour. More importantly, if you are suffering from nut allergies, replacing coconut flour for almond flour is the right choice. For those that are following a keto diet, this flour is very popular because it is low in carbs and high in fiber. One of the reasons I like to use coconut flour in pancakes is because it will keep them moist for a lot longer. Because coconut flour is highly absorbent, you will also use a lot less than you would use almond flour. Coconut flour is also almost half the price of almond flour. If you are looking for coconut flour recipes, check out these gluten-free recipes made with coconut flour.
Grain-Free Nut-Free Ricotta Pancakes
Published on Feb 13, 2020
by
Kristina Stosek
Instructions
1.

In a small bowl, whisk together coconut flour, arrowroot flour, baking powder, baking soda and salt

2.

Place remaining ingredients to a medium bowl and using an immersion blender or an electric mixer whip until smooth

3.

Slowly add dry ingredients and mix until combined

4.

Brush a non-stick pan with melted butter or coconut oil. Pour 1/4 cup of batter in the pan and cook over medium-low heat. Cook the batter until it starts to bubble at the top, about 4 minutes, then flip it over and cook 1 - 2 minutes. Repeat until you use up all the batter, adding butter/coconut oil as needed. If you find the batter is too thick add one tablespoon of milk