Dutch Baby With Blueberry Compote & Feta (Gluten-Free)
Published on May 26, 2019
by
Kristina Stosek
Prep Time:

10 minutes
Cook Time:

25 minutes
Serves:

4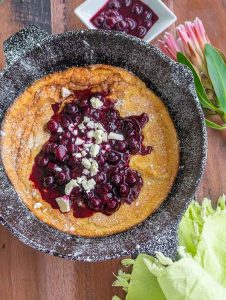 ​This post may contain affiliate links, please see our
privacy policy
for details
Nothing beats a delicious Dutch Baby with blueberry compote and feta for Sunday brunch. Dutch baby sometimes called a German pancake is a large American popover, a simple pancake baked in the oven.
What makes this gluten-free Dutch baby different from others is, the topping, a freshly made blueberry compote and feta cheese. The sweetness of the blueberries, combined with the saltiness of feta, makes this baby stand out from most.
blueberry compote
I would like to talk a bit more about the blueberry compote. The blueberries are briefly cooked in fresh orange juice flavoured with a hint of cloves and orange zest, the great thing about making this compote?
All you need is three minutes to make this healthy topping. You may think this recipe is complicated, but it's not!
This gluten-free Dutch Baby with blueberry compote and feta recipe is easy enough for anyone to make but will impress even the fussiest eater. Enjoy! For similar recipes such as gluten-free pancakes check out these delicious breakfast ideas
Dutch Baby With Blueberry Compote & Feta (Gluten-Free)
Published on May 26, 2019
by
Kristina Stosek
Instructions
1.

2.

3.

Whisk together flour, nutmeg, and salt

4.

Add milk, eggs, maple syrup and vanilla and mix thoroughly

5.

By now the pan should be smoking hot, swirl the butter/coconut oil in the hot pan until melted, then immediately pour the batter into the pan. It is very important that the pan is smoking hot before you add the batter. Bake for 20 minutes, then reduce heat to 300 F and bake for 5 more minutes

6.

While the pancake is baking, prepare the blueberry compote. Add everything in a saucepan and mix to combine. Place the saucepan over medium-high heat and cook until the sauce thickens about 3 minutes. Set aside

7.

Remove the Dutch baby from the oven and rest for 5 minutes, the pancake will fall, this is normal. Pour the blueberry compote over the top and sprinkle with feta. If you wish you can dust the Dutch baby with powdered sugar, but it is not needed

8.

Cut into wedges and serve!