Upside-Down Pear Dutch Baby – Gluten-Free
Prep Time
5 Minutes
Difficulty
Beginner
Cook Time
20 Minutes
Serves
6
Average Rating: 5 | Rated By: 7 users
You will LOVE this beautiful Upside-Down Pear Dutch Baby – it is so incredibly delicious! The lightly scented pears with cinnamon are caramelized and nestled in light and pillowy pancake-like gluten-free cake.
What is an upside-down dutch baby?
I wanted to create a dessert using fresh pears with very little work. It is one of those days where I have been super busy shopping for ingredients and scheduling my recipes for the next few weeks. So here comes upside-down pear dutch baby. The recipe is sooo easy!!
A typical dutch baby is a large German pancake made in a cast-iron skillet often topped with fruit or savoury toppings. So, this recipe is based on the same technique but with a few changes.
This recipe is made simply, and all in the same pan!
First, I briefly cooked the pears in butter, cinnamon, fresh lemon juice and a little coconut sugar. To do this, I used the same 8-inch round cake pan that I will be using to bake the dutch baby in making it for easy cleanup 🙂
While the pears are softening, this takes about 3 minutes I placed all the remaining ingredients into a blender and whipped it up. As soon as the pears were ready and still hot, I poured the batter over the pears and immediately placed it in the oven to bake.
The temperature of the pears is very important for the best results! You must add the batter as soon as the pears finish cooking.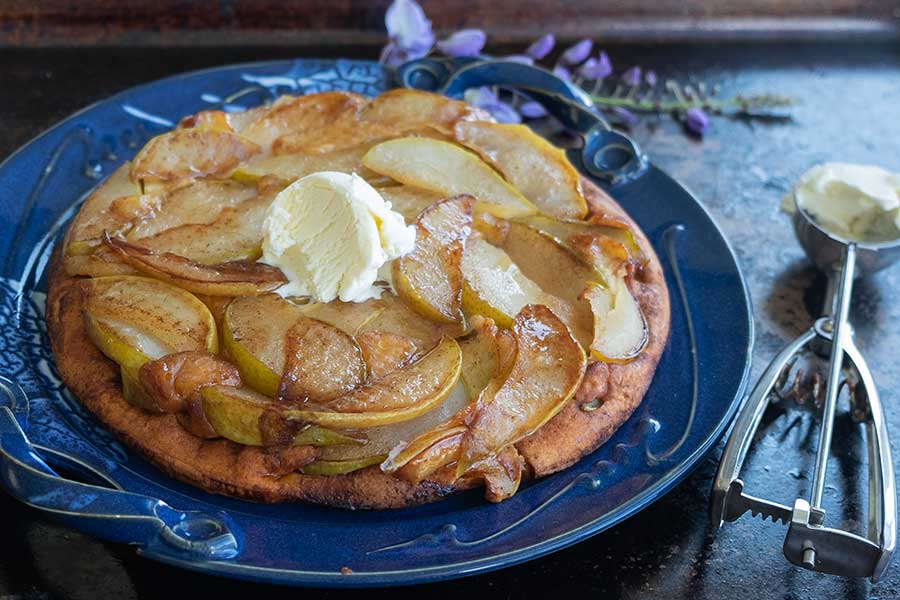 Once the upside-down dutch baby is finished baking, you flip it onto a plate. By doing this, you will showcase the beautifully caramelized pears. What I love about this dutch baby, all you taste is caramelized pears and a light and fluffy pancake-like cake. Perfection!
The best part, although I made this to be a dessert, the gluten-free upside-down pear dutch baby is perfect for brunch or a special occasion breakfast! And I always add vanilla bean ice cream. It melts right into the pears. YUM!
Another recipe you may want to check out is the Gluten-Free Apple Sponge Cake With Almond Topping
Ingredients
3 Tbsp. Unsalted butter
2 pears, cored and sliced into 1/4-inch wedges
4 Tbsp. Coconut sugar, or sweetener of choice, divided
1 tsp. Fresh lemon juice
1/4 tsp. GF ground cinnamon
1/2 cup milk
4 large eggs
2 Tbsp. Extra virgin olive oil or avocado oil
1/2 tsp. vanilla extract
1/2 cup gluten-free all-purpose flour (I used cup4cup)
1/4 tsp. Sea salt
*As an Amazon Associate and member of other affiliate programs, I earn from qualifying purchases. Please check out my sponsorship and disclosure policy page for more details
Instructions
Preheat oven to 450 F
Heat butter in an 8-inch round cake pan over medium heat. Add pears, 2 tablespoons of sugar, lemon juice and cinnamon. Cook for 3 - 5 minutes until the pears start to soften. Depending on how ripe the pears are. Stirring as needed.
While the pears are softening, place remaining ingredients into a high-speed blender in the order they are listed. Don't forget the 2 tablespoons of sugar. Blend at high speed until smooth
As soon as the pears are ready immediately pour the batter over the hot pears and bake for 15 minutes until the edges start to brown
Remove from the oven and rest for five minutes. Using a sharp knife loosen the edges and flip the cake onto a plate. To do this, place a plate on top of the cake pan and carefully flip the pan. The cake should slide out easily
Serve warm with a dollop of vanilla bean ice cream or as is at room temperature
Similar Recipes
Dutch Baby With Blueberry Compote & Feta (Gluten-Free)
Nothing beats a delicious Dutch Baby with blueberry compote and feta for Sunday brunch. Dutch baby sometimes called a German pancake is a large American popover, a simple pancake baked in the oven. What makes this gluten-free Dutch baby different from others is, the topping, a freshly made blueberry compote and feta cheese. The sweetness […] Read More
Prep Time
10 Minutes
Difficulty
Easy
Cook Time
25 Minutes
Serves
4
Gluten-Free Dutch Baby With Smoked Gouda, Tomatoes and Arugula
Gluten-Free Dutch Baby With Smoked Gouda, Tomatoes and Arugula. I cannot even begin to tell you how delicious this gluten-free Dutch baby is. Think of Yorkshire pudding, topped with melted smoked gouda cheese, arugula, garlic basil tomatoes and a drizzle of balsamic vinegar. Have I got your attention? What is a Dutch baby? For those that […] Read More
Prep Time
5 Minutes
Difficulty
Easy
Cook Time
45 Minutes
Serves
4 sides
Gluten-Free Coconut Pear Breakfast Cake (Dairy-Free)
Gluten-Free Coconut Pear Breakfast Cake — don't you love a cake that can be used for breakfast, brunch, snack or a dessert? This stunning breakfast cake is one of those cake recipes that you will love for any time of the day. The deliciously moist gluten-free coconut cake is topped with pecans and pears, then […] Read More
Prep Time
15 Minutes
Difficulty
Easy
Cook Time
40 Minutes
Serves
12