Gluten-Free Coconut Pineapple Cake (Dairy-Free)
Prep Time
20 Minutes
Difficulty
Easy
Cook Time
35 Minutes
Serves
8
Average Rating: 5 | Rated By: 8 users
Gluten-Free Coconut Pineapple Cake with coconut vanilla frosting. The two layer dairy-free cake is soft, moist, filled with pineapples and flavoured with coconut. But, it is the special coconut vanilla frosting that makes this into an extra special dessert. If you are into decorating, add a few edible flowers and chunks of pineapple. 
I feel that this is probably my favourite gluten-free cake yet. The pineapple and coconut are probably the best combination, kind of Hawaiian dessert…don't you think? The frosting is different from most, because it is a glaze.
the frosting/glaze…
What makes this coconut vanilla frosting special, it has 1/3 of powdered sugar that you would typically use in a frosting recipe. The frosting is made mostly with coconut milk, fresh lemon juice and vanilla.
By using coconut milk, I cut back on butter and sugar. The traditional frosting is made mainly of powdered sugar and butter. To thicken the frosting, I added some arrowroot starch and for creaminess a little dairy-free butter. You will love it!!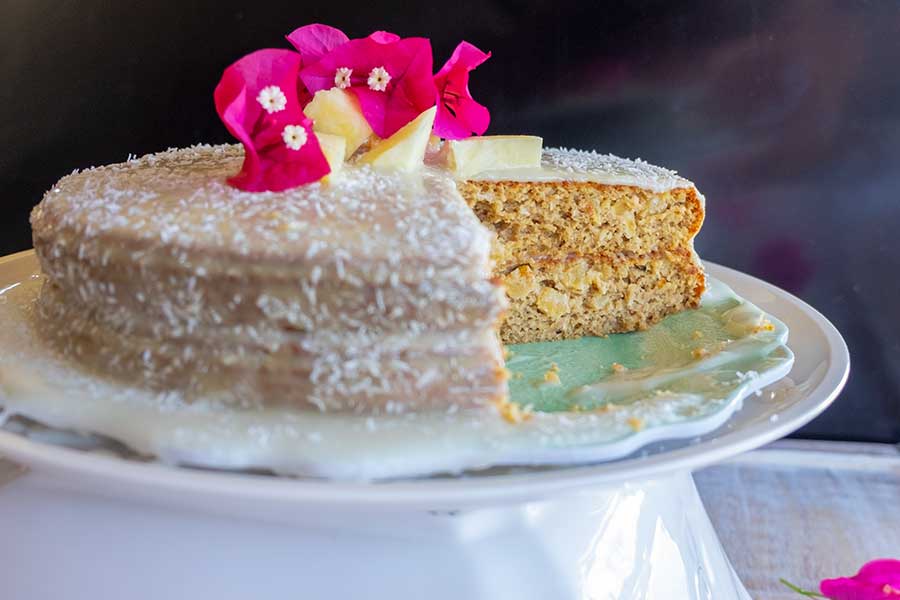 What is the difference between frosting and icing?
The frosting is thicker and creamier with a buttercream like texture and buttery taste. Because it is made mostly with butter. A frosting is excellent for decorating cakes and cupcakes because it holds its shape.
Icing is made mainly of sugar and a liquid. It is sometimes called a "glaze" It is thinner, more sugary, glossier and will harden upon cooling.
Icing is ideal for donuts, sugar cookies or my favourite gluten-free cinnamon buns. For this coconut pineapple cake, I wanted something in-between a frosting and a glaze. I wanted to cut back on the sugar but wanted to keep the frosting flavourful and didn't want it to harden.
Enter the coconut vanilla frosting. If you are looking for a super moist cake packed with flavour and a light frosting, this dessert is for you! Enjoy 🙂
Are you looking for pineapple inspired recipes? Check out our most popular gluten-free pineapple recipes.
Ingredients
4 large eggs
3/4 cup coconut palm sugar or sweetener of choice
1/3 cup extra virgin olive oil
1 cup dairy-free milk (coconut, almond, rice, hemp)
1/2 cup pineapple juice (from the canned pineapples)
1 tsp. Pure vanilla extract
1 cup unsweetened shredded coconut plus some for topping
1/2 cup almond flour
1/4 cup arrowroot starch/flour
2 Tbsp. coconut flour
1 tsp. GF aluminum-free baking powder
1 tsp. GF baking soda
1/2 tsp. Himalayan fine grain salt or salt of choice
1/2 tsp. xanthan gum
1 1/2 cups canned crushed pineapple, drained
COCONUT VANILLA FROSTING
1 (13.5 oz.) can coconut milk
1/4 cup lemon juice
1 tsp. Pure vanilla extract
Pinch of Sea salt
1 1/2 cups powdered sugar
2 Tbsp. Arrowroot starch/flour
2 Tbsp. Vegan butter
*As an Amazon Associate and member of other affiliate programs, I earn from qualifying purchases. Please check out my sponsorship and disclosure policy page for more details
Instructions
Preheat oven to 350 F and spray 2 (8 inch) standard cake pans with non-stick cooking oil
Using an electric mixer, whisk the eggs with coconut sugar until creamy. Add olive oil, milk, pineapple juice and vanilla and mix to combine
In a large bowl whisk together dry ingredients (sweet sorghum flour to xanthan gum) Add in the wet mixture and whisk together until the batter is smooth. Add drained pineapples and gently stir into the batter
Pour batter into prepared pans and bake for 35 - 38 minutes, the cake should pass the toothpick test
Cool cake in the pan for 10 minutes, then turn out onto a wire rack to cool
For the coconut vanilla frosting; While the cake is baking, using a small saucepan, whisk together coconut milk, lemon juice, vanilla, salt, powdered sugar and arrowroot starch. Cook over medium heat stirring constantly until frosting thickens. About 5 minutes. Remove from the heat and stir in butter until melted. Cool and refrigerate for 2 hours
Assemble; Place one cake layer on a serving platter. Spread 1/3 of frosting over the cake. Add the second cake layer and spread the frosting all over the cake. Sprinkle with shredded coconut. If desired decorate with edible flowers and chunks of pineapple
Similar Recipes
2 Layer Grain-Free Chocolate Cake (Gluten-Free, Nut Free)
This 2 Layer Grain-Free Chocolate Cake is a chocolate lover's dream. This incredibly delicious chocolate dessert is made up of two layers. A light chocolate sponge cake and a layer of chocolate mousse. How does that sound, I know, where is the spoon 😍 This grain-free chocolate cake is made with only 6 ingredients! You […] Read More
Prep Time
15 Minutes
Difficulty
Easy
Cook Time
45 Minutes
Serves
10
30-Minute Gluten-Free Chocolate Cake With Nutella Frosting
Moist and indulgent 30-Minute Gluten-Free Chocolate Cake With Nutella Frosting → this recipe would make the perfect weeknight dessert when you need something fast and sweet. The cake is light, moist, and chocolaty finished with the creamiest, fluffiest, most delicious Nutella frosting.  I am super excited about this gluten-free chocolate dessert recipe because all you need […] Read More
Prep Time
18 Minutes
Difficulty
Easy
Cook Time
12 Minutes
Serves
8
Best Gluten-Free Carrot Cake
The Best Gluten-Free Carrot Cake with light zesty cream cheese frosting. The deliciously tasty cake is made with unsweetened coconut flakes, raisins, coconut sugar and orange juice, keeping it sweet without adding that extra sugar. The creamy, zesty frosting is made with a mix of cream cheese and sour cream, keeping the frosting light and […] Read More
Prep Time
20 Minutes
Difficulty
Easy
Cook Time
25 Minutes
Serves
6-8