Indian Spiced Creamy Rice Pudding, Dairy Free
Published on Jul 01, 2021
by
Kristina Stosek
Prep Time:

5 minutes
Cook Time:

30 minutes
Serves:

4 - 6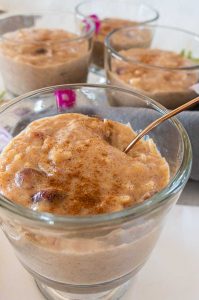 ​This post may contain affiliate links, please see our
privacy policy
for details
This Indian Spiced Creamy Rice Pudding is the perfect gluten-free dessert or a sweet and satisfying snack…perfect for any time of the day.
This dairy-free rice pudding is super creamy with a hint of cardamom, nutmeg and cinnamon with dried fruit and pistachios throughout.
The thing about rice pudding is you can serve it chilled on a hot summer day as a refreshing summer dessert or warm for cooler nights as a satisfying, comforting dessert.
I can honestly say this is the very best gluten-free creamy spiced rice pudding!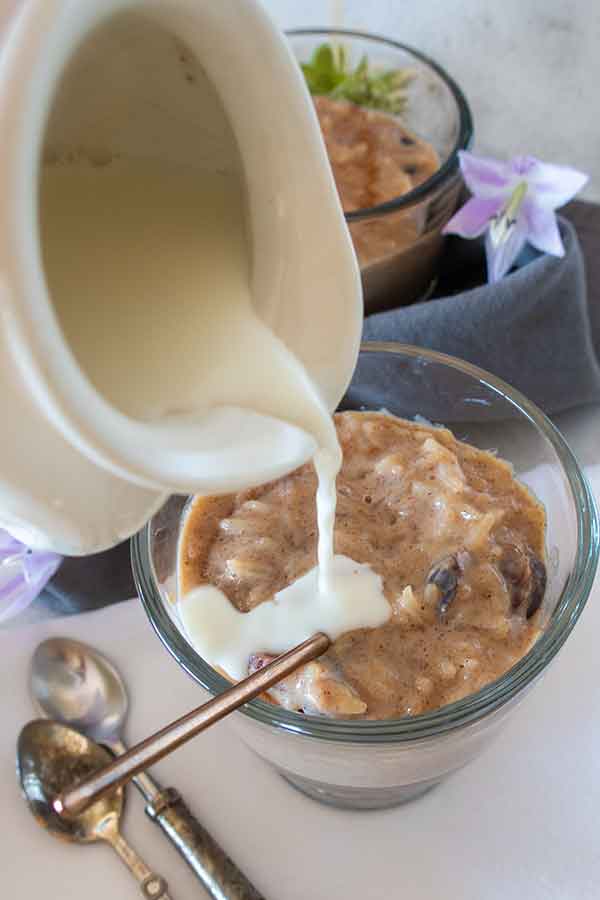 In my opinion, rice pudding is pure comfort. After all, there aren't too many people that don't like rice pudding.
However, this pudding is more than just rice cooked in milk. For extra flavour and tantalizing textures, I added dried fruit and pistachios.
Of course, you can choose almost any dried fruit, but I like cranberries. These tiny berries add a slight tartness to the rice pudding, balancing the sweetness.
To keep the pudding rich and perfectly sweet, I replaced sugar with sweetened condensed coconut milk. This milk truly makes the Indian spiced rice pudding extra creamy with that perfect sweetness.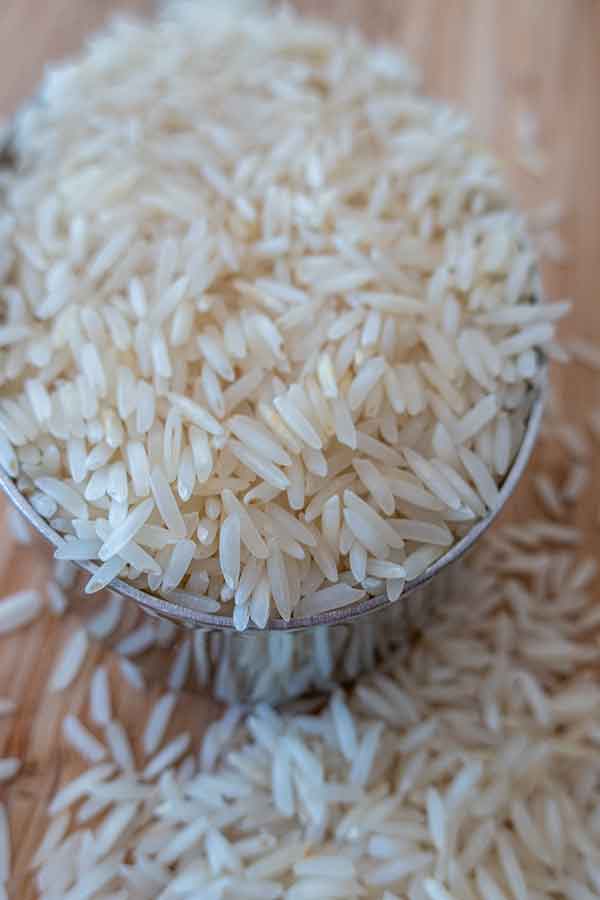 the best rice for creamy rice pudding…
You can make rice pudding with any white rice providing the ratio of water to milk is correct. I like to use aromatic basmati rice; other good options are sushi rice (Japanese short-grain rice), arborio, jasmine and regular long-grain white rice.
how to make rice pudding with cooked rice…
A great way to use leftover cooked rice is for rice pudding or Asian style fried rice. For this Indian spiced creamy rice pudding, you will need 1 1/2 cups cooked rice, then start with step two and follow the directions.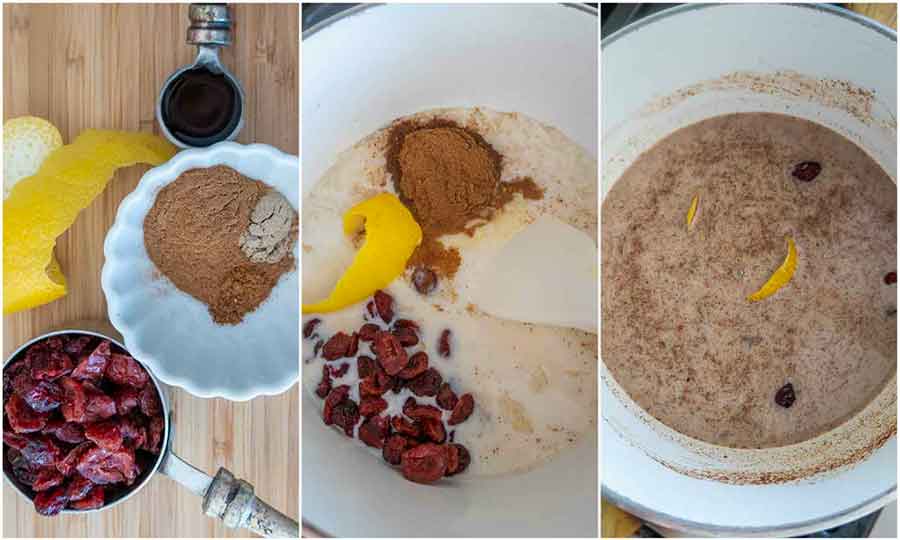 how much dry rice makes cooked rice…
The rule of thumb is 1 cup of dry white rice yields 3 cups of cooked rice. However, it depends on the cooking method and type of rice. Therefore, it is best to follow the directions on the package.
should you rinse rice before cooking?
Rinsing rise removes debris and extra starch. Rinsing rice is especially important when making rice pudding. Too much starch may take away from that perfect creamy texture.
Basmati rice gives off the least starch, which is why I used it in this creamy rice pudding recipe.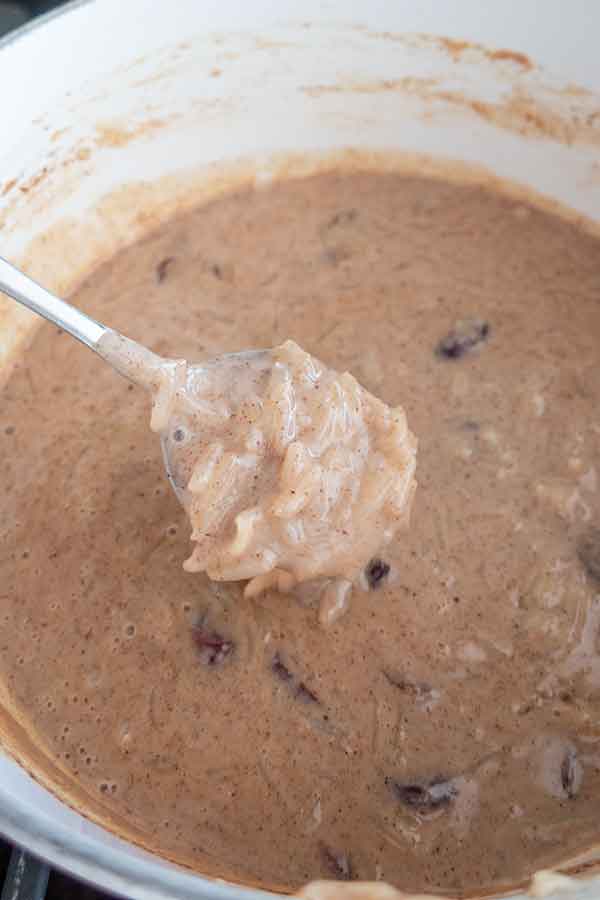 Is rice gluten-free?
All rice white, brown, wild and black rice in its natural form is gluten-free. Rice is a naturally gluten-free grain. Did you know that that rice pudding most likely originated in India?
flavoured rice and additional ingredients…
Some flavoured rice varieties may contain gluten-based ingredients. That's why it is always important to read the label before you buy flavoured or microwavable rice, as some can contain gluten.
cross-contamination…
Sometimes, rice can be cross-contaminated with gluten, meaning that it's been grown, harvested, or processed near or in the same facilities as wheat, barley, or rye.
Buying rice from bulk bins may also be cross-contaminated with gluten. Therefore, I recommend never buying rice from bulk bins.
Is arsenic in rice?
Brown rice has 80 percent more inorganic arsenic on average than white rice. The arsenic is in the grain's outer layers. The outer layers are removed to make white rice.
what to serve with creamy rice pudding…
This Indian spiced creamy rice pudding made on the stovetop does not need anything besides an extra sprinkle of cinnamon. The pudding is creamy with fruit and pistachios throughout and is flavoured with Indian spices to perfection.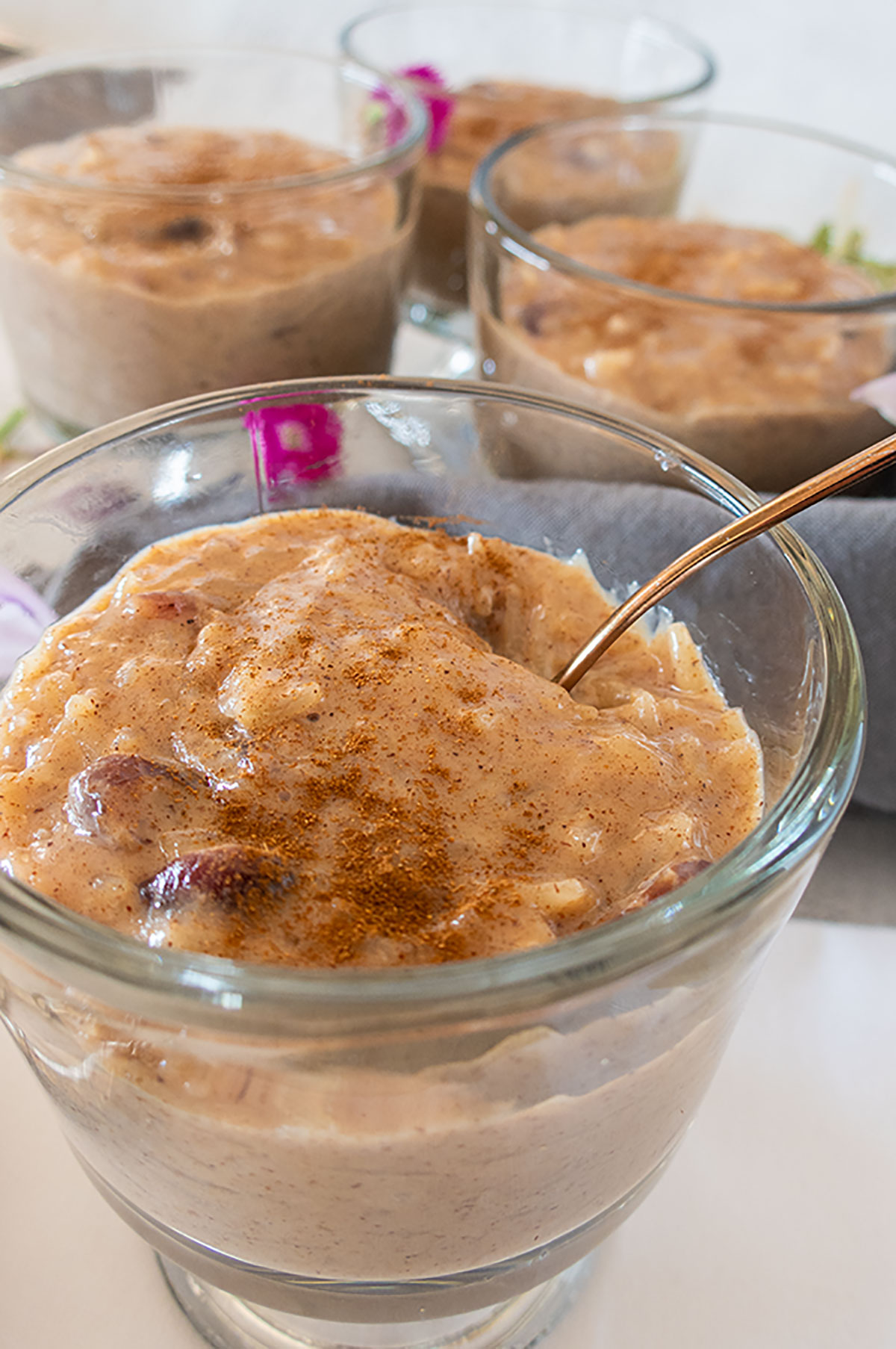 But if you want to make it into a spectacular gluten-free dessert, add whipped cream, seeds, nuts, or fresh berries. Sometimes I like to add a splash of cream to make the rice pudding extra creamy.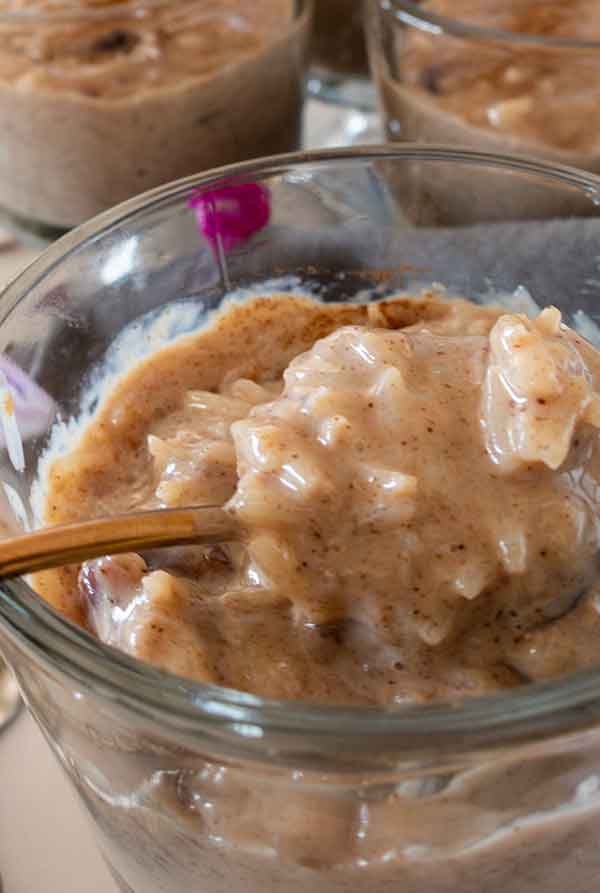 Whether you are making this Indian spiced creamy rice pudding as one of your gluten-free cold summer desserts or serve warm as a comforting pudding for cooler nights, I know you will love it! Enjoy 🙂
Indian Spiced Creamy Rice Pudding, Dairy Free
Published on Jul 01, 2021
by
Kristina Stosek
Instructions
1.

In a medium heavy-bottom saucepan, bring water to a boil. Add the rice and salt, cover, reduce heat to simmer and cook for 15 minutes

2.

Add condensed coconut milk, 3/4 cups of dairy-free milk, dried fruit, lemon peel, cinnamon, cardamom and nutmeg. Bring to a simmer without covering the pot and cook for 10 more minutes, stirring occasionally

3.

Remove the lemon peel. Whisk the remaining 1/4 cup of dairy-free milk with tapioca flour and stir into the pudding. Cook until the pudding has thickened about 2 minutes

4.

Remove from the heat and stir in pistachios and vanilla. Divide pudding into individual serving bowls

5.

Serve warm or chilled with a splash of coconut cream and a sprinkle of cinnamon if you so desire
Leave a Comment
Much easier to make then I feared in my head! I added chopped apricot and pistachio and topped it with coconut whipped cream. It was really tasty, the cardamom really pulls it together. The only feedback I received was there was too much cinnamon. So next time I'll dial it to maybe half a Tbsp and let people top with more if they like. Thank you for the recipe!