Gluten-Free Kung Pao Chicken with Easy Fried Rice
Published on Jul 13, 2020
by
Kristina Stosek
Prep Time:

15 minutes
Cook Time:

15 minutes
Serves:

4
​This post may contain affiliate links, please see our
privacy policy
for details
Sticky most delicious Gluten-Free Kung Pao Chicken…Roasted in the oven first and then tossed in the most delicious Kung Pao sauce. By avoiding the deep-frying of the chicken, the recipe was much simpler and healthier.
Kung Pao Chicken with made from scratch Kung Pao sauce
Kung Pao sauce is probably one of the most flavourful sauces you can add to chicken. To complete this gluten-free chicken dinner, I added a quick and easy fried rice recipe. I can honestly say that this chicken recipe is better than take-out!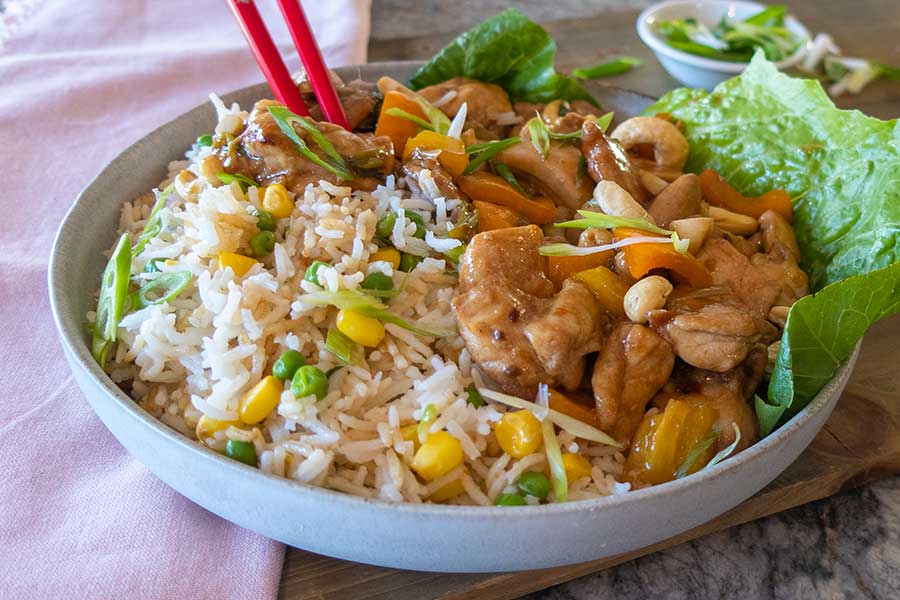 What is Kung Pao sauce?
Authentic kung pao sauce is thick and sticky lightly sweetened, a bit sour, savoury, and holds some heat from Sichuan ( Szechuan) peppers. Sichuan pepper has a unique aroma and is not as hot as chilli peppers and not as pungent as black pepper.
To simplify this recipe, I used red chilli pepper flakes. However, if you do have Sichuan pepper on hand, please use it.
The Kung Pao sauce is made in minutes. First, briefly stir-fry the green onions, garlic, ginger and bell peppers. While the veggies are becoming deliciously fragrant, mix the sauce ingredients.
The sauce is made with a mixture of gluten-free tamari sauce, gluten-free hoisin sauce, rice vinegar, honey, sesame oil, red chilli pepper flakes, water, and to thicken the sauce up, I added tapioca or arrowroot starch.
Although I don't use corn starch in my recipes because it is one of the most GMO grains, you can also use corn starch. Now that you have the sauce mixed, pour it over the veggies, and you are done.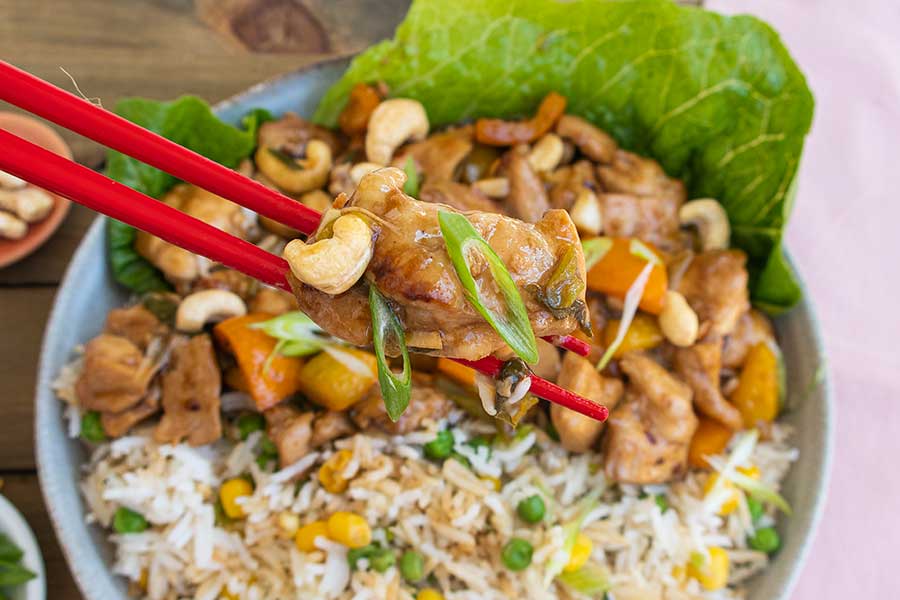 Kung Pao Chicken without frying
I wanted to keep this Gluten-Free Kung Pao Chicken recipe healthier and easier to make. Typically the chicken is marinated and then fried in batches. Then the chicken is added to the sauce. To prepare the chicken for the oven, I seasoned it with rice vinegar, honey and tamari sauce.
To give it a crispy coating, I added an egg white, olive or peanut oil and tapioca or arrowroot powder. Toss everything together, evenly spread over a large baking tray and roast at a high temperature until the chicken starts to brown.
The roasting takes about 10 – 15 minutes, depending on how large the chicken pieces are. The chicken is now ready to be added to the sauce.
Now that you have the Kung Pao sauce and the chicken ready add the chicken and cashews to the sauce. Heat the sauce until it thickens and the chicken is heated through. This takes about 2 – 3 minutes.
In this gluten-free Kung Pao Chicken recipe, I used cashews, but you can also use peanuts. I try to avoid peanuts whenever possible because so many people are allergic to them. This is why I used olive oil instead of peanut oil in this recipe.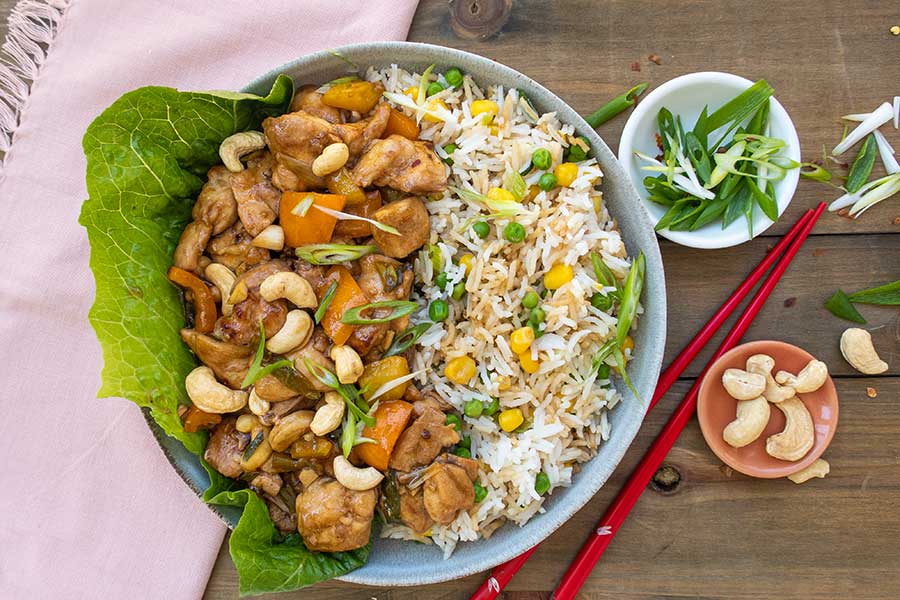 How to serve this take-out style Chinese dinner?
To make this a complete chicken dinner, I have included a very simple fried rice recipe. However, you can use simple rice with parsley, or if you are watching your carbs serve the Kung Pao Chicken in fresh crispy lettuce leaves.
For me, I love the Kung Pao Chicken rolled in young cabbage leaves. During hot summer months, I like to eat light and serve this delicious Asian chicken dish in lettuce or young cabbage leaves.
Chicken dinners are always popular, so adding another delicious gluten-free chicken recipe to your repertoire is always welcome. This gluten-free chicken dinner is a favourite of mine because it takes less than thirty minutes from start to finish, and the Chinese chicken dish satisfies that take out dinner craving.
healthier Kung Pao Chicken recipe
This Kung Pao Chicken is also a healthier version of the one you would order in a restaurant because it has less fat, less salt and the chicken recipe is made without MSG.
I hope you enjoy this take-out style gluten-free chicken dinner as much as my family does. I call this an easy, weeknight Chinese chicken dinner takeout meal.
Let's Connect!
Be sure to FOLLOW US on FACEBOOK and PINTEREST. And don't forget to sign up for our newsletter, the form is at the bottom of this page. We always have something new and exciting for you!
Many thanks!
Kristina xx
Gluten-Free Kung Pao Chicken with Easy Fried Rice
Published on Jul 13, 2020
by
Kristina Stosek
Instructions
1.

Preheat oven to 450 F and line a large baking tray with foil paper

2.

While the oven is heating up, In a large bowl combine chicken, 1 Tbsp. Rice vinegar, 1 Tbsp. Honey, 1 Tbsp. Tamari sauce, 1 Tbsp. tapioca/arrowroot powder, 1 Tbsp. Olive oil and egg white. Spread the chicken in an even layer on the prepared baking sheet. Transfer to the oven and bake for 10 - 12 minutes, until the chicken starts to brown

3.

While the chicken is cooking, combine the sauce ingredients until smooth

4.

Heat remaining olive oil in a large skillet over medium heat, add green onions, garlic, ginger and bell peppers. Stir-fry for 2 minutes. Add the sauce mixture and cook over medium-low heat until the sauce starts to thicken. About 2 minutes. Add the chicken and cashews and cook until the chicken is heated through. About 3 minutes.

5.

Serve with diced green onions and extra cashews.

6.

7.

Using a large skillet, heat the oil over medium heat. Add green onions, garlic and ginger and stir-fry until fragrant. About 2 minutes. Turn up the heat to high, add rice, peas, corn and tamari sauce and stir to combine. Cook until the rice is heated through stirring as needed. Enjoy!

8.

Notes: if you want to intensify the chicken flavour, marinate the chicken overnight and replace chicken broth for water
Leave a Comment
very tasty, I used low sodium tamari sauce and it turned out perfect!
Kristina
thank you for your input, sounds delicious.
The recipe was a tad on the salty and a bit too much vinegar for us. I would advise backing off on the soy sauce by a tsp or maybe go with 1/2 tbsp and half the vinegar as well. I would also up the red pepper flake if you like it more spicy... I'd go with 3/4 tsp or just add in afterwards to taste.