Gluten-Free Strawberry Dumplings Recipe
Published on Apr 22, 2014
by
Kristina Stosek
Prep Time:

30 minutes
Cook Time:

45 minutes
Serves:

12 dumplings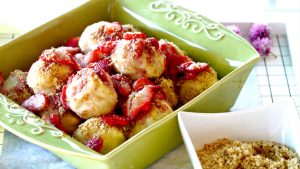 ​This post may contain affiliate links, please see our
privacy policy
for details
Gluten-Free Strawberry Dumplings are all about sweet strawberries inside pillowy dumplings coated with lightly sweetened ground nuts and fresh strawberries.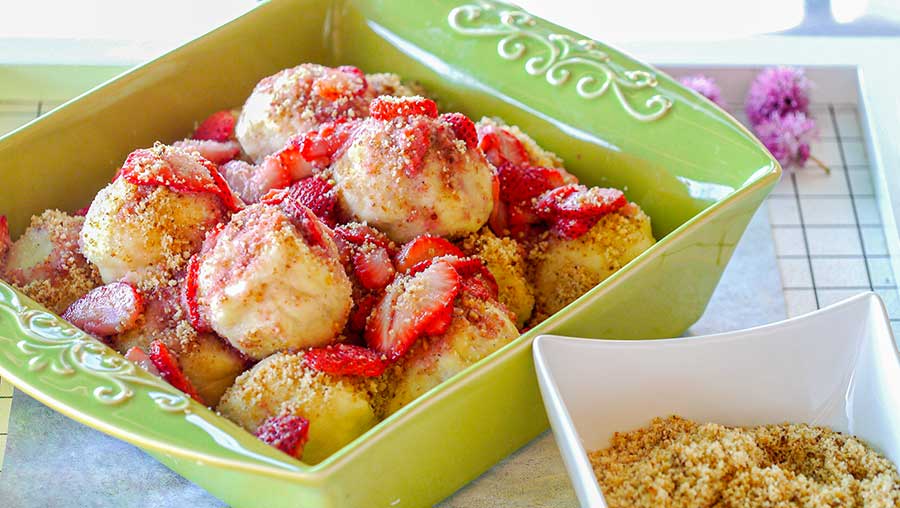 Gluten Free Strawberry Dumpling Recipe from Eastern Europe
This strawberry dumpling recipe is a twist on the classic recipe but healthier. The dumplings are prevalent in Eastern Europe, and are typically made with cooked potatoes. Another recipe that is made using mashed potatoes are the Gluten-Free Cheesy Mashed Potatoes Biscuits, they are so good!
What makes these strawberry dumplings healthier?
To keep this gluten-free dumpling recipe healthier, I replaced the potatoes with sweet potatoes and added flaxseed. The sweet potatoes added natural sweetness without adding white sugar to the recipe. As per Healthline, white sugar can harm your health when eaten in large quantities.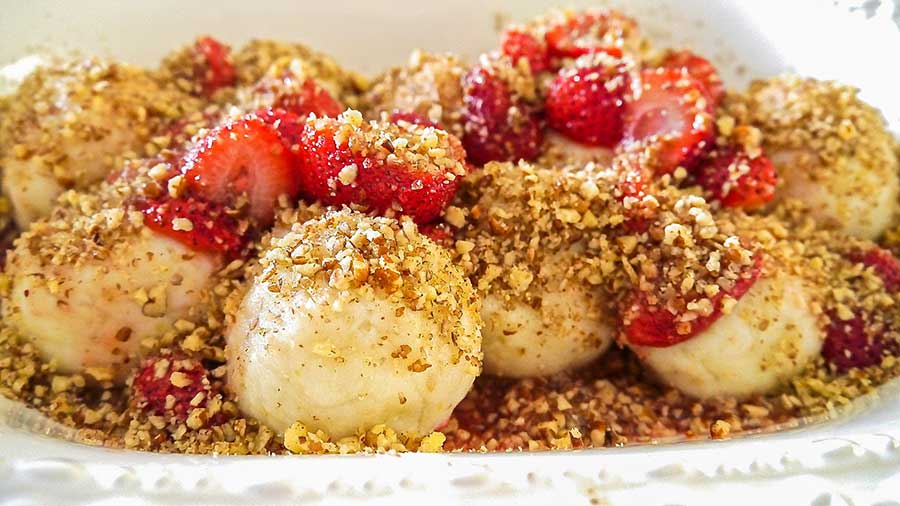 topping for strawberry dumplings
The topping is often made using breadcrumbs mixed with white sugar and toasted in butter or oil. I replaced the bread crumbs with ground nuts and sweetened them lightly with coconut sugar.
By using nuts, I added fiber, protein, and more flavour. If someone in your family is allergic to nuts, use the breadcrumb mixture.
To make the topping, mix 1 cup of gluten-free breadcrumbs with 1/2 cup of sugar and lightly toast with butter or olive oil in a non-stick pan over medium-low heat.
Have you tried the Gluten Free Old Fashioned Apple Dumplings? YUM!
What are gluten free strawberry dumplings?
The fresh tasting sweet strawberries are cooked inside a potato dough. The recipe takes a little work, but the gluten-free strawberry dumplings are well worth it.
Trust me on this! In Hungary, the dumplings are made with small fresh damson or Italian plums. So feel free to replace the berries with plums.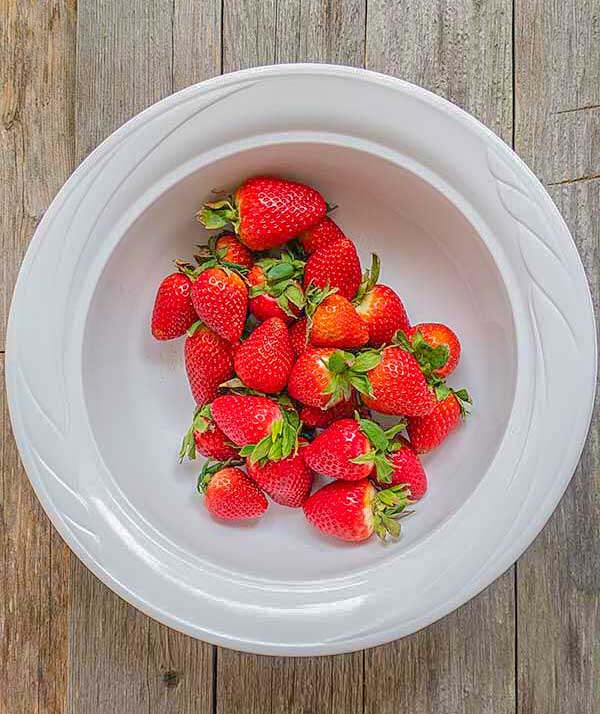 How to choose a strawberry?
One thing to keep in mind when choosing strawberries, they do not continue to ripen once they are picked. So what you see is what you will taste.
Look for bright red plump strawberries with fresh, bright green leaves. Look for mold! The size of the berry doesn't matter. Sometimes the smaller the strawberry, the sweeter it is.
And, always check the top and bottom of the box when buying strawberries. Often they start to mold on the bottom. And lastly, if your budget allows it, always buy organic because strawberries are on top of the dirty dozen list.
gluten-free strawberry dumplings recipe overview
Typically strawberry dumplings are made with potatoes and wheat flour. I wanted to add extra nutrients and less sugar, so I made them with sweet potatoes, and by using rice flour, I kept them gluten-free.
The sweet potatoes are cooked, then mashed with coconut oil or butter, ground flaxseed, eggs and mixed with rice flour.
Once the gluten-free dumpling dough is ready, wrap it around each strawberry. The dumplings are then cooked in boiling water.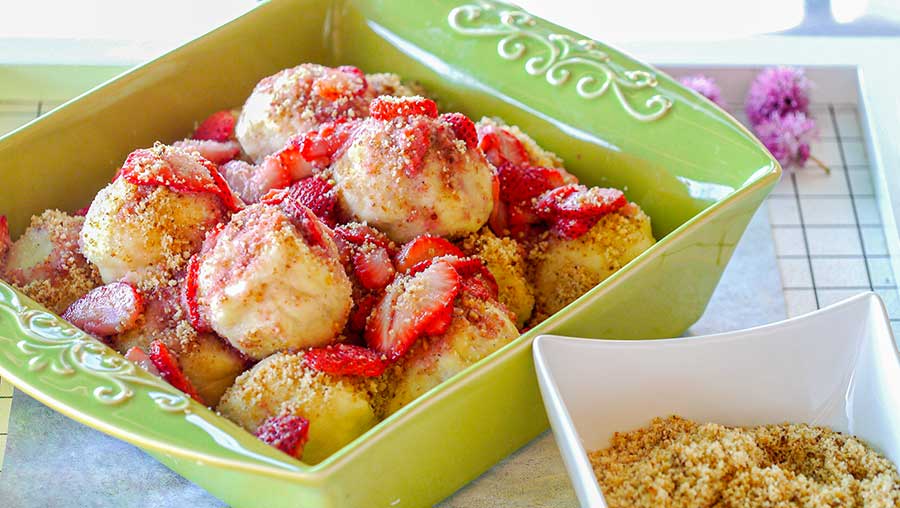 The topping is super easy. Slice a few more strawberries and place them in a microwave for about thirty seconds to soften them. The strawberries are then poured over the cooked dumplings and topped with lightly sweetened ground nuts.
My preference is pecans, but walnuts are just as delicious!
I hope you enjoy these delicious gluten-free strawberry dumplings as much as my family does. Strawberry dumplings is an Eastern European dish I grew up with, and it is typically served as a main.
But in our home, we love the dumplings as a dessert or as a snack. You can serve the dumplings warm or at room temperature.
For more recipes that originated in Eastern Europe, check out these gluten-free recipes.
Let's Connect!
Be sure to FOLLOW US on FACEBOOK and PINTEREST.
Many thanks!
Kristina xx
Gluten-Free Strawberry Dumplings Recipe
Published on Apr 22, 2014
by
Kristina Stosek
Instructions
1.

Cook the sweet potato in water until soft, about 15 min. Drain and mash with coconut oil or butter

2.

Once the sweet potato has cooled, stir in eggs, flaxseed, salt and ¾ cup of rice flour. Mix until a dough forms, add a little more rice flour if the dough is too sticky. Before you start making the dumplings bring a large pot of water to a boil

3.

Place a sheet of parchment paper on your working surface and lightly sprinkle with rice flour. Scoop out a large spoonful of the dough and form a ball. The ball should be slightly bigger than the strawberry. Press it down to a small pancake and wrap the dough around the strawberry. If needed add extra flour to stop it from sticking. Place the dumpling on the parchment paper. Continue doing this with remaining strawberries

4.

Add the dumplings to the boiling water and cook for approximately 10 minutes, or until the dough is fully cooked and the strawberries are floating to the top. Best way to tell if they are cooked is once they float to the top touch them and if they are soft but NOT mushy they are ready. Over cooking them will make the dumplings soft and mushy. Do not overcrowd the dumplings in the water so if needed do it in batches

5.

Transfer cooked and drained dumplings onto a serving platter

6.

7.

Place sliced strawberries into a bowl and microwave for 30 seconds. Scatter the strawberries over the dumplings

8.

Mix ground nuts with coconut sugar and sprinkle over the dumplings