Gluten-Free Strawberry Dumplings
Prep Time
30 Minutes
Difficulty
Advanced
Cook Time
45 Minutes
Serves
12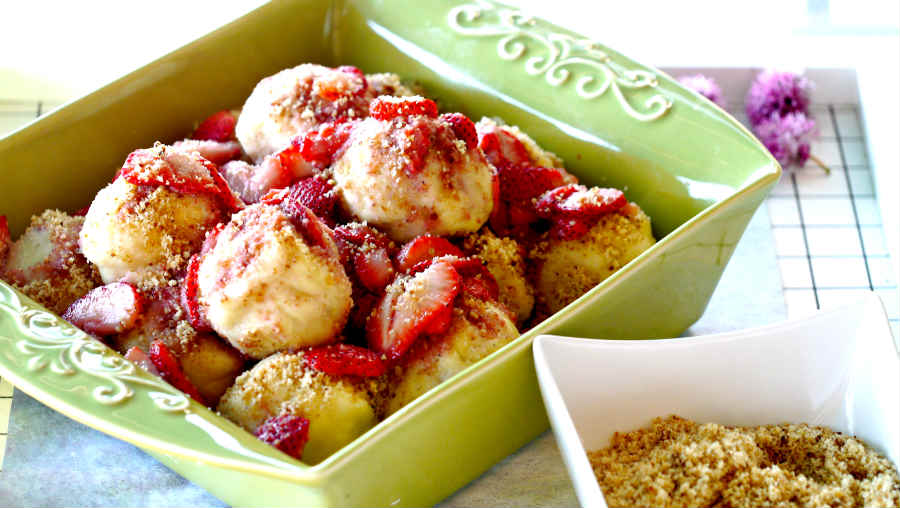 Average Rating: 4.5 | Rated By: 6 users
This recipe is a healthier version of the classic Gluten-Free Strawberry Dumpling recipe. These gluten-free strawberry dumplings are made with sweet potatoes, this adds sweetness to the dumplings without adding extra sugar. The deliciously sweet strawberries are cooked inside small dumplings and then topped with a strawberry sauce and ground nuts. These gluten-free strawberry dumplings are sooo good!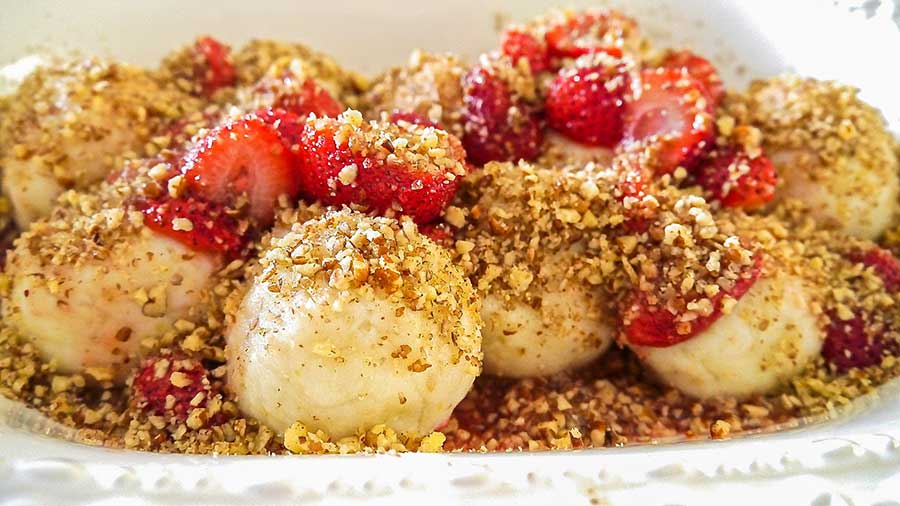 The gluten-free strawberry dumplings details.
Typically strawberry dumplings are made with potatoes, but I wanted to add extra nutrients and less sugar, so I made them with sweet potatoes. This recipe requires a bit of work, but it is well worth it. First, the sweet potatoes are cooked, then mashed with coconut oil or butter, ground flaxseed, eggs and rice flour. Once the dough is made, the dough is wrapped around each strawberry then cooked in boiling water. The topping is super easy, slice a few more strawberries and sprinkle them with coconut sugar. Place the strawberries in a microwave for thirty seconds, or long enough to soften the strawberries. The strawberries are then poured over the cooked dumplings and topped with ground nuts. I like pecans, but walnuts are just as delicious!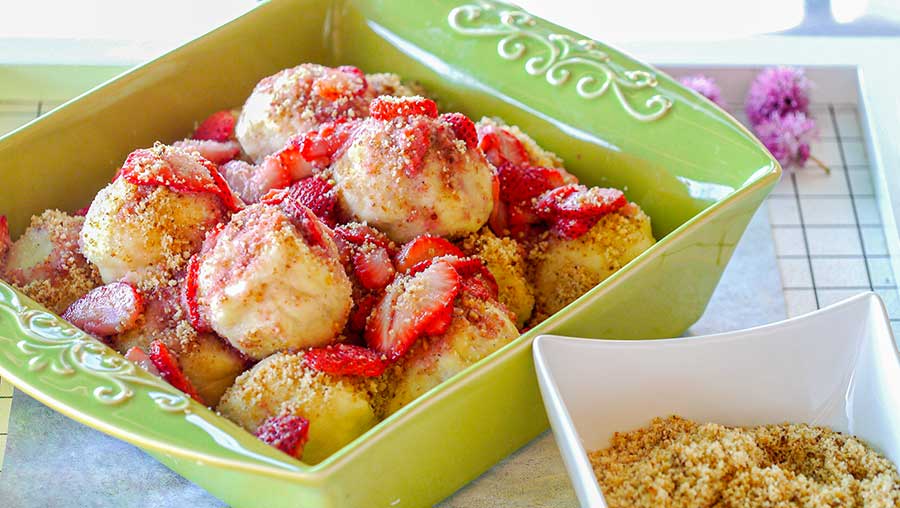 I hope you enjoy these delicious gluten-free strawberry dumplings as much as my family does. Strawberry dumplings dish is an Eastern European dish I grew up with, and it is typically served as a main. But in our home, we love the dumplings as a dessert or as a snack. Enjoy! If you want to try out the Eastern European cuisine, check out our gluten-free Eastern European recipes.
Ingredients
1 large sweet potato, peel and cut into quarters
1 Tbsp. coconut oil or butter at room temperature
1 Tbsp. GF ground flaxseed
½ tsp. sea salt
2 large eggs, at room temperature
1 cup white rice flour
12 small strawberries, hulled
TOPPING
2 Tbsp. coconut sugar
6 ripe strawberries, diced
1/2 cup ground pecans or walnuts
*As an Amazon Associate and member of other affiliate programs, I earn from qualifying purchases. Please check out my sponsorship and disclosure policy page for more details
Instructions
Cook sweet potato in water until soft, about 15 min. Drain and mash with coconut oil or butter
Once the sweet potato has cooled, stir in eggs, flaxseed, salt and ¾ cup of rice flour. Mix until a dough forms, add a little more rice flour if the dough is too sticky. Before you start making the dumplings bring a large pot of water to boil
Place a sheet of parchment paper on your working surface and lightly sprinkle with remaining rice flour. Scoop out a large spoonful of the dough, form a ball just slightly bigger then the strawberry, press it down to a small pancake and wrap it around the strawberry into a ball. If needed add some extra flour to stop it from sticking. Continue doing this with remaining strawberries. Add the dumplings to the boiling water and cook for approximately 10 minutes, or until the dough is fully cooked and the strawberries are floating to the top. Do not overcrowd the dumplings in the water so if needed do it in batches. Place cooked dumplings on a serving platter
For the topping ~ Place strawberries in a bowl and sprinkle with coconut sugar, then place in a microwave and cook for 30 seconds. Pour the sauce over the dumplings and sprinkle with ground nuts
Similar Recipes
Gluten Free Rhubarb Strawberry Squares
This healthy dessert recipe is the ideal showcase for rhubarb and strawberries. Did you know that rhubarb is a vegetable rather than fruit? The beauty of this recipe is that it is not complicated and the results are outstanding. In this gluten free rhubarb strawberry dessert, the base is moist and spongy. The topping is […] Read More
Prep Time
15 Minutes
Difficulty
Easy
Cook Time
50 Minutes
Serves
8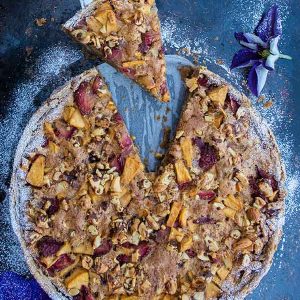 Gluten-Free Strawberry Apple Cake
I am super excited to share this Gluten-Free Strawberry Apple Cake recipe with you today. I must say this gluten-free cake turned out better than I expected. The base is a buttery crust, and the middle layer is made with strawberries and apples in a light sponge-like cake flavoured with cinnamon, lemon and vanilla. And […] Read More
Prep Time
15 Minutes
Difficulty
Beginner
Cook Time
65 Minutes
Serves
8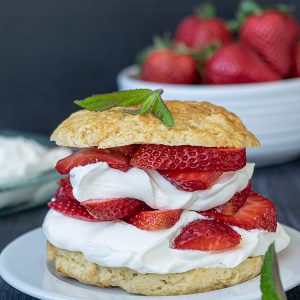 Gluten-Free Strawberry Shortcakes
Buttery, flaky and perfect Gluten-Free Strawberry Shortcakes – filled with juicy sweet strawberries and a lightly flavoured whipped cream, these classic gluten-free strawberry shortcakes are a perfect summertime treat! What I love about these shortcakes they are simple to make, using pantry staples and every bite is filled with whipped cream and juicy strawberries 🙂 […] Read More
Prep Time
10 Minutes
Difficulty
Easy
Cook Time
12 Minutes
Serves
4