Old Fashioned Apple Dumplings – Gluten Free
Published on May 11, 2023
by
Kristina Stosek
Prep Time:

30 minutes
Cook Time:

50 minutes
Serves:

6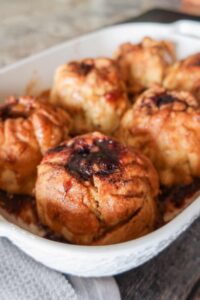 ​This post may contain affiliate links, please see our
privacy policy
for details
Homemade Gluten Free Old Fashioned Apple Dumplings just like Nana used to make: warming, cinnamon sugar apples wrapped in dumpling dough and baked in butter cinnamon sauce. Serve warm, or complete each serving with a dollop of vanilla ice cream.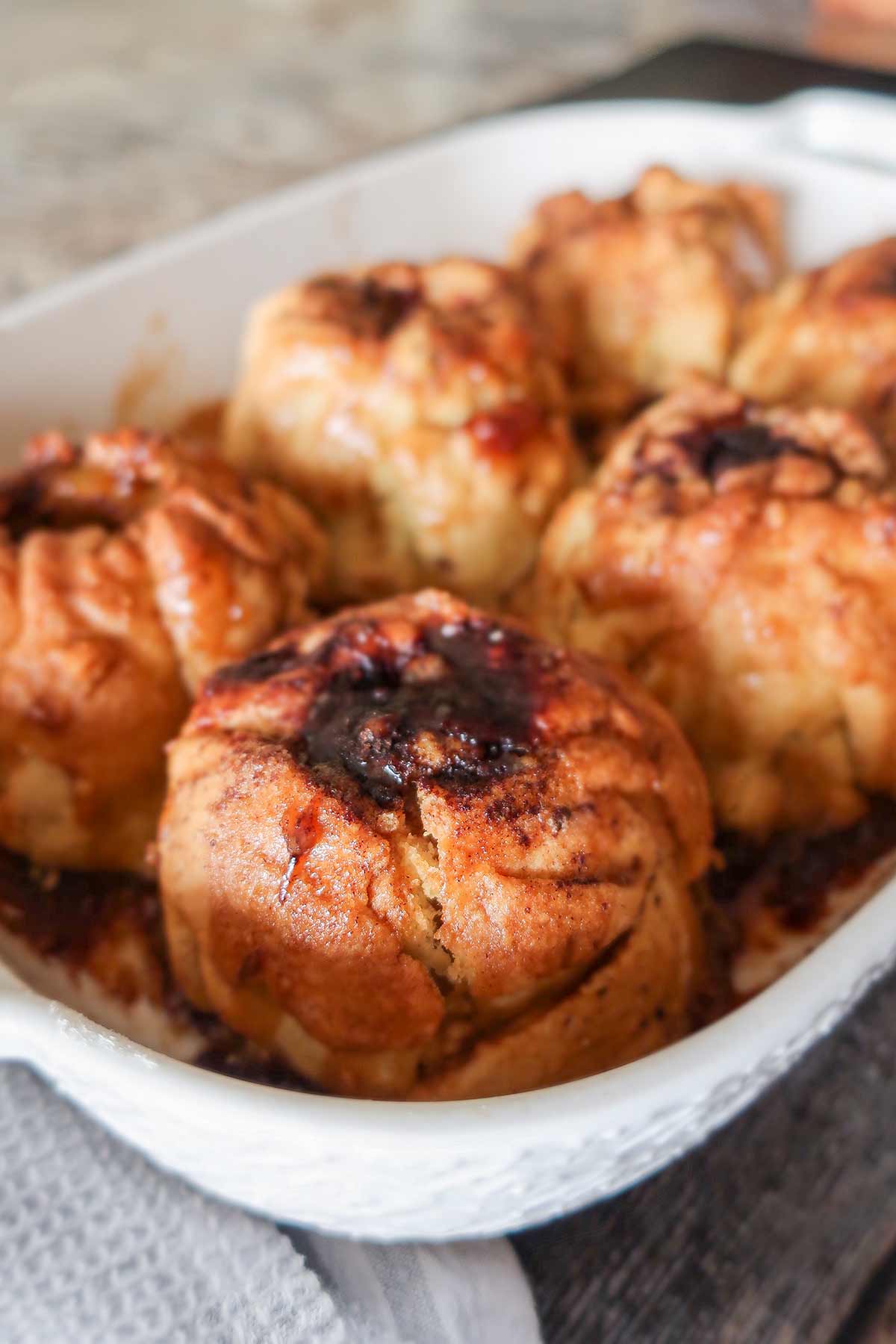 This is an insanely delicious gluten free apple dumpling dish!
These old-fashioned apple dumplings are not the prettiest, but I am so excited about them because tucked inside, these handmade dumplings have the tastiest warm cinnamon apples. So get ready to feel nostalgic with this classic apple recipe, revamped with gluten-free ingredients.
the recipe details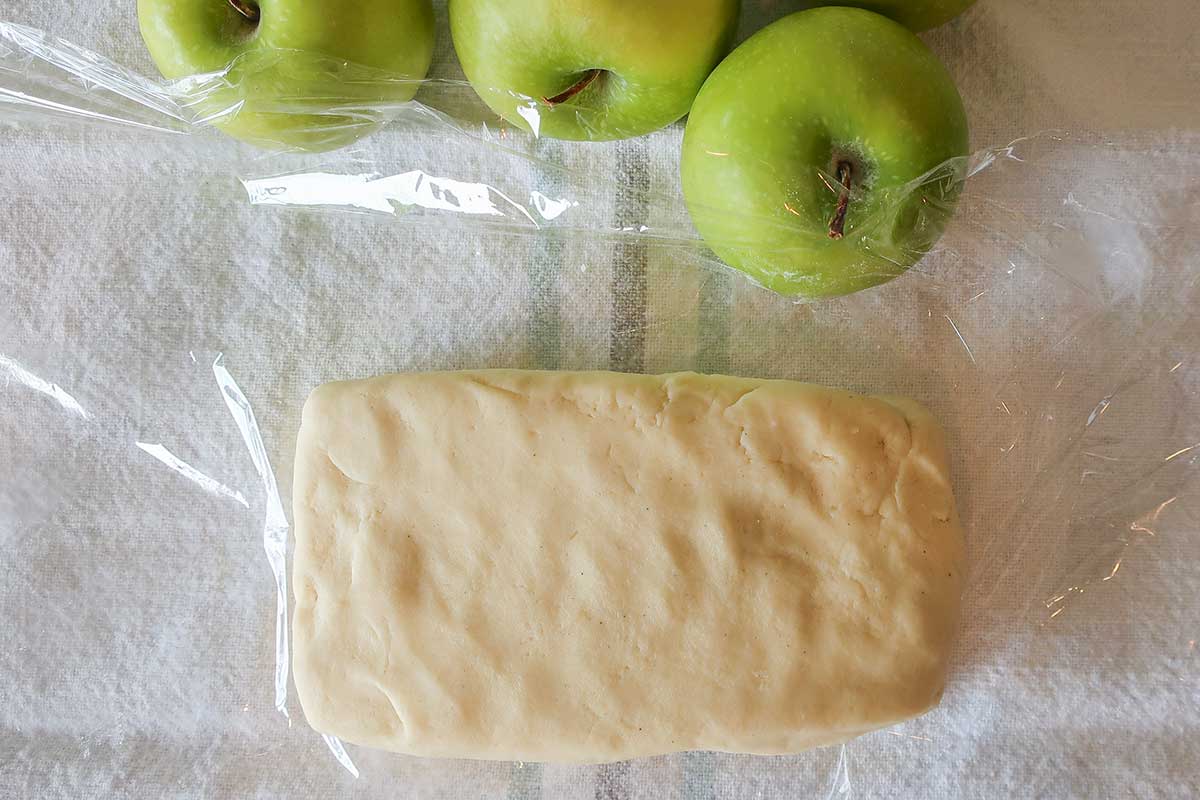 Make the dough first, then chill for only 30 minutes. The entire dough recipe is made in a food processor, super simple and easy!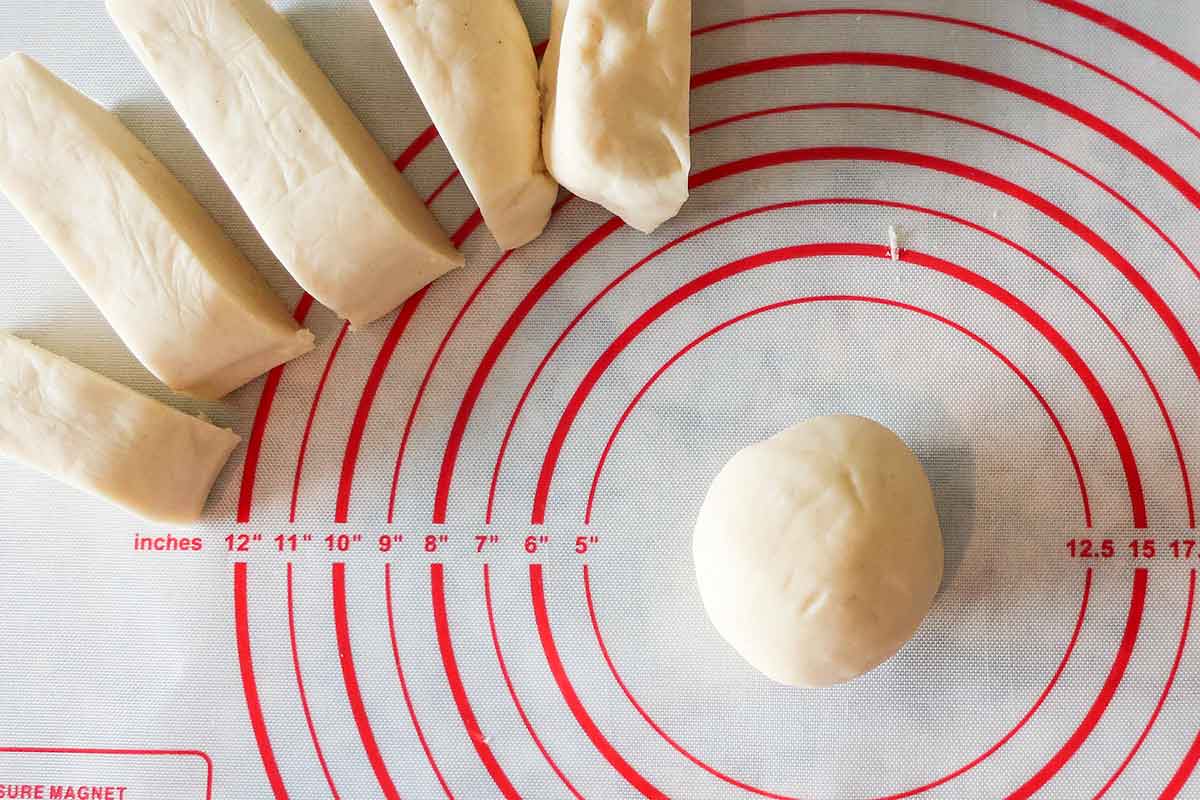 Divide the dough into six even pieces, and roll each piece into a ball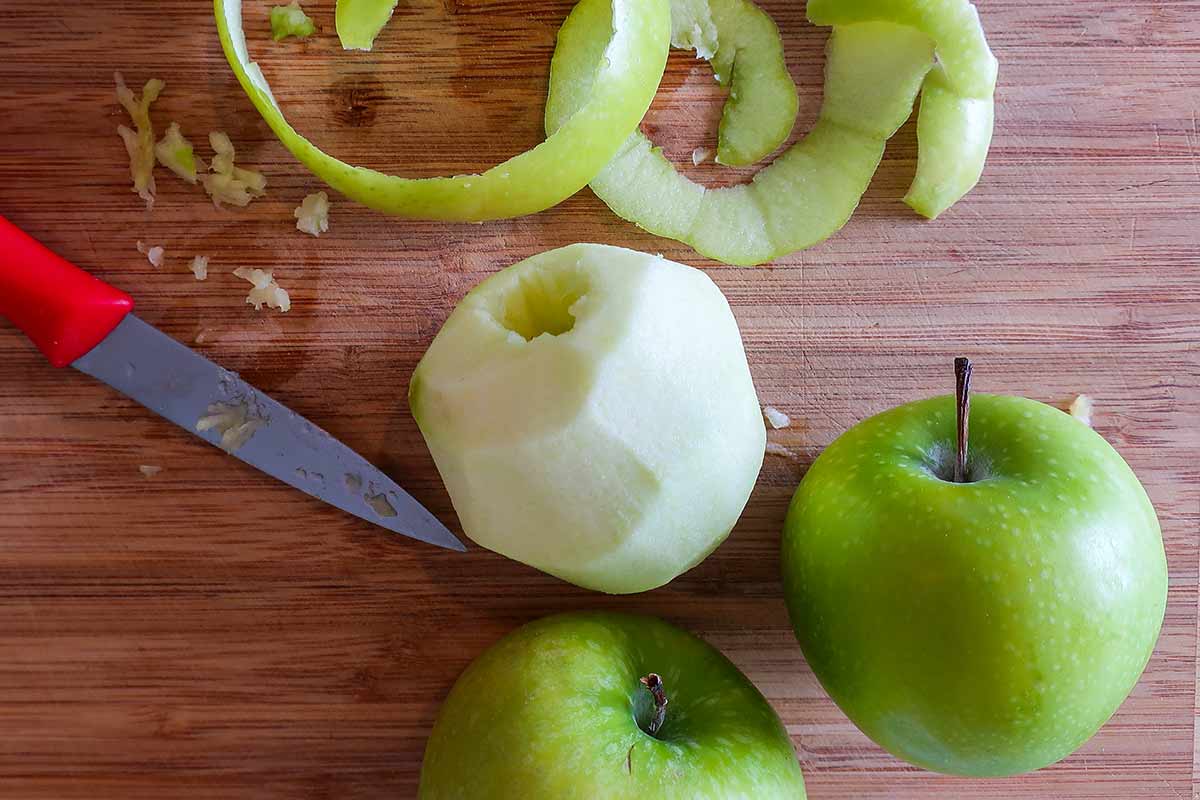 Prepare the apples by coring and peeling them.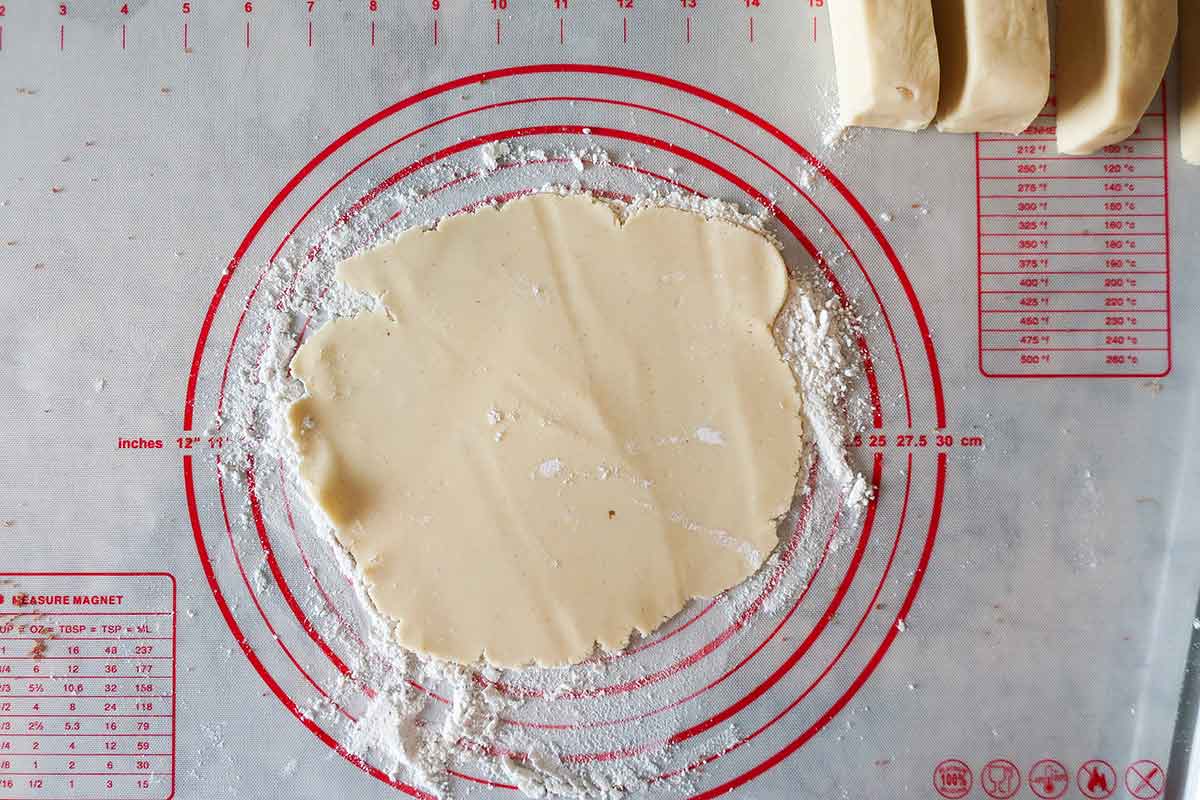 Roll out the dough using a pastry rolling pin into about a 7-inch circle using a light dusting of gluten free flour so it doesn't stick.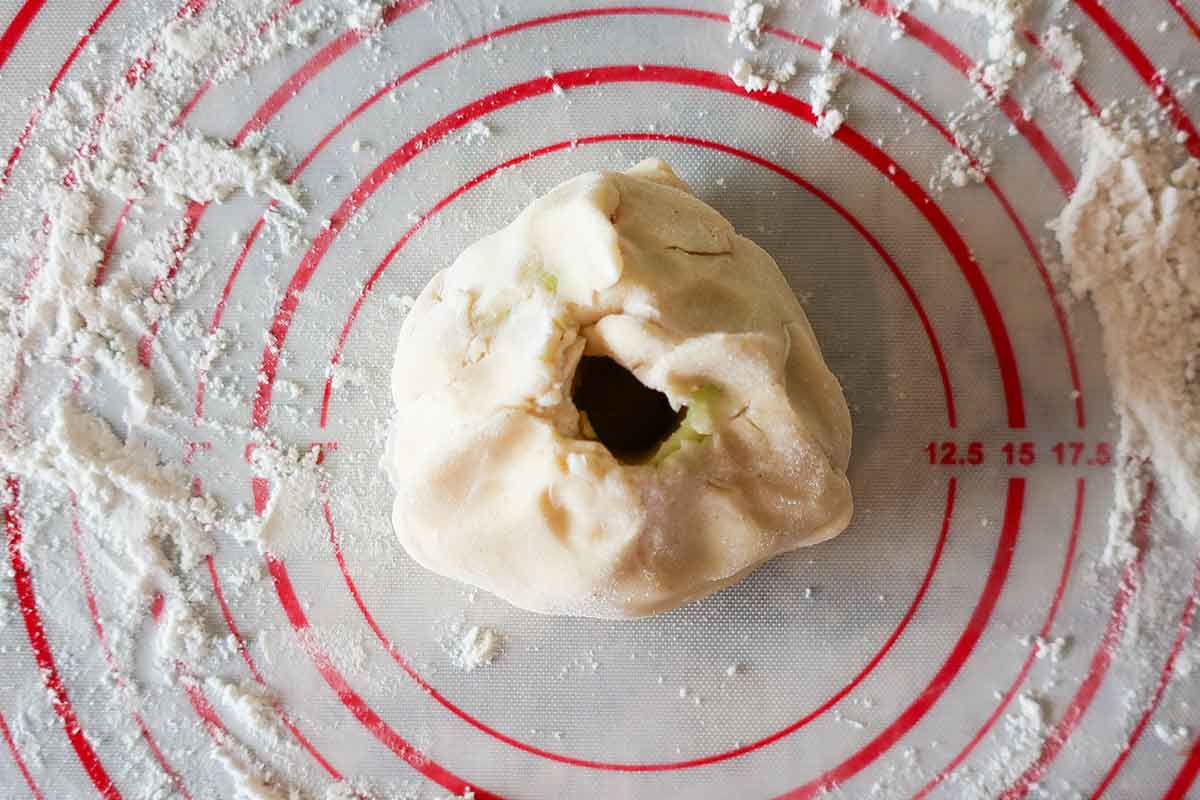 Place the apple in the middle of the dough. Next, lift the edges of the dough up and over the apples without covering the core, pinching the sides to seal. Don't stress about making these look perfect. Each apple dumpling is unique and cute.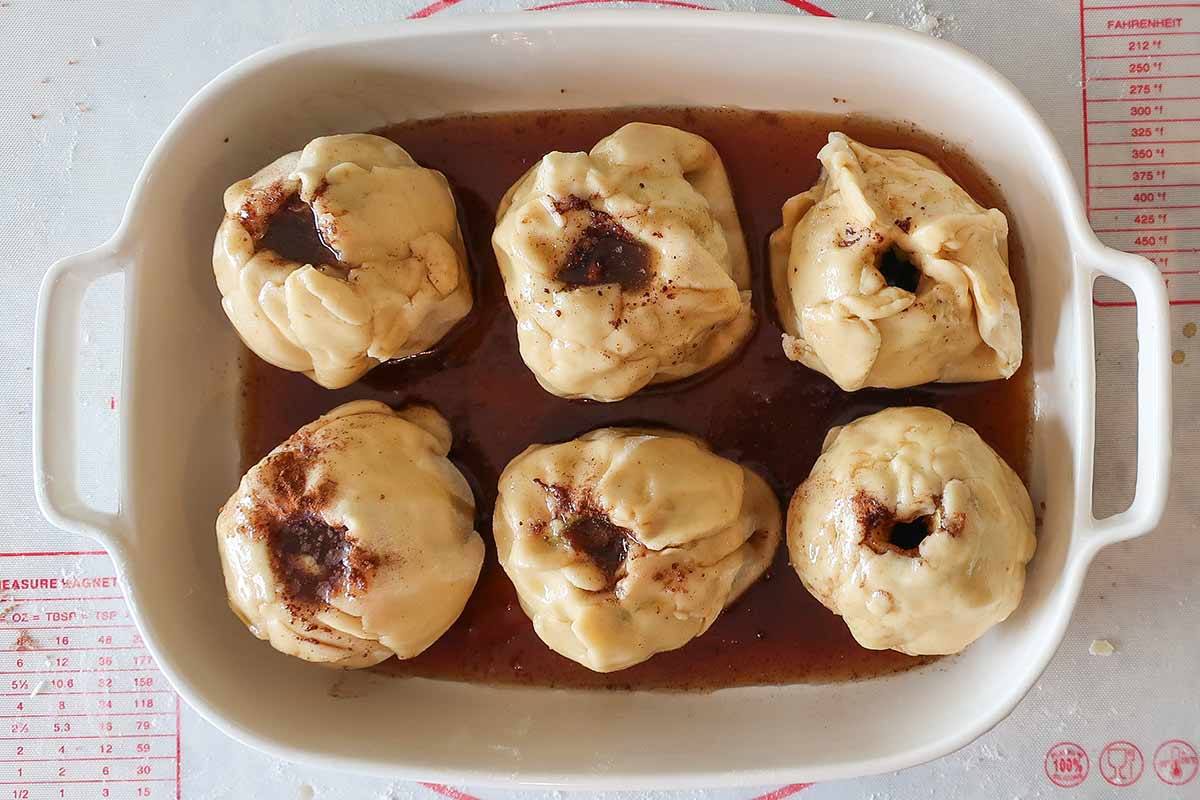 Place the apple dumplings in a buttered baking dish about half an inch apart. They should not be touching. Pour about one teaspoon of cinnamon sugar in each hole and some over the dumplings. Make the butter cinnamon sauce and pour it over the apple dumplings.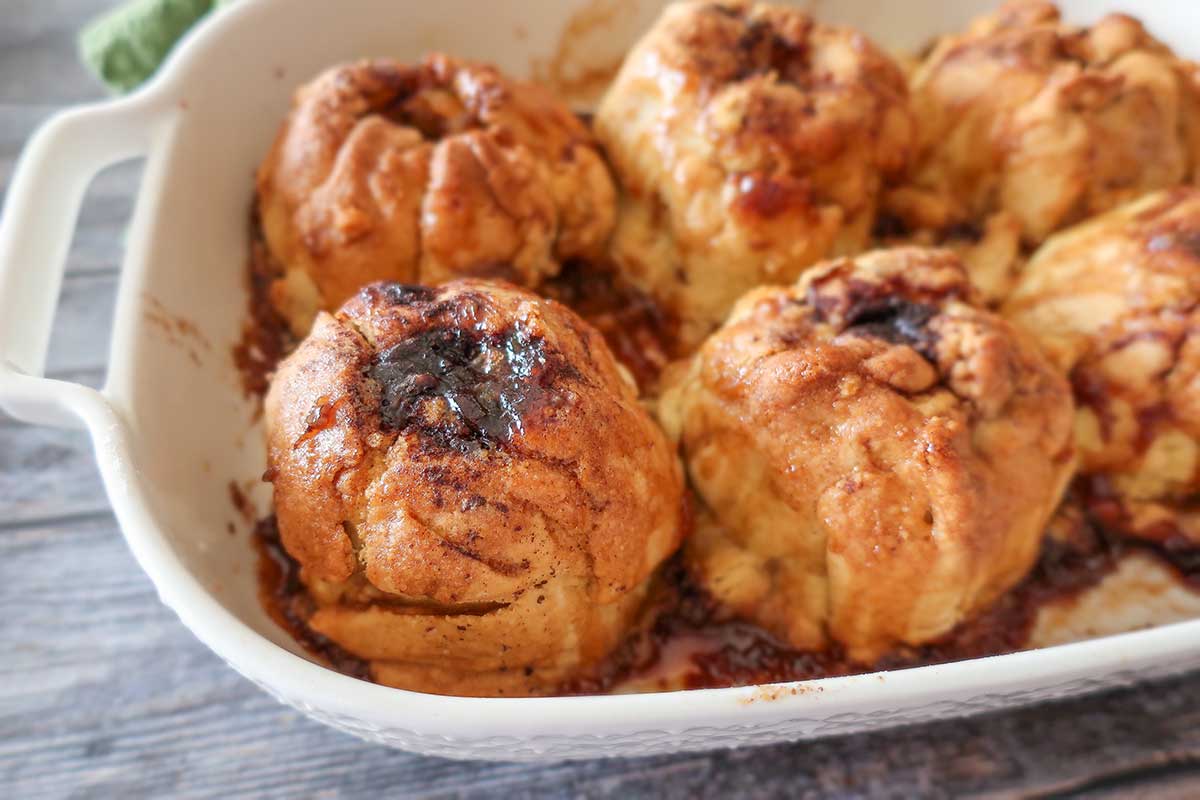 Bake for 50 minutes, basting every 15 minutes with the sauce. Enjoy warm. DELICIOUS!
Looking for other apple recipes? Here are my favorites:
Best apples for baking
The apples used in this recipe should be firm enough so they don't break apart during baking but also soft enough that they become tender when cooked.
Granny Smith or Honeycrisp apples are excellent choices as they hold their shape well while adding a sweet-tart flavor to the dumplings.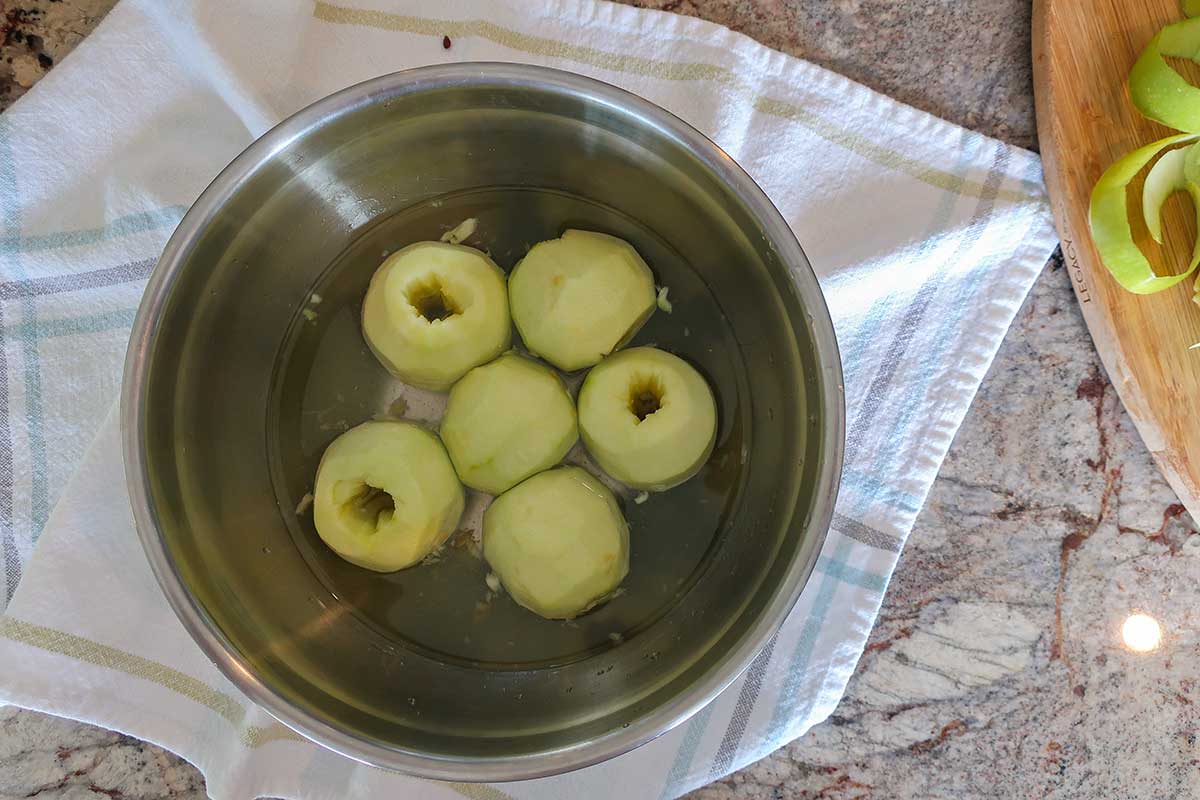 How to keep apples from browning?
If you want to prepare the apples in advance, place peeled apples into a large bowl of water with a tablespoon of vinegar or lemon juice. Drain and dry the apples before using them in the dumpling recipe.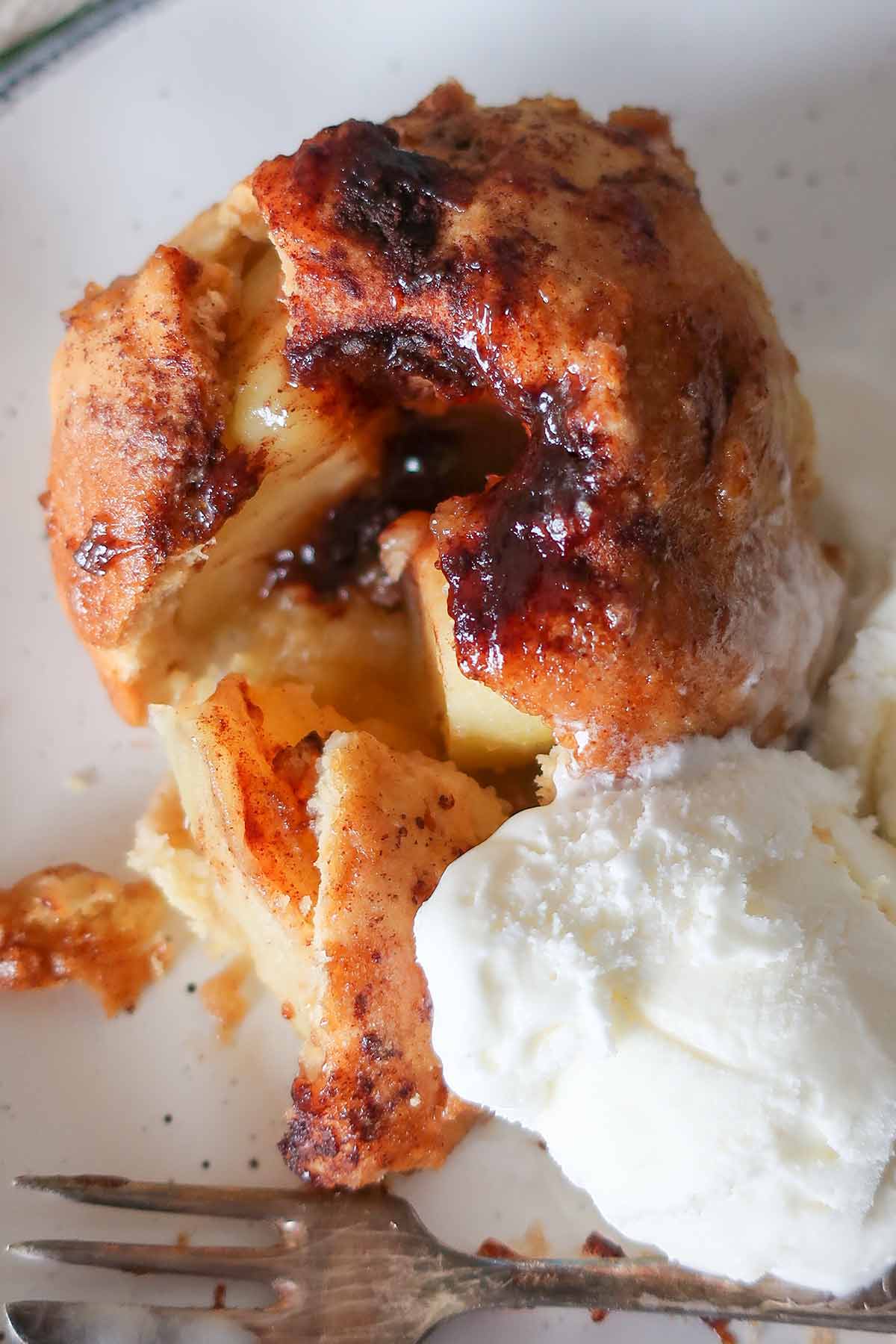 Serving suggestions
One popular way is to serve them with a scoop of vanilla ice cream on top. The cold creaminess perfectly complements the warm cinnamon apple filling in the dumpling, creating a delightful texture and taste combination.
For those who prefer a less sweet topping, whipped cream can be used instead.
For breakfast lovers, these apple dumplings are an excellent morning treat when served alongside scrambled eggs or bacon. It might seem like an unusual pairing at first but trust me, it's worth trying!
Are gluten free apple dumplings served warm?
Gluten free apple dumplings are best served warm. This can be achieved by baking the dumplings in the oven and serving them immediately after they come out.
How to store gluten free apple dumplings
It is best to store them in the dish they were cooked in. They will keep for a couple of days covered with plastic wrap at room temperature. Then, reheat in the oven until slightly warm.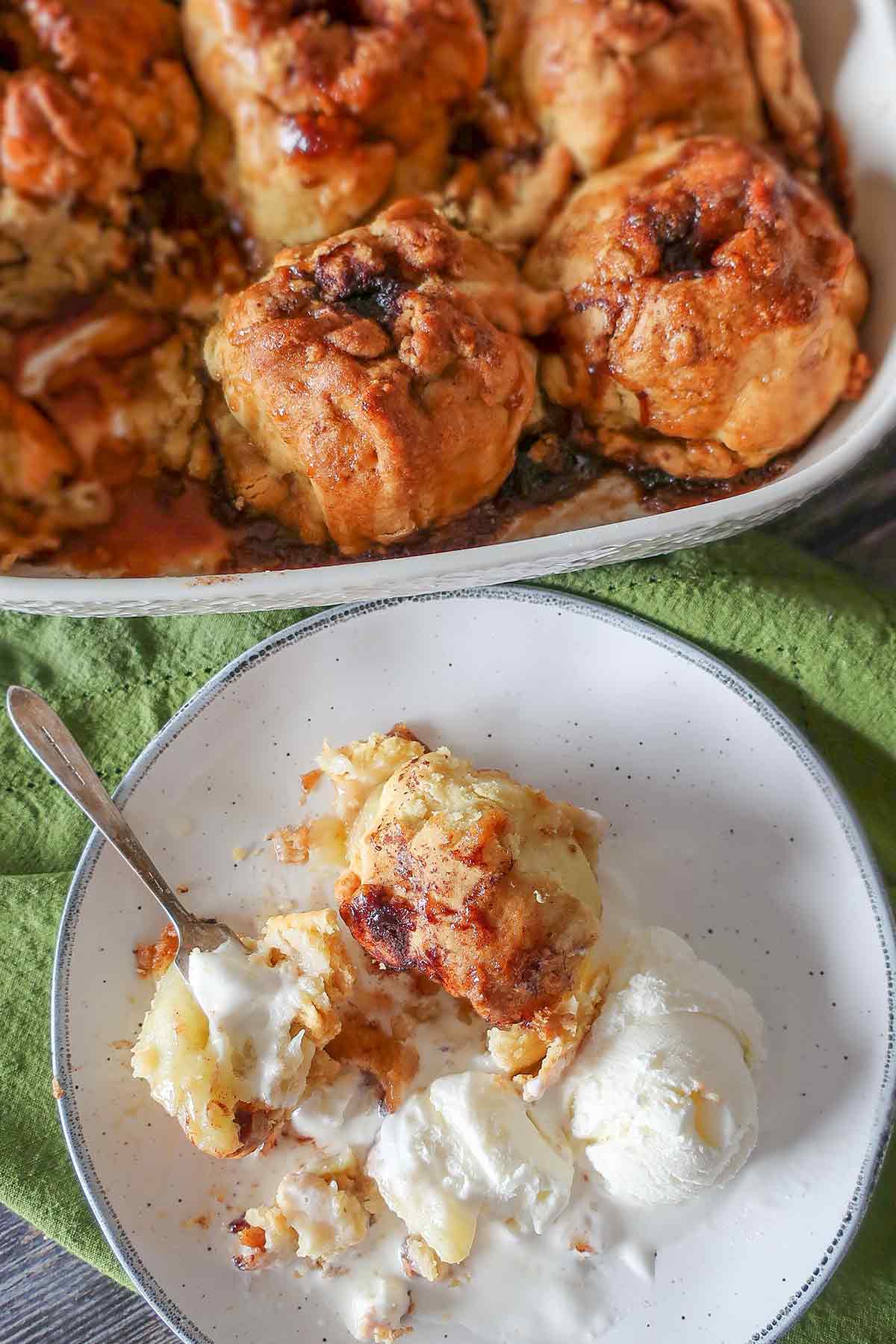 My take on old-fashioned gluten free apple dumplings
If you love the aroma of warm apples and cinnamon filling your home, try these old-fashioned apple dumplings. They are a classic dessert or breakfast dish you can now enjoy gluten free. And be sure to choose the best apples for baking so that they turn out perfectly. Whether you serve them warm or cold, with ice cream or whipped cream on top, these apple treats are delish!
Old Fashioned Apple Dumplings – Gluten Free
Published on May 11, 2023
by
Kristina Stosek
Instructions
1.

2.

Place all the dry ingredients (flour to salt) into a food processor and mix to combine

3.

Add chilled butter and pulse until the texture looks similar to rice. Add the milk and vinegar mixture and process until a dough forms. The mixture will start fairly dry, but after about 2 - 3 minutes, it forms a dough

4.

Wrap the dough with plastic wrap and place it in the fridge for 30 minutes. If you leave it longer than 30 minutes, bring it to room temperature until you can easily roll it out

5.

6.

7.

Divide the dough into six even pieces and shape each piece into a ball

8.

Roll each ball on a lightly floured surface into a 7-inch circle. Place an apple in the middle with the cored opening facing upward. Next, lift the edges of the dough up and over the apple without covering the core, pinching the sides to seal. Place the dumplings without touching each other into a 9x13-inch buttered baking dish

9.

Mix 2 tablespoons of brown sugar with 1 teaspoon of cinnamon and add 1 teaspoon of cinnamon sugar into the core of each apple

10.

11.

Add sauce ingredients into a saucepan. Place over medium heat, and bring to a boil. Reduce the heat to medium until sugar is dissolved, about 3 minutes. Pour the sauce over the dumplings.

12.

Bake for 50-60 minutes until golden brown and the apples are tender, basting occasionally with the sauce. Serve warm