Gluten-Free Strawberry Sheet Cake with Strawberry Glaze
Published on Aug 24, 2021
by
Kristina Stosek
Prep Time:

15 minutes
Cook Time:

35 minutes
Serves:

12 pc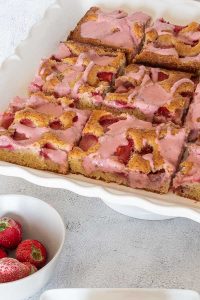 ​This post may contain affiliate links, please see our
privacy policy
for details
Sweet, buttery Gluten-Free Strawberry Sheet Cake overflowing with fresh strawberries and the very best fresh strawberry glaze. Every bite is heavenly and plainly hard to forget. Bonus, the strawberry sheet cake is simple to make using pantry staples and healthy fresh strawberries.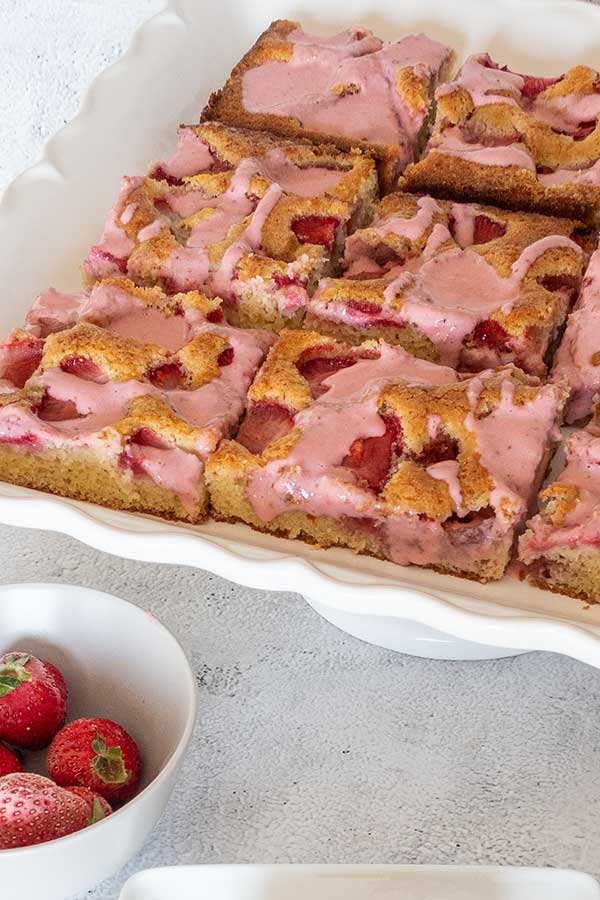 gluten free strawberry sheet cake for summer
I love fresh seasonal fruit, which is probably the reason behind this gluten-free strawberry dessert.
This sheet cake dessert is buttery, heavy on fresh tasting strawberries and topped with a light cream cheese glaze whipped up with fresh strawberries. It's not your average gluten-free sheet cake recipe.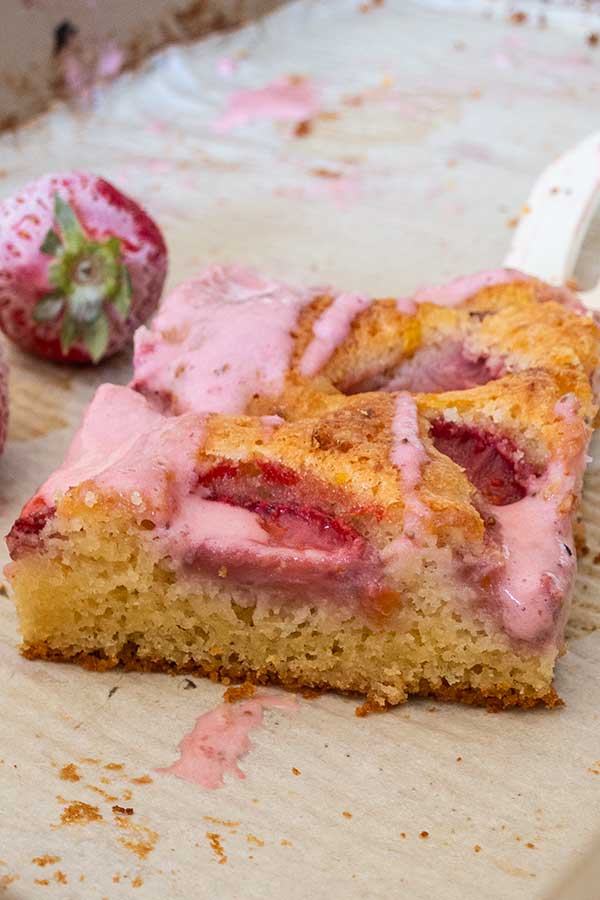 this is an easy gluten free strawberry dessert recipe
I love this gluten-free cake mostly because it's easy, no fuss, and even novice bakers can master it. In addition, the cake is moist due to the fact that it is infused with fresh strawberries and butter.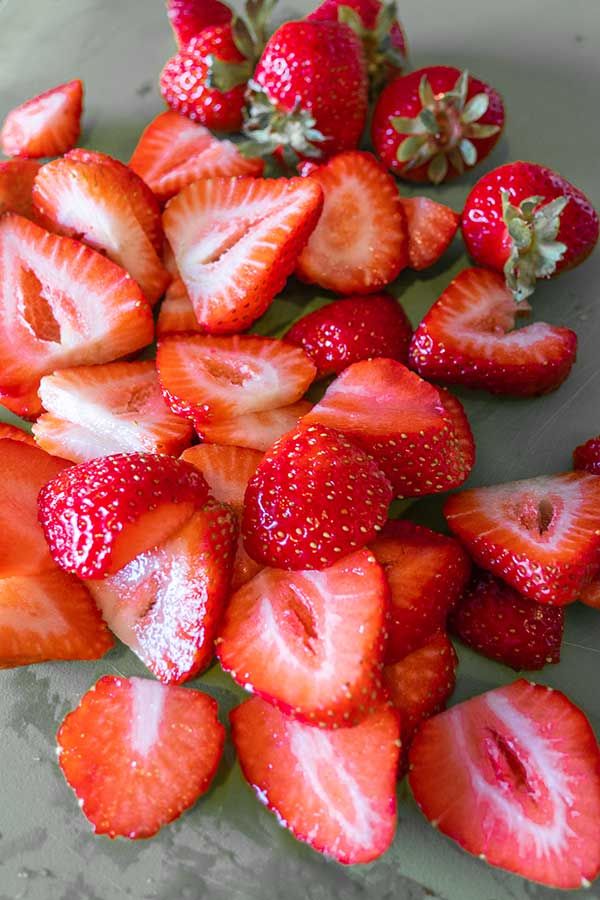 The great thing about this gluten-free sheet cake is that you can adjust the sweetness. If the strawberries are ripe and sweet, and you want to serve this cake for breakfast or brunch, you can go lighter on the sweetener. It's all about what you are in the mood for. I always use less sweetener when the cake is made with fresh seasonal fruit.
fresh strawberry glaze details
Oh, and that heavenly strawberry glaze? It's the perfect accompaniment to this gluten-free cake. I made it using fresh strawberries, some light cream cheese and confectioners sugar.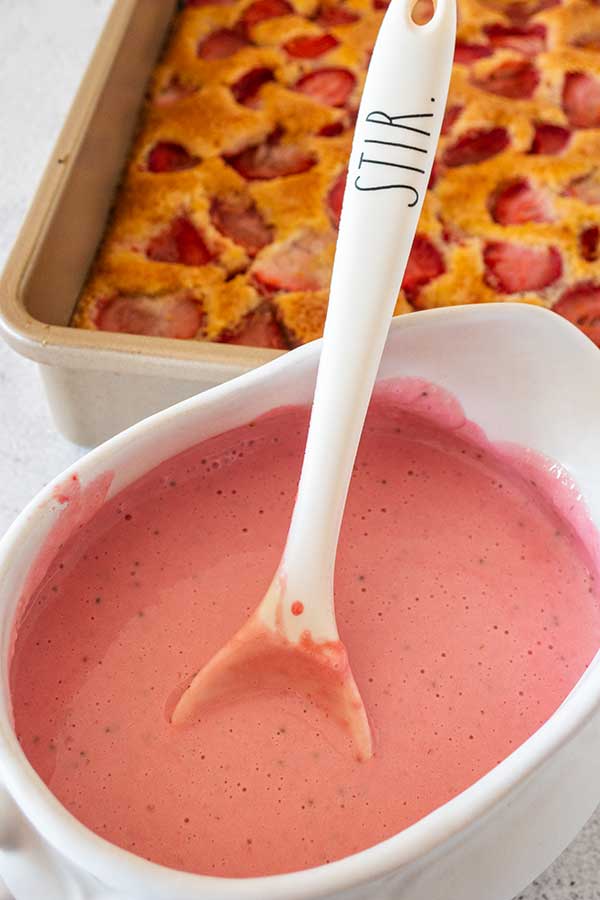 You can adjust the sweetness to taste. I use very little because my organic strawberries are super sweet. It's literally the perfect gluten-free strawberry dessert.
However, you can skip the strawberry glaze and give the cake a light sprinkle of powdered sugar. Another amazing gluten-free strawberry dessert is the Gluten-Free Strawberry Cream Pie or the Gluten-Free Strawberry Muffins…YUM!
a simple strawberry sheet cake recipe
You will love this gluten-free cake recipe. It is super simple to make using only eight ingredients plus the strawberries. In this recipe, I used two flours white rice flour and almond flour. If you are intolerant to nuts, you can use oat flour.
The dry ingredients include white rice flour, oat flour, baking powder and sugar. I used berry sugar in this recipe to get that beautiful pale yellow colour for my photography. However, if I were making this sheet cake for my family, I would use fine coconut sugar—a little healthier option. So the cake would be a light brown colour.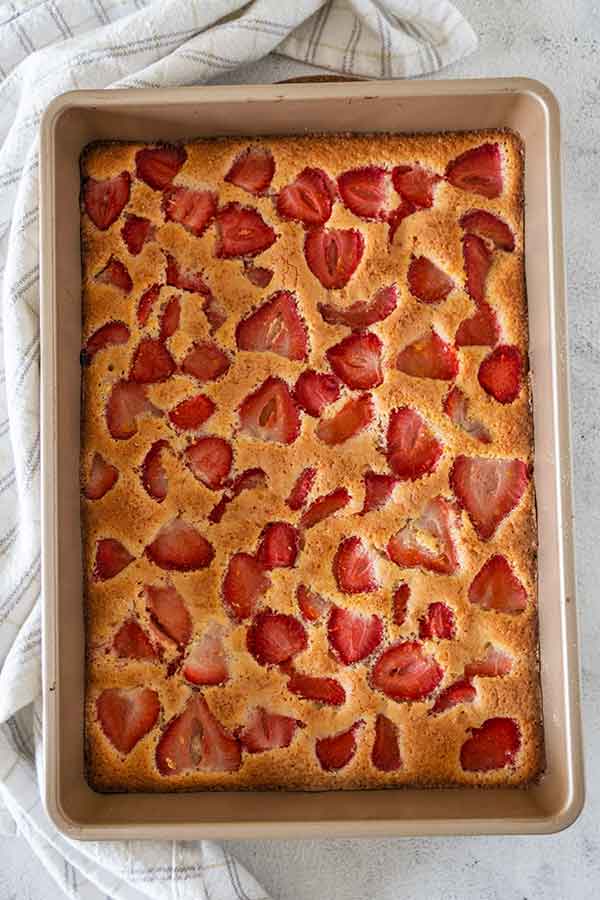 The wet ingredients are the classics, butter, eggs, milk and vanilla creamed together and then mixed with the dry. The sheet cake batter is easily spread in the pan and then topped with sliced strawberries.
slice the strawberries
The strawberries should be sliced to about 1/4 – 1/2 inch in thickness and placed closely together on top of the cake. I also added a sprinkle of lemon zest. The zest added a tasty zing to the strawberries. But this is optional.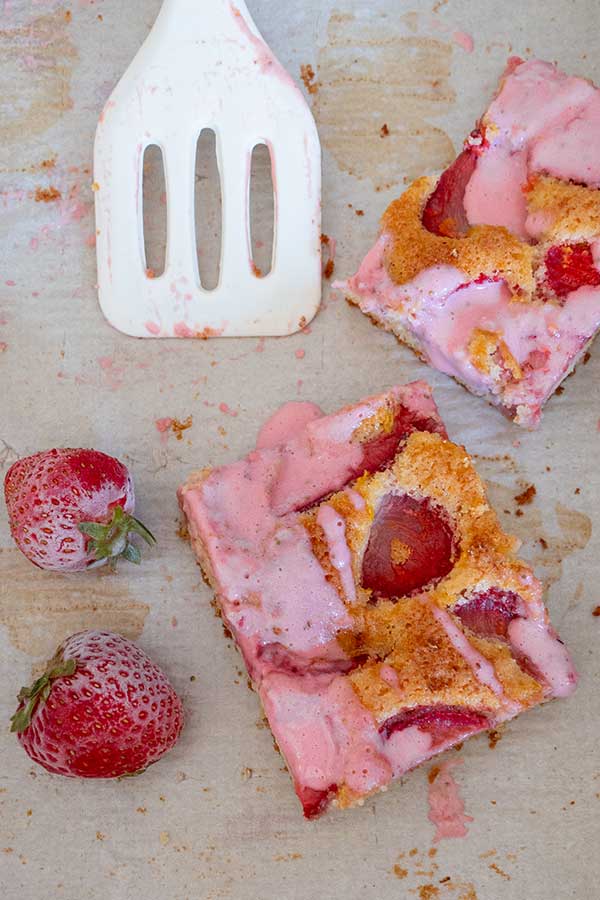 drizzle with strawberry glaze
Once the sheet cake is baked and cooled, it is drizzled with the light, fresh strawberry glaze. Again, you don't have to add the glaze, but it does make this dessert insanely delicious. For any leftover glaze, add it to yogurt over fresh fruit or drizzle it over gluten-free pancakes.
Are organic strawberries healthier?
Organically grown strawberries are more nutritious and taste sweeter. This small red berry is also better for soil and environment than are conventionally-grown strawberries. And the conventionally grown strawberries contain the highest levels of pesticides.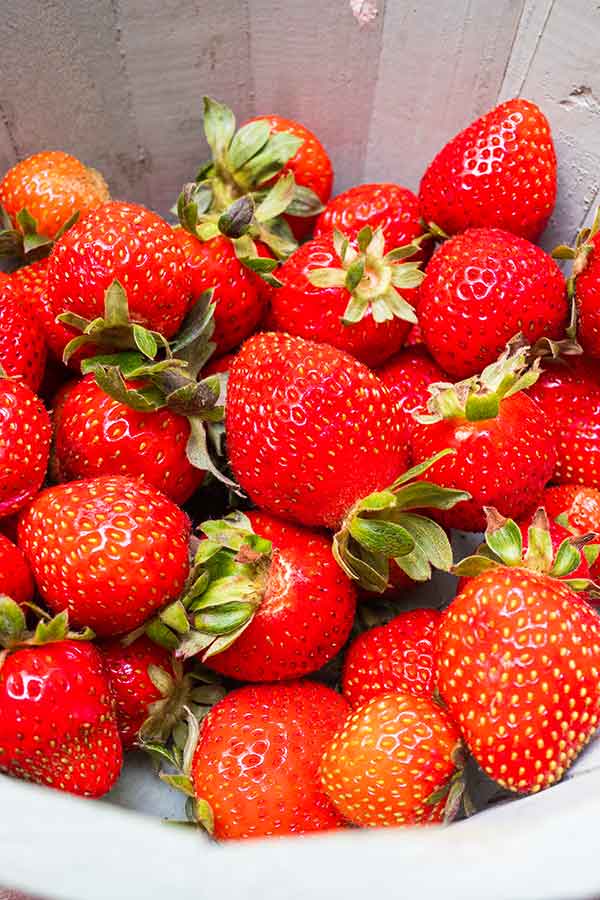 This dessert is a special and exciting post today because the recipe is simple to make using plenty of healthy strawberries, making the gluten-free strawberry sheet cake perfect!
Let's Connect!
Be sure to FOLLOW US on FACEBOOK and PINTEREST.
Many thanks!
Kristina xx
Gluten-Free Strawberry Sheet Cake with Strawberry Glaze
Published on Aug 24, 2021
by
Kristina Stosek
Instructions
1.

2.

In a small bowl, whisk together rice flour, almond flour and baking powder

3.

Using an electric mixer, cream the butter with 3/4 cup of sugar, less 1 tablespoon, until fluffy. Add eggs one at a time and mix until smooth and creamy

4.

Add dry ingredients to the wet mixture and using a spatula mix to combine. Add milk and vanilla and mix until incorporated

5.

Transfer batter to prepared pan and top with strawberry slices. The strawberries should be touching. Sprinkle with lemon zest and the remaining 1 tablespoon of sugar.

6.

Bake for 35 - 38 minutes until the cake is rich golden in colour. Cool in the pan.

7.

8.

Place strawberries into a food processor and process until smooth. Add cream cheese and process until combined. Add confectioners sugar starting with 1/2 cup and process until creamy. Taste and adjust sweetness as needed. Refrigerate for at least 1 hour before drizzling over the cooled strawberry cake. This cake will keep 1 day at room temperature or up to 5 days when refrigerated
Leave a Comment
Kristina
thank you Alberta, I am so pleased to hear that you enjoyed the strawberry cake
such an easy strawberry cake recipe and the texture is so good!